From Kalki Koechlin to Vidya Balan and Sonam Kapoor to Kajol, women fall head over heels in love with a statement handloom cotton saree. With movements like #vocalforlocal and #makeinIndia, the Indian handloom sector has seen some much-needed exposure, growth, business and recognition. And keeping the spirit alive, on World Cotton Day, TC46 highlights the 10 best Indian brands that offer high-quality cotton sarees that complement every woman's wardrobe.
Fond of wearing sarees? We've got you the best silk saree shops in Bangalore, check them out here
10 Beloved Desi Brands That Offer Gorgeous Cotton Sarees
1. SuTa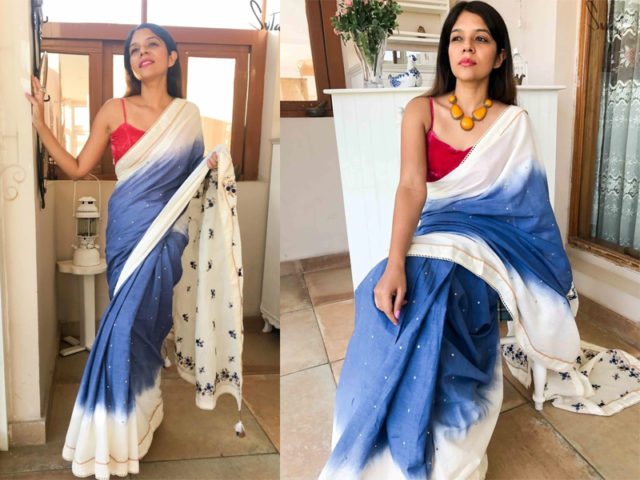 A brand by the sisters-turned-entrepreneurs duo, SuTa embodies all things nostalgic and premium about sarees. It was founded with the goal of empowering the amazing weaves and fabrics made by incredibly talented weavers and artisans of Kolkata who were struggling to sustain their livelihood.
TC46 Loves: The Blue Pea Tea saree is a stunner piece in a mesmerizing shade that's simply a great addition to your collection.
Price: 3,450
Style Tip: Make it stylish with a turtle neck blouse during winter or opt for a bold blouse in a contrasting colour.
2. The Indian Ethnic Co.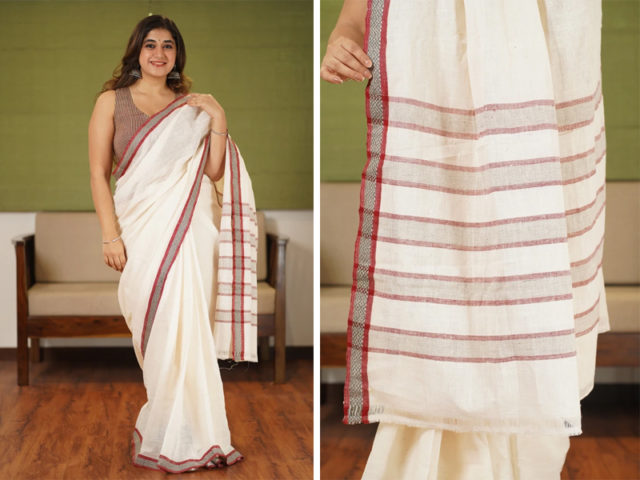 The Indian Ethnic Co is a shining example of how to deepen the love for such handmade clothing among newer generations with a hatke marketing strategy. This is the very brand that's been going viral for its dance marketing. Desi naaris selling sarees as they perform beautifully to Indian music is a visual treat not just because of the choreographed moves but also the stunning handlooms they're dancing in.
TC46 Loves: The Ivory Handwoven Organic Cotton Saree is an ode to the handloom craft and its simplistic heritage.
Price: Rs 4,000
Style Tip: Opt for some statement silver jhumkas and go for a sleeveless blouse that complements the simple elegance of the saree.
3. Chakori Ethnic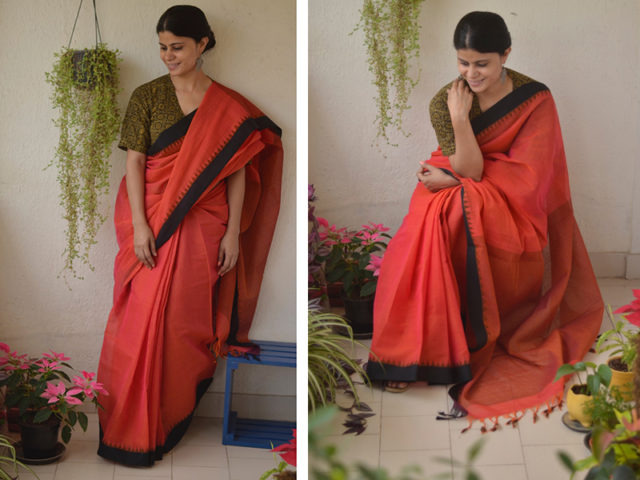 The brand works with rural artisans creating a unique and contemporary design while keeping up with ethnicity and traditions. And the best part about the brand is that all their sarees, be it Kalamkari, Shibori, Hand Block, Dabu, Phentiya and indigo prints, are made using natural dyes. 
TC46 Loves: The Handwoven Cotton Sari is in a gorgeous shade that can be dressed up or down to suit any occasion.
Price: Rs 4,500
Style Tip: Opt for an elbow-length blouse in print and go for a bold neckpiece.
4. FabIndia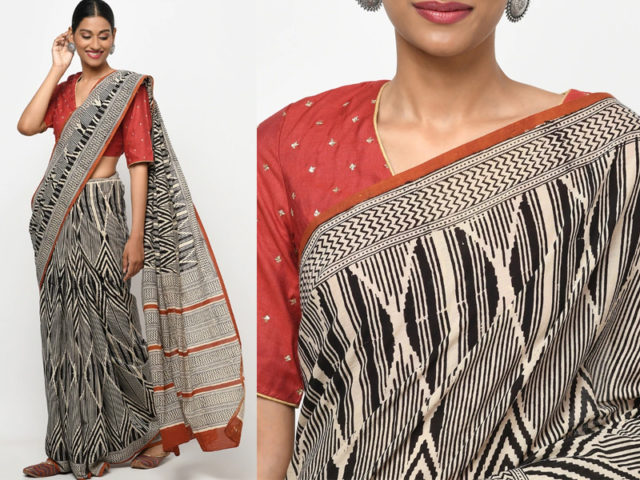 FabIndia has made its mark by creating handwoven fabric, and clothing for its customers. And it should be no surprise that they offer beautiful cotton and silk sarees too! The brand links over 55,000 craft-based rural producers to modern urban markets, thereby creating a base for skilled, sustainable rural employment, and preserving India's traditional handicrafts in the process.
TC46 Loves: The Bagru Print Sari is a contemporary piece with trendy designs on a traditional weave.
Price: Rs 1,490
Style Tip: Pair it with a V-neck blouse and studs to complete the look.
5. Chidiyaa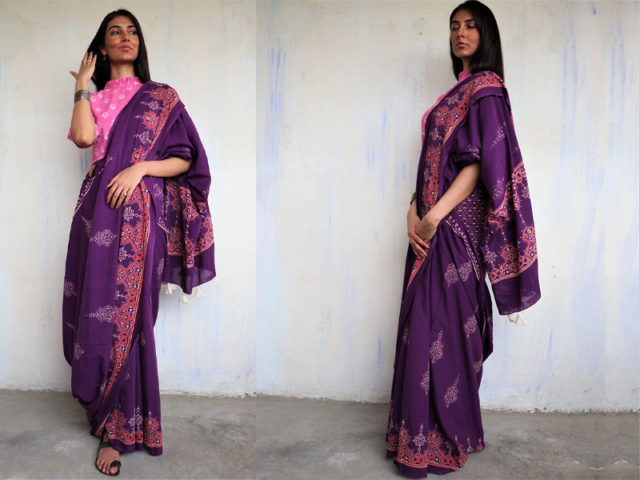 The brand uses a variety of colours, dyes, block designs, and patterns to bring out exclusive sarees that appreciate the intricate business of hand-block printing. And believes in sustainability and eco-friendly fashion ensuring high-quality standards. The prints and weaves are designed by in-house designers and curated by artisans across villages in India.
TC46 Loves: The Purple Block Printed Saree in an eye-catching colour is a saree lover's haven with intricate and out-of-the-box design.
Price: Rs 3,200
Style Tip: Take it to the next level with a ribbed crop top and chunky bracelets.
6. Okhai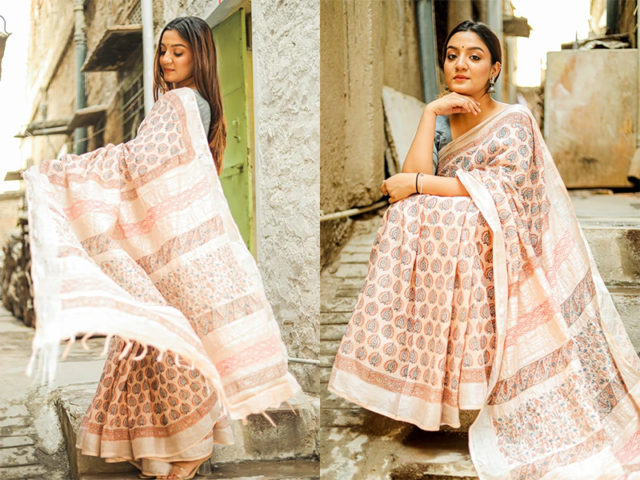 The brand offers handcrafted apparel and lifestyle products created by rural artisans from across India. Okhai's mission is to encourage women from less privileged backgrounds to acquire new skills; to give them the self-confidence and self-esteem required to earn by their own industry and initiative; to enable them to carry this newly discovered skill and confidence into the wider world.
TC46 Loves: The Handblock Printed Slub Cotton Saree holds a certain elegance that adds a whole new element to your saree collection.
Price: Rs 2,490
Style Tip: Opt for a grey, solid blouse with your hair in a bun and dangler earrings.
7. Karustuti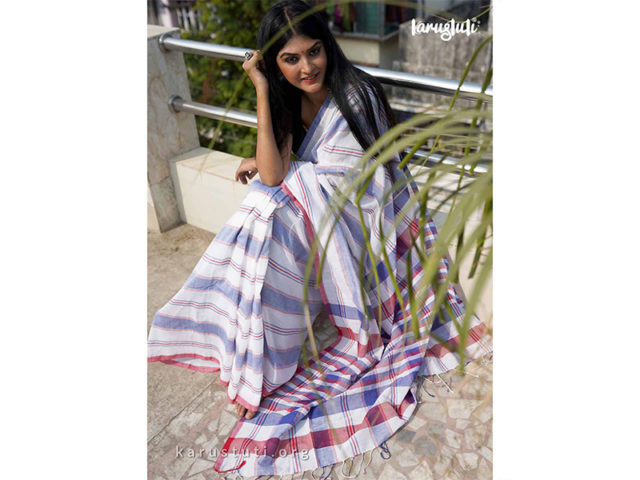 Hailing from Bengal, Karustuti works with the handloom and local artisans of the area to create a beautiful 6-yard drape. Their breathable fabric and material will be a saviour this summer!
TC46 Loves: The Summer Cotton Handloom Saree is a multicoloured piece with a checkered pallu that's sure to add a new look to your style.
Price: Rs 1,800
Style Tip: Pair it with a simple blouse, statement jewellery and kajal.
8. Greenways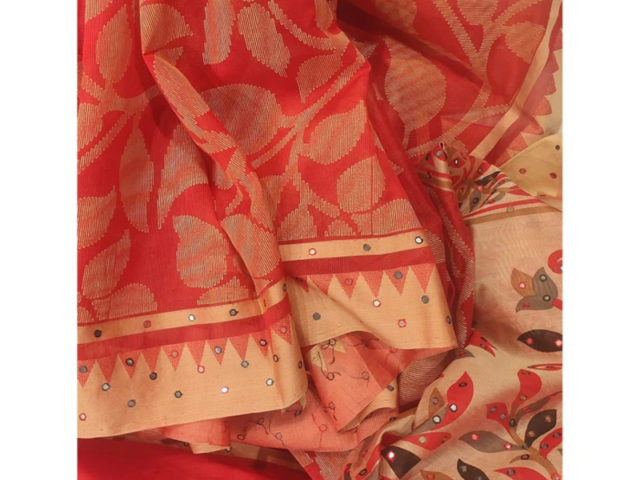 The brand is rooted in rich experience, expertise and an eye for exquisite craftsmanship. Greenways made its legacy of imbibing Indian heritage with the latest techniques and contemporary styles a statement. The brand believes in creating contemporary classics that celebrate the timeless beauty of the woman of today.
TC46 Loves: The Red Banarasi Saree with printed border and pallu with mirror work embroidery is a classic and timeless piece.
Price: Rs 4,995
Style Tip: Pair it with temple jewellery and a traditional blouse.
9. Odhni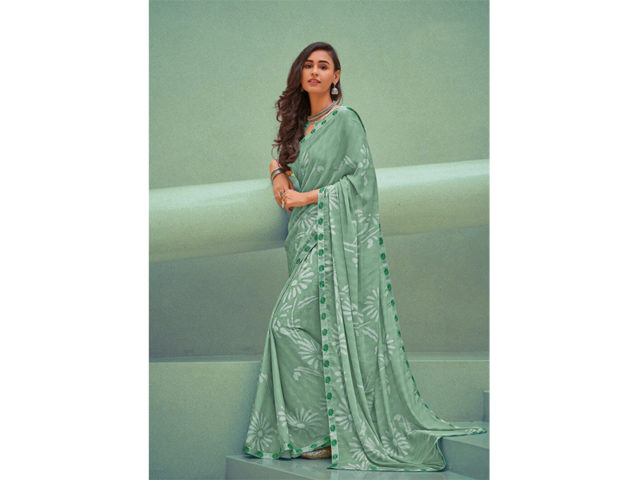 The brand manufactures some of its ranges by giving designs to weavers across Farrukhabad, Mumbai, Surat, Kolkata, and others. It gets cotton sarees from Mumbai, Chikankari and Resham sarees from Bareilly, Bandhani and Patola sarees from Bhuj, silk from Coimbatore, Ikat from Surendranagar and so on.
TC46 Loves: The Fern Green Printed Saree is a combination of grace and elegance with a thread-embellished border and blouse!
Price: Rs 2,185
Style Tip: Opt for a dainty necklace and earrings set and white mojaris.
10. Bharatsthali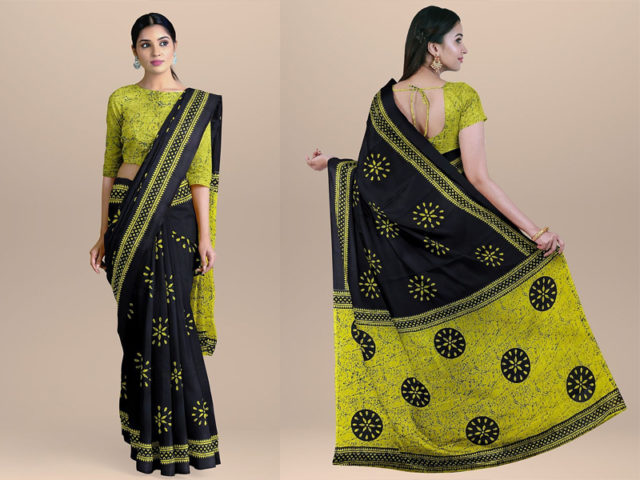 The brand was founded with the goal of letting people reacquaint themselves with traditions. It is a fair trade marketplace for sarees and sources them directly from artists and artisanal communities. Bharatsthali is all things natural and authentic.
TC46 Loves: The Black Printed Handloom Saree is an appropriate choice for both workwear and evening get-togethers!
Price: Rs 2,700
Style Tip: Pair it with a high-neck blouse and minimal jewellery.
Cotton is comfort and no one knows it better than Indians. The garment has come a long way and is drenched in rich history from all over the country. Today, people are making cotton sarees and statement pieces for their wardrobes. Here's a step-by-step guide on how to use old sarees to make whole new outfits.