50 shades of grey? More like 50 shades of every colour. There's hardly any girl who doesn't like to apply nail paint. So, when we sing Mujhe rang de, mujhe rang de in our minds, it may not mean we're preparing for Holi. It may also imply that we're welcoming some much-treasured self-pampering time with the nail colour of our choice.
Ever since childhood when all the makeup was off limits for you, nail polish was the only sabse pyara dost among beauty products. You grew up in shades of laal and gulaabi, and today all of us will collectively agree when we say that nails are one of the essential beauty products to complete the whole "look". Choosing the right colour and texture goes a long way. Hai na?
While chamkila nails have always been the talk of the show (as they deserve to be), we hope you're not forgetting the rising star of the nail world. The matte nail paints.
You've decided to switch things up this season and ditch the chamak-dhamak and want to go all matte (as you should, Queen)? The million-dollar question is – which brand to choose? You don't wanna show up with chipped nail paint, do you? 
So sit back, because here is a list of 10 amazing brands for the most gorgeous matte nail paints out there.
1. Miniso
A Japanese-based designer company, Miniso focuses on providing budget-friendly but vibrant and eccentric beauty products for you. They have the most umda collection of matte nail paints, ranging from peachy beige to grey violet. Besides having the cutest colours, they dry fast and are chip-resistant (bach gaye sab!). Get yourself the full set of these rich colours and rock every shade.
Read 10 Super-Easy DIY Nail Art Ideas For Beginners
2. Lakme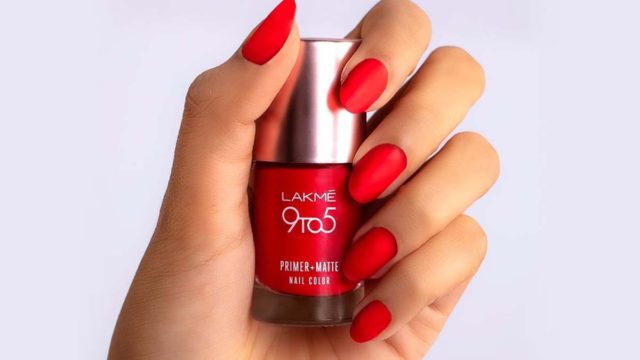 An Indian cosmetics brand that took over the world of beauty like a storm since its advent. Lakme's 9 to 5 Primer + Matte Nail Colors come in 9 beautiful and exciting shades. They're one of the bestselling matte nail paints for a reason. They give you perfect nails har roz in 2 coats, with an instant smooth finish that will last you a week (wow!). With them, your makeup arsenal is complete and you're ready to boss your way through the office work and be the dazzling diva during after-hour parties.
3. Faces Canada
Our life isn't always perfect, but your nail polish collection will be when you get your hands on this product. Made for all your sundar sundar mukhre, they also believe good things come in small packages. With a specially designed round-cut, fan-shaped brush for the smoothest glide over your nails, there is nothing to not believe that they are one of the best. They come in bright and beautiful colours like tropical green, sunny side up and glossy girl (How can you resist these names?)
4. Revlon
Revlon has been producing unapologetically bold beauty products for people to express their fierce and strong selves. And the nail polishes are no different, created by professionals to fit your style. The chip-defiant and the anti-fade formula gives your nails a bold brilliant colour and allows long wear. The products are Formaldehyde & Toluene Free, proving to be a sone pe suhaaga. What are you waiting for? Get them today and flaunt your gorgeous nails.
5. O.P.I
Since its foundation in 1981, OPI has revolutionised the nail industry with its superior-quality nail colours and care products. They say life is boring without colour, so go crazy with it! (we second that ladies). Add more subtle drama to your nails from their range of 70+ colours. Change the way you feel and care about your nails one shade at a time.
Read Desi Nuskhe, Tips, Tricks For Longer Stronger Nails
6. VERYMISS
One of the most pocket-friendly brands that deliver the promise of a great product. The VERYMISS chip-resistant nail paints are dermatologically tested and give super amazing pigment. They have a shade to match your every occasion. Travelling? Mehendi function? They got it all covered. They are easy to apply and dry very fast. Dive into their collection to pick the perfect rang today.
7. MyGlamm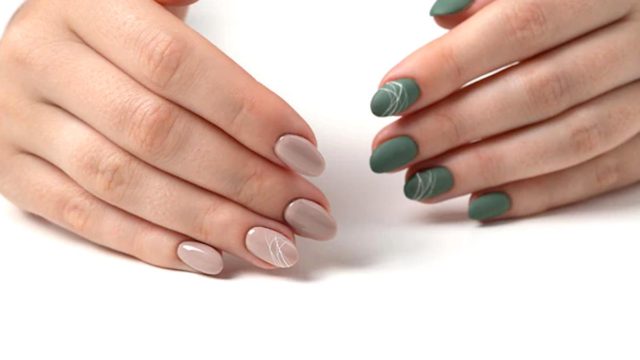 Their nail kit is your beauty BFF. And the formula is to die for, with toxic-free, chip resistant and long-lasting wear. You can recreate all the nail arts you see on your feed with ease. What else could you ask for? A reasonable price? You got it, girl. Within an affordable range, you get cute trendy colours, so you can glam up for the glam. And #BeALittleMore trendy (on a budget, of course).
8. Insight
The insight nail lacquer features a chip-resistant, highly pigmented and long-lasting formula. They're also free of the 5 toxins (toluene, DBP, Formaldehyde, Formaldehyde Resin and Camphor). They offer a huge variety of shades that pay off the colour debt in just one stroke. But the best part? Its unique one-of-a-kind formula with UV filters prevents discolouration. 
Read DIY french Manicure At Home & 5 Twists On The Classic French Nails
9. DeBelle
Are you a fan of high pigment? Or looking for some glossy gel nail paints? But do you want matte too? All these questions lead you directly to DeBelle. They're synonymous with unique shades, the high pigment formula will leave you drooling for one more swipe of colour. The DeBelle matte top coat instantly mattifies your normal polish and gives you the perfect edgy-looking nails in minutes (kitna cool hai na?)
10. Juice
Juice is a household cosmetic company when it comes to nail paints. They offer a variety of beauty products going from eyeliner to lip tints. But their nail polishes are top of the game and for good reason. Because of their affordability and longevity, they've quickly grabbed everyone's attention. You can choose colours from velvet red to Miami green (they have it all!). Their products are 100% natural and cruelty-free. So you're not only slaying looks but saving nature too!
The time has come to add colour to your life! And show off your classy nails and let your peers go "waah". Is there any other brand that you use for matte long-lasting nail colours? Let us know in the comment section below.
Open up like never before and participate in conversations about beauty, entrepreneurship, mental health, menstrual & sexual health, and more. Desi women, join our community NOW!