'Tis the season for hum sabka pasandida aam. And, this phalon ka raja is almost everyone's favourite, if not all. The burst of unique flavours in the mouth leaves one craving for more. However, the one factor that perhaps urges you to control the intake of mangoes is the calories that you are afraid of piling on. But bhoolna mat ki mangoes are a rich source of proteins and other nutrients and also help boost your immunity. Hence, here are 9 healthy mango recipes with a twist, which you can have even when you are keeping a strict watch on your diet.
So, go ahead and #BeALittleMore aware of these healthy mango recipes and jiyo life khulke.
1. Mango Coconut Smoothie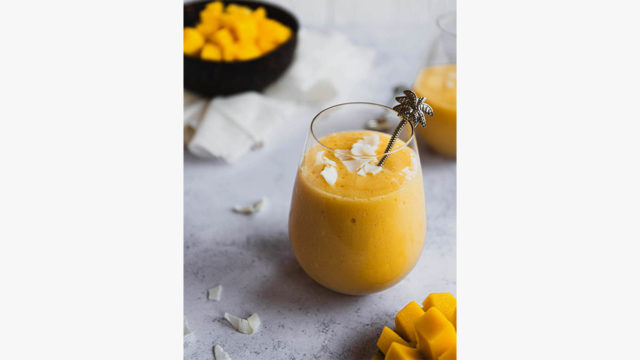 Preparation Time: 15 minutes
Cooking Time: 15 minutes
Ingredients
1 cup mango
¾ cup coconut milk
1 tablespoon honey
8 ice cubes
Steps
Add all the ingredients into a blender to make a smooth thick paste out of them
Mango Coconut Smoothie is ready for you to drink up
2. California Walnut Mango Spinach Salsa Bowl
Preparation Time: 5 minutes
Cooking Time: 5 minutes
Ingredients
225g baby spinach
2 raw mangoes, cut into strips
2 ripe mangoes, pureed in a mixer
1 small red onion, thinly sliced
250g blackberries
30g chopped parsley
125g walnuts, roughly chopped and toasted
30g fresh squeezed lime juice
30g orange juice
2 cloves lehsun (garlic), minced
15ml honey
30ml extra virgin olive oil
5g sea salt
Steps
Add spinach, raw mangoes, onion, blackberries, and parsley to a bowl
Add the chopped and toasted walnuts
Pour the mango purée on top of it and stir well.
Add garlic, lime juice, orange juice, honey, and olive oil, and season with sea salt.
And, ta-da, the salsa bowl is ready to be served
Read 10 Aam-amzing Mango Salad Bowl Recipes To Try This Summer
3. Tropical Mango, California Walnut & Turmeric Smoothie Bowl
Preparation Time: 5 minutes
Cooking Time: 5 minutes
Ingredients
½ mango pulp and some slices for garnishing
1 small piece of haldi (turmeric)
½ banana
200ml of coconut milk
8 walnut halves
Lime juice and zest
A handful of raspberries and blueberries (optional)
1 passion fruit (optional)
1 tablespoon of coconut flakes
Steps
Add the mango, turmeric, banana, and coconut in the mixer and blend well
Squeeze lime juice in the blender and give it a final mix
Pour this mix into a bowl and spread the walnuts, passion fruit pieces, coconut flakes, and lime zest over it before serving
4. Aam Akhrot Poda
Preparation Time: 10 minutes
Cooking Time: 5 minutes
Ingredients
3 medium-sized raw mangoes
¼ cup pudina (mint)
½ teaspoon roasted jeera (cumin) powder
1 cup walnut milk
1 cup of sugar
4 cups chilled water
2 teaspoons black salt
Steps
Roast the raw mangoes until they get charred
Let them cool
Segregate the pulp from the seed with your hands
Place this pulp, along with walnut milk, black salt, and sugar in a blender
Sprinkle roasted cumin powder and mint over them and give them a final mix
Blend to get a smooth paste
Add cold water and blend again
Keep it in the refrigerator for 2 hours
Serve chilled
5. Mango Oats Breakfast Bowl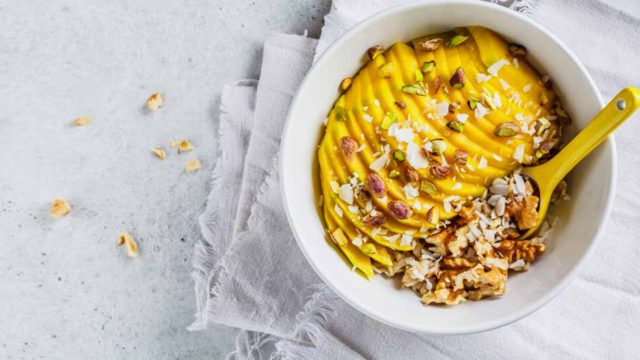 Preparation Time: 15 minutes
Cooking Time: 5 minutes
Ingredients
1 mango, cubed
½ cup oats
½ cup freshly cut fruits of your choice
½ cup cold milk
¾ cup water
¼ cup pistachios, sliced
Steps
Heat ¾ cup of water in a pan, add oats and cook for about 6 minutes on medium-low heat while stirring continuously
Let the oats cool down completely before you can grind them
In the meantime, soak 10 pistachios with their shells for 10 minutes in half a cup of water. Then, slice them and keep them aside.
Pour the oats, cold milk, and mangoes into a mixer and blend until smooth
Pour this into a bowl, and top with pieces of your choice of fruits and sliced pistachios
6. Sticky Mango Chicken Skewers
Preparation Time: 1 hour 10 minutes
Cooking Time: 30 minutes
Ingredients
Thigh fillets, cut into 2cm pieces
1 mango, finely chopped
1 small avocado, finely chopped (optional)
2 tablespoons lime juice
2 spring onions, thinly sliced
1 green mirch, finely chopped (optional)
¼ cup pudina (mint), finely chopped
For Sticky Mango Marinade
1 mango, coarsely chopped
1 tablespoon sriracha or chilli sauce (optional)
2 tablespoon honey
1 clove of lehsun (garlic)
2 teaspoon adrak (ginger), finely chopped
½ tablespoon ground jeera (cumin)
¼ cup dhaniya patta (coriander leaves), finely chopped
Steps
For the sticky mango marinade, put the mango, garlic, ginger, coriander leaves, cumin, and sriracha/chilli sauce in a mixer, and blend well until smooth
Pour the mango marinade over the chicken pieces and toss well to combine evenly
Cover the chicken and keep it in the fridge for about 1 hour for the flavours to seep into the chicken
Thread the chicken among 12 skewers and then grill them over medium heat, turning them after every few minutes till they have been cooked through
Next, cover them with foil and set them aside for 5 minutes
Take a bowl and combine mango, spring onion, avocado, chilli, lime juice, and mint and then season
Plate the skewers and then top with mango salsa
Read Mango Recipes 101: Preparing Everything From Starters To Desserts & Drinks
7. Mango & Coconut Pudding
Preparation Time: 1 hour and 10 minutes
Cooking Time: 10 minutes
Ingredients
2 mangoes, finely chopped
1 tsp vanilla bean paste
400ml coconut cream
2 teaspoons lemongrass paste
1 tsp finely grated lime rind
¼ cup (55g) castor sugar
¼ tsp salt
Freshly desiccated coconut
A few sliced mangoes for garnishing
Maple syrup
Steps
Take coconut cream, vanilla, lemongrass, and lime rind, along with 1½ cups of water and combine well. Set this aside for 30 minutes.
Refrigerate the chopped mango for about 1 hour
Combine the coconut cream mix and the chopped mangoes in a serving bowl or glass
Garnish with mango slices and desiccated coconut before serving. And, oh, don't forget to drizzle with maple syrup.
8. Mango & Pistachio Bircher Muesli
Ingredients
2 cups of rolled oats
1 cup pineapple juice
1 mango, finely chopped
1 cup mango-flavoured yoghurt
¼ cup pistachios, toasted and thinly sliced
Steps
Combine the oats, yoghurt, pineapple juice, and cinnamon in a bowl
Cover the bowl with a thin wrap and refrigerate overnight for the flavours to develop
Add the mango and half the pistachios to the above mixture and stir well to combine evenly
Garnish with the remaining pistachios
9. Tandoori Chicken With Mango Salsa
Ingredients
800 gm chicken thigh fillets, cut into 2cm pieces
2 tablespoon tandoori paste
1 tablespoon yoghurt
1 mango, finely chopped
½ red onion, finely chopped
1 long laal mirch (red chilli), finely chopped
¼ cup dhaniya patti (coriander leaves), coarsely chopped
1 tablespoon nimbu ka ras (lemon juice)
1 tablespoon vegetable oil
Steps
Combine the chicken with tandoori paste and yoghurt in a bowl
Cover the bowl with a thin wrap and refrigerate for the chicken to develop the flavours
For the mango salsa, take onion, mango, coriander, lemon juice, and chilli in another bowl
Thread chicken evenly among the skewers and grill them on medium heat
Turn them at regular intervals to ensure that all the sides have been cooked through
Plate it, along with basmati rice, mango salsa, and more yoghurt
Now that you have your hands full with 9 healthy mango recipes, what are you waiting for? Go ahead and try them all. And let us know your feedback in the comment section below.
Beauty Tip: Make this simple & easy mango face pack and see flawless results on your skin.
Open up like never before and participate in conversations about beauty, entrepreneurship, mental health, menstrual & sexual health, and more. Desi women, join our community NOW!