There are many summer fruits that people love to feast on. But the king of fruits, the mango, truly wins all hearts. It is the most awaited fruit of the season and loved by all young and old. It is a very fond memory that everyone treasures when your mom or dad would bring home a box of mangoes. You'd not be allowed to eat it until after lunch or dinner, so you'd take a deep whiff from the box. And in the evening your mum would cut mangoes slices for you to lick all the juices that would drip down your hand.
Those mango slices soon turned into mango milkshakes, mango curries, pickles, desserts or the favourite aamras with puris! We cannot deny that the childhood method of eating mangoes was the best. But it's time for a little twist, and spice things up with your favourite fruit. Here is a complete meal range made with juicy mangoes.
15 Mango Recipes: From Drinks To Desserts
1. Aam Panna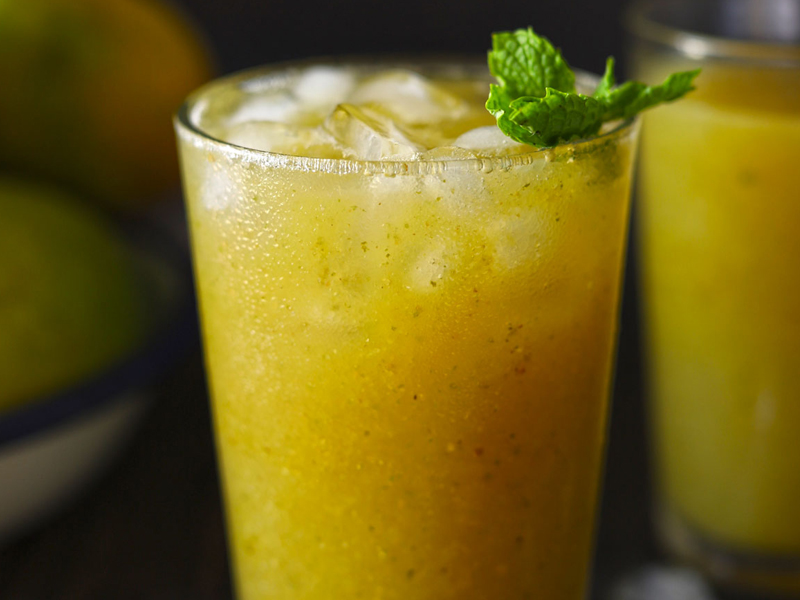 A cooling drink is usually served during hot summers to beat the heat. This khatta-meetha drink is sure to quench your thirst.
Prep Time: 5 minutes
Cook Time: 12 minutes
Ingredients:
2 raw mangoes (sliced)
2 or 3 mint leaves (pudina)
Honey/sugar (as preferred)
Grated ginger (adrak)
Cumin powder (jeera)
Black pepper powder (kali mirch)
Black salt
Method:
Boil the slices of raw mangoes in a pressure cooker for three whistles. It might take 12 minutes to get boiled. After the pressure cooker cools down, you can remove the container of the raw mango placed in it and leave it to cool down for some time.
Take a juicer. Pour the boiled raw mango slices into it.
Add mint leaves and grated ginger.
Add the spices, cumin powder (jeera), black pepper powder (kali mirch), salt, and black salt.
You can add a little honey or one tablespoon of sugar to it.
Grind it till it gives a smoothie texture.
Add some water if it becomes thick and grind it again.
Garnish it with jaljeera powder and mint (pudina) leaves. Shop for deliciously spiced aam panna from the Red Dot Shop here.
2. Mango Lassi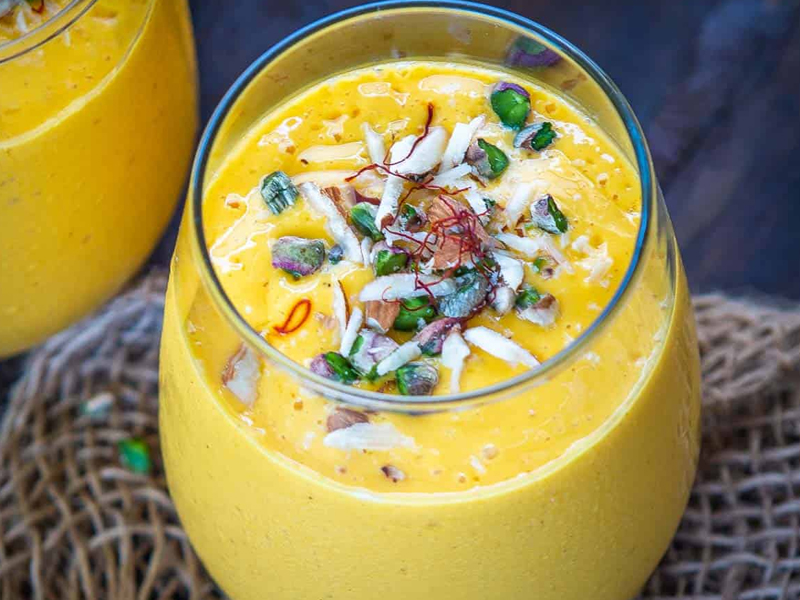 Nothing can go wrong with a classic lassi, and a delicious mango twist. Mango lassi is the perfect sweet drink for summer.
Prep Time: 5 minutes
Cook Time: 2 minutes
Ingredients:
250 gms of ripe mangoes, diced
250 gms of full-fat curd (dahi)
50 gms of sugar
⅓ teaspoon of cardamom powder (elaichi)
Ice cubes
Sliced cashew (kaju) and pistachio (pista), for garnish
Method:
Take a dry, clean blender and add in the mangoes, curd, sugar, cardamom powder and ice cubes.
Blend until smooth. Make sure no lumps of mango remain.
Pour it out into a glass and garnish generously with cashews and pistachios.
Serve the mango lassi immediately or cool in the fridge before serving.
3. Traditional Aam Ka Achar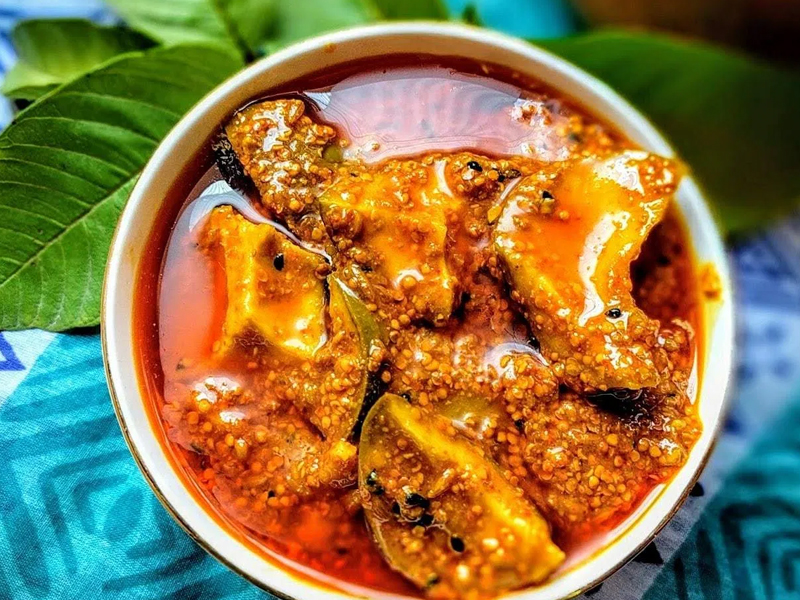 Mango pickle is a favourite amongst all. Every Indian meal is complete with a side of tangy pickle, especially if it's a mango pickle.
Prep Time: 15 minutes
Cook Time: 2 minutes
Ingredients:
1 kg or 5 cups of raw mangoes, diced
20 grams of mustard seeds (rai)
20 grams of fennel seeds (saunf)
20 grams of fenugreek seeds (methi seeds)
4 grams of nigella seeds (kalonji)
20 grams of turmeric (haldi) powder
20 grams of red chilli powder
¼ to 3 cups mustard oil (as per requirement)
Method:
Spread the peeled and chopped raw mango pieces on a kitchen towel. Let them dry for a few minutes.
Take a blender and put mustard seeds, fennel seeds, fenugreek seeds and nigella seeds. Mix them to make a coarse powder.
Heat the mustard oil in a small container and leave it to cool down for some time.
Now mix all of the above ingredients except the oil in a clean bowl.
Then, transfer the mango pickle to a freshly cleaned jar and pour the oil kept aside.
Cover the jar with a muslin cloth and store it in the sun for 3-4 days.
After storing it in the sun for a few days, you can put the jar lid and store it for a year.
Serve your aam ka achar with steaming hot rice, dal and papad!
4. Mango Chutney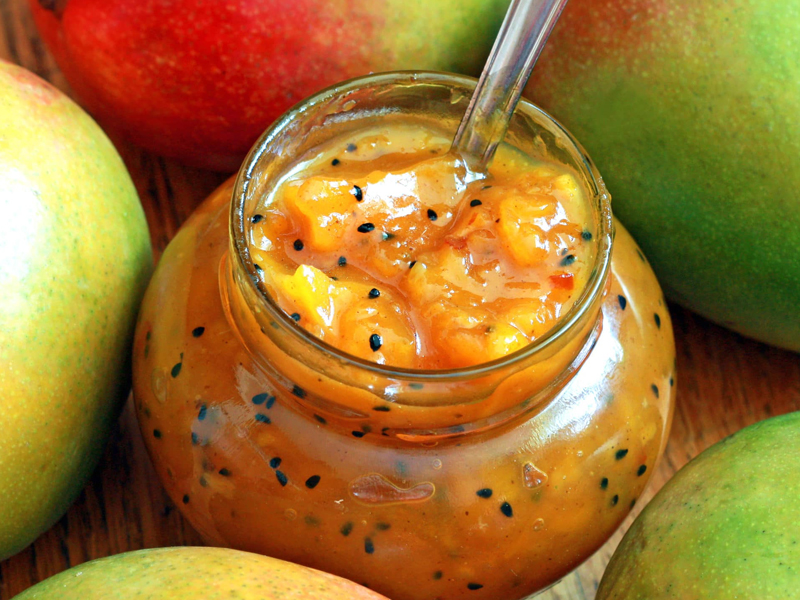 Like Bengali sweets, aam ki chutney in Bengali cuisines is also popular. Mango chutney has several variations in different regions of India.
Prep Time: 5 minutes
Cook Time: 15 minutes
Ingredients:
2 semi-ripe mangoes
1½ teaspoon of panch phoran (mix of cumin (jeera), fennel (saunf), mustard (rai), nigella (kalonji) and fenugreek (methi) seeds)
2 tablespoon jaggery powder (or as required)
1 tablespoon of any vegetable oil
½ inch grated ginger or finely chopped
1 teaspoon red chilli powder
1 pinch garam masala
1 pinch asafoetida (hing)
Salt
Method:
Grate or finely chop the mangoes.
Take a pan and heat some vegetable oil.
Now add the panch phoron and let it crackle.
Then add the grated ginger. It will turn slightly brown.
Put the cut mangoes in it and fry them.
Add some jaggery and salt in aam ki chutney and stir it. Jaggery will start melting. You can also use sugar instead of jaggery to add sweetness as required.
Cook for 2-3 minutes.
You can add water if it becomes too thick.
Enjoy the aam ki chutney!
5. Mango Pachadi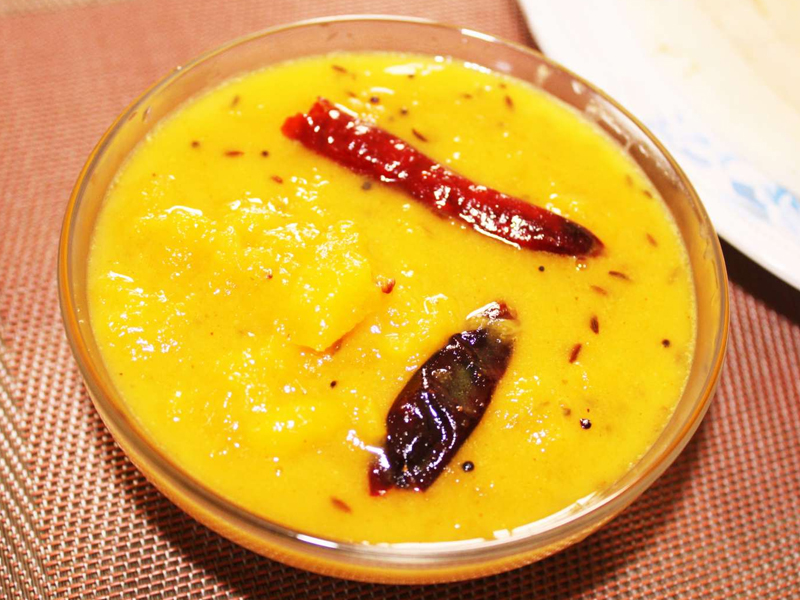 The Tamil Nadu origin Mango Pachadi is a variation of mango chutney. It is a healthy blend of all flavours of sweet, sour and salty and more.
Prep Time: 10 minutes
Cook Time: 15 minutes
Ingredients:
1 raw mango
0.5 grams of grated jaggery
Pinch of turmeric (haldi)
Salt
Curry leaves (kadipatta)
Mustard seeds (rai)
Neem flower
Red chillies
Method:
Peel and chop the raw mango into pieces.
Take a saucepan or bowl to cook the mango in water and turmeric powder.
While the mango is being cooked, start preparing jaggery syrup. Place a small container on the stove. Put jaggery and 2 tablespoons of water to make the syrup. Heat till the jaggery melts.
After the mango is cooked, add the jaggery syrup to it. Add some salt and stir for some time.
Boil the pachadi.
In a small separate pan, heat some oil. Put some mustard seeds (rai) and as it pops, add curry leaves (kadipatta) and red chillies. Heat for 10 seconds.
Add this tempered spice to the pachadi.
In the same pan, fry some neem flowers till it turns brown and add these to the Mango pachadi as well.
You are ready to serve and devour it. You can serve it with steaming rice and curry.
6. Aam Ka Murabba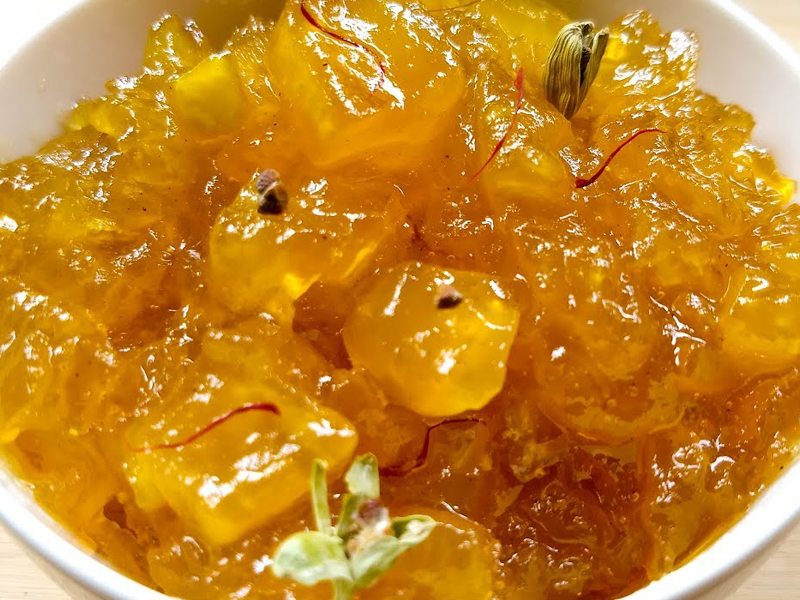 It is like a mango-jam, that can be prepared easily at home. It takes simple ingredients and about 25 minutes to make it.
Prep Time: 10 minutes
Cook Time: 15 minutes
Ingredients:
2 raw mangoes
Clove (laung)
Cardamom (elaichi)
Sugar
Saffron (kesar)
Method:
Peel the raw mangoes and grate or shred them.
Grind clove and cardamom into a powder form.
Take a bowl and put the shredded mangoes and sugar in it.
Keep stirring on a simmer flame for some time to maintain the consistency till it forms a jam-like texture.
After cooling it down, sprinkle clove and cardamom powder. You can also add saffron (kesar) if required.
You can have the finger-licking sweet and sour aam ka murabba with chapati.
7. Aam Ras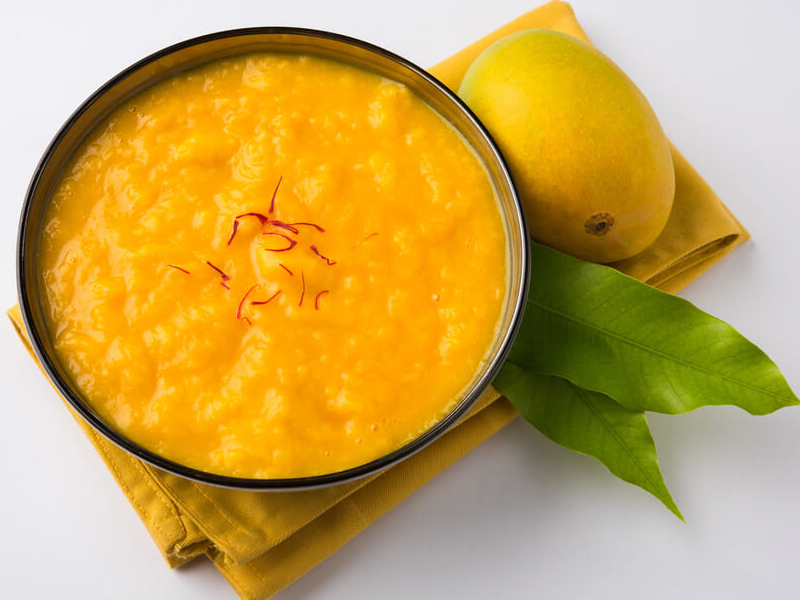 This is the simplest 5-minutes mango recipe. Aam Ras is mostly preferred in breakfast with 'garam puris', especially for kids during summer vacations.
Prep Time: 15 minutes
Cook Time: 0
Ingredients:
2-3 ripe mangoes
3 or 4 cardamoms (elaichi)
Saffron (kesar)
Sugar
Milk or water (optional)
Method:
Slice the mango leaving the seed.
Take a blender and put the sliced mangoes in it.
Add sugar as per your taste. If the mangoes are too sweet you can choose not to add sugar to them.
After mixing the mangoes to smoothie texture, pour it into a bowl.
If it is thick you can add some milk or water to bring consistency.
Garnish with kesar.
You can serve the Aam Ras with puri or chapati.
8. Tok Dal (Khatti Dal With Raw Mango)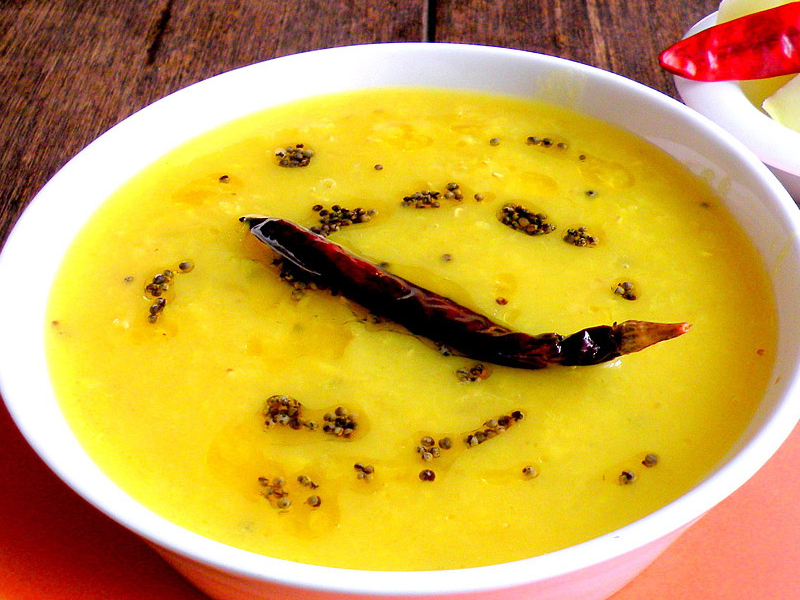 This Bengali cuisine is the most popular mango curry. It is the best option for a light lunch menu, especially to beat the heat.
Prep Time: 5 minutes
Cook Time: 25 minutes
Ingredients:
1 raw mango sliced
½ cup or more lentils (masoor dal), as required
Red chillies
Turmeric (haldi)
Panch phoron (Bengali five spices), a mix of fenugreek (methi) seeds, nigella seeds (kalonji), cumin (jeera), black mustard seed (rai), fennel seed (saunf).
Method:
Cook the masoor dal and raw mango slices in a cooker for three-four whistles. Let it cool down.
Take a saucepan and pour 2 tablespoons of oil (regular refined oil or mustard oil). Heat the oil for 2 minutes.
Put the panch phoron (five spices) in the oil and leave for 2 mins till it crackles.
Put the two or three dried red chillies, leave for 1 minute.
Now put turmeric powder on the oil
Pour the boiled dal and mango.
Add salt and stir for 5 minutes.
Add 1 spoonful of sugar if required.
The tok dal can be served with plain/jeera rice.
9. Mango Sticky Rice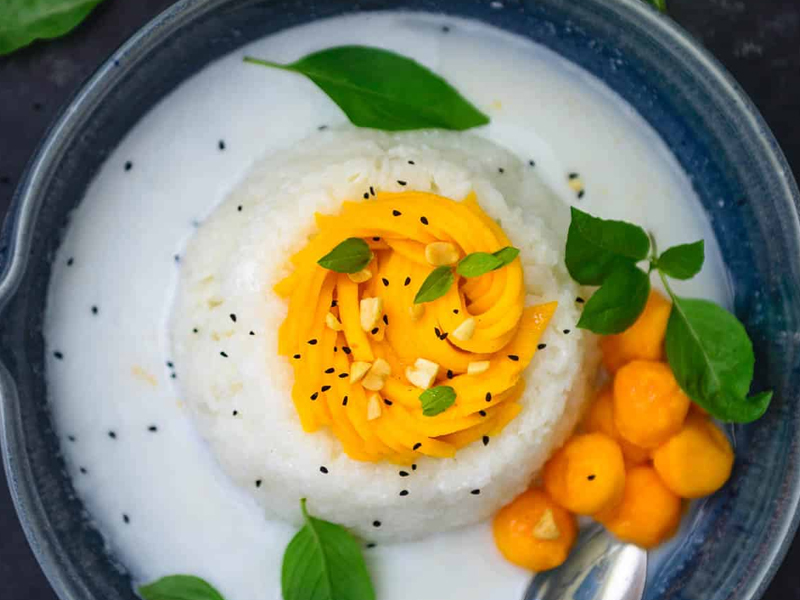 It is a delicious combo of rice and mango, satiating the needs of both mango lovers and rice lovers.
Prep Time: 5 minutes
Cook Time: 20 minutes
Ingredients:
2-3 fresh mangoes
1 cup of glutinous rice or sticky rice (different from the rice we generally have in India. You can get this online.)
1 cup of coconut milk
Sugar
Salt
Method:
Glutinous rice needs to be soaked overnight.
Cook the rice, it will need at least 20-25 minutes to cook.
Meanwhile, you can chop the mangoes and keep them ready. You can keep it in the refrigerator to chill (optional).
Now, pour the coconut milk into a saucepan to heat a little and add sugar and salt to it. (Add some sugar as per requirement. Note the ratio of coconut milk and sugar added for consistency).
When the glutinous rice is ready, pour the warm coconut milk on it. It will become thick and sticky.
Serve the sticky rice with the chopped mangoes on the side.
10. Mango Salad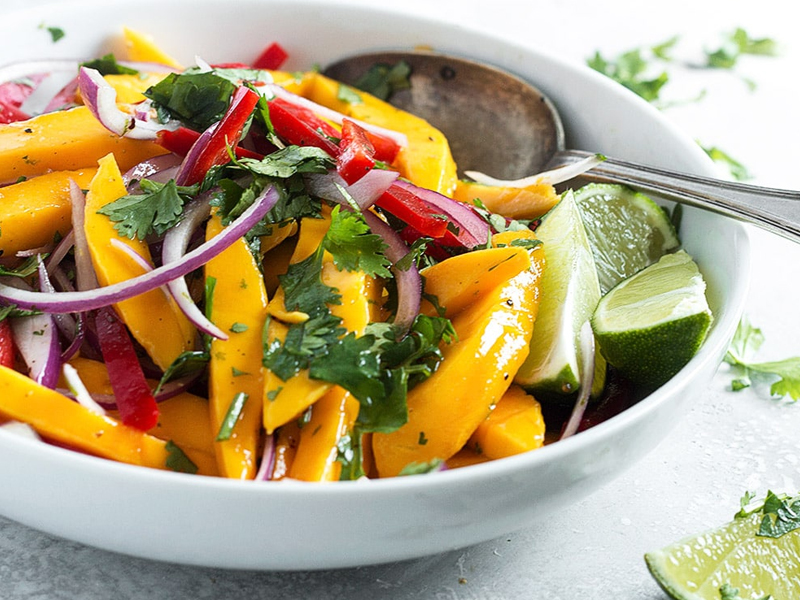 Mango salad is a quick snack that can be prepared in various styles. One of which is shared here which will take 15 minutes prep time.
Prep Time: 15 mins
Cook Time: 0
Ingredients:
3 ripe mangoes (preferably Alphonso)
1 red bell pepper
Sliced onion
Fresh basil
Coriander leaves (dhaniya)
Lime juice
Sugar
Vegetable oil
Method:
Slice the mangoes into thick pieces and finely sliced red bell peppers. Chop the coriander leaves and basil.
Take a bowl. Mix the above-mentioned ingredients.
You can store this in the refrigerator if you wish to make it ahead of serving.
Just before serving the salad, add lime juice, sugar, salt, vegetable oil, red bell pepper flakes (optional) and whisk it.
Savour the mango salad while watching a film, chit-chatting or with a welcome appetizer. You can also have it as mango salsa with nachos.
11. No-Oven Mango Cake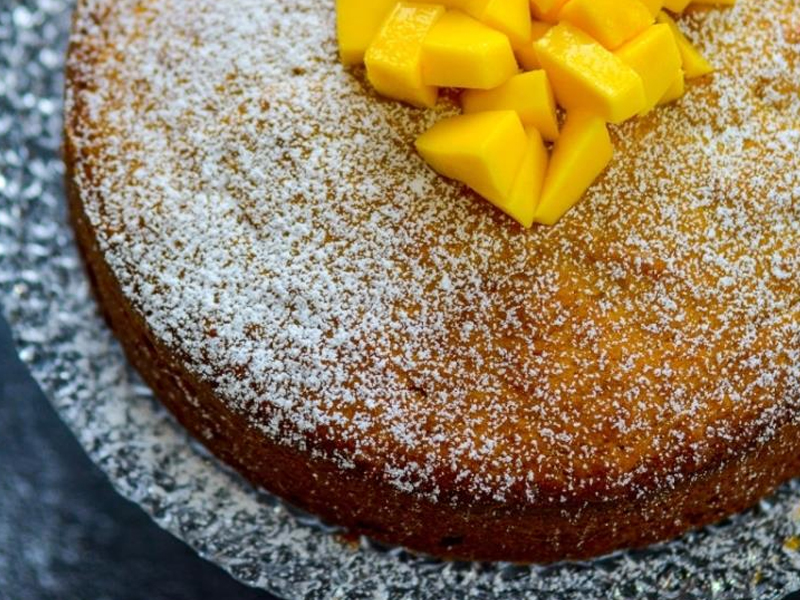 Ditch the chocolate and try out this no-oven recipe for a soft, fluffy, seasonal mango cake.
Prep Time: 20 minutes
Cook Time: 30-45 minutes
Ingredients:
300 gms of refined flour (maida)
100 gms of powdered sugar
50 ml of refined oil
1 ripe mango, chopped and pureed
100 gms sugar
200 ml full-fat milk
1½ teaspoon of baking powder
Vanilla essence
A pinch of salt
Method:
Put a saucepan on medium flame and add in the mango puree and sugar. Heat the mixture, while constantly stirring, till the ingredients combine. Then set it aside to cool.
Grease a 6-inch cake tin and dust it with some flour.
In a large bowl, mix the powdered sugar, oil, a few drops of vanilla essence, and milk.
Next, add the dry ingredients (maida, baking powder) by sifting them and folding them into the mixture.
Add the mango puree prepared in step 1 to the batter and fold till everything is combined. Do not over-mix as that may prevent the cake from rising.
Pour the batter into the cake tin. For the baking setup, place a metal stand in a deep pan and pre-heat for 15 minutes. Then place the cake tin on the stand and cover the setup with a lid. Let it cook for 30-45 minutes.
Pierce the cake with a knife or toothpick to see if it's cooked. If it comes out clean when stuck in the cake, then the cake is ready. Carefully de-mould, slice and enjoy.
12. Mango Cheesecake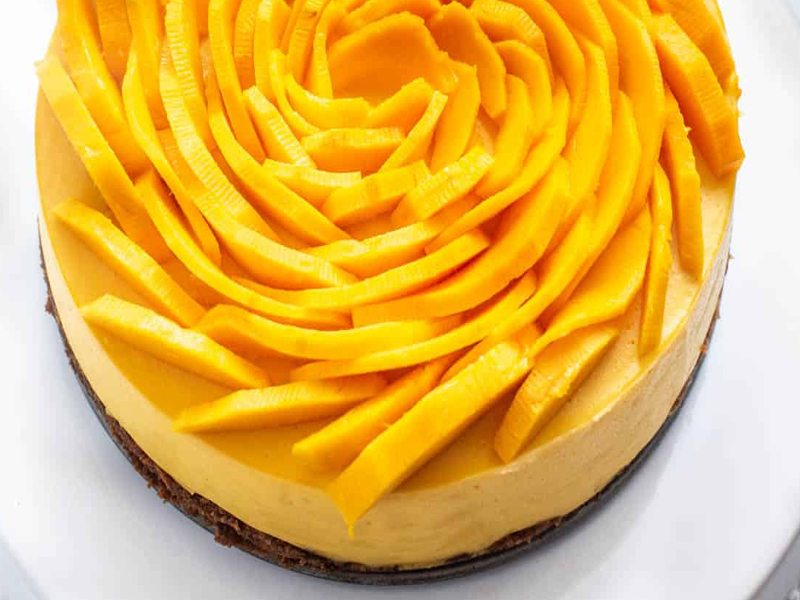 Can't step out to your favourite cafe for a cheesecake? Get the cheesecake at home! Here is a quick and easy recipe for a café-style mango cheesecake at home.
Prep Time: 20 minutes
Cook Time: 0
Ingredients:
For Base
100 gms digestive biscuits
2 tablespoon butter, melted
For Filling
125 gms cream cheese
40 gms powdered sugar
80 gms mango pulp
150 gms whipped cream
1 ripe mango
Method:
Crush the digestive biscuits into fine crumbs. Then mix them well with the melted butter.
Take out the mixture in a cake tin or any flat base surrounded by a cake ring. Press it down firmly with the back of a small bowl so that it makes an even layer. Freeze the setup for 15 minutes.
Till then, prepare the filling. Take the cream cheese, sugar and some of the mango pulp in a bowl and whisk it together.
Next, fold in the whipped cream, half at a time. Fold till all ingredients are combined.
Take out the frozen base and add the filling on top. Spread it evenly with a spatula.
Slice up a ripe mango in any shape you like to decorate the top of the cheesecake. And voila! Your café-style mango cheesecake is ready.
You can take things up a notch with a beautiful drizzle of caramel sauce over your cheesecake. Buy a rich salted caramel and dark rum sauce at the Red Dot Shop here.
13. Mango Sorbet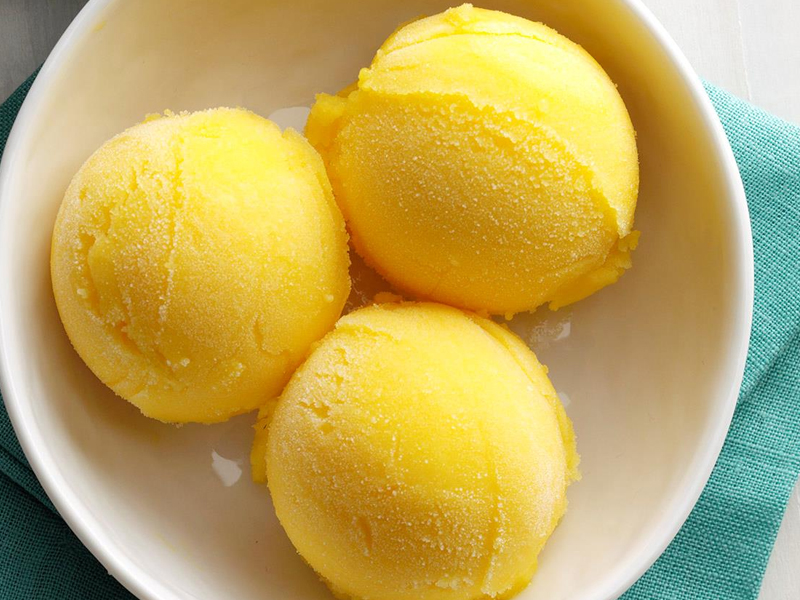 Mango Sorbet is the simplest, most delightful and most refreshing mango dessert that doesn't require a lot of ingredients!
Prep Time: 10 minutes
Cook Time: 15 minutes
Freeze Time: 3 hours
Ingredients:
2 fresh mangoes
1 lime juice
Warm water.
Method:
Chop the fresh mangos and lay them out on rimmed baking paper.
Freeze the mango for a few hours till it is completely solid, or you can also leave it overnight.
Take a blender or food processor. Put the frozen mangos in it and squeeze fresh lime juice in it. Blend until smooth.
Add some warm water and blend again.
You may have it immediately or freeze it for 3-4 hours.
14. Mango Kulfi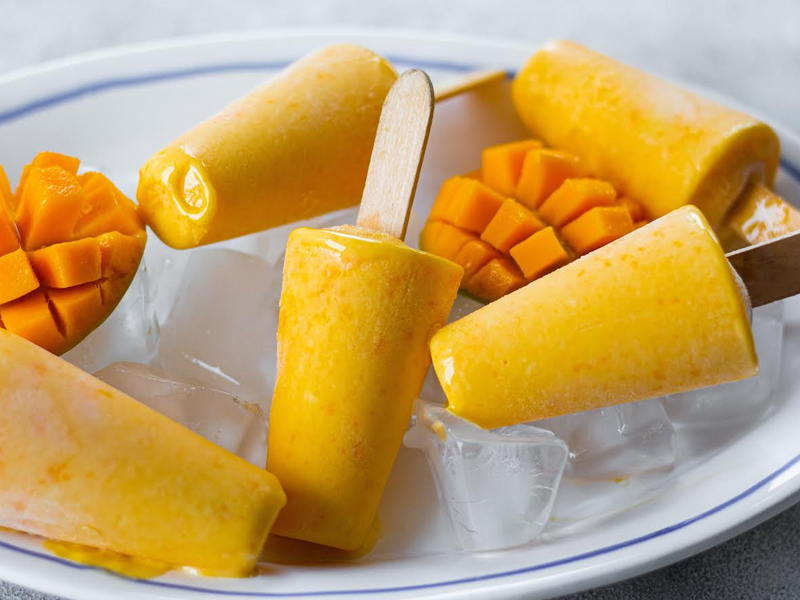 Kulfi can be modified in as many flavours as you like. Here is the mango kulfi variant for a special hot-day treat.
Prep Time: 5 minutes
Cook Time: 10 minutes
Freeze Time: Overnight
Ingredients:
1 ripe mango, chopped
200 ml of fresh cream
3 tablespoons of condensed milk
2 tablespoons of milk powder
A pinch of salt
⅓ teaspoon of cardamom (elaichi) powder
For Garnish:
Pieces of fresh mango
Dry fruits
Saffron (kesar)
Method:
Add the chopped mango, salt and cardamom powder to a blender and make a smooth puree.
In a bowl, pour out the puree and mix it in with the fresh cream, condensed milk and powdered milk. Mix till the mixture is lump-free.
Get your kulfi mould ready and pour out the mixture in it. Before pouring in the mixture, you can put some dry fruits in the empty mould and then pour the mix.
Freeze overnight. To de-mould, roll in your hands to warm the mould or dip it in some water.
Garnish with dry fruits, saffron or more chopped mangoes. You can serve it on a stick or cut it into pieces and serve it on a dish.
Tip: You can DIY your kulfi mould using Styrofoam cups. Pour in the kulfi mixture and seal the top with aluminium foil. For kulfi-on-stick, put an ice cream stick through a small slit in the foil.
15. Mango Yoghurt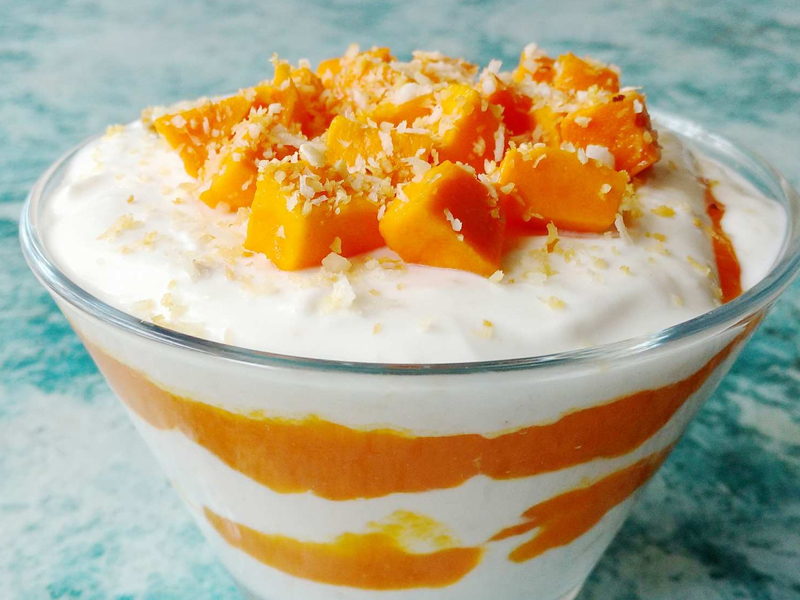 A refreshing mango yoghurt with the goodness of the king of fruits is the most delicious one. If you don't have access to fresh mango puree, frozen works just as well.
Prep Time: 5 minutes
Cook Time: 0
Ingredients:
½ cup of chopped mango
1 cup of Greek yoghurt
½ tsp honey (optional)
Method:
Blend honey and mangoes in a blender till smooth.
Combine the Greek yoghurt and mango puree.
Serve your mango yoghurt with mango slices on top and enjoy.
Serve your mango yoghurt with oats and fruit preserves for a healthy breakfast bowl. Find mouthwatering mulberry preserves for your breakfast bowls or desserts at the Red Dot Shop here.
Benefits Of Mango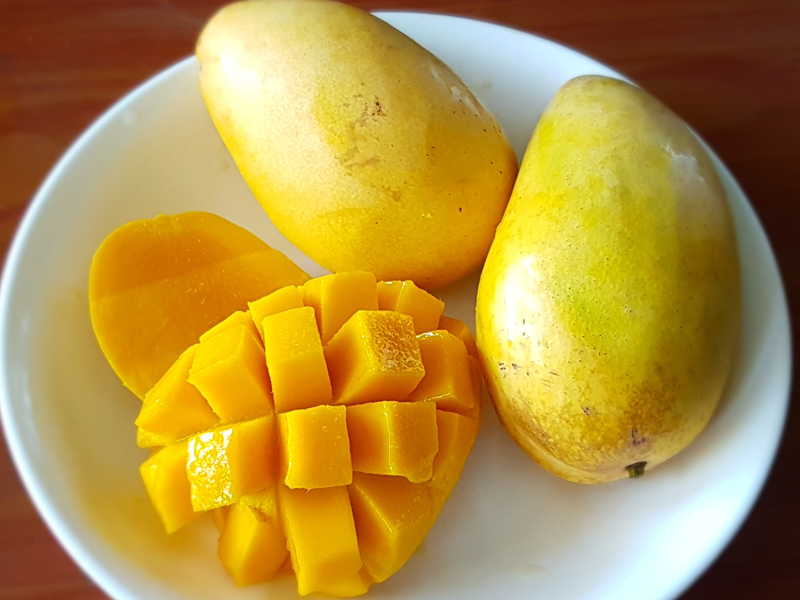 Mangoes are a great source of vitamins A, C, E, K and certain B vitamins like folate. They also contain polyphenols and antioxidants which help in reducing inflammation or oxidative damage. They work great when added to salads and can be consumed by pregnant women too.
Mangoes are a good source of fibre. The soluble fibre that is found in pulpy fruits like mango is beneficial against diarrhoea. Soluble fibre also helps in reducing blood pressure and blood glucose levels as well.
Mangoes aid in improving your immune system. Mango contains ample amounts of vitamin A and vitamin C. Vitamin C is an antioxidant that helps in reducing oxidative damage.
Mango is a source of polyphenols and antioxidants which can be protective against certain types of cancers. Research has shown mangoes to be protective against blood cancer, colon, prostate, breast and lung cancer.
Vitamin A is found in yellow-orange fruits and vegetables, such as mangoes. Vitamin A, in mangoes, aids in improving vision. It also helps in reducing the occurrence of infections
Not only has mango played an important part in your childhood but also provided you with the right amount of nutrition and fuel for your body. Did you know that you can also use mangoes as a part of your skincare regimen? It can be included in your facemasks to add a natural glow! There are loads of nutritional values present in mangoes, and it is only right that we have the king of fruits in style. By experimenting with different recipes. Let us know in the comments which one was your favourite. Here's a DIY mango face pack that will help you get flawless skin.