Aamchi Mumbai! A city that never sleeps and is always on the move. Are you planning to visit this marvellous city? Then be ready to taste the food that will sweep you off your feet.
Mumbai has a whooping population that tops over 2 crores. With people of every culture, ethnicity and root amalgamated in one city, the food is bound to reflect this. India's 2nd largest city offers you food coming hot from 5-star restaurants to khau galis. From spicy and savoury pani puri, vada pav, sevpuri, Bombay sandwich, and omelettes to deliciously sweet basundi, motichoor laddu and rasgullas – sab hai yahan par. But you can't visit a city and not try its street food. That's a paap you don't want to commit. 
We're here to help guide you through the bustling food streets and bring you the top 10 food places you have to hit on your trip to Mumbai.
10 Amazing Mumbai Street Food Places
1. Samosa With Chole At Guru Kripa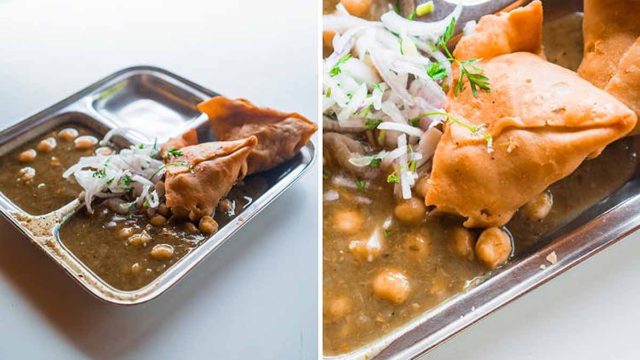 Deemed Mumbai's best samosa, this place offers this classic dish with chickpea gravy on the side. With freshly chopped onions and coriander, it's no less than a foodie's heaven. The chatpata taste will leave you drooling. It's a must-visit place if you want to dabble in the Mumbai street food scene. The queue may be long but mind you the food will be worth it and more.
Find It At: 40, Guru Kripa Building, Road 24, Near SIES College, Sion, Mumbai.
Also Try: Chole-Bhature, samosa chole, gulab jamun and chole tikki.
2. Chinese Thali At Sahibaan
This is a hidden treasure of a place waiting for your taste buds to stumble and have a blast. Your eyes will pop out of your sockets when you hear the price (in a good way). The special Chinese thali includes mouth-watering items, right from starters, soup, Manchurian, and iced tea. The food comes in piles that will fill your hungry soul. And you can't simply miss out on the dumplings and the soup. This place also has other outlets in Colaba and Bandra.
Find It At: Near Atria Mall, Annie Besant Road, Worli, Mumbai.
Also Try: Prawn hot garlic sizzler and chicken shashlik sizzler.
Read 9 Chatpata Chaat Streets Of Delhi That You Must Visit
3. Kheema Pav At Gulshan-e-Iran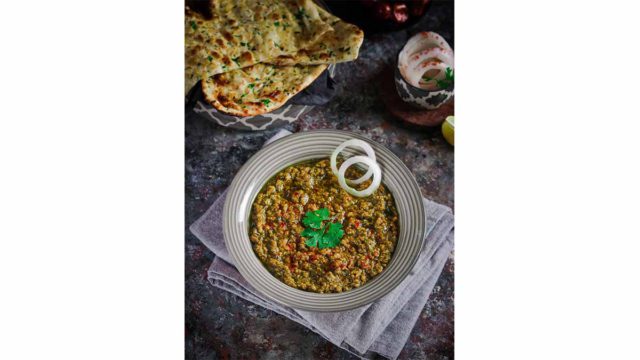 Serving delicious Mughlai specialities at such low prices has uplifted this place in people's hearts as one of the favourites of all time. You can treat yourself to chicken tikka masala and kheema pav. Craving something sugary? Try its firni and rabdi kulfi. It's a blessing really when you can eat your fill and not worry about the bill. It's worth a visit (or two!). 
Find At It: 15, Corner Of MRA Marg, Musafir Khana Road, Crawford Market, Mumbai CST Area, Mumbai.
Also Try: Keema roti, chicken taronest and Kashmiri chicken.
4. Pav Bhaji At Sardar
How can you go to Mumbai and not eat vada pav, right? The streets are lined with hundreds of vada pav outlets to ensure you don't miss out on this dish. And the best place to experience an authentic Mumbai-style vada pav is Sardar. And with great food comes even greater queues. To avoid the crowd, visit on weekdays and before evenings. Chatakdar bhaji slapped with butter and spices and the softest bread rolls. Muwah. It does not get better than this, guys!
Find It At: 166 A, Tardeo Road Junction, Opposite Bus Depot, Tardeo, Mumbai.
Also Try: Sitafal shake and cheese pav bhaji.
Read Kolkata Food Guide: 10 Must-Visit Places To Make Your Tummy Happy In The City Of Joy
5. Ice Cream Sandwich At K. Rustom
Between two crunch wafers, you can fill a variety of flavours, ranging from black currant to coffee, kacchi kairi, almond crunch, raspberry, strawberry, chocolate, and many more to drown in the sweet ecstasy. K Rustom, one of Mumbai's most famous ice cream places, has been serving hundreds of happy customers every day for decades, and its fan base continues to grow! It is a must-visit for everyone in Mumbai, whether you like desserts or not!
Find It At: 87 Stadium House, Opposite Ambassador Hotel, Veer Nariman Road, Churchgate, Mumbai.
Also Try: Coffee runch, almond crunch and mango delight
6. Misal Pav At Aaswad
At the global Foodie Hub Awards, Aaswad won the award for The World's Tastiest Vegetarian Dish for its Misal Pav! What is there to say about this exquisite Maharashtrian breakfast? This dish, consisting of mixed beans sprouts, spices, chopped onions, and tomatoes, is a treat for your taste buds. Spices created from scratch and the allure of crunchy farsan that you can't resist.
Find It At: Sanskruti Building Gadkari Chowk, 4, Lady Jamshedji Road, opp. Shiv Sena Bhavan, Dadar West, Mumbai.
Also Try: Misal, kothimbir vadi and vada pav.
7. Falooda At Badshah
Falooda is a modern take on Faloodeh, a Persian dessert prepared with vermicelli, rose syrup, and sabja seeds in creamy, thick milk. There isn't a single falooda fan in Mumbai who wouldn't recommend Badshah on Crawford Street for its creamy delight. Badshah has become a landmark in its own right, with over 100 years of faithful service to its loyal consumers. You must try the Badshahi and Royal Falooda at this iconic cafe if you have a sweet taste that can't resist the charm of this refreshing dessert.
Find It At: Dr DN Road, Crawford Market, Mumbai CST Area, Mumbai.
Also Try: Royal falooda and special pav bhaji.
8. Pani Puri At Eclo Center
Many people believe that the pani puri served here is the best they've ever had. And why wouldn't they? Thanks to its crunchy purI, masaledar pani flavours and savoury onion-potato stuffing, you'll be backing the claim as well. And who can really go wrong with a pani puri, right?
Find It At: Elco Market, 2A, Hill Rd, Bandra West, Mumbai.
Also Try: Dahi puri and sev puri.
9. Bhel Puri At Chowpatty
Mumbai Chowpatty! You thought we'd leave out this gem of a place? Imagine the fresh sea air, waves lapping at the shore and you walking along the coast or sitting and gazing at the setting sun. But without a bhel puri? Tsk Tsk. Not going to happen! You have to go to the Chowpatty and try its lovely chatpati bhel. You will never taste something like that!
Find It At: The beach, duh!
Also Try: Cheese toasts, kulfi and kala khatta.
10. Mexican & Asian At Kurries And Burries 
Kurries and Burries is a relatively new cafe in Girgaum Chowpatty that is popular among Wilson College students. Because of the creative way they make their food, you'll never guess that it's completely vegetarian. It is a restaurant that delivers a good mix of Asian cuisine to people of all ages, as well as Mexican cuisine and sweets. So mark it on your trip!
Find It At: 9/A, Jethabhai Govindji Building, Opposite Merchants Club, Metro Motors Lane, Rangekar Road, Chowpatty, Mumbai.
Also Try: The kung pao potatoes and paneer chilli wrap.
If these places didn't start waterworks in your mouth, you need to get your taste buds checked. #BeALittleMore quick and start packing your bags. Have you tried other delicious street food items in Mumbai? Mention them in the comments down below, so others don't miss out on them!
Open up like never before and participate in conversations about beauty, entrepreneurship, mental health, menstrual & sexual health, and more. Desi women, join our community NOW!