Also known as the Festival of Lights, Diwali is a Hindu festival celebrating the victory of good over evil, knowledge over ignorance, and light over darkness. It's one of the most important festivals in the Hindu calendar and is celebrated by Hindus all over the world, as well as by Sikhs and Jains. For most of the Hindus, Diwali is considered the beginning of a new year. 
This five-day festival, celebrated from the 13th day of the dark half of the lunar month Ashvin, to the second day of the light half of the lunar month Kartika, is a time for families and friends to come together and celebrate. The name Diwali comes from the Sanskrit term Deepawali, meaning "row of lights." The festival is especially popular in the north and east of India.
The five-day festival of Diwali has significance for each day.
Day 1 Dhanteras:
On this day, people clean their homes and buy new clothes, jewellery, and other fancy items. It is also considered auspicious to buy gold or silver on this day.
Day 2 Chhoti Diwali:
On this day, people make rangoli designs on their floors and decorate their homes with diyas. They also perform aarti to Lakshmi, the goddess of wealth and prosperity.
READ: YOUR GUIDE TO LAKSHMI PUJA THIS DIWALI
Day 3 Diwali:
This is the main day of the festival, where people exchange gifts, visit friends and family, and set off fireworks in celebration.
Day 4 Govardhan Puja:
On this day, people worship Govardhan, a hill that's believed to be an incarnation of Lord Krishna.
Day 5 Bhai Dooj:
On this day, sisters perform aarti for their brothers and pray for their longevity and well-being.
Why Is It Important To Decorate Your House For Diwali?
Lighting up your home during Diwali is important for several reasons. In addition to general reasons, there are many specific reasons why people deck up their homes. For example, some people decorate their homes to be a part of the community and showcase for their neighbours or friends. Others decorate their homes to make look like a festival and get in the festive spirit, while many others decorate their homes to attract good luck and prosperity.
Sprucing up the house during Diwali holds immense significance and goes beyond mere decoration; it embodies the spirit of the festival and brings forth various cultural, emotional, and social aspects. Here's why it's important to adorn your home during Diwali:
1. Cultural Tradition
Decorating homes with oil lamps, colourful rangoli, and bright lights symbolises the victory of light over darkness and good over evil, paying homage to the significance of the festival.
2. Welcoming Prosperity
The decoration of homes during Diwali is believed to invite Goddess Lakshmi, the goddess of wealth and prosperity, into the house. So people light oil lamps and candles to create an inviting ambience for the goddess, hoping for her blessings to bring wealth and prosperity to their homes.
3. Enhancing Festive Spirit
Diwali is a time for joy, togetherness, and celebration, and decorating the home enhances the festive spirit, creating a positive and joyful atmosphere that resonates with the excitement of the festival. It fosters a sense of unity among family members and neighbours.
4. Symbol Of Purity
Cleaning and decorating homes before Diwali signifies purity and renewal. It is believed that a clean and beautiful home attracts positive energy and removes negativity, preparing the space for the celebrations.
5. Strengthening Bonds
Diwali is a time when families and friends come together to celebrate. Decorating the home becomes a collective activity that strengthens family bonds. It provides an opportunity for family members to work together, share ideas, and create a harmonious living space.
6. Spreading Happiness
Beautifully decorated homes not only uplift the spirits of the residents but also bring joy to those who visit. The colourful lights and vibrant decorations create a festive aura that spreads happiness and positivity to the entire neighbourhood.
7. Expressing Creativity
Diwali decorations offer a chance for creative expression. People experiment with various decorative items, colours, and designs, showcasing their artistic skills. It allows individuals to express their unique style and creativity.
8. Fostering Tradition
Decorating the home during Diwali is a tradition passed down through generations. By upholding this tradition, families connect with their roots and preserve the cultural heritage, ensuring that these practices are carried forward to future generations.
10 Spectacular Ideas For Balcony Decoration For Diwali
Here are a few Diwali balcony decoration ideas:
1. Fairy Lights And Lanterns
Hang strings of fairy lights and paper lanterns around the railings of your balcony. These lights will create a warm and magical atmosphere, and add a touch of elegance to your outdoor space. You can even use the fairy lights to write a message!
2. Rangoli
Create a vibrant rangoli design at the entrance of your balcony using colourful rangoli powders, flower petals, or even decorative stickers to make intricate and eye-catching patterns on the floor for some creative Diwali decoration ideas for balcony.
3. Candles And Diyas
Strategically place decorative candles and traditional ghee diyas on tables, shelves, or corners of the balcony. You can even float diyas or tealights in crystal bowls filled with water to add a serene charm.
4. Flower Decor
One of the most classic Diwali decoration ideas for balcony, use marigold flowers, roses, and other colourful blooms to adorn your balcony. Create floral garlands, hang flower strings along the railings, or place potted plants with vibrant flowers.
5. Toran
Hang a beautiful toran made of mango leaves, marigold flowers, or fabric at the entrance of your balcony, or hanging down from the railing. Torans are considered auspicious and add a traditional touch.
6. Ethnic Cushions
Place brightly coloured cushions with Indian prints on your balcony chairs and seating area. These cushions not only add comfort but also enhance the visual appeal of the space.
7. Aromatic Herbs
Plant aromatic herbs like basil, lavender, or jasmine in decorative pots. In addition to adding greenery, these plants will give out a pleasant fragrance, making your balcony look, as well as smell divine.
8. Paper Decorations
Create paper crafts like origami lanterns, paper flowers, or paper fans. Hang these crafts strategically around the balcony from the ceiling, or the railing to add a playful and festive vibe.
9. Festive Drapes
If you have enough space, use colourful curtains or decorative fabric pieces to create a canopy hanging from the ceiling, or drape them along the walls. The flowing fabrics will add a touch of grandeur and create a cosy atmosphere.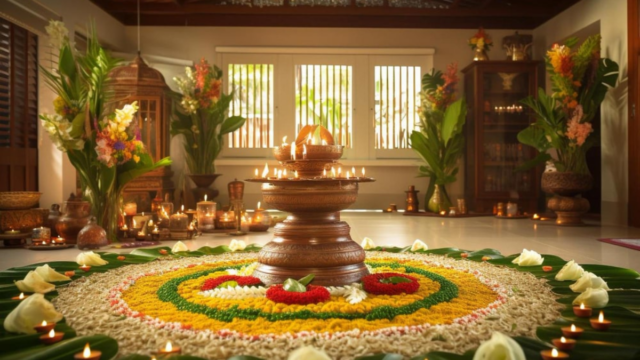 10. Themed Decor
Pick a specific theme for your decor, like traditional, contemporary, or rustic, and coordinate your decorations, lights, and colours according to the chosen theme for a cohesive and visually appealing look. You can even pick a theme according to the country's latest victories, like Chandrayaan-3, or the Cricket World Cup 2023, with India hopefully bringing home the cup!
8 Tips For A Stunning Diya Balcony Decoration For Diwali
Arranging diyas on your balcony for Diwali is an iconic and classic Diwali activity to create a warm and inviting atmosphere, and for that, you need Diwali lighting ideas for balcony. Here are a few tips for Diwali balcony decoration ideas:
1. Diya Placement
Place the diyas at the entrance of your balcony, in the corners, to welcome guests. You can also line them along the balcony railing to create a beautiful border of light. To strategically illuminate the less lit-up areas of your balcony, place diyas in dark areas accordingly for an overall bright atmosphere.
2. Rangoli Centrepiece
If you have a rangoli on your balcony floor, make sure you place a diya at the centre of the design. It not only adds a focal point but also illuminates the intricate patterns from a certain angle, making the rangoli more vibrant.
3. Elevated Platforms
For this Diwali light for balcony, use small and decorative platforms or trays to elevate some of the diyas. Not only will this hack give you varied heights for your diya arrangements, but it'll also prevent the flames from being easily extinguished by wind.
4. Floating Diyas
For a classic look, add a water feature or a decorative crystal bowl to your balcony, and float small diyas or tealights in them. Add a few flower petals for an added visual appeal.
5. Pond
For a brand new look, you can seal off a corner of the floor of your balcony using clay or mud, and then fill it with water to make a pond. In this pond, you can float diyas, candles and boats, add toy fishes, or even a patch of real grass! This will definitely be a unique Diwali light for balcony.
6. Diya Chains
Create chains of battery-operated diyas by attaching them together with strings, and hanging them along the balcony railings or around the entrance. The hanging diyas will sway gently in the breeze, adding to the festive charm.
7. Diya Patterns
Arrange diyas in different patterns, like the shape of a flower, peacock, or any other traditional motif. Use specifically shaped and coloured diyas, or add flower petals around them to define the pattern clearly.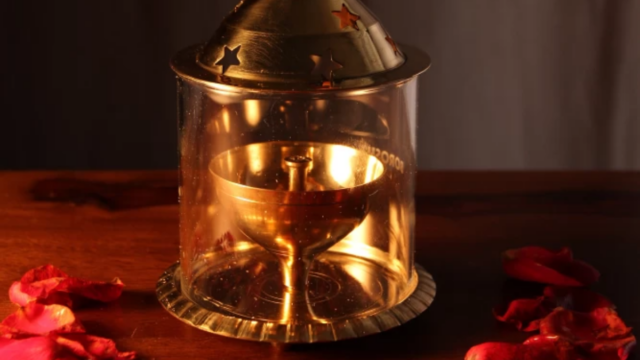 8. Wind Protection
If your balcony is windy, use a glass or metal windshield around the diyas. This will protect the flames and ensure they stay lit throughout the celebration. Alternatively, you can even opt for beautiful glass or shiny metallic lanterns for windproof lighting as an easy hack for Diwali lighting ideas for balcony.
Decorating your home during Diwali is an important tradition that symbolises the victory of good over evil, knowledge over ignorance, and light over darkness. It's also our way to welcome Goddess Lakshmi, usher in good luck, and create a festive atmosphere. You can choose from the many different creative ways here to decorate your balcony for Diwali, including a pond, fairy lights and lanterns, or even a themed décor. So get creative and enjoy transforming your home for the festive occasion of Diwali.
Open up like never before and participate in conversations about beauty, mental health, menstrual & sexual health, and more. Desi women, join our community NOW!