Chaat after a street shopping spree, chaat after a long walk with your date, chaat to assuage your evening cravings, chaat before a sumptuous wedding feast – chaat has a way of making its way into your lives whether you plan it or not. In short, chaat bina zindagi adhure. The taste of this khatta meetha snack varies between regions, with each place contributing its own unique flavours, ingredients, and recipes to it. However, the common ingredient – aloo or potatoes – remains constant, unless it's a fruit chaat of course.
If you are new to Delhi or want to jog your memory down memory lane, here is a list of 9 eat streets in the city that you must visit for chaat to indulge your bhookhi aatma.
1. Prabhu Chaat Bhandar, UPSC Lane, Man Singh Road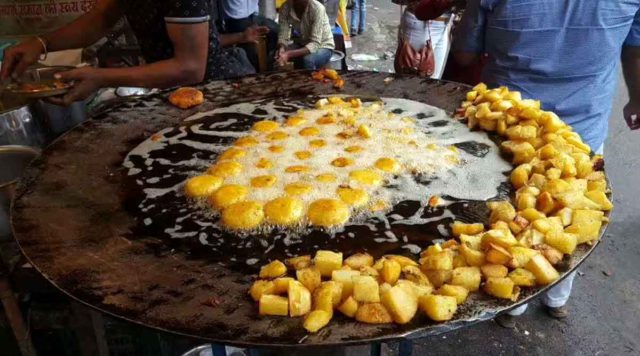 Yoru chaat-eating experience will remain incomplete unless you plan a jaunt to this place. One of the most popular chaat places in Delhi, it serves a long list of mouth-watering chaats that are to die for. Right from Aloo Chaat, Aloo Tikki, Dahi Bhalla, Dahi Papri Chaat, Samosa Chaat just to begin with – it has it all.
2. Vaishno Chaat Bhandar, Kamla Nagar
Located in the North Campus of Delhi University, this chaat eatery is a frequently-visited place among its students. Treat your taste buds to pav bhaji and a myriad of chaats on your list and you will feel nothing less than satiated.
3. Juneja's, Amar Colony Market, Lajpat Nagar
At or in the vicinity of Lajpat Nagar, and craving for some chaat? You know where to head out to. Despite it being a seemingly obscure shop that is easy to miss, the swarming crowd outside it will make sure that there is no scope for you to overlook it. Apart from being synonymous with an extensive range of delectable Indian traditional sweets, its samosas, chaat, and gol gappas will leave you asking for more.
Read 5 Famous Food Capitals Of India Every Foodie Should Visit
4. Atul Chaat, Rajouri Garden
Located in the Rajouri Garden Market, this chaat shop grabs eyeballs for its thronging crowd at all times of the day (and evening) and justifiably so! Visiting the market and not helping yourself to some irresistible chaat from this eatery would mean depriving yourself from the spicy pleasures of life. From the huge menu, don't forget to try out their Aloo Tikki and Aloo Chaat, although they are equally known for the magnanimous size of their gol gappes.
5. Prince Chaat Corner, M Block Greater Kailash (GK)
Despite the location being posh, this eatery is known for its affordable yet out-of-the-world spicy bites. Apart from the Raj Kachori, Bhalla Papri, and Golgappe that are intrinsic to every regular chaat eatery, Prince Chaat Corner offers a unique spread through their chaat menu with Palak Patta Chaat. You got to dig your hands into one of these to explore its ultra-uniqueness.
Read Kolkata Food Guide: 10 Must-Visit Places To Make Your Tummy Happy In The City Of Joy
6. Natraj Dahi Bhalle Wala, Chandni Chowk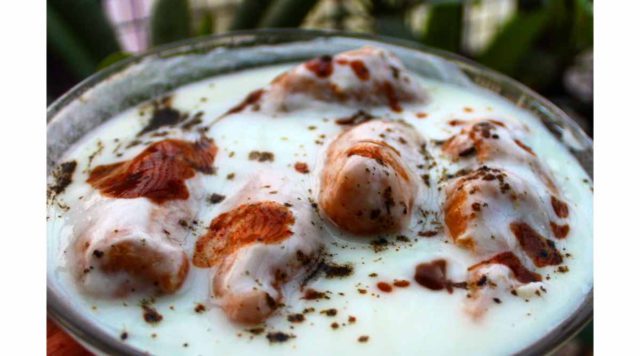 Situated just a couple of minutes away from the Chandni Chowk metro station, this place would not tempt you to a wide range of chaats. It only offers two items in its menu – Dahi Bhalla and Dal-stuffed Tikkis. However, it will invigorate your senses with the little that it offers. The Dahi Bhallas create magic in your mouth, while the tikkis leave your mouth wanting for more. No wonder, there is always a crowd of hungry people at the shop waiting to devour every bit of the chaats that it serves.
7. Bishan Swaroop Chaat Corner, Chandni Chowk
Known for its heavenly Aloo-Kachaloo Chaat, you shouldn't dare to miss out on the chaat that is sure to be a burst of flavours in your mouth. So, make headway to this eatery and don't be surprised if you find yourself visiting it often.
8. Ashok Chat Bhandar, Chowk Hauz Qazi, Near Chawri Bazar
A tiny, humble shop without a shelter, finds its way into people's hearts with the extraordinarily mesmerising chaats that it is known for. When you want to lose yourself in the divine sensation of spices tingling in your mouth, this is one of the places that should definitely make it to your list.
The above list initiates you to a list of chaat corners that you should visit for an experience of a lifetime. Here's your chance to learn more and #BeALittleMore in terms of exploring your city to discover its hidden chaat streets. If you know of any other chaat eateries that haven't made it to this list, do share its name with us in the comment section below.
9. Bishan Swaroop Chaat, Chandni Chowk
Here's your chaat with a twist – fruit chaat! Not exactly the one that you would want to have when you are hankering for some spicy snack, but this will surprisingly leave you satiated with its unique fruity flavours. Prepared with khatta meetha seasonal fruits, topped with channa, the chaat masala sprinkled on the top is what weaves magic into this snack.

Open up like never before and participate in conversations about beauty, entrepreneurship, mental health, menstrual & sexual health, and more. Desi women, join our community NOW!