The Alia Bhatt starrer Darlings had been creating quite a buzz since the last few days. And Netflix rode this wave of excitement by dropping the first teaser of this dark comedy yesterday. Apart from being an acting powerhouse, Alia also makes her debut as a producer with this OTT show, which is co-produced by SRK's Red Chillies Entertainment. Darlings is directed by Jameet K. Reen and will release on 5th August on Netflix.  
Synopsis Of The Teaser
The teaser raises its curtains on Alia's character watching a movie at the theatre all by herself. The next scene shows Vijay Varma's character, perhaps her boyfriend, apologising to her. However, she refuses to pay heed to his earnest apology. Later, in another setting, his character seems surprised to see another guy, played by Roshan Mathew, at the same place. The former's suspicion is piqued when he notices a random strand of hair on the man's shoulder when he rides pillion with him.
The teaser then moves on to the setting of a police station where Alia and another woman, played by Shefali Shah, are being questioned about a murder. The camera zooms through Vijay's character returning from work with an expression of shock on his face, before focusing on Alia applying a bold red lipstick suggestively while dressing up as a femme fatale. The trailer returns to the police station and we hear Alia's response to the police's persistent probes – that she'd committed the crime only in her imagination.
In the backdrop, we can hear Alia's voiceover narrating a fable of a scorpio and a frog throughout the one-and-a-half minute long teaser. The morale of the story is that people will commit acts that are a part of their spontaneous nature even if that does them more than good. The teaser holds the interest of the audience and successfully keeps the suspense by not giving out much about the plot.
Watch the teaser right here:
Read: 5 Alia Bhatt Movies That Made An Impact On Aspiring Actors
4 Other Indian Dark Comedies On Netflix That You Must Watch On Netflix
Here's a list of 4 other Indian dark comedies on Netflix for you to #BeALittleMore eloquent with the movies and shows in this genre.
1. Andhadhun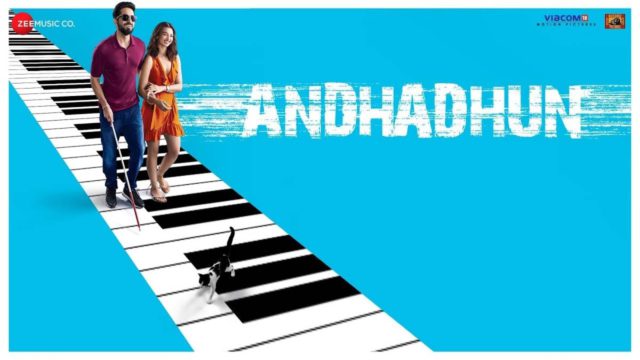 Andhadun is about a visually challenged pianist who inadvertently lands up at the murder location of a former movie star. A series of mysterious twists and turns ensues. These turn of events lead to a bizarre situation where he needs to report the crime, despite him technically being unfit to be a witness for the same. Directed by Shreeram Raghavan, the 2018 dark comedy thriller, starring Ayushman Khurrana, Tabu, and Radhika Apte, gets the audience to cling on to the edge of their seat till the very last scene.
Read: 10 Best Deepika Padukone Movies Of All Time
2. Ludo
The Anurag Basu directed Netflix dark comedy ties together four independent stories set in different scenarios, weirdly weaved together through three common elements – an unidentified suitcase full of cash, a sex tape that is a blast from the past, and an eccentric criminal. The story establishes the dark reality of humans being a mere kathputli in the hands of fate's whims through hilariously unexpected situations. The movie is brought alive by the power-packed performances of Pankaj Tripathi, Rajkummar Rao, Abhishek Bachchan, Aditya Roy Kapur, Sanya Malhotra, Fatima Sana Shaikh, and others.
3. Serious Men
The real life based movie, starring Nawazuddin Siddiqui, unfurls the devious mind of a slum dweller that eggs him on to plan his upwards mobility, something he has been hankering for, for decades. However, the ways by which he so cunningly twists reality and justifies his actions that are a means to achieve his dream of rising in society garners laughs of surprise and astonishment from the audience.
4. 7 Khoon Maaf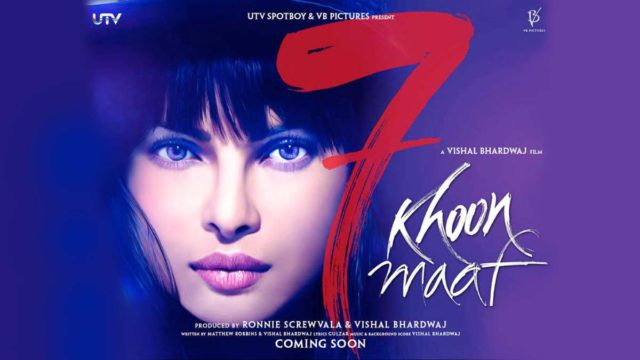 A femme fatale's urgent, consistent, and ardent pursuit of love seems endless when she continues to marry men from diverse walks of life one after the other. She finds a man and decides to get married soon after she discovers a flaw in the previous husband. However, this pursuit eventually proves to be fatal. Directed by Vishal Bhardwaj, the movie stars a host of actors in pivotal roles like Priyanka Chopra Jonas, Neil Nitin Mukesh, John Abraham, Annu Kapoor, Irrfan Khan, among others. You can catch up on this one on Netflix by 31st June.
Have you watched any of the above Indian dark comedies on Netflix? Which one of them appealed to you the most?
Open up like never before and participate in conversations about beauty, entrepreneurship, mental health, menstrual & sexual health, and more. Desi women, join our community NOW!