Mom has given you ample memorable moments to feel special and cherishable. So it is time for you to do the same for your mom with these mother's day gift ideas. Mother's Day is the special time of year when you get to celebrate your first best friend and the person you always turn to when you need advice. Mother's Day is also a great time to show your love for all the other wonderful women in your life.
Remember those famous dialogues your mum would say? And amongst those words, you'll find dialogues like 'khana khaya?', 'chup karo', or 'do want you want to do, mera mat suno!'. Here are some of those famous dialogues compiled in a fun video for you to walk down memory lane.
It becomes a difficult task to give special gifts to your mom who has made you feel loved your entire life. From your first kitchen set to your very first Barbie. Be it your maiden cricket bat or be it your first digital watch. Worry not and make the day special for your mom. Make The Red Dot Shop your one-stop destination for a plethora of items that you can gift your special lady, from home decor to jewellery, beautiful clothes, natural beauty products and what not! Your mother will definitely love whatever you gift her.
10 DIY Mother's Day Gifts That Are Sure To Surprise Her
Most moms would rather have their kids spend money on themselves than yet another Mother's Day gift for her. Because really, it's the thought that counts, right? This year, heed your mom's advice (it's about time) and make one of these DIY Mother's Day gifts instead. Take a more creative route by trying your hand at these homemade gift ideas, everything from fully assembled gift baskets to personalized flower pots. Even though most of these DIYs are easy enough for kids of all ages (with parental supervision, of course), the result still has a level of sophistication that can't be beaten by anything store-bought.
As long as the gifts for mom are made with love, it's a win in her eyes. So, while you're in the crafting mode, pair her gift with a homemade Mother's Day card that comes straight from the heart.
1. Handmade Painting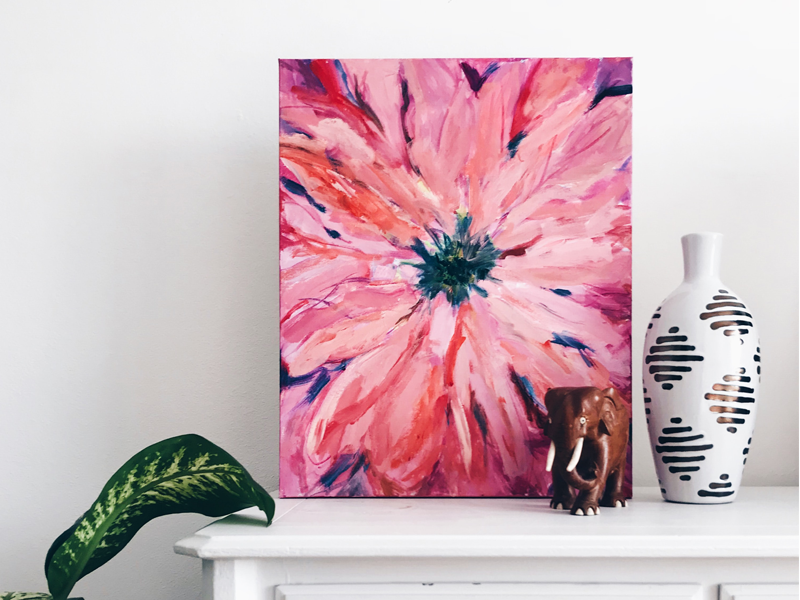 It's easy to buy yet another painting for your mother. But honestly how many children will roll their sleeves and get their hands dirty to make a beautiful DIY mother's day gifts painting? Now that the idea is here, how about putting it all together. If you are creative, perhaps you can sketch a decent picture, but if you are all thumbs, think of something abstract. Take a plate or a small bowl and use it to make circles, go wild with colours and shapes and voila! In the end, you have a masterpiece! Have it framed well, don't scrimp here and hang it in her room. She will be amazed at this 'MF Hussain'. You pay only for the canvas, frame and colours, the effort you've made is invaluable.
2. Fingerprint Butterfly Mugs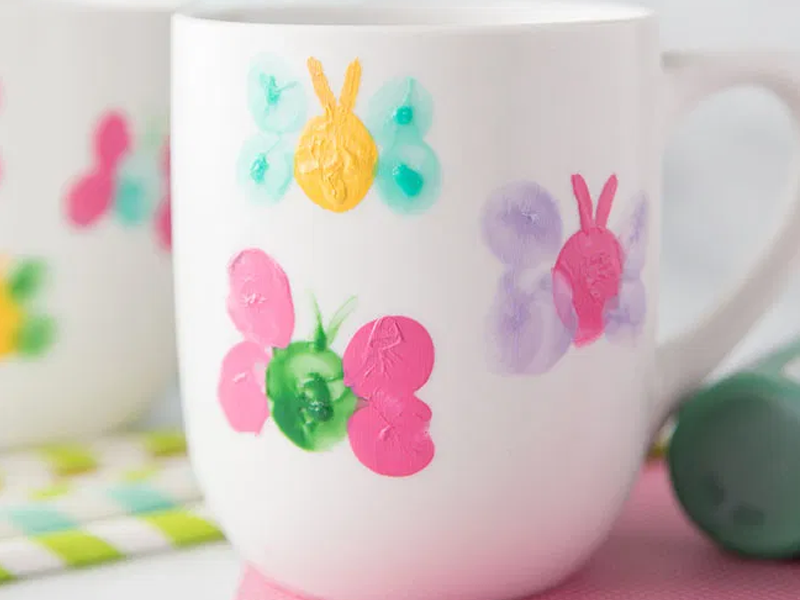 Melt mom — or grandma's — heart with easy handmade Mother's Day gifts, a mug decorated with her little one's fingerprints. That means you can even get your kids involved in this craft.
Method:
Dip your child's thumb into the paint and stamp it once or twice on a scrap piece of paper to ensure that the paint is not too thick. Carefully stamp it on the mug, being sure to stay 1-2 inches away from the top.
Clean off the child's thumb and dip it into another colour and stamp the thumb twice on either side of the first thumbprint to create the wings.
With a very small paintbrush, paint on some lines to create the antennae.
Allow the mug to dry or bake it at a low temperature according to the enamel acrylic paint directions and your gift for mother is ready to use!
3. Collage Of Photographs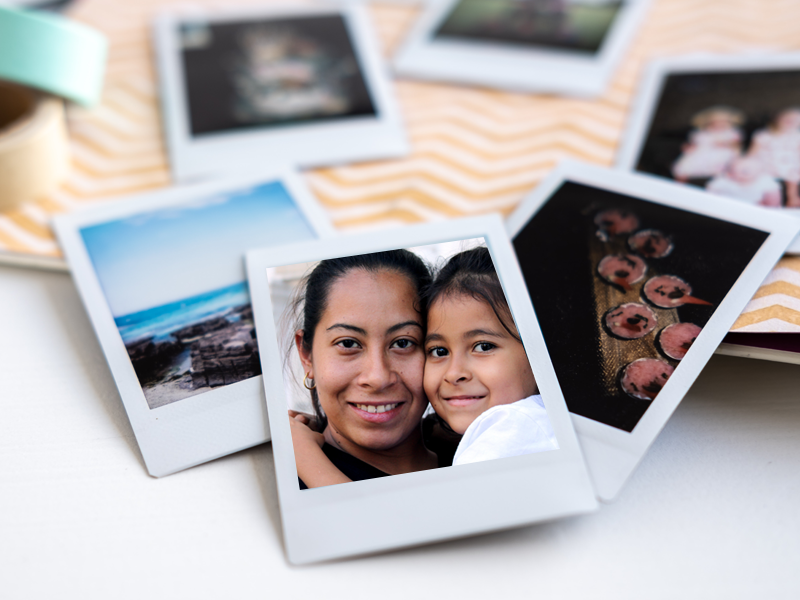 Make sure your mom is not nearby for this gift idea for mom. Open your treasure trove and there you'll find old pictures that you'd forgotten even existed. Make a collage of all those years gone by and bring them alive by putting them together in a new frame. Your mom will love you for these, even if it brings tears to her eyes. The frame will cost you anywhere between Rs 500 – Rs 2,000. Collages are simple and easy DIY Mother's Day gifts.
4. Hand Holding Heart Card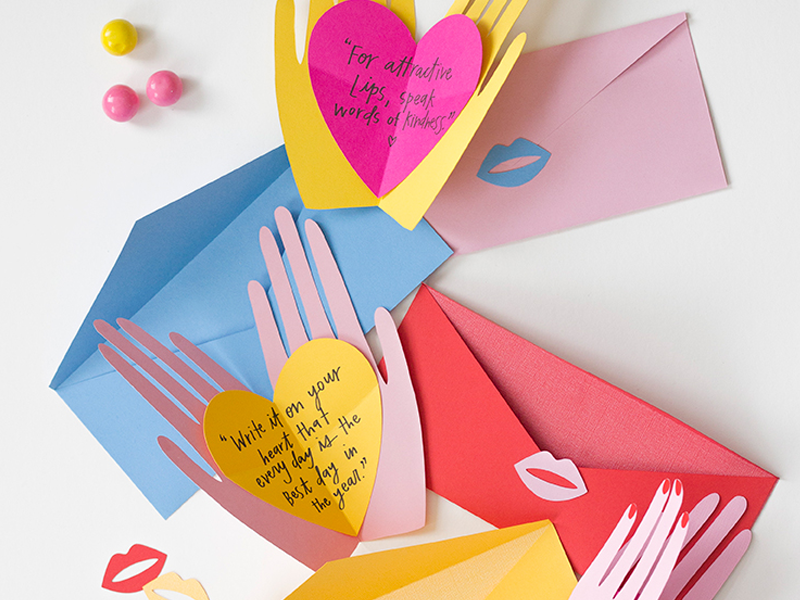 You'd be surprised with one of these Mother's Day greeting card ideas. A good homemade card with a sweet note might just be the gift that mom will treasure for years to come.
Method:
Cut out your templates of heart and hands with scissors.
Score the lines in the heart and fold.
Glue the bottom portion of the heart onto the inside of the hands.
Paint nails onto the top of the hands.
5. Lavender Sachets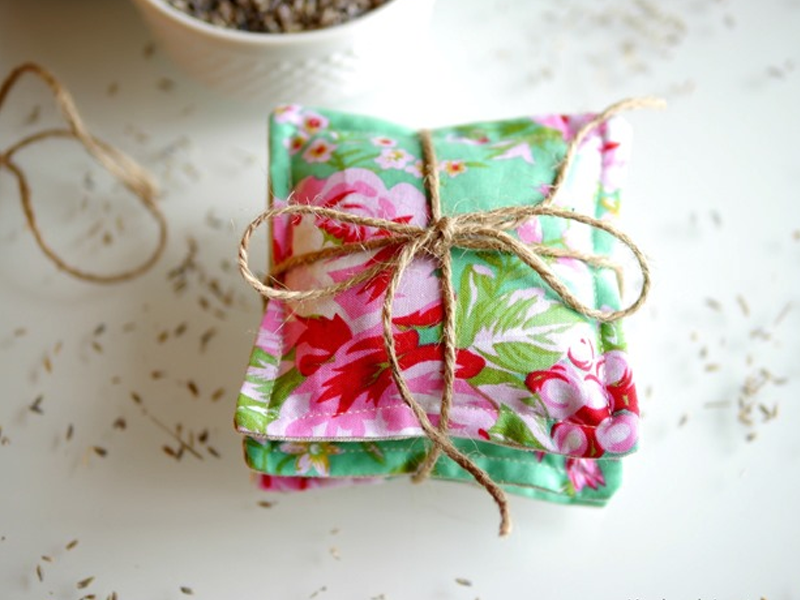 Lavender makes everything smell better—that's just a fact. Your mom can pop one of these sachets into any drawer, closet, or even her car to add a little bit of freshness to any space. You can keep one of these DIY handmade Mother's Day gifts and add some custom embroidery to the sachets, making them extra special.
Method:
Cut 5-inch fabric squares.
Stack two squares with the right side facing inside.
Start sewing about 3/4 of the way down one side and continue around until you have a couple of inches left and backstitch with your machine. You want to leave a big enough opening to work with, so sew slowly.
I sew about 1/8" to 1/4" in from the edge.
Cut the corners off carefully. This helps the corners look nice when it's finished.
Flip the sachet to show the right side of the fabric on the outside.
Flatten a bit and make sure your corners are nice by using your finger to push on the corners from the inside.
Sew around the edge again leaving the opening the same size.
I roll up some cardstock to use as a funnel and add my dried lavender using a little scoop. You can easily buy dried lavender on Amazon.
Be sure not to add too much or it will be hard to sew closed!
Shake your sachet to settle the lavender and then hold it carefully while you sew up the opening. This is potentially the best gift idea for a mother who loves lavender.
6. Fabric-Covered Flower Pot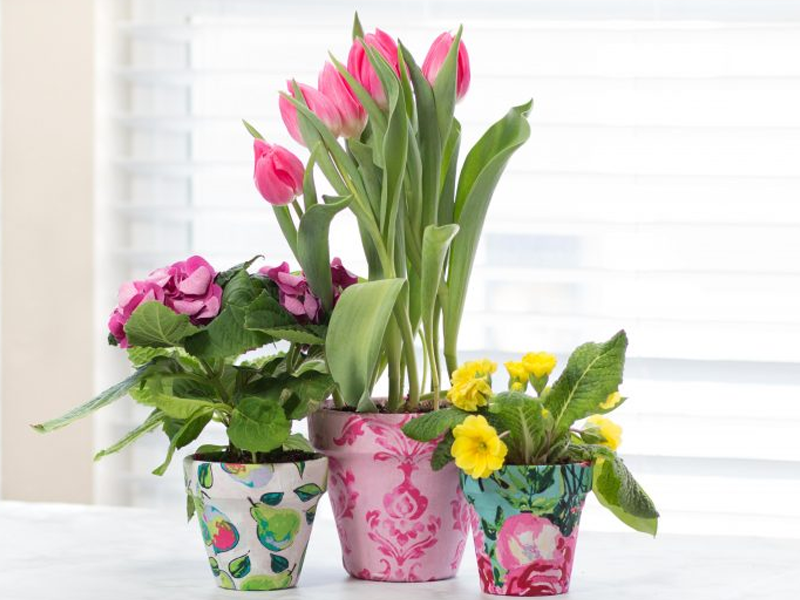 Do you know what's better than a plain flower pot? One covered with a cute, printed fabric (duh!). Do you know what's even better than that? A cute, fabric-covered pot that you made from DIY Mother's Day gifts and comes with some fresh flowers planted inside.
Method:
To begin with, this gift idea for mom, draw a line on the top and bottom of the clay DIY pot. This line will help you to measure the right amount of fabric.
Lay the pot on top of the fabric and trace the top outline as you roll it 360 degrees. You can add a bit more to the end so you will be able to overlap the edges of the fabric.
Now, put the pot back where you started and lower it 3 inches and repeat the same process of drawing a line as you slowly roll the pot. The extra 3 inches will allow you to cover part of the top and bottom of the pot.
Cut out the pattern and don't worry if it's a little wonky. It doesn't need to be perfect!
Apply glue to the front half of the pot.
Centre the pot on top of the fabric. Pull the fabric around the pot tightly. Add more glue to either side until you've covered the entire pot. Be sure to pull the fabric around the pot tightly.
Cover the 1.5 inches of the inside edge of the pot with glue and pull the end of the fabric over the edge of the pot.
Cover the bottom of the pot as well leaving a small opening for the water to drain from the hole.
Once the glue has dried completely and is no longer cloudy, transfer the plant into the pot. Don't forget to break up the roots a bit when you are potting the plant.
7. Soothing Body Scrub
Treat mom to this sweet-smelling citrus and passion fruit spa treatment. She'll instantly feel like she's on a tropical vacation in the comfort of her own home.
Method:
Combine two tea bags of passion tea into a small bowl with 1 cup granulated sugar.
Add a couple of drops of pink food colouring (optional).
Mix in 10 drops of orange essential oil and jojoba oil.
Store in an airtight container.
You can decorate the container with ribbons and your gift for your mother is ready.
8. Vintage Bookmark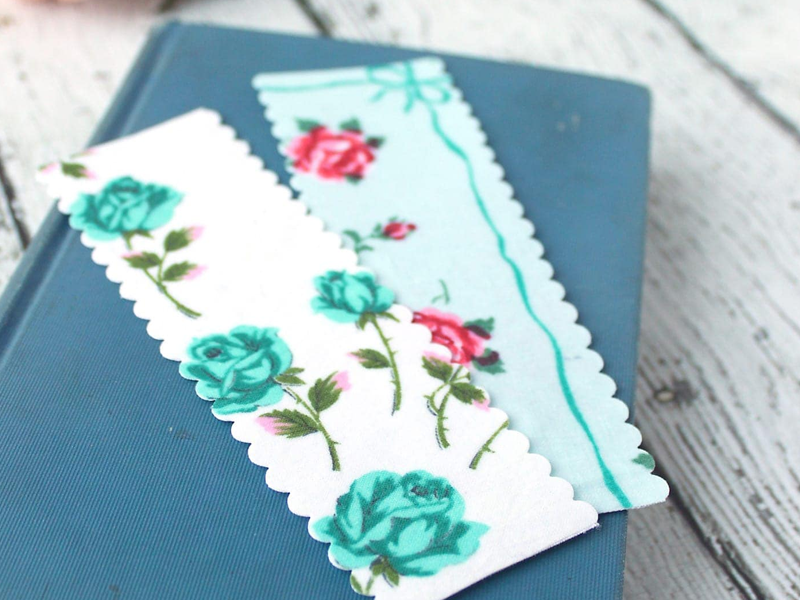 You can use any scrap of fabric for this DIY Mother's Day gift, but you could add a little extra something by using a piece of fabric leftover from something she sewed you or one of her old handkerchiefs. Pair this with a new bestseller or a classic novel for the perfect gift for the mama who loves books as much as her kids.
Method:
Start by drawing a 2 x 6-inch rectangle on the paper side of your interfacing.
Position the interfacing, paper-side-up, on the "wrong" side of your handkerchief. Iron it down and let it cool.
Cut out the rectangle.
Peel off the paper backing.
Place your rectangle on top of your thicker fabric, with the interfacing side down. Make sure it's a solid fabric with no print. White worked great for mine! Iron it down and let it cool.
Cut out your rectangle again, with some fabric scissors. Then trim both sides with the scalloped shears, to make a pretty design on the edge.
9. Scrabble-Tile Frame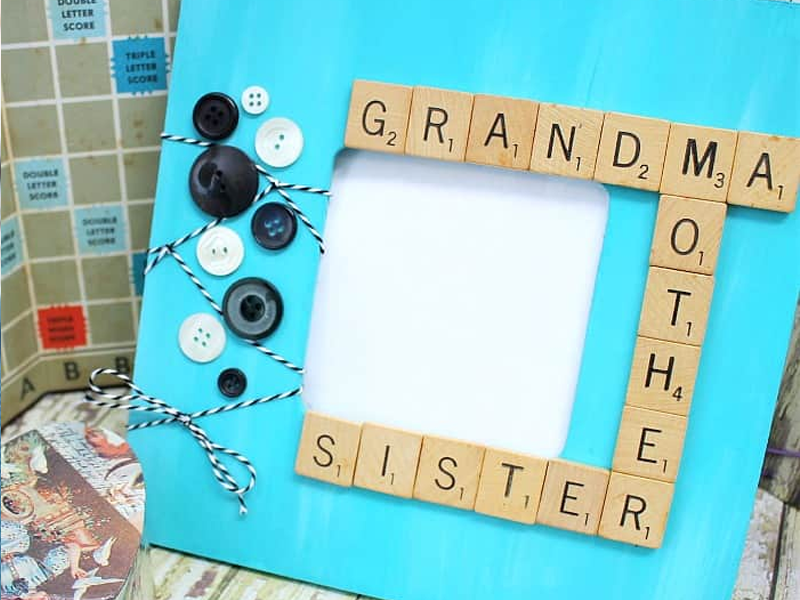 The best thing about a Scrabble-tile frame is that you can personalize it however you want: Include Mom's name, the kids' names, or even hobbies she likes to do. A beautiful and thoughtful gift for mother.
Method:
Start by painting a wooden picture frame with acrylic paint. Paint it all one colour or let kids paint it multiple colours. Let it dry completely.
Decide what lettering you will be using for your frame. You can spell out "Mom", "Mother", "Aunt" etc. or even someone's name. Children can also spell out words like "love" or "family". There are tons of options!
Before glueing the letter tiles onto your frame, be sure to play around with them and make sure they fit. Younger children might find it easier to do just one word, while older children might want to do multiple words that intersect.
Glue your tiles in place on your frame using a strong glue or a hot glue gun.
Add some details to your frame. You can wrap twine or yarn around one side and/or glue buttons on it.
10. Ribbon Heart Card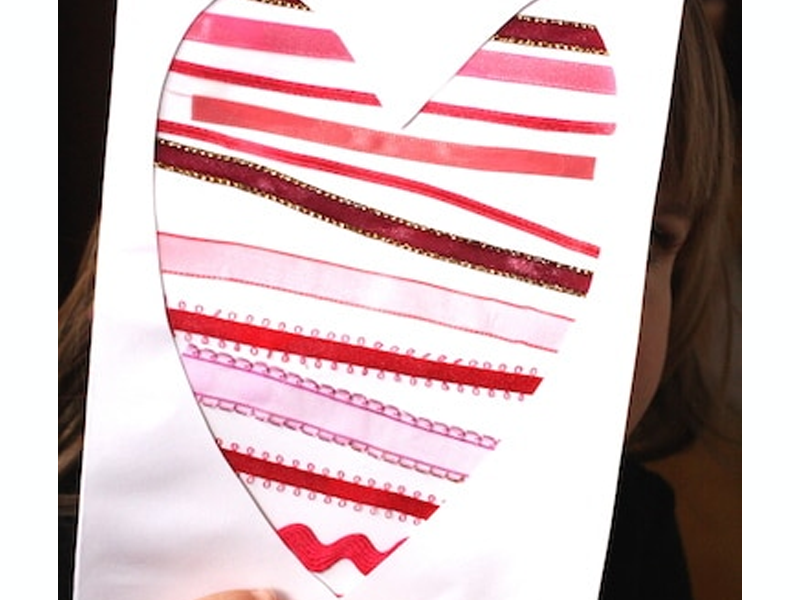 The cutout design of this project makes for a 3D card she can hang up at her desk at work — or even a piece of art worthy of framing. For a twist, tailor the ribbons to Mom's favourite colours. This might just be the best of Mother's Day greeting card ideas.
Method:
Start by folding your 8 x 11 piece of card stock in half. This will be your actual card.
Cut strips of ribbon that are not quite as wide as your card.
Glue the ribbon strips across the front of the card.
You can cut out the heart-shaped overlay. For this, you'll need a half piece of 8 x 11 card stock. Make sure it's the same size as the front of the card.
Cut a heart out of this piece of paper.
When all of the ribbons have been glued to the card, glue to the back of your heart-shaped overlay. Next, carefully position the overlay over the ribbons, lining up the edges of the overlay with the edges of the card.
And behold! A beautiful ribbon heart Mother's day card!
5 Perfect Gifts For Mother's Day Celebrations
1. Saregama Carvaan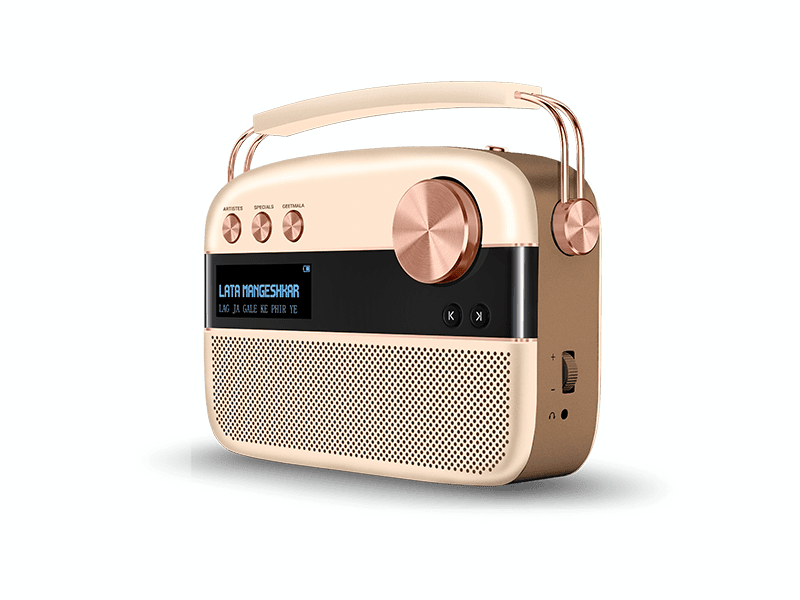 Taking your mom back to her youth is always a good idea to make her feel special. And what could be a better way to do it than making her listen to her favourite music of her era. Sa Re Ga Ma Carvaan is one of the best products to do so, containing more than 5000 retro songs, is the best gifting idea for any music-driven mother. One of the best gifts for mom this 2021.
2. A Pedicure Kit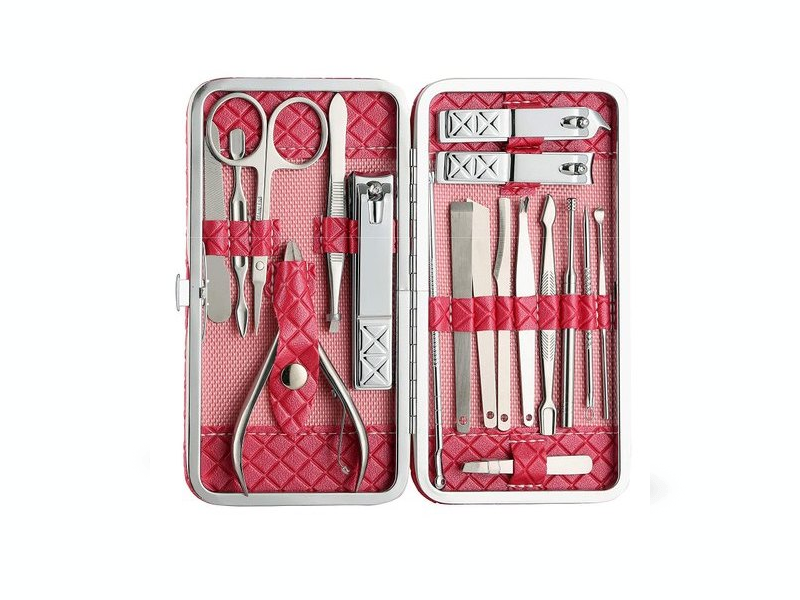 You often see your mom's cracked heels. Working for long hours in the kitchen and bathroom very often affects her heels terribly. Gifting a pedicure set to your mother is a good gesture of showing love and care and one of the best gifts for mother in law and mom. Give them a birthday bouquet too.
3. All-Time Favorite Bags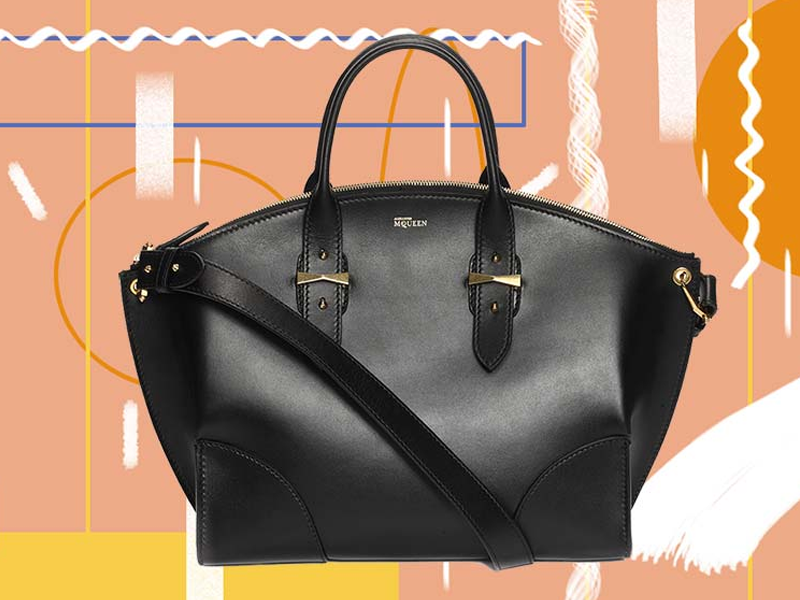 Which mom doesn't love a fancy hand bad. Every mom needs a handbag for a variety of purposes. While pondering over gift ideas for your mother, get your mom the latest and fancy handbag and it will surely bring a huge smile to her face.
4. Home Decor Items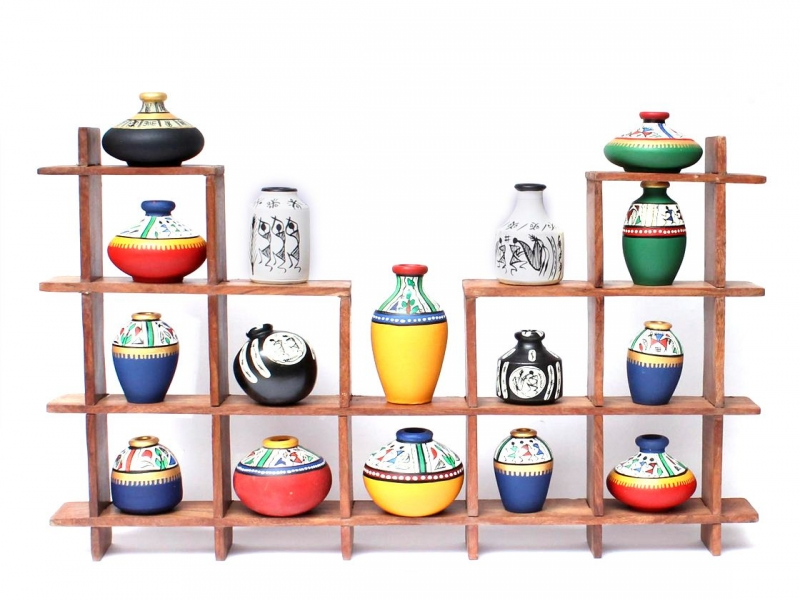 Ask every mom, which is her favourite place. I bet every mom will have the same answer. It's your home. Home is built by a mother. She takes care of every small thing a home needs to look beautiful, stay positive, and healthy. Fulfil her wish to make her home look the most beautiful place by gifting mom a kit of home decor items from the Red Dot Shop. These are the best gift ideas for a mother as well as home decor items that make perfect gifts for mother in law. Be it a collection of wind chimes, decorative showpieces, soft toys, classy curtains, carpets, key holders, flower pots. She will love it all.
5. Bangle Set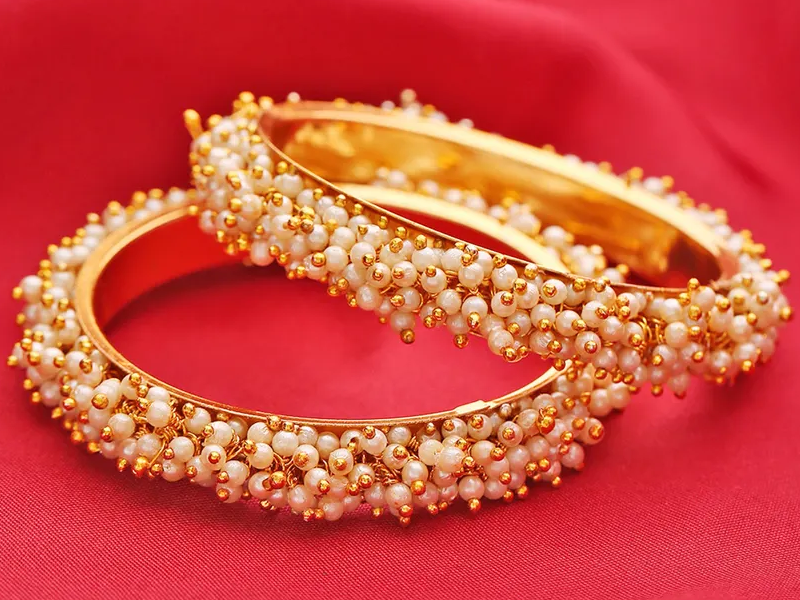 How can you think of Mother's Day gift ideas and leave out bangles? Bangles are symbols of beauty, pride, and charisma in Indian traditions. It symbolises many aspects of female life. From traditional to party, every occasion has a different set of bangles required in your culture. Gifting mom beautiful bangles will always make her feel special.
It's indeed quite a difficult task to choose gifts for mom who has made you feel special your entire life long. Mother's Day is the perfect day to show your mom or mother figure in your life how much you care and appreciate them. Creating a personalised Mother's Day gift or purchasing a thoughtful gift will be a great way to show how much you love them for their special day.