Kolkata has done an amazing job at introducing us to our favourite sweets! Who can say no to Kheer Kodom, Shondesh, Rosogolla or Chanar Jeelapi! But you must have also heard about Kolkata for their sarees. Remember Aishwarya Rai and Madhuri Dixit's iconic look from the song Dola re Dola whose hook-step we all know? Devdas' showcasing of women clad in opulent sarees, gracefully draping and stunning jewellery is just a teaser of Kolkata's fashion game. Shopping sarees in Kolkata is a lovely experience because of the beautiful patterns available, that too at affordable prices. Kolkata also has various types of sarees that you can choose from and Bengal's traditional way of draping sarees makes it even more special.
Yes, Kolkata is a dream destination for saree hoarders and we're about to tell you why! Here are the top 10 saree shops in Kolkata you want to check out the next time you're there.
10 Shops In Kolkata You Must Visit For Stunning Sarees
1. Banarasi Niketan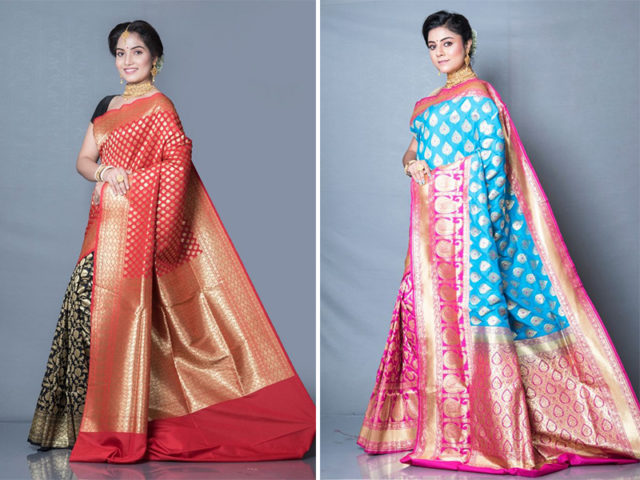 Banarasi Niketan never fails to add dazzling pieces to their saree collection and is a local favourite for the same reason. If you want Kanchipuram sarees fit to wear on festive occasions or some other colourful and vibrant pieces to add to your ethnic collection, Banarasi Niketan is the right place for you! Located in Shyambazar, the famous shopping destination nestled in the northern part of Kolkata, this is a great first stop for your saree shopping spree.
2. Ananda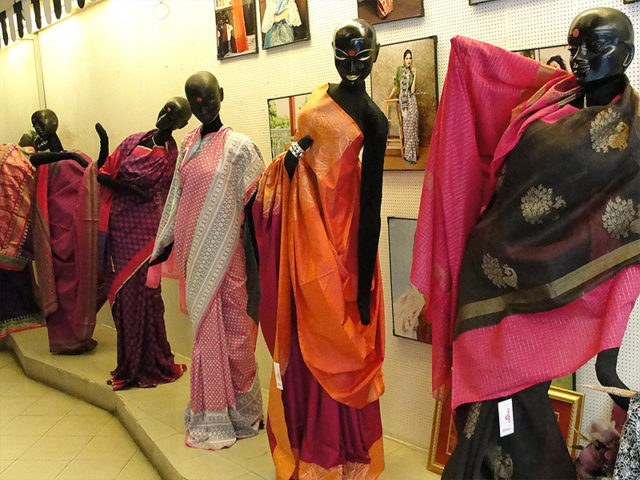 For some amazing reason, Ananda's Banarsis aren't made of regular Katan. Their sarees have a very unique zari work and the colours are ever so bright. People have also noticed that their sarees are lightweight. Gorgeous patterns + lightweight is definitely a good combo. Located in the Park Street Area, Ananda also has a great collection of ethnic jackets.
Looking for styling inspiration? Watch this video to learn how to style your gorgeous sarees!
3. Banarasi Kuthi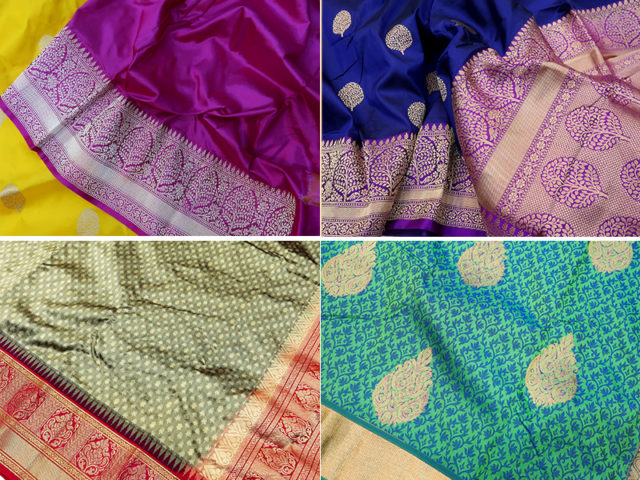 If you are looking for adding various colours to your saree wardrobe head on to Banarasi Kuthi as they have the most varied colour options available to shop from. Magenta, sea blue, turquoise and cerulean blue are some of the unique colours that you'll get to find. Their sarees have the potential to woo your heart within seconds. If you want a brilliant saree collection with vivid colours, Banarasi Kuthi is the place. It is located at Gariahat and while you'll see a lot of shops named the same, this one is rather famous.
4. Priya Gopal Bishoyi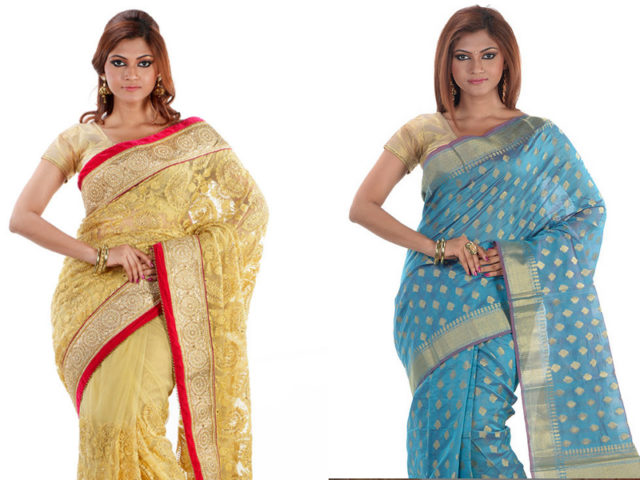 This store is located opposite Triangular Park in Gariahat and is considered as the one-stop destination by people of Kolkata for bridal shopping. Here you get amazing colour contrast in one saree that looks lovely and makes you stand out from the rest. You name a colour combo and they'll most probably have it.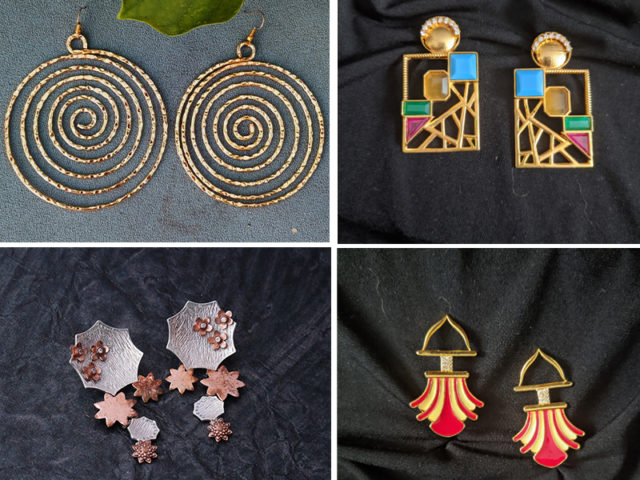 5. Tres Loudon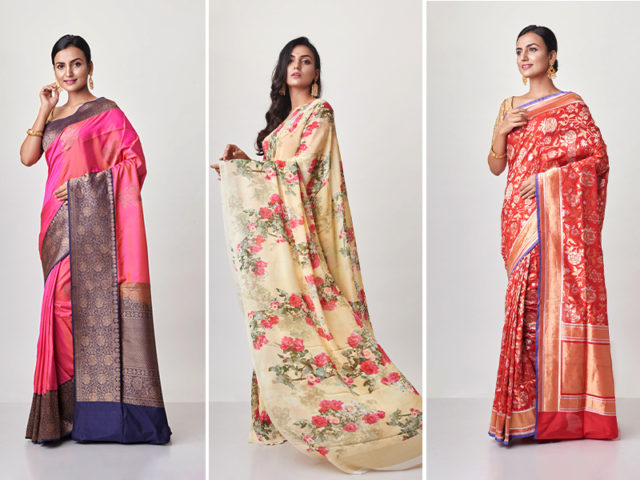 Their collection of Banarasi sarees is distinctive as it includes tissue, Katan and types of Tasar. If you are looking for traditional Banarasi sarees then yes, you will get that too here. Located in Mullick Bazar, Park Street Area they have a very wide selection of light as well as bright colours. If you're looking to ditch the conventional way to wear a saree and go contemporary, find a unique saree draping style here!
6. Vashdev Tolaram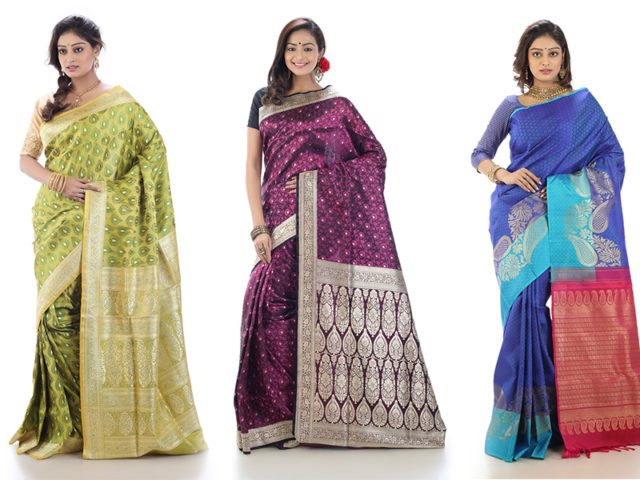 A classic bridal look lover should definitely visit this store as their collection of sarees are sincerely rare. Started in 1965 this shop is one to have all the pieces you'd want if you are into having sarees no one else has. They have a lot of options colour wise, but their peacock green sarees are praised by a lot of customers. Located in Rash Behari Avenue Vashdev, this shop has something unique for everyone.
7. Adi Mohini Mohon Kanjilal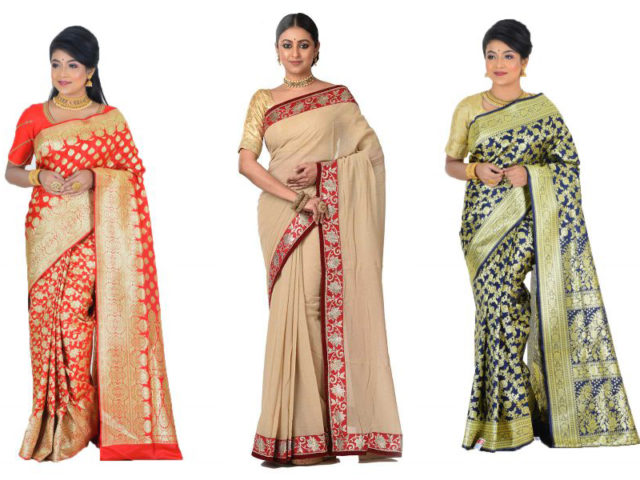 Situated in North Kolkata this shop is again a delight if you want to shop Benarasi sarees. They have some colours and designs that are very hard to replicate. The best part? You can get sarees with real gold zari. Have an interest in dressing your little one in a saree? At Adi Mohini Mohon Kanjilal you can find sarees of their sizes as well. Isn't that cute?
8. Adi Dhakeswari Bastralaya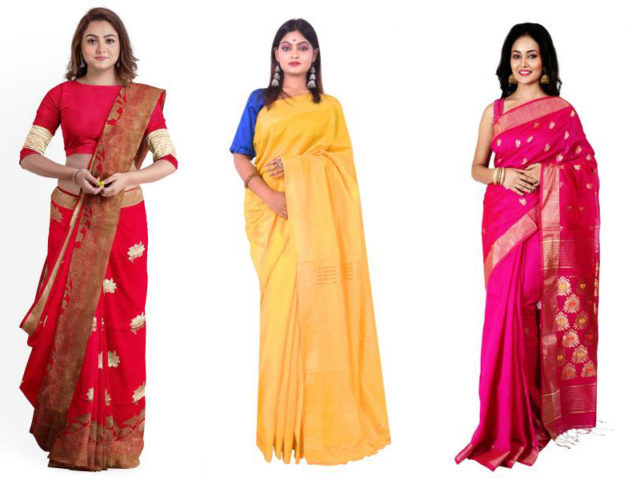 Sarees are an integral part of a woman's wardrobe. Adi Dhakeswari is quite popular in Triangular Park, Kolkata as their collection of Tussar, South Silks, Bridal Sarees and Handlooms is to die for. They also have a very delightful collection of pure Bengali cotton sarees and is called one of the best shops in Kolkata. Did you know that you can also flip your old sarees into a whole new outfit? Find here 10 ways to reuse a saree.
9. Jailakshmi Sarees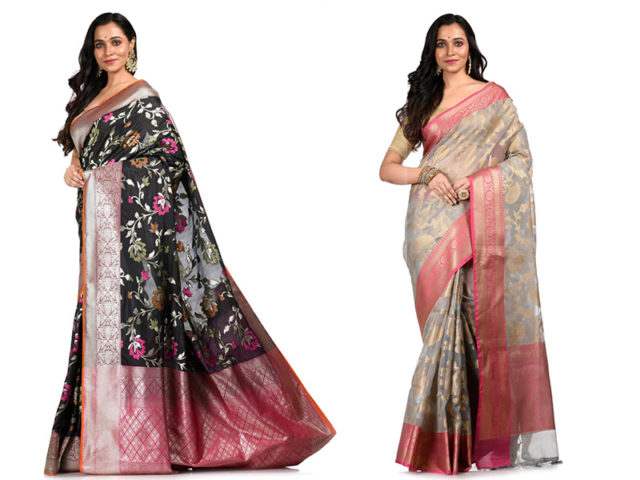 Jailakshmi Sarees is another favourite spot in Rash Behari Avenue for people who love contemporary sarees. Jailakshmi also has a very rich collection of Maheshwari sarees that are handwoven by the artisans of Maheshwar. In these sarees, you can see the influence of Maheshwar's architecture in an elegant way.
10. Simaaya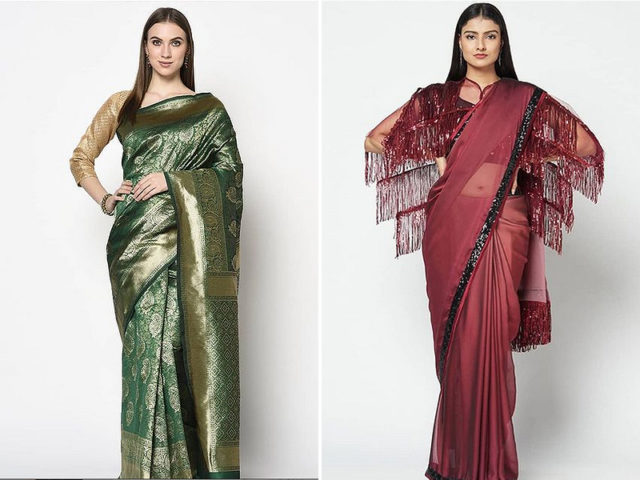 Kolkata hasn't forgotten about modern saree lovers because of Simaaya. Their collection of chiffons and georgettes is in great demand as they are very much in the limelight for the same. Simaaya is located in Kankurgachi, Kolkata. Sarees are not as tricky as people seem to make them. With the correct care and draping hacks, you can ace your saree game! Here is your ultimate saree guide!
In Indian traditional clothing, sarees have always been very significant. Sarees are a symbol of grace and we feel beautiful and elegant in them. Saree shopping is fun, you get to see a lot of patterns by different designers and artisans. And Kolkata is certainly full of great shops where you can shop for your next favourite saree. While you shine in your favourite piece by shopping at these places, don't forget to share your favourite in the comments below. Want some silk sarees ? But you're unable to find some good quality ones? Don't worry we have the list of best silk sarees in Bangalore. Check now.!