Weddings are a part of life. And every girl dreams of having a great Indian wedding, with music, food, and a huge celebration. Or maybe just a small wedding with your family and besties. But either way, with 2021 and the rising pandemic, all plans for this grand celebration got washed away. The minimal guest list, social distancing rules were quite difficult to follow, and some ladies decided to postpone their wedding for the best. But there were still a few who managed to pull off the day with a great blast, and followed all restrictions. Follow these tips-n-tricks on how to darken mehendi before your wedding day.
To learn about their big day during the lockdown, we connected with a few pandemic brides and they have shared their experiences. Here is a complete list of best wedding planning apps to help you get sorted for the wedding.
Before we get into the stories, check out this funny wedding video.
1. Bestie To The Rescue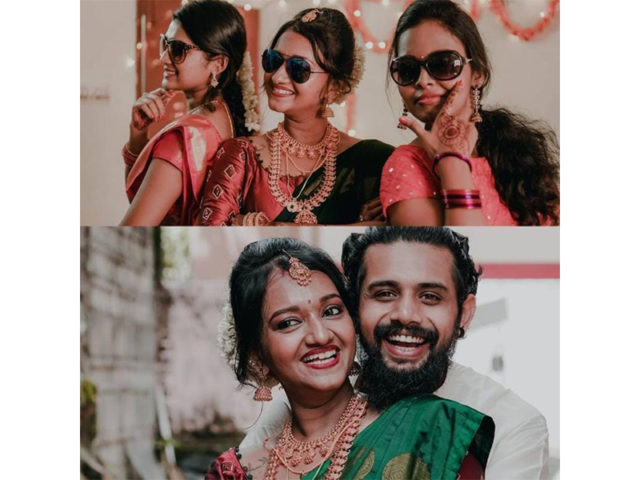 Trivandrum's Athira J is 28, works at Infosys and got married on 12th July 2020.
"The wedding was one hell of an experience. A triple lockdown was declared a couple of days before the wedding, so we all were in a state of panic. We were not sure that the wedding would happen.
Crishna and I prepared our minds to get married on the decided date (12th July 2020) even if we had to cancel the function and we could get registered. We tried and finally got permission from the nearest police station, to get married at home in the presence of fewer than 20 people. Most of our friend's missed the function which was very saddening. But somehow everything just clicked.
When the triple lockdown was declared, I was yet to receive my wedding outfits but the tailors brought it home on the night before the wedding. The flowers for the function were arranged by a friend and they sent them home on the wedding eve.
My makeup and mehendi was done by my bestie and me as we had last-minute cancellation from the parlour and artist due to the situation. Wearing mehendi was one of the challenges we faced during the triple lockdown wedding. It was just days before the wedding, and I could only buy 4 cones of mehendi. With those, my friend and I referred to many designs online, and watched YouTube tutorials on how to create a design. It took 9 hours, the design wasn't perfect but we loved it.
Another challenge we faced was the food for the guests. But my brothers spent a lot of effort in cooking and delivering a delicious meal for all the guests. Although they couldn't attend the wedding function due to Covid-19 and lockdown regulations, they were the best part of the wedding.
We made the wedding happen despite all the odds and it was the best. Even if I was given another opportunity, I wouldn't want to replace the memories created during my wedding."
2. Digital Wedding Planning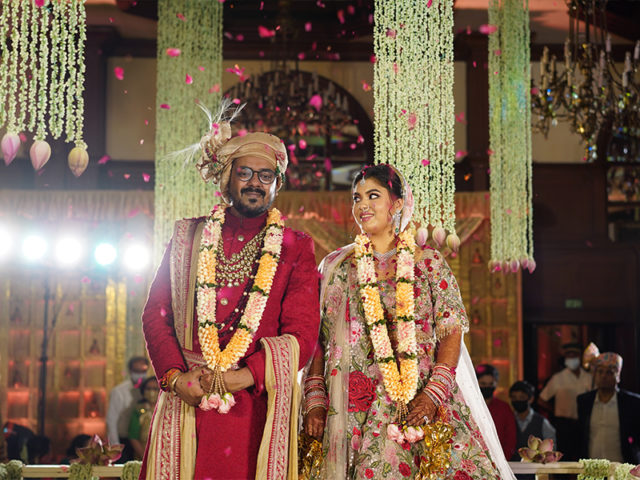 Kolkata's Aakriti Gupta is 27, runs a family business and got married on 24th June 2021.
"We got engaged in February, and our wedding date was June 20th 2021, which gave us 4 months to plan the wedding. In these 4 months, we have planned 3 different weddings in 3 different locations, with 3 different planners and 3 different guest lists due to changing rules for travel restrictions and the size of gathering. We planned a wedding in Dubai with 200 people, one in Goa with 300 people and finally a 50 person wedding in Kolkata. All my meetings with the planners and all the other vendors were on Zoom. I met my planners for the first time at my actual wedding!
Being from Kolkata, the options when planning to buy designer wear was limited. With the travel restrictions in place due to the second wave, 3 of my 6 outfits for the events were from Delhi. My selection, measurement, and fittings, everything was online. Due to the second lockdown, all the designers were only partially staffed, hence deliveries too were off the timeline. Along with the stress of the outfits coming out perfect without physical trials, there was the added stress of them actually physically getting here!
As an experienced #pandemicbride, here are some tips that I would like to share with all the brides out there:
Plan way in advance. There are delays in every part of the chain, hence planning well with time to spare is key in such a situation.
Get comfortable with online shopping, because whether you like it or not, with changing rules and constrained operational hours of stores, shopping IRL/physically may not always be possible.
Get over it. Change is the only constant, hence the sooner you accept that you might not get your dream wedding, the more time you have to enjoy the process and the actual wedding."
3. Fairytale Wedding In The Pandemic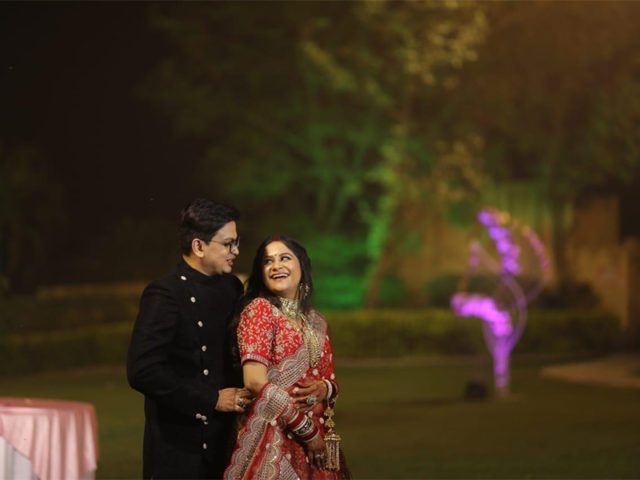 Jewellery designer Pooja Gandhi is 30 and got married on 24th January 2021
"I got married in the pandemic!
It was as much a curse as it was a blessing. From finding venues and vendors to making the guest list again and again and then again, took a toll on me, especially with the changing Covid-19 restrictions every now and then. Every time I would plan something, within a week it needed to be changed because some new regulation had come into force.
I got married in January 2021, we were between phase 1 and phase 2 and cases were very low. But Covid-19 was still very much present. We still had to step out and shop, have a number of meetings and get work sorted.
Stepping out and sanitising your hands practically every time you touch something is a humongous task. Every time my fiancé and I stepped out, we'd be very careful and very nervous because in no way did we want to get infected. But at the same time, we couldn't let Covid-19 stop us from meeting each other. So we spent most of our time driving around the city, having conversations, which we probably never could if we visited clubs and restaurants. It felt so private, relaxed, and natural. This was a blessing as it definitely got us much much closer together.
The ceremony wasn't intimate, We still had a gathering. As an Indian girl, I had dreams about a big fat Indian wedding. Though the pandemic didn't allow it, I still had my fairytale wedding! Covid-19 has taught us to live in the present and live like there is no tomorrow!
I can't wait for this pandemic to end, live in a mask free world, hug people without thinking twice, travel without a worry and not take this life for granted again."
Key Takeaways
Plan in advance and be ready for changes. Things may need last minute approvals and changes, so be ready for that.
Get comfortable with online shopping. With the on-going pandemic, online stores are your saviour.
Have fun! It is your wedding and regardless of the situation, make the most of it!
o you have a story you want to share on TC46? Connect with us via The Channel 46's Instagram & get featured!