World Tea Day is celebrated on the 21st May of every year. Boasting a history of over 4000 years, it is believed to have its roots in China. The beverage can be infused with various other ingredients like herbs, Indian spices, milk, sugar, and salt (yes, you read that right!). And it tastes revitalising without any of these ingredients too. To add to that, cold teas like the Long Island Iced Tea are quite the in-thing these days, other than the traditional hot cuppa that will always find its takers. Its versatility ensures that it appeals to varied palettes. The most recent varieties of herbal teas (called tisanes) and flower-infused ones further ensure that the beverage enjoys a more extensive fan following.
History & Significance Of World Tea Day
According to legend, tea was discovered more than 4000 years back and traces its origin to China by Emperor Nun Shen. On one of its expeditions to a remote region, a few leaves fell into the pot of water that his men were boiling over the fire. The inviting aroma attracted the attention of the emperor enough to make him want to taste it, giving rise to the first cup of this beverage.
Later in the 16th century, the Dutch traders introduced tea to Europe, where it became a popular beverage thanks to the East India Company in England. Apart from its varied flavours and health of benefits, the beverage has played an important role in the cultural and socio-economic development of Europe. Presently, it is grown in over 35 countries and supports as many as 13 million people financially across the globe.
World Tea Day celebrates the cultural heritage of tea, acknowledges its immense health benefits, and recognises its economic importance. The day also brings together small tea growers, civil society organisations, and businesses, the day revisits the safety standards and regulates land occupation, living wages, social security, and the rights of workers engaged in the tea business. Public campaigns, seminars, and presentations are organised to support tea grower's associations.
5 Different Popular Varieties Of Tea In India
Tea is by far the preferred option over coffee in most parts of India. And life comes to a standstill for most of us without a steaming cup of tea first thing in the morning. Here are 5 varieties of tea that are popular in India and the health benefits that they offer.
1. Masala Chai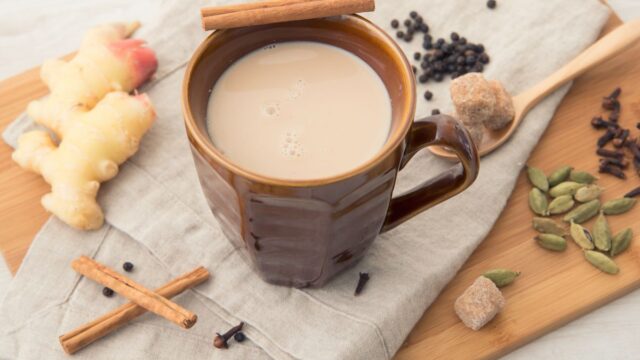 Generally available in the form of powder, the tea is infused with Indian spices like ginger, cardamom, cinnamon, cloves, and peppercorns, along with milk and sugar to prepare a steaming cup of invigorating masala chai. The Indian spices in masala chai support easy digestion, relieves nausea, initiates weight loss, boosts the immune system, alleviate muscle and joint pain, and contribute to energy and brain health.
2. Bombay Cutting Tea
Maharashtra's favourite, the tea served at the roadside tea stalls, referred to as 'tapri' locally, is known for its unique flavours. Blended with ginger and cardamom, the tea is known for its robust yet sweet taste. The tea gets its name from the quantity in which it is served – half of a glass, which is equivalent to a small cup of tea. A few sips of this chai can boost your immunity, improve heart health, promotes weight loss, induce weight loss, and treat inflammation.
3. Lemon Tea
The mix of lemon and green or black tea used for making this tea is a favourite among many for its citrusy flavours – a double whammy of taste and health. Apart from the myriad of benefits that tea is known for, Vitamin C adds to the benefits as it soothes your throat and relieves symptoms of cough and cold. Lemon tea is also believed to be a great health drink if you're keeping a tab on your weight. Lemon tea recipe is one of the easiest to prepare. Just a dash of lemon to your liquor tea and that's all that's all there is to the lemon tea recipe.
4. Ginger Tea
Known as adrak wali chai to us Indians, ginger gives this tea its refreshing aroma – a fine amalgam of the robust aroma of the tea leaves and the distinctness of ginger. Add a few more spices like cardamom or herbs and lemongrass, for your favourite cup of wake-me-up tea. Ginger is known for relieving digestive discomfort, aiding in weight loss, and reducing blood pressure. It is also rich in anti-inflammatory properties.
5. Kashmiri Kahwa
Distinctly different from milk tea which is the more preferred form of beverage in India, the liquor is recognisable for the mild flavours of green tea, blended with saffron, whole spices, and almonds. Kahwa treats seasonal infections, improves digestion, and boosts energy. What's more, it also treats insomnia and stress and is great for your skin and hair health.
5 Easy Tea Recipes & Their Health Benefits
Try your hand at these 5 tea recipes and know their health benefits.
1. Adrakh Chai (Indian Style Ginger Tea) For Relieving Sore Throat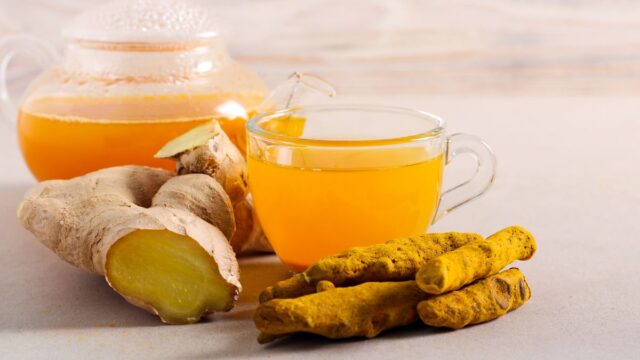 Preparation Time: Nil
Cook Time: 15 minutes
Ingredients
2 cups water
¼ cup warm, low-fat milk
1 tbsp loose-leaf tea
1-inch grated ginger
Sugar, to taste
Technique
Boil water and grated ginger in a saucepan for a few minutes, so the water gets the flavour of ginger.
Add the tea leaves. Once it comes to a boil, let it simmer for a minute.
Switch off the heat, cover the pan, and let the tea brew for a few minutes.
Next, pour in the warm milk and stir the mixture thoroughly.
Place a strainer over the tea mug and strain the tea through it.
Add sugar and stir well before serving your ginger tea hot.
2. Kesar Chai To Treat Insomnia
Preparation Time: Nil
Cook Time: 10 minutes
Ingredients
2 cups water
1 tsp tea leaves
¼ cup milk
10 saffron strands
Technique
Pour water into a saucepan, add the saffron strands, and let it come to a boil.
Add the tea leaves once the water boils, and allow it to simmer for a minute, ensuring that the brew stays light and does not turn bitter.
Pour milk into it and keep it aside for a few seconds.
Strain the chain into the mugs through a strainer and garnish it with a few more saffron strands.
Check out 6 other bedtime teas that can help if you have trouble sleeping here.
3. Filter Tea To Improve Heart Health
Preparation Time: Nil
Cook Time: 20 minutes
Ingredients
2 cups boiling water
4 tsp tea
3 elaichi green/cardamom (crushed)
¼ tsp nutmeg
1 tsp cinnamon powder
2-inch piece of fresh ginger (fresh & deskinned)
3 clove (crushed)
½ tsp fennel seeds (optional)
¾ tsp black pepper (coarsely ground)
1 star anise (optional)
Technique
Grind ginger, elaichi, star anise, nutmeg, clove, and fennel seeds in a blender into a fine paste.
Pour the mixture into a South Indian coffee filter and then add tea.
Next, add one cup of boiling water over the tea and powder mixture, into the filter.
When the decoction gets collected at the bottom of the filter, add the remaining water into the filter, allowing it to drip down again.
Once you've emptied out both cups, store the tea mixture and prepare tea with it.
Boil milk or water and add the decoction, depending on how strong you want your tea to be, stir in sugar and enjoy it hot.
4. Kashmiri Kahwa Tea For Boosting Immunity
Preparation Time: 5 minutes
Cook Time: 8 minutes
Ingredients
2 cups boiling water
4 tsp tea
3 elaichi green/cardamom (crushed)
¼ tsp nutmeg
1 tsp cinnamon powder
2-inch ginger (fresh & de-skinned)
3 clove (crushed)
½ tsp fennel seeds (optional)
¾ tsp black pepper (coarsely ground)
1 star anise (optional)
Technique
Add the saffron strands to a bowl of 1 tsp of water and stir well for the water to get the aroma of the saffron.
Pour 2 cups of water into a saucepan and add the cinnamon sticks, cardamom, cloves, and sugar, mix and cook on a medium flame for 3 to 4 minutes.
Mix the tea leaves after lowering the flame and let this simmer for 2 to 3 minutes, stirring occasionally.
Strain the tea into a deep bowl using a strainer.
Transfer the above mixture into a saucepan, add the saffron-water mixture and almonds, and cook on a slow flame for a minute, while stirring occasionally.
Serve immediately.
5. Bombay Cutting Chai To Aid Digestion
Preparation Time: 2 minutes
Cook Time: 8 minutes
Ingredients
2 cups of water
2 tsp Assam tea powder or tea leaves
2 to 3 tsp sugar or add as required
¼ – ½ cup milk
1-inch ginger (grated)
½ tsp green cardamom powder (crushed)
Technique
Heat water in a pan and add 2 to 3 tbsp of sugar.
Next, add grated ginger and let it simmer for 2 to 3 minutes on medium heat.
Add the crushed cardamom powder and boil for 1 or 2 more minutes.
Add 2 tbsp of the tea leaf/powder and then brew it on medium heat for 3 to 4 minutes.
Pour ¼ to ½ cup of milk, depending on how strong you like your tea.
Simmer for 1 or 2 minutes on medium heat or until the tea comes to a boil.
Switch off the heat and pour the tea into the cups through a strainer and serve hot.
Tea remains one of the most preferred beverages in India, irrespective of the ingredients you prefer to add to it. Or, how you like it in terms of its temperature – hot or cold. For a cold brew, the Long Island Iced Tea is quite a hit while, if you want it hot, you can brew a sizzling hot masala chai or explore more recent tisanes like hibiscus-infused tea. Experiment with the above recipes shared above and enjoy the refreshing taste of the beverage, along with its plethora of health benefits.
Open up like never before and participate in conversations about beauty, entrepreneurship, mental health, menstrual & sexual health, and more. Desi women, join our community NOW!