In a country and society where traditionally, women's roles have been restricted to home and domestic setups – it is truly a very proud moment when you see not one, not two but three Indian businesswomen mentioned in the Forbes Asia Power Businesswomen 2022, a select list honouring 20 women for their outstanding contribution to the world of business. 
Two of these women became household names after the last season of Shark Tank India – Ghazal Alagh and Namita Thapar. Soma Mondal, the third woman to make it to the list, might not be so well known. But her achievements by now means are any less.
1. Ghazal Alagh
Ghazal is what you call an accidental entrepreneur. She noticed a significant gap in the Indian market for baby care products (most brands available in India were not toxin-free, leaving new parents with no other option but to find a way to source these products from outside India). After her own experience of motherhood, Ghazal and her husband Varun set up MamaEarth. Right from the brand's USP of selling safe products, to its attractive packaging to come extremely clever marketing tactics applied by the duo, MamaEarth became a favourite of mothers across the country. And Ghazal became a poster child not only for a successful woman in business but also an ideal example of how a woman can have marriage, motherhood and a flourishing career – all at the same time. 
Read: 11 Lessons From Kiran Mazumdar Shaw's Entrepreneurial Journey
2. Namita Thapar
Someone you couldn't have possibly ignored, especially with her iconic 'I Am Out' tagline gaining some next-level popularity. Born to a first-generation entrepreneur, Namita completed her higher education in the US and even worked abroad before deciding to return to India to take forward the legacy of her father. She has played a significant role in making Emcure Pharmaceuticals, in doubling the company's revenue and overall brand building. 
Read: 5 Major Business Lessons From Indra Nooyi, The Former PepsiCo CEO
3. Soma Mondal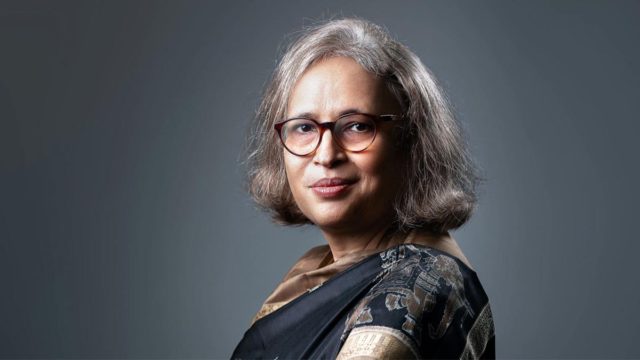 The third name on the list is the first woman to lead the state-run steel company SAIL. According to Forbes, SAIL's yearly income increased by 50% during the fiscal year that concluded on March 31, 2022, after Mondal was appointed as the Chairwoman in 2021.
Three women, from three completely different backgrounds – making it to one list, sends a strong message, especially to aspiring women entrepreneurs. It truly doesn't matter where you come from, what matters is what your goal is, and how much hustle you are ready to put in to get there. We hope this inspires other women to dream of taking that entrepreneurial plunge that they've always dreamed about. As they say, start small, start with what you have. But start.
Open up like never before and participate in conversations about beauty, entrepreneurship, mental health, menstrual & sexual health, and more. Desi women, join our community NOW!