It is difficult to put into words what mothers mean to us. Jitna bolo utna hi kam par jata hai. For a mother, her life revolves around her family, especially her children. She voluntarily takes the backstage, despite her family is incomplete without her, because she is selfless. She would rather see her children take the centre stage, and be successful and happy in their lives. And some movies and series on OTT platforms are doing a wonderful job of bringing the various facets of a mother alive on the screen.
To celebrate Mother's Day (8th May), here are 7 mom-centric movies and shows on OTT platforms that are worth a mention.
1. Arya
Arya's husband is murdered by his business partners because he refused to take a part in their illegal drug-related deals, leaving her alone to fend for the children. When her original plan to settle for a peaceful new life with her children in New Zealand falls flat on her face, she faces her worst nightmares from family and outsiders and picks up from exactly where her husband had left her family business. She puts all her enemies in their places, for the time being, all the while protecting her children with all her might, and at the same time preparing to fight new enemies and those from the past. She ultimately establishes herself at the helm of business affairs from being a woman lacking in confidence and doubting her motherly capabilities after her husband's murder. Like all mothers, she was content with just being a nurturing mother until fate challenged her. And she fearlessly and fiercely rose to the occasion and took charge for the sake of her children.
Watch It On: Hotstar+Disney
Read Depiction Of Mental Health In The Fame Game (& Other Bollywood Movies)
2. Mai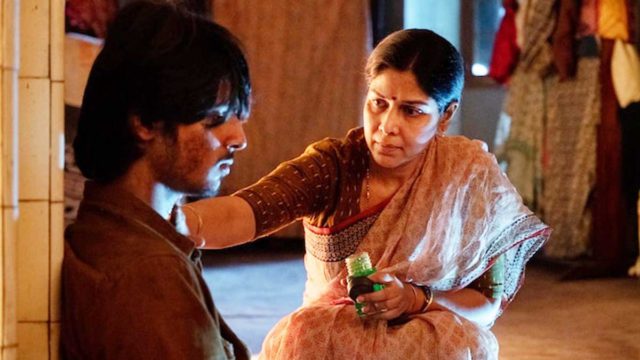 The name of this series says it all. Mai, or mother in certain regional dialects in India, focuses on the phenomenal transformation of a meek and mild gharelu maa to a street-smart woman out to avenge the heinous death of her mute daughter. An unexpected revelation from the lorry driver outside the court was enough to egg her onto a relentless journey into the murky world of politics in the healthcare sector that led to her daughter's death. She unravels the politics and pursues the wrong-doers all by herself, going to the extent of murdering as many as four people to seek justice for her dead daughter on her own. The mother's role is played to perfection by none other than Sakshi Tanwar of Kahaani Ghar Ghar Kii fame. Mai celebrates the undying love of a mother for her children and her ability to go to any extent for their welfare, even after their untimely death.
Watch It On: Netflix
3. Badhaai Ho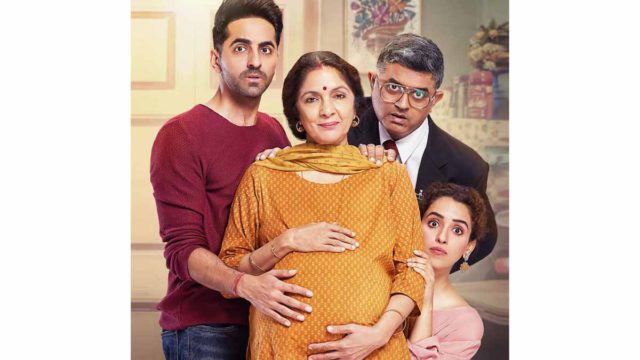 Enough of the blood, gore, and suspense of the two crime thrillers above, Badhaai Ho offers a comic respite while giving out a subtle yet strong social message. Featuring ace actors like Neena Gupta, Gajraj Rao, Ayushmann Khurrana, Sanya Malhotra, Sheeba Chaddha, among others, portrays a couple expecting a child. The only difference is that the expecting couple here is probably well into their 50s, a concept that is frowned upon in conservative Indian society. A couple enjoying a thriving sex life even when they have children who are growing teenagers or even well into their 20s? Haye haye, kitna ghinauna kaam! What's more, the shame is more for the pregnant lady than the man because she has to move around with a full belly, the signs of the pregnancy. However, the dialogues and the acting prowess of the performers make the movie a laugh riot.
Watch It On: Disney+Hotstar
4. Panga
Panga beautifully depicts a mother's self-sacrifice for the sake of her family, giving up on her ambitions as an international Kabaddi champion. To bury her own ambitions and desires for the betterment of the family is what all women are conditioned to master right from their childhood. For society, their needs and wants come a far second. No, even worse, the last! However, the movie skillfully depicts the indispensable role that a mother plays in her family, a steadfast presence that keeps the family afloat, happy, and thriving. And she does it all with a heartfelt smile on her face. The role of a mother that Kangana Ranaut plays here is no exception. However, unlike most mothers, this mother prepares herself for a comeback as a Kabaddi player. This makes the movie an aspirational and inspirational one for all the sacrificing mothers that you see all around you.
Watch It On: Disney+Hotstar
Read Portrayal Of Societal Hypocrisy Against The LGBTQIA+ Community In Badhaai Do (& 3 Other Bollywood Movies)
5. Mom
Yet another movie that represents the extent to which mothers can go to avenge the crime against their children. While in Mai, the daughter was a victim of a planned road accident, in this movie, Sridevi's stepdaughter dies because of rape at a party. Not the one to contend with the perpetrators going scot-free, she sets out on her journey of unravelling the ghastly truth from the unfortunate night. And doesn't stop short of destroying the lives of all four perpetrators. The mother's spirit shines with all its brightness, a mother who can turn into a warrior when the need arises and wouldn't embrace peace until the criminals have been brought to books. Like the mothers around us, the well-being of her children will always remain her foremost priority.
Watch It On: Netflix
6. Nil Battey Sannata
The movie explores the intricate nuances of a bond between a mother and her daughter. It paints the picture of the struggles that a mother experiences to ensure that her daughter gets the right to an education that she didn't receive. The impeccable performance of Swara Bhaskar brings alive a mother's strength to fight against the world to give her daughter the right that is most deservedly hers. The heartwarming relationship that the mother-daughter duo shares are sure to leave an indelible mark in the audiences' minds as they closely relate to its portrayal.
Watch It On: Amazon Prime
7. Mimi
An aspiring actress Mimi from a small town in India agrees to be a surrogate for a foreign couple to fund her Bollywood dreams. However, the couple decides to back out as the pregnancy progresses, leaving Mimi in an utter dilemma. However, she takes her life in her own stride, nurtures her maternal instincts, and decides to keep the baby. In an unexpected turn of events, the biological parents of the child make a comeback when she is already a few years old, and lay their claim on her. Outcomes the fighter in Mimi that is so intrinsic to every mother and she refuses to give up till the couple agrees to her having a greater right as a mother over the little one.
Watch It On: Netflix
Not enough can be said about mothers to honour them for the role that they play in your lives and strive to #BeALittleMore for their family every single day. Movies on OTT platforms bring to life various facets of a mother that you enjoy watching as you relate to them thoroughly. Are there any other reel moms that have made a long-lasting impression on your memory? Comment below with the name of the movie or series.
Open up like never before and participate in conversations about beauty, entrepreneurship, mental health, menstrual & sexual health, and more. Desi women, join our community NOW!