Dupattas have been an integral part of traditional Indian wear from time immemorial. One of the main reasons why this piece of clothing made it this far without going out of style is because of its versatility. When it comes to styling a dupatta, a little creativity and imagination go a long way. It can be used for highlighting the outfit or driving the attention away from your dress. Even if you just want to add some color to your attire. Or perhaps when you want to give your western outfit an ethnic touch. Whatever your goal is, a dupatta is just what you need to level up your style game without investing a lot of time, effort or money!
If you still haven't figured out how to wear dupatta with suits and lehengas in a way that complements your style, you've come to the right place! We have curated a list of must-haves in your dupatta collection along with a few unique dupatta styles to go with your outfit. Let's take a look. 
The 9 Must Have Dupattas In Every Woman's Wardrobe
Before we come to the various styles a dupatta can be draped, let's talk about the different types of dupattas you can include in your wardrobe.
1. Phulkari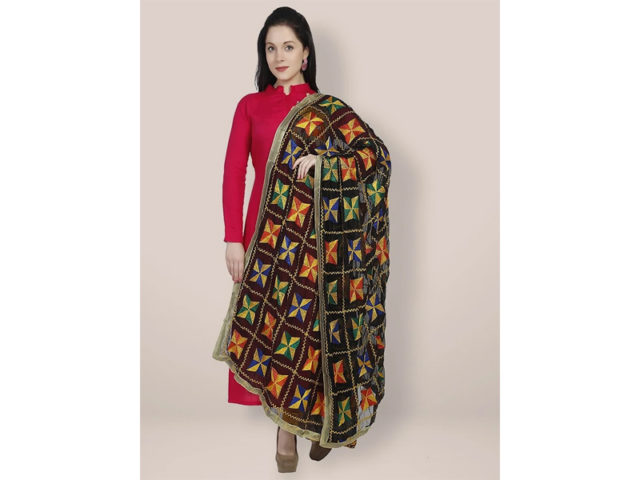 This dupatta is marked by intricate and multi-colored embroidery and is perfect for those who like to mix and match. The fabrics used for making a Phulkari dupatta are jute, khadi or georgette. It goes well with simple outfits.
2. Bandhani/ Bandhej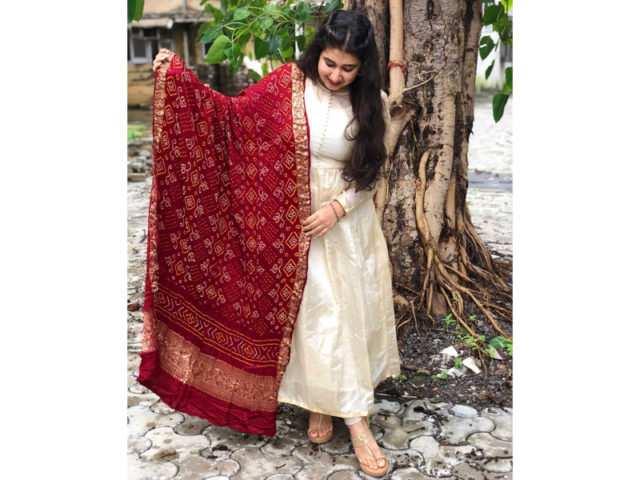 Bandhej basically means tie and dye, a fashion trend that is all the rage these days. These dupattas come in different fabrics. Bandhani style dupattas are always in style and can be used to spruce up any simple outfit.
3. Chanderi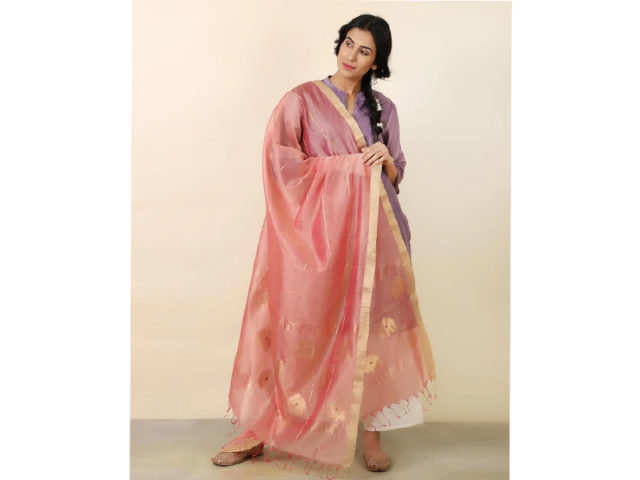 Chanderi dupattas look elegant and luxurious and go well with outfits made from linen, zari, cotton, and tussar silk among others. This dupatta originates from Chanderi, a small town in Madhya Pradesh and comes in a variety of fabrics. It is a great choice to get that simple yet classy look!
4. Banarasi Silk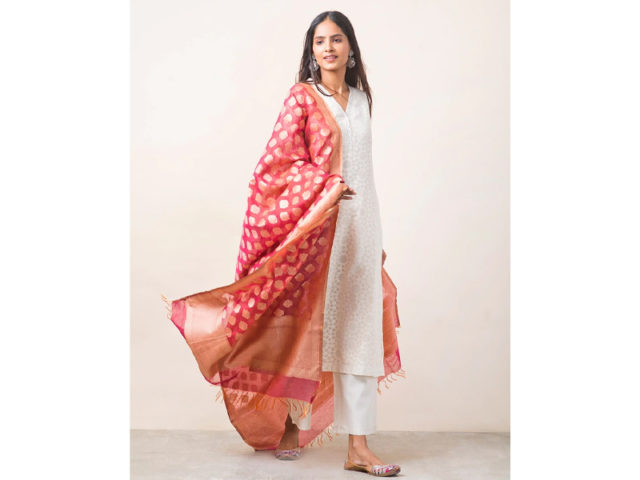 With so many celebs including them in their outfits recently, the Banarasi dupattas are in style once again. This dupatta style looks chic and classy and can elevate even the simplest of outfits and goes exceptionally well with Anarkali dresses. It can be made of pure silk fabrics or more budget-friendly options.
5. Mirror Work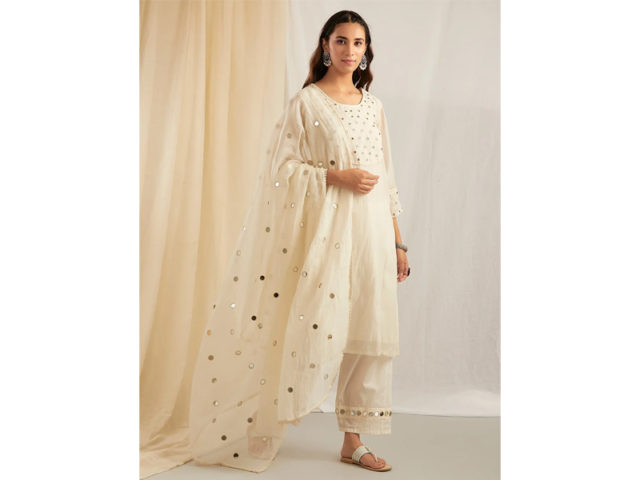 Want something that is traditional yet modern? Mirror work dupattas are just what you need! These come in a variety of fabrics including georgette, chiffon and cotton. Pair them up with the right outfit, and these can be suitable for any occasion
6. Chiffon And Net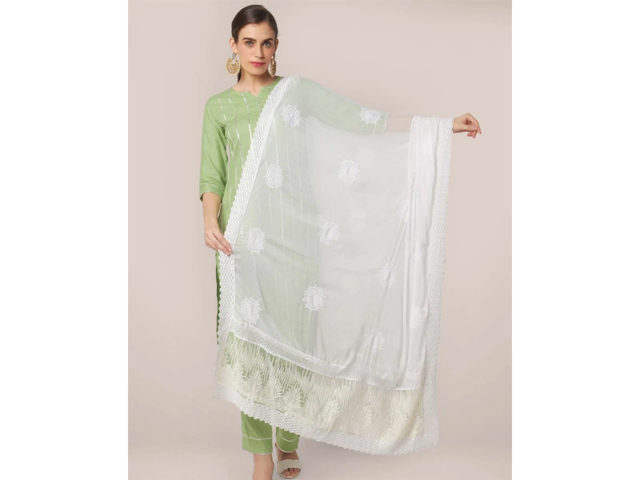 Chiffon is a lightweight and flimsy fabric that is soft on the skin and easy to work with. Chiffon dupattas are easy to carry around and work well with regular as well as party wear traditional dresses. This is your go-to option if you want to fill your wardrobe with dupattas in standard colors.
Net dupattas go well with party wear, Anarkali, gowns, lehengas etc. These come in simple standard colours or may sport heavy embroidery. The sheen of a beautiful net dupatta will add to the elegance of your traditional dress.
7. Ikat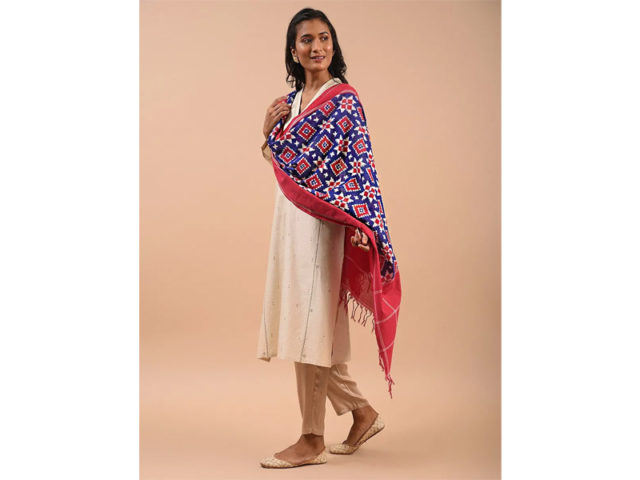 These simple yet classy dupattas come in vibrant colors and are made of breathable and soft fabric. They often carry intricate designs and patterns and represent Bohemian fashion.
8. Kalamkari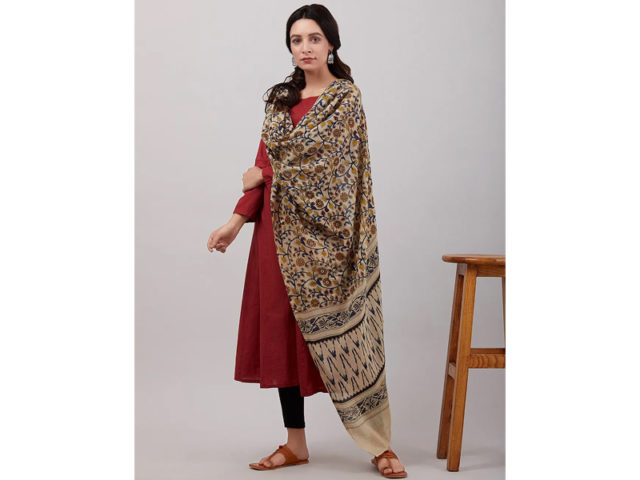 Although the kalamkari technique has its origins in Persian culture, kalamkari designs are a true representation of our rich culture and heritage. The hand-painted, classy kalamkari dupattas are suitable for casual wear as well as for special occasions. It is another great option for style divas who like to mix and match.
9. Zari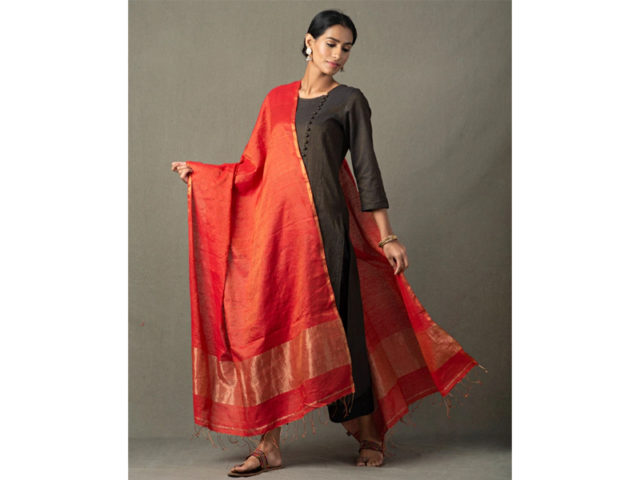 The regal Zari dupattas add an unmatched grandeur to any outfit they are paired with. Want to keep it classy yet glam at the next event you attend? Invest in a Zari dupatta to level up your style game.
Dupatta Draping Styles
Once you are aware of all the dupatta options available out there, it's time to learn how to wear dupatta with suits and lehengas. Full open, two-sided shoulder, one-sided shoulder, one-arm, high neck, over the head are perhaps the most common techniques and lehenga dupatta draping styles. However, this versatile piece of clothing can be used in many more ways to accentuate your entire look. Let's take a look at some of the latest dupatta draping styles and trends.
1. Drape Around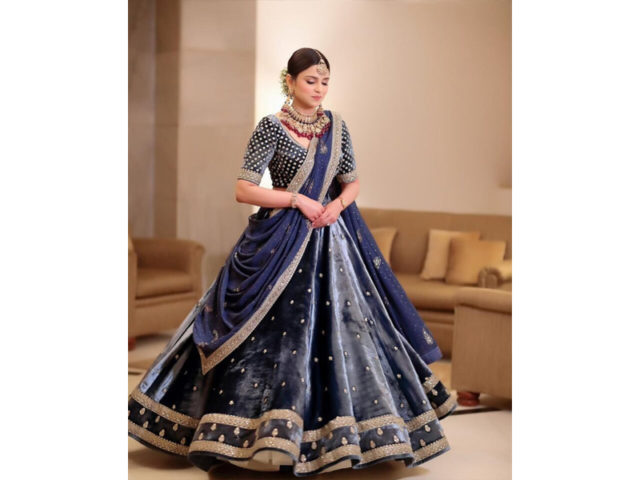 This lehenga dupatta style makes you look chic and elegant and works especially well if you are not too keen on diverting too much attention towards your dress. All you have to do to achieve this dupatta style is take a big linen or cotton dupatta and drape it around.
2. Elbow Style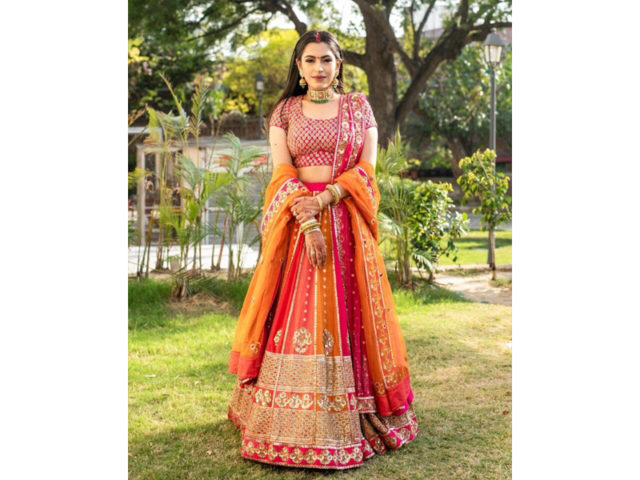 For a regal yet simple look, simply throw your dupatta to the back of your body and then bring it up over your elbow (or forearm). This lehenga dupatta style is easy to achieve, looks amazing and can be carried off without any difficulty.
3. Saree Style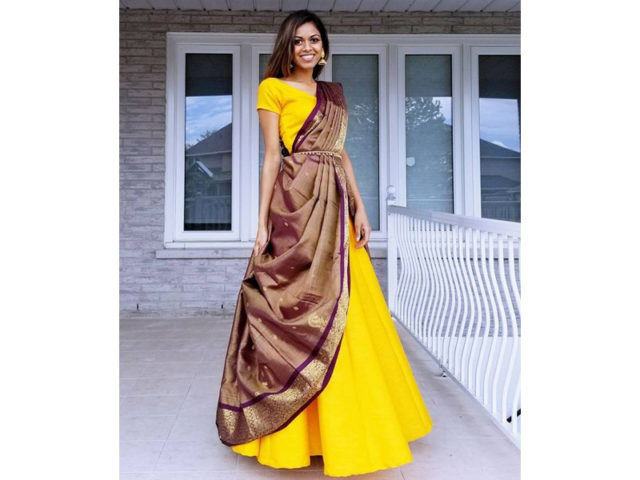 Give your look an indo-western touch by wearing a saree style dupatta over your denims or pants. Kalamkari dupattas look amazing when styled like a saree. Based on your outfit, a saree style can be an elegant dupatta style for a party or just a casual look for a day in college.
4. Pleated Style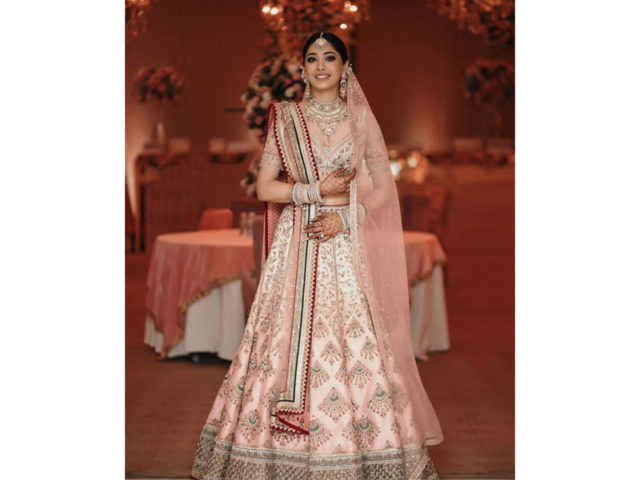 For a more formal and polished look, neatly pleat and pin the dupatta to your outfit. Add a hair updo and statement jewelry to this look and you are good to go.
5. Cape style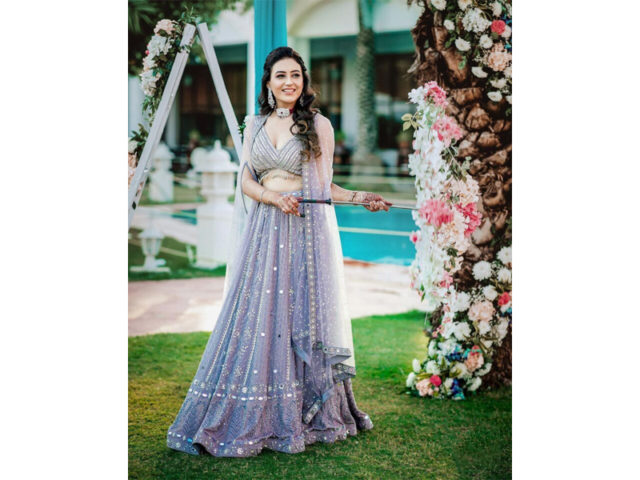 You can get this dupatta draping style by taking a big dupatta (preferably made of non-slippery fabric) and spreading it over your shoulders. You can pin it up and leave it on like a cape or fold it and bring it to the front.
6. One Shoulder- One Arm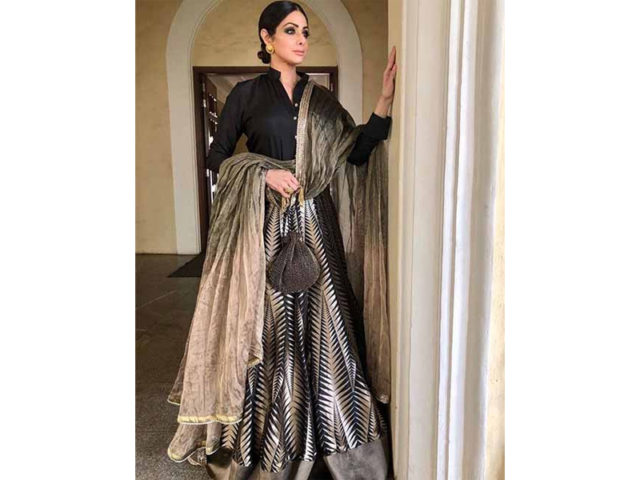 Add a twist to your one-sided shoulder technique by bringing the dupatta to the front, over your arm. This dupatta style for a party will not only highlight your dupatta but also give your entire outfit a fuller look.
Final Thoughts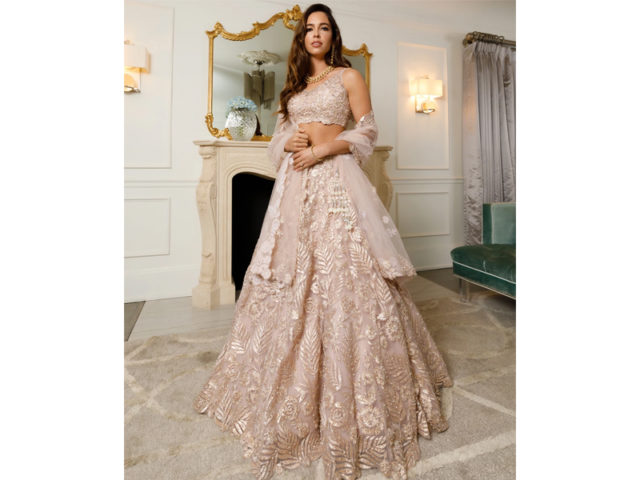 Dupattas, when styled the right way, can add more elegance to your entire look. While there are no set rules for this purpose, there are a few basic tips that you can stick to when styling your dupatta. Pair your plain white suit with a colorful dupatta to add some glamour to your attire. In fact, most plain and simple suits (be it any color) go well with heavy dupattas or printed dupattas. Styles like one-shoulder one arm, drape around, cape-style are popular lehenga dupatta draping styles that are in trend right now.
The key is to keep it simple! Choose a lehenga dupatta style that not only complements your look but is also comfortable and easy to carry! All the best!