There's no home that looks and feels complete without interior design that is tailor-made as per the aesthetics of its inhabitants. It would be safe to say that interior design transforms a house into a home. With emerging India, tier 2 cities are also catching up fast with the concept of collaborating with an interior design firm to do up their homes. 
The Channel 46 caught up with the Founders of Azure Interiors, Ruchi Gehani & Rashi Bothra, who speak their heart out about the inspiration behind their interior design firm, marketing strategy, and their first milestone, and share expert advice for entrepreneurs wanting to make it big in this field.
What are your educational and professional backgrounds?
We have done a Diploma Course in Interior Design, followed by an internship for 2 years.
What prompted the idea for Azure Interiors? Did you always know you wanted to work in this space?
We always knew that we wanted to step into the field of interior design but after our course, it became clearer to us that we are on the right path. During the internship, we were offered a project. And during its inauguration; we came up with the idea behind our firm, Azure Interiors. The name indicates the colour of the sky, which is related to our first project, the place that inspired our business idea.
What was your first milestone & how did you get there?
Our first project was a sample apartment, which was the turning point for us. It was a kind of project that gave us the opportunity to showcase our skills. It attracted a sizable target audience, who were interested in seeing our project and got introduced to our work and aesthetics in the process. This, in turn, attracted more builders through word of mouth. This is definitely our first milestone among all the turning points we've experienced in our journey so far.
How long did it take you to monetise?
It took a good 5 years. We used to earn and invest in the firm itself for a very long time. It was only after 5 years did we earn enough to bring something back home.
What kind of marketing strategies work best for you?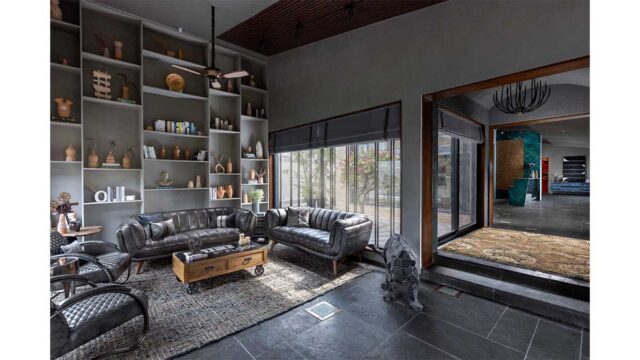 We have consciously never worked on any marketing strategies beyond word of mouth. We work hard on our designs and details for our clients and let our work do its marketing. It would not be an exaggeration to say that we like our work to do the talking, while we focus on keeping up its quality wholeheartedly. When our design sensibilities speak for themselves, our clients spread the word organically to their relatives and friends, giving us the leverage to find more clients among them.
Are there any online or offline courses that you would recommend before entering this space?
There's no such course from which you can learn everything about interior design. It is more about practical knowledge rather than theoretical knowledge, something you can achieve only through hands-on experience. It is best to learn from your own mistakes and experiences.
Which networking groups & showcasing events could help an aspirant meet the right people & generate work opportunities in this field?
Now there are a lot of forums that conduct exhibitions and organise events. Aspiring entrepreneurs should visit them to make connections, keep themselves at par with the current and future market trends in the field of interior design, and also get to know more about new products, materials and technologies.
What are some investments one should be ready to make when entering the interior designing space?
Monetarily, there are no investments that newbie entrepreneurs need to make to start an interior design firm. However, a good portfolio that showcases your previous work and design sensibilities is non-negotiable not just when you're starting out but throughout your entrepreneurial journey. 
What are some challenges faced by interior designers in tier 2 cities? How do you overcome them?
Some of the challenges that we face in tier 2 are:
There is no exposure that is readily available for the residents.
Clients from tier 2 are also not aware enough of the brands specialising in interior designing and materials that they can improvise with.
In such a scenario, we provide them with knowledge while we design as per their brief.
Could you share some insights about the interior designing space in tier 2 cities such as the kind of projects that are gaining prominence, the infrastructural growth and development? And are there some tips you'd like to share for aspiring designers in tier 2 cities of India?
Tier 2 cities have more potential and are at their peak now. The advantage of tier 2 cities is the land area we get is less expensive as compared to that of tier 1 cities, where the cost is way higher due to space constraints. So, we get enough space to play around.
As for aspiring youngsters from tier 2 cities, we would like to give them the following piece of advice:
It is essential to remember that it's the journey that you should focus on rather than chasing goals.
Have patience till the final outcome.
Have faith in yourself and your designs.
Open up like never before and participate in conversations about beauty, entrepreneurship, mental health, menstrual & sexual health, and more. Desi women, join our community NOW!