Does watching Jaane Tu Ya Jaane Na give you butterflies or Piku make you hopeful? Of course they do, those are some of the most fun yet healthy relationships that blossom on the big screen. There's nothing better than realising that you're in a loving, healthy and mature relationship. Just out of nowhere, you're struck with it – that you're comfortable, happy and can't stop daydreaming about the future together. Fights have been replaced with discussions, and drama no longer exists for there's acceptance and trust is the founding principle of the bond. All these feel-great things are strong signs that your relationship is headed the right way.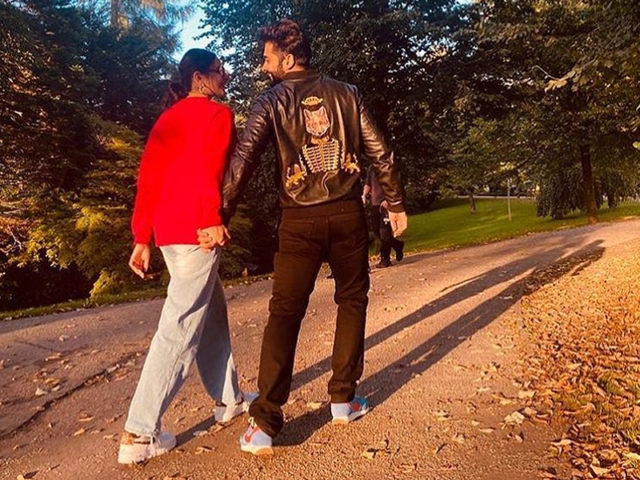 Actor Jackky Bhagnani and actress Rakul Preet made their relationship official with an Instagram post on 10th October 2021, her birthday. Stating that Jackky, the son of producer Vashu Bhagnani, was the greatest gift this year, she thanked him for his birthday wishes post.
You know about red flags and toxic relationships, and if you don't, you need to read all about it here.
Actor Vidyut Jammwal and fashion designer Nandita Mahtani officially announced their engagement on 13th September 2021. In his Instagram post, Vidyut shared two pictures with Nandita. In the first, they were seen climbing a wall, tied to harnesses and holding each other's hands. The second one showed them posing in front of the Taj Mahal, with their backs to the camera. Sharing the photos, he wrote, "Did it the COMMANDO way".
Green flags in a relationship are rarely talked about and need to be addressed for all those thinking that they're in a too-good-to-be-true connection. Here's a list of 10 signs to look out for that indicate you're in a great, stable relationship.
10 Relationship Green Flags To Look Out For
1. You Always Tell The Truth
The need to lie no longer exists. Everything's right on the table, your finances, habits, opinions and interests. The reason you lied in your past relationships was that you had the fear of being judged, or ridiculed. Today, the fear is no longer valid as your partner not only accepts what you put forth but also bares their own truths with utmost trust.
2. Your Arguments Are Discussions
If you've dated in the past, you might remember how all arguments either went into fight mode or quickly snowballed into an all-encompassing blowout. One minute you were squabbling about the wet towel on the bed and in the next one it's a screaming match that brings out every little thing from the past. And in stark contrast today, you are able to sit down and communicate with your partner about whatever's bothering you without resorting to personal attacks and yelling.
3. You Encourage A Life Outside Of Your Relationship
"Who are you with", "why aren't you texting me when you're out with your friends" and "I can't believe you want to spend the Saturday with your buddies instead of me", are all phrases of the past. Mature couples know that there's more to life than just the relationship. So, you give each space for friendships outside of your relationship. You allow each other to have individual friend circles that see you as an individual and not only as a coexisting couple.
4. You Don't Want To Change Your Partner
Maybe someday they will start supporting my dreams or one day they will communicate better – these and many other castles in the air were just that, unattainable dreams. The need to change the thoughts, behaviour and actions of your partner no longer exists. Because you both listen, understand and modify things that'll make the relationship stronger and better. In a healthy relationship, changing your partner shouldn't even be a desire on your radar and now you wouldn't dare change a thing.
5. You Take Responsibility For Self-Contentment
Blaming each other for their unhappiness is the trait of a toxic relationship. You don't wait for your partner to fix your life or give you the comfort you need. You take self-responsibility to work on yourself if needed and praise yourself when you desire. Each one takes ownership of their happiness (or unhappiness) and doesn't hang it on the partner. And you do all of this while still supporting each other's journey. The ultimate goal to attain happiness is to be your own 'Sunshine', so watch this video and learn 4 ways to create your own happiness and become the best version of yourself!
6. You Support Each Other's Dreams & Ambitions
You plan on going abroad to get a degree that'll boost your career and your partner offers unconditional support. That's the sign of a healthy relationship. Instead of being intimidated by the other's success or feeling like it will disrupt your relationship, you actually want to see your partner achieve all their goals and fulfil their dreams. And if that means you have to make it work long distance, cut back on dates or change your schedule to accommodate it all, you do it happily.
7. You Give Each Other Space
A relationship that requires you to constantly text, call or be with your partner 24×7 is codependent and unhealthy. When you know that quality time together and quality time apart are both vital, when you know you're in a mature relationship. Today, you understand that measuring love by the time spent together or the number of memes shared in a day is not indicative of the state of your bond. Now, you tell each other when you need time to be alone.
8. You Don't Shy Away From Crucial Topics
When you're with a partner who isn't a good fit, the two of you will likely hesitate to talk about big, scary things that matter to you. But talking with your partner about topics you're both uncertain about lets you grow. Often, the most difficult conversations are the ones that strengthen your bond. Instead of avoiding hard conversations, mature couples tackle topics that can be uncomfortable to discuss. Like a stale sex life, financial planning or having kids.
9. Your Arguments Focus On Compromise & Resolution
'Pyar mohabbat mein jhagde toh hote rehte hai' is such a cliche myth. Healthy couples only pick arguments worth discussing and acknowledge that some problems are not worth bringing up. All your arguments have the same goal – to resolve them and reach a compromise rather than win or lose fights. Here, if you know that your partner wants what's best for you, you listen with empathy and an open heart, even if it means challenging your beliefs and changing yourself.
10. You Feel An Ease In The Relationship
Sharing your deepest feelings is easy, supporting each other is easy and most importantly, feeling happy comes naturally. When showing love and understanding each other doesn't require herculean strength is a sign that you're in a healthy, mature relationship. Being yourself doesn't make you feel uneasy and everything your partner does is adorable to you.
A healthy relationship is when you continue to grow together. In a strong relationship, you can't even remember the last time you felt torn down or belittled. Instead, you feel supported. You feel listened to. And, best of all, you feel happy.