Ending the year with a bang and welcoming the next year with your family and friends is on everyone's list. Well, almost everyone, at least. Many of us like to have a house party where we end up inviting our closest family and friends over. Most guests and kids fill up on starters and appetisers, so much so that even the thought of moving on to the main course feels like an ordeal. You get what we're getting at, right? The indispensability of mouth-watering, irresistible starters for some whole pet puja while ushering in the New Year. Know more about the yummiest starter recipes that you can pick from, for your New Year party.
Here we have a collection of Indian non-vegetarian starters and veg starters to help you plan your party better. There are some fun chicken starter options, some paneer starters and sourdough starters that you can pick from. It's always good to have a meat and a seafood starter along with some vegetarian appetisers. Also, one can try the all-time favourite honey chilli potato and paneer 65 for some tempting starters. If you are looking for paneer on tawa recipes, paneer starter recipes, chicken starter recipes and mushroom starter recipes for this New Year, this is the article for you.
5 Starter Recipes For New Year's Eve Party
1. Indian Chicken Keema Sliders Recipe
Preparation Time: 10 minutes
Cooking Time: 50 minutes
A hot and spicy Indian starter masala recipe, which is super easy to make and mouth-watering in taste. The veg starter alternative can be honey chilli potato or paneer 65. 
Ingredients
4 onions (chopped)
6 tomatoes (chopped)
½ kg chicken, minced
1½ cup dahi (curd) 
1-inch adrakh (ginger, chopped)
4 cloves lehsun (garlic, chopped)
2 green chillies (slit lengthwise)
½ teaspoon red chilli powder
½ teaspoon black pepper powder
1 tablespoon lemon juice
2-3 tablespoon coriander leaves for garnishing
Salt to taste
15 burger buns, for sliders
2 tablespoon butter
For Masala
1 teaspoon jeera (cumin)
2 dalchini (cinnamon)
3 laung (cloves)
4 black peppercorns
3 tablespoons dhania (coriander) 
2 chakriphool (star anise)
3 Kashmiri laal mirch (dry red chillies)
Method
When you start the Indian chicken starters, especially with the chicken keema sliders recipe, first you need to do is roast all the masalas: cumin seeds, cinnamon stick, cloves, black peppercorns, coriander seeds, star anise and Kashmiri dry red chillies at low heat in a flat pan till it turns a little brownish. Set this aside.
Once the masalas cool down, powder them in a pestle and mortar. Heat the oil in a pan.
Once the oil is hot, add the onion, ginger, garlic and green chillies.
You must keep an eye on it and keep sautéing for about 15-20 minutes till the onions start to moisture and turn brown.
Reduce the flame to low, and add the ground spices. Saute for 20 seconds and add the sauteed onions. Add the chopped tomatoes and keep cooking till the tomatoes soften and turn mushy.
If while mixing the mixture burns a little, add a splash of water. This should take another 10 minutes. Add yoghurt in 3 batches. Mix well every time you add the yoghurt.
Cook for about 2 minutes. Next, add in the chicken keema and with your ladle break any clumps and mix well.
Do this step quickly before the chicken starts to cook to avoid lumps. Cook the chicken in the spices for about 10-15 minutes till the curry starts to simmer.
Once it simmers, cook for another 5 minutes to ensure it's done. Finish with the juice of one whole lemon and garnish with coriander leaves.
Toast the slider buns with a little bit of butter. Scoop the chicken keema inside and serve.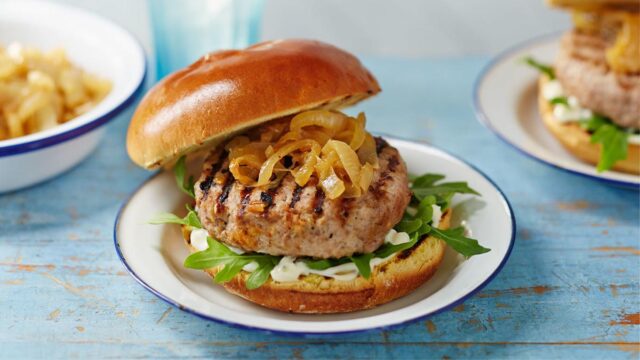 Serve Indian chicken keema sliders along with other starters such as paneer tikka and a chilled glass of your favourite mocktail for your new year house parties.
2. Protein Fingers
Preparation Time: 20 minutes
Cooking Time: 10 minutes
Yet another delicious recipe that you can savour your and your guest's taste buds with. This a great starter dish that you can add to your new year's menu and stand out!
Ingredients
100 grams paneer (cottage cheese, cut in the shape of a finger snack) / 100 grams chicken, boneless and skinless breast piece with angular slits / 100 grams tofu (cubed)
3 tablespoons extra virgin olive oil
1 tablespoon lehsun (garlic, minced)
½ teaspoon jeera (cumin) powder
½ teaspoon black pepper powder
¼ teaspoon paprika powder
¼ teaspoon red chilli powder
¼ teaspoon onion powder
¼ teaspoon garlic powder
½ teaspoon dried oregano herbs (optional)
¼ teaspoon sage
1 tablespoon lemon juice
Salt, as per taste
Method
First, you need to marinate with olive oil, garlic, cumin powder, salt, pepper, paprika, red chilli powder, onion powder, garlic powder, oregano, sage and lemon juice.
Apply marinade on the protein and keep it for at least 20 minutes or overnight in the refrigerator.
Grill the protein logs on a hot grill pan or flat griddle until slightly charred.
If grilling chicken, you will need to cover it and cook initially on both sides until the juices run out and the chicken is cooked.
Remove the lid and char the chicken skin on high heat for a couple of more minutes.
Cut the cooked chicken into thin slices. Serve the protein fingers warm with sour cream or salsa.
Serve protein fingers along with parmesan dip during your dinner time or serve it as a snack at your house parties.
3. Jerk Chicken Tacos
Preparation Time: 10 minutes
Cooking Time: 15 minutes
Ain't no party without tacos and sauc-y – okay, sorry for that extremely poor rhyming. But tacos have become a great add-on to the menu list. Unlike the chicken majestic, this one is a little different yet a great non-veg starter option. So, when it is New Year, how can you not have a special Taco on your menu? Here's a special recipe for you to try out. 
Ingredients
2 boneless chicken breasts
2 taco shells
2 tablespoons oil
2 tablespoons garlic finely chopped
3-4 stalks spring onion greens chopped
1 teaspoon cinnamon powder
1 teaspoon all-spice powder
1 teaspoon black pepper powder
A few fresh thyme sprigs
1 teaspoon brown sugar
1 tablespoons ginger, finely chopped 
1 tablespoon soya sauce
6-7 iceberg lettuce leaves
¼ lemon juice
4 dollops of sour cream
Salsa
1 medium tomato cut into dice 
1 medium onion, finely chopped
2 green chillies, finely chopped
2 teaspoons tomato juice
A pinch of black peppercorns a pinch
Salt to taste
Method
Combine 2 tablespoons oil, chopped garlic, chopped green chillies, chopped onion, chopped spring onion greens, cinnamon powder, all-spice powder, black pepper powder, thyme sprigs, brown sugar, salt and chopped ginger in a bowl. Mix well and add soya sauce.
Add chicken breasts to the bowl and rub the marinate on them nicely. Set aside for 15-20 minutes.
To make salsa, combine tomato, onion, green chillies, spring onion greens, tomato juice, salt, crushed peppercorns and lemon juice in a bowl. Mix well and set aside.
Heat oil in a non-stick grill pan. Place the marinated chicken breasts on it and grill for 2-3 minutes. Flip and grill for 2-3 minutes.
Shred lettuce leaves and slice onion. Mix them together. Add lemon juice and salt and mix well.
Place some of the lettuce-onion salad on a serving dish and spread it to make a bed.
Remove grilled chicken from heat and slice them.
Place a little portion of lettuce-onion salad in each taco shell. Put some chicken slices, top with a spoonful of salsa and a dollop of sour cream.
Place prepared taco shells on a lettuce-onion salad bed and serve immediately.
Here are some more recipes you can try for your New Year's Eve house party.
4. Aloo Nazakat
Potatoes are like this…extremely popular veggies and fit right into almost every Indian dish. Here is a fun recipe for appetisers that you can add to your menu.
Preparation Time: 25 minutes
Cooking Time: 40 minutes
Ingredients
4 large potatoes
½ cup cottage cheese grated
2 tablespoons oil
1½ teaspoons adrakh (ginger) paste
1½ teaspoons lehsun (garlic) paste
1 cup yoghurt whisked
½ teaspoon kala namak (black salt)
1 teaspoon garam masala powder
1 teaspoon red chilli powder
3 tablespoons dalia (roasted chana dal) powdered
3 tablespoons fresh coriander leaves
2 tablespoons mustard oil
2 fried/roasted papads, crushed
2 teaspoons chat masala
2 hari mirchi (green chillies)
Method
Peel and scoop the potatoes leaving a shell all around.
Heat sufficient oil in a kadhai and deep-fry until the outer surface of the potatoes turns golden and the potatoes are cooked. Drain and place them on absorbent paper.
Preheat the oven to 180°C. Heat oil in a pan, and add one teaspoon of ginger-garlic paste. Chop the scooped-out portion of the potatoes and add. Add salt and let it cook on medium heat.
For marinade, take yoghurt in a bowl. Add salt, black salt, garam masala powder, red chilli powder, roasted chana dal powder, two tablespoons chopped coriander leaves, and remaining ginger-garlic paste and mix. Add mustard oil and mix. Set aside.
For stuffing, take paneer in a bowl. Add salt, chaat masala, remaining coriander leaves, green chillies, cooked potatoes, and crushed fried papads and mix.
Grease a baking tray. Stuff the potato shells generously with the paneer mixture.
Put these stuffed potatoes in the yoghurt marinade and mix well with a light hand. Let them stand for about thirty minutes.
Arrange the stuffed potatoes on the baking tray and keep the tray in the preheated oven and bake for fifteen to twenty minutes.
Serve hot.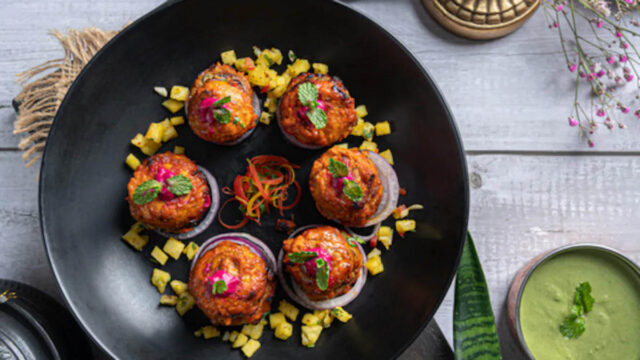 5. Dill Leaves (Parsley) Pakoda
If you like your veg crispy on the outside and moist but not soggy on the inside, then you're going to LOVE these dill leaves pakoda! The trick for extra crisp texture is to add a little bit of rice flour. This is a quick and easy dill leaves recipe that's super delicious and a perfect paneer starter recipe:
Preparation Time: 15 minutes
Cooking Time: 15 minutes
Ingredients
½ cup dill leaves (parsley), chopped
⅓ cup besan (gram flour)
3 tablespoons rice flour
A pinch hing (asafoetida)
1 tablespoon sesame seeds
½ teaspoon red chilli powder
¼ teaspoon haldi (turmeric powder)
½ teaspoon jeera (cumin powder)
½ teaspoon saunf (fennel seeds powder)
¼ teaspoon garam masala
1 green chilli chopped finely
¼ cup red onion chopped
⅓ cup water
Oil for deep frying
Salt to taste
Method
Take dry ingredients besan, rice flour, salt, sesame seeds, red chilli powder, turmeric powder, cumin powder, fennel powder, garam masala, and hing in a bowl. Mix well.
Add chopped onions, green chilli, and dill leaves.
Mix everything well so the flour is coated with paneer – now if you do not have paneer, you can also use veggies as an alternative.
Now add a little water at a time and make a thick batter.
Heat the oil in a pan on medium heat for deep-frying. Once the oil is hot, add a spoonful of batter carefully into the hot oil.
Do not touch them with a spatula for a minute then you can keep moving and turning around for even browning. While frying makes sure that the oil does not get too hot. If so, adjust the heat level otherwise the pakoda will stay raw from the inside.
Once they are golden brown and crispy from all around then remove them using a slotted spatula and keep them on a paper towel-lined plate.
These were some vegetarian and non-vegetarian recipes that you can savour with your guests. There are a plethora of other starter options available like sourdough bread recipe, the all-time favourite honey chilli potato, paneer 65 and some delectable Chinese starters that you can try out for New Year's celebrations. Don't forget to add some cocktails and mocktails to the menu along with the starters to add that zing on this special day. Happy New Year to you all!