The city of Mumbai has been a rich confluence of a host of cultures from across the world. By far the most diverse in terms of its multi-ethnic population in the country, it has been this way since time immemorial. And the multicultural fabric of the city influences everything that it is closely associated with, including its food. Hence, Mumbai's most iconic restaurants bear testimony to every culture, heritage, and community that has set foot on the Earth here and lovingly calls the city its home now. Most often than not, these foreign influences have intermingled with the desi flavours of the city and created a distinctly different palate of their own. 
As you croon to the melody of yeh hai Mumbai meri jaan, here's visiting 10 iconic restaurants for you to learn more and #BeALittleMore aware of the interesting cuisines that the city offers.
1. Kyani & Co.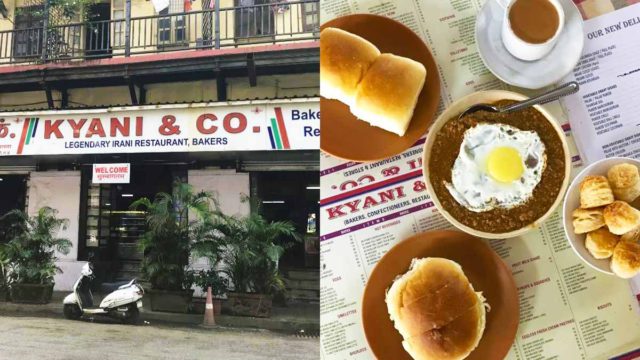 Known for a plethora of delicacies, the oldest Irani cafe in Mumbai is much celebrated for, well, everything it serves on its menu. What to order and which ones to leave out is a difficult decision that you have to make when you visit this iconic cafe. Its bun maskas, chicken samosas, egg dishes, cakes, caramel custards, and sodas are clearly the crowd pullers. However, keema pav remains the all-time favourite of its customers who swear by this cafe.
Find It At: Kyani's, Jermahal Estate, 657, Jss Rd, Tak Wadi, Lohar Chawl, Mumbai, Maharashtra 400002
Read 10 Iconic Mumbai Street Food Dishes & Where You'll Find Them In The City
2. Britannia & Co.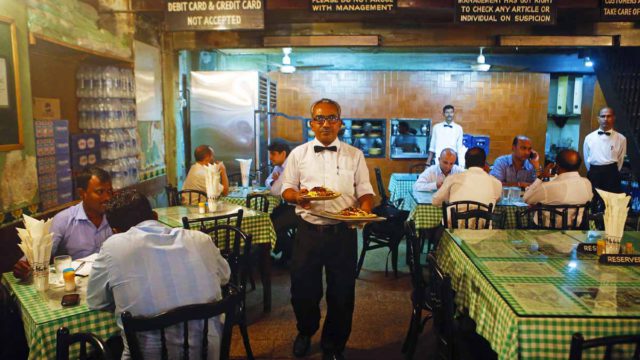 Another of Mumbai's Iranian restaurants that you simply cannot miss out on visiting, the Berry Pulao is one dish that you must definitely gorge on. It boasts of the freshness of berries that are imported all the way from Iran. That's one of the reasons why the Berry Pulao here remains true to its Iranian roots and retains its authentic taste. Dating back more than 95 years now, also visit Britannia & Co. for its Salli Boti and brown rice, while you wash it all down with a flavourful bottle of raspberry soda.
Find It At: Britannia & Co, Wakefield House, 11 Sprott Road, 16 Ballard Estate, Fort, Mumbai
3. Stadium Restaurant
Yet another Iranian restaurant that the Maximum City just cannot have enough of, it is one of the newer eateries of its kind in town. It is often said that the humblest and most ordinary-looking eateries serve the most unexpectedly delicious meals. Stadium Restaurant is one of those blessed eateries. Having been around for about 20 years, it has already carved a name for itself among its Iranian counterparts for the quality of food that it serves at affordable rates. Make a dash for this restaurant for its keema pav, bun maska, chicken starters, and the authentic flavours of the rich Iranian chai.
Find It At: 76, Near Vodafone Store, Indian Merchant Building, Veer Nariman Road, Churchgate, Mumbai
Read 9 Chatpata Chaat Streets Of Delhi
4. Yazdani Bakery
Ah, Mumbai simply cannot have enough of these Iranian restaurants! This quaint Iranian cafe is ideal for a relaxing breakfast or an evening out with your family or date, and even all by yourself. Make sure to keep a watch on the walls because they have their own story to tell about the cultural history of the community. While you soak in the rich Iranian heritage, don't forget to dig your fingers deep into their bun maska and puddings, and of course, the Iranian chai.
Find It At: Yazdan Bakery, 11, Horniman Circle, 11A, Cawasji Patel Rd, Fort, Mumbai, Maharashtra – 400001.
5. Cafe Leopold
You must have heard the name before, even if you are yet to visit India's Financial Capital. If you cannot recollect, let's shed some light on it for you. This iconic restaurant was one of the targets of the 2008 terrorist attacks on Mumbai. The restaurant has been renovated after the horrifying incident and continues to welcome its customers with open arms, just like before. Once you are here, Mongolian Chicken, Berry Pulao, Chicken Pot Rice, and Chicken Tikka are some of the delicacies that you should try. Last but not the least, finish your meal with one of the desserts that they are so renowned for.
Find It At: Opp Olympia Coffee House, Shahid Bhagat Singh Road, Colaba Causeway, Mumbai, Maharashtra 400001
6. Cafe Madras
The long queue outside this little cafe on weekends says it all! Its popularity is almost unparalleled in the city, so much so that there is a Bollywood movie named after it. Their extensive fanbase cannot have enough of all the popular South Indian delectables like idlis, dosas, rasam vada, and of course, sheera. The rasam vada was served for the first time at this 80-year-old cafe in 1960 and remains as much in demand even to this day. When you are craving some South Indian breakfast or snack, this is where you should be headed. 
Find It At: Kamakshi Building, NO. 391/B, Bhaudaji Road, Matunga, Mumbai, Maharashtra 400019
7. Mani's Lunch Home
Matunga is abuzz with South Indian restaurants and Mani's Lunch Home is one you should add to your must-visit list for sure, along with Cafe Madras. Their thali is food for the soul as it enables you to eat to your heart's content, without worrying about it being heavy on your pocket. Other options from the menu that you can opt for are idli sambar, medu vada, and upma. No wonder, the restaurant is always throbbing with life with students and residents of the locality visiting it in large numbers.
Find It At: 153 C, Mahskar Building, Near Ruia College, Matunga East, Mumbai
8. Pizza By The Bay
The idyllic location just across the mesmerising Arabian Sea at the Marine Drive, complemented by its food, makes it no less than a jannat. You have the option to choose between the outside seating area where the sea breeze will caress you with its warmth, and the cool confines of the inner sitting area. If you want to indulge in the authentic flavours of the city or cannot have enough of it, Mumbai Masala Pizza should be your choice. When you want to bask in the comforting view of the sea at a fine dining place, Pizza By The Bay is your answer. 
Find It At: Pizza By The Bay, 143, Soona Mahal, Marine Drive, Churchgate, Mumbai
9. Cafe Mondegar
Popularly known as Mondy's, Cafe Mondegar, close to Cafe Leopold, evokes an enigma among all its visitors with its old-world charm and positive vibe. The innovative doodles all along the walls give you a feel of the Maximum City while you dig deep into their Chicken Tikka, Prawns, and Paneer Malai. The visitors at this cafe can always be found indulging in conversations for hours on end over their choice of drink and food. Hence, this cafe is always thriving with life and the happy chatter of its customers. There is hardly ever a quiet moment here. Visit this cafe with family, and friends, or on a date, and this place will never disappoint you. 
Find It At: 5A, Metro House, Near Regal Cinema, SB Singh Road, Colaba, Mumbai
10. Gaylord
One of the most coveted bakeries in town, which dates back almost 70 years, your visit to the city will remain incomplete unless you drop by this place. Boasting a wide range of bakery items, right from cakes, bread to veg and chicken puffs, and croissants, there is something to appeal to every palette. And, oh, don't forget to bite into those amazing breadsticks. If you want more than quick bites, there is a restaurant inside that will entertain you with its multi-cuisine menu. Special mention goes to their Mughlai dishes, which are everyone's favourite here. 
Find It At: Mayfair Building, Veer Nariman Road, Churchgate, Mumbai, Maharashtra 400020
The above restaurants are surely a force to reckon with owing to the rich variety of tastes, flavours, and aromas that they introduce their visitors to. Are there any other restaurants that you think should have made it to this list? Comment below with the name of the restaurant.
Open up like never before and participate in conversations about beauty, entrepreneurship, mental health, menstrual & sexual health, and more. Desi women, join our community NOW!