Chilly weather, til ke ladoo and kite flying sessions with friends and families. The festival of Makar Sankranti is here to make 2022 truly special!
Kai po che! Colourful new outfits, delicious snacks and the skies flooded with kites, Makar Sankranti is truly a unique festival. Traditionally, it is the first festival of the new year along with Lohri and in 2022, it will be celebrated on the 14th of January. It is welcomed as Pongal in the southern parts of India and each region has its own special way of indulging in Makar Sankranti celebration. But one thing remains common, which has become the motto for the new year, making it a day full of hope!
Makar Sankranti: Significance & History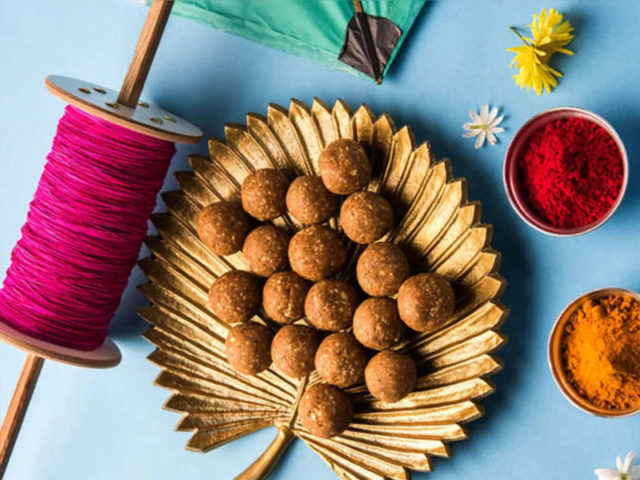 The festival is celebrated as the end of winter harvest and the beginning of the new harvest season. The name Makar Sankranti is coined for the Sun's shift in its journey towards the north – the end of the winter solstice and the beginning of the summer solstice when we have longer days and shorter nights. It is celebrated in Karnataka, Bengal, Maharashtra, Gujarat, and Rajasthan.
In Maharashtra, the phrase 'til gul ghya ani goad goad bola' accompanies the exchange of til ke ladoo. It roughly translates into 'eat sweet, talk sweet and be sweet'.
Makar Sankranti Celebration: Haldi Kunku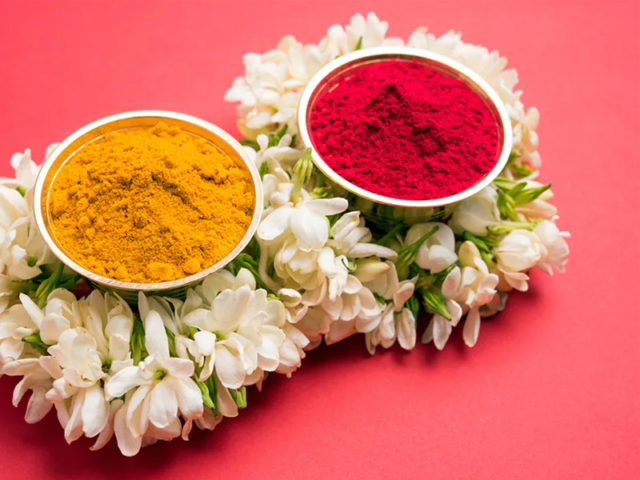 In Maharashtra, the Sankranti haldi kunku event that gathers women is pretty common. At a haldi kunku ceremony, women dress up in fancy dresses, married women wear sarees and girls are seen in parkar-polka. The best part of a haldi kunku event is that everyone gets to wear black, a colour not usually reserved for festivals. The haldi (turmeric) and kunku or kumkum (vermillion powder) is a symbol of marriage. During the month of Chaitra, women invite other women and impart gifts. Traditionally, these gifts would be a saubhagya item (symbols of married women) like green bangles, haldi kunku, toe rings and more. In today's day and age, the gifts have become more personalised.
Sesame seed ladoos, one of the most popular Makar Sankranti recipes, are distributed at a Makar Sankranti haldi kunku event. Most importantly, a newly married couple is usually the centre of attention and their first Sankranti haldi kunku is celebrated with vigour. They are adorned with sugar and floral jewellery (halwyache dagine).
5 Must-Try Makar Sankranti Recipes
No Makar Sankranti celebration is complete without some tasty food.
1. Til Ke Ladoo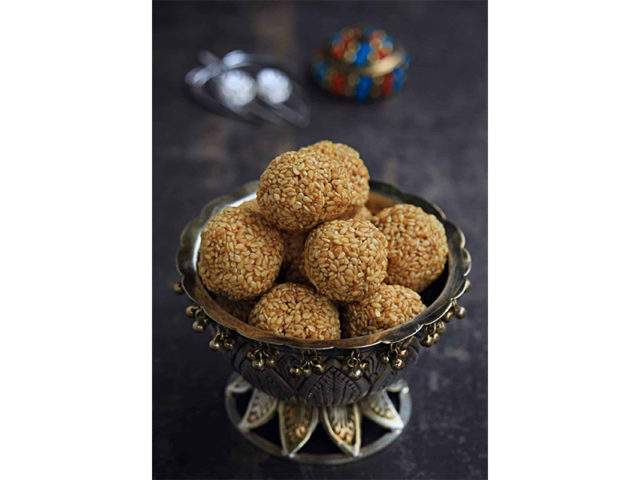 One famous Sankranti special food that every household indulges in and is a fun activity the entire family participates in is the tilache ladoo recipe. Full of iron and calcium, this nutritious and delicious food item is one of the most popular Sankranti recipes.
Prep Time: 10 mins
Cooking Time: 20 mins
Ingredients:
½ cup white sesame seeds (til)
½ cup black sesame seeds (optional)
1 cup jaggery (gur)
¼ cup water
2 tbsp peanuts, roasted & crushed
2 tbsp cashews, chopped
½ tsp cardamom powder (elaichi)
Method:
Firstly, in a pan dry roast ½ cup white sesame seeds and ½ cup black sesame seeds.
Then, in a pan, take 1 cup jaggery and ¼ cup water.
Keep the flame on low, stir well and dissolve jaggery.
Next, boil the jaggery syrup for 5 minutes.
Now drop the jaggery syrup into a bowl of water and try to make a ball.
Turn off the flame and add roasted sesame seeds.
Also add 2 tbsp peanuts, 2 tbsp cashews and ½ tsp cardamom powder.
Combine well making sure everything combines well.
Now allow to cool for 5 minutes or till the mixture thickens.
Grease hands with little ghee and prepare balls of size of your choice.
Your lip-smacking tilache ladoo recipe is done. Enjoy them hot or store in an airtight container.
2. Urad Dal Khichdi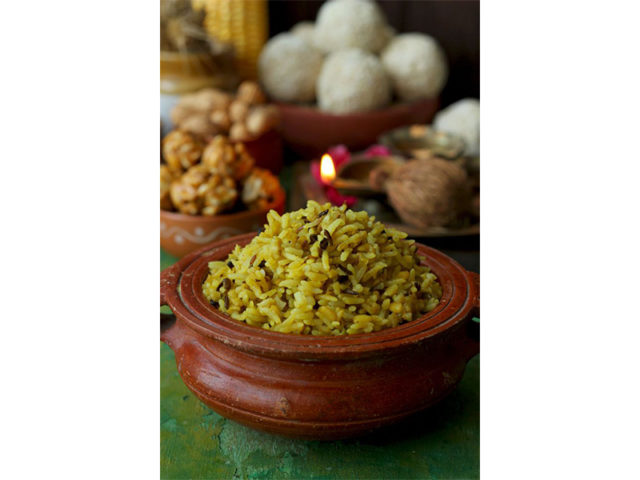 This Makar Sankranti khichdi recipe will leave you satiated. A bowl of steaming hot khichdi on a chilly January day is what you need. Urad dal holds a higher protein value than most of the legumes. It is also an excellent source of dietary fiber, isoflavones, vitamin B complex, iron, copper, calcium, magnesium, zinc, potassium, phosphorus which offers a myriad of healing health benefits. So try this nutritious khichdi recipe for Makar Sankranti and stay healthy.
Prep Time: 10 mins
Cooking Time: 20 mins
Ingredients:
1 cup split urad dal (chilka urad dal)
2 cups basmati rice
2 teaspoon cumin seeds (jeera)
1/2 teaspoon asafoetida (hing)
Salt to taste
1 teaspoon turmeric powder (haldi)
1/2 teaspoon red chilli powder
Method:
Soak dal overnight in enough water or for at least 6 hours.
Next morning you will notice that the black peel of the dal starts leaving the white skin underneath.
Rub the dal in small batches in between your palms to remove the black peel. Each time drain the black peel.
After 2 – 3 times you will end up with a majorly white skinned dal with few black peels here and there.
Let the dal sit in a colander for 5 – 10 minutes for excess water to drain off.
Meanwhile, soak rice in enough water.
Heat ghee in a pressure cooker.
Add cumin seeds and asafoetida. Let the seeds fry for less than a minute.
Add the dal in the pressure cooker. Roast the dal nicely for the next 2 – 3 minutes.
Now add the salt and spices along with 1 cup of water.
Cook the dal for one whistle over low heat. Allow the steam to release naturally from the pressure cooker.
Drain water from the soaked rice. Add rice in the same pressure cooker as dal. Stir to mix.
Add 2 cups or enough water to cook the rice. Close the lid and cook the rice for one whistle over low heat. Allow the steam to release naturally from the pressure cooker.
Your Makar Sankranti khichdi recipe is done. Serve it warm with ghee, papad and achaar.
3. Makara Chaula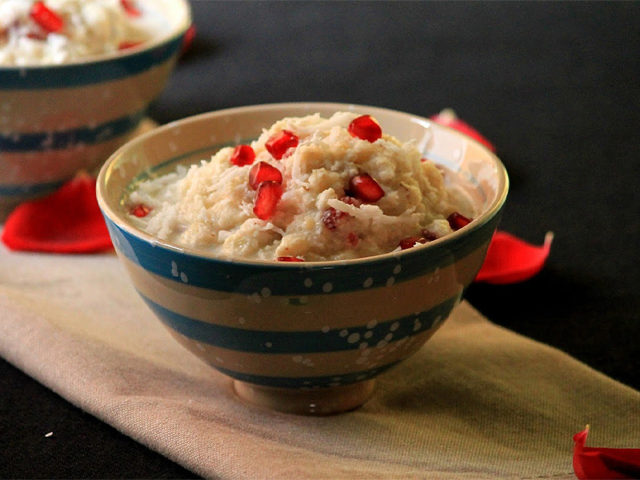 A traditional recipe made from fragrant ground rice that is fresh from the fields is the makara chaula recipe.This Makar Sankranti special food is a staple in Odisha and is a regional gift to Indian cooking. And the surprise element is that it's a no-cook recipe!
Prep Time: 15 mins
Cooking Time: 0 mins
Ingredients:
1/2 cup raw rice
1 cup milk
1/2 cup freshly grated coconut
1/3 cup small sugarcane pieces
1-2 ripe banana
Sugar to taste
1/2 tsp pepper powder
1/4 cup cottage cheese (chenna)
1 tsp grated ginger
1/2 cup chopped fruits of your choice
Method:
Soak the rice overnight. Wash and drain.
Spread on a plate and allow to dry at room temperature for 2-3 hours.
Grind into a coarse powder and transfer to a mixing bowl.
Add the rest of the ingredients except for the banana and mix well.
Peel and crush the banana.
Add to the mixing bowl and mix.
Consume within a day if kept outside the refrigerator. Can be refrigerated for 2-3 days.
4. Tilwale Paneer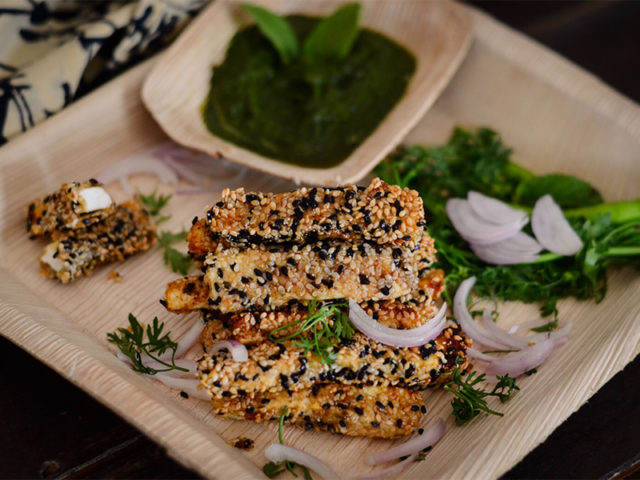 One of the tastiest Sankranti snacks you can whip up for all ages is this delicious recipe.
Prep Time: 10 mins
Cooking Time: 20 mins
Ingredients:
250 grams cottage cheese (paneer)
2 tablespoons white sesame seeds for coating
2 tablespoons black sesame seeds for coating
1 1/2 teaspoons red chilli powder
1 teaspoon garam masala powder
1/2 teaspoon dried fenugreek leaves (kasoori methi)
1/2 tsp chaat masala
1 tbsp + ½ ginger-garlic paste
Salt to taste
1 cup + 2 refined flour (maida)
3 tablespoons semolina (suji/rawa)
Oil for shallow frying
Method:
To make one of the yummiest Sankranti dishes, start with the paneer.
Cut cottage cheese into finger sized pieces and place them on a plate. Sprinkle 1 tsp red chilli powder, ½ tsp garam masala powder, kasoori methi, chaat masala, ½ tsp ginger- garlic paste, salt and mix well.
In a bowl, mix together 1 cup refined flour, 2 tbsp semolina, remaining ginger-garlic paste, remaining red chilli powder, remaining garam masala powder, salt and water as required to make a thick batter.
Heat oil in a non-stick pan.
Spread black and white sesame seeds, remaining semolina and remaining refined flour on a plate.
Dip the cottage cheese fingers in the batter, coat them with the sesame seeds mixture.
Place them in the pan and cook, turning sides, till evenly golden on all the sides. Drain on an absorbent paper. Sprinkle some chaat masala.
Place some lemon and onion slices on a serving plate. Arrange the cottage cheese fingers on the plate and serve hot.
5. Badam & Suji Ka Halwa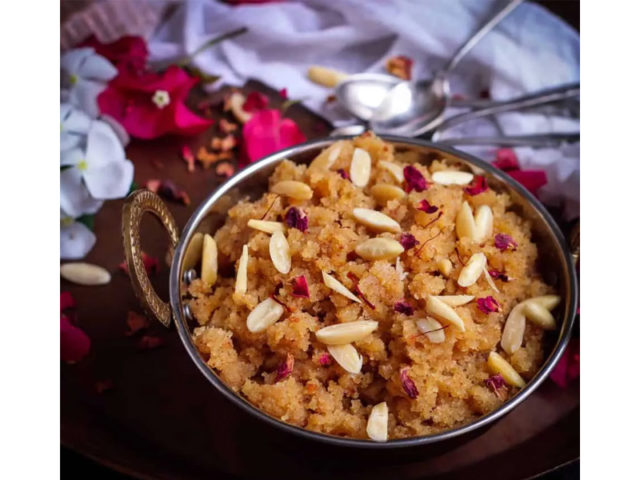 No festive season is special enough without a standout dessert dish, let alone Makar Sankranti. Almonds help your ticker stay healthy. They lower LDL (bad) cholesterol and are packed with vitamin E, magnesium and potassium, which helps oxygen and nutrients flow more freely through the blood.
Prep Time: 20 mins
Cooking Time: 30 mins
Ingredients:
1 cup semolina roasted (suji)
2 1/2 cups almonds blanched and peeled
1/2 cup + tablespoon ghee
2 1/2 cups sugar
1 cup milk
A few strands of saffron (kesar)
1 1/2 teaspoons green cardamom powder (elaichi)
Method:
Pat the almonds dry. Keep aside twenty almonds for garnish and grind the rest to a coarse powder.
Heat half a cup of ghee in a pan.
Add almond powder and sauté over medium heat till golden. Add semolina and mix well. Add sugar and mix. Add milk and stir to mix well. Let it cook for eight to ten minutes.
Add saffron and stir. Continue to cook till the halwa thickens.
Add green cardamom powder and stir to mix well. Add one tablespoon of ghee to finish off.
Garnish with reserved almonds and serve hot.
The Makar Sankranti significance lies in get-togethers, kite flying and welcoming the harvest season. The festival of Makar Sankranti is truly unique and it especially means a lot in 2022. With a new harvest, we welcome the new year and look forward to a better tomorrow. Make the most of it and try these special Sankranti recipes at home! Til gul ghya ani goad goad bola!