The dynamic festival of Holi never falls short of mesmerising us with all its colours, energy, positivity, and fervour. So much so that the merriment encourages everyone to participate in the festivities wholeheartedly. Holi celebrates the end of the cold winter months and the beginning of the spring season, which in turn implies a fresh start, a new harvest season. What's more, it also celebrates the victory of good over evil.
5 Possible After-Effects Of Colours On Your Hair
Holi colours do your hair far more harm than what you are probably aware of, not just in the short-term but more so during the course of time. Here are some adverse effects that they can cause to your hair:
Dullness
Brittleness and breakage
Itching
Irritation and burning sensation on the scalp
Severe skin conditions like irritant dermatitis
3 Pre-Holi Hair Care Hacks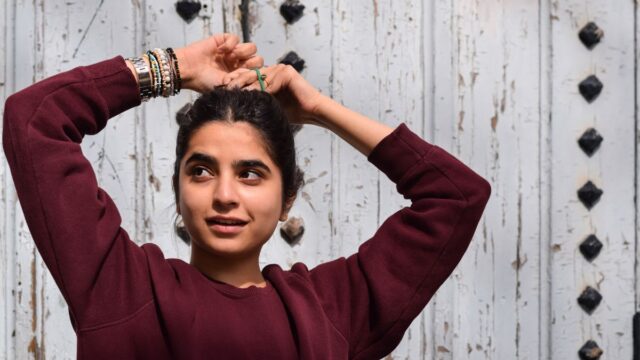 Here are some pre-Holi hair care tips you should follow.
1. Fall Back On The Good, Ol' Champi
Nothing like a thorough massage with your choice of hair oil to provide your tresses with the nourishment it requires. Not just each hair strand, but your scalp as well – enough to deep nourish your locks. And when it comes to prepping your hair for the aftermath of Holi colours, the importance of a generous champi increases manifold. Get your hands on a bottle of coconut oil, almond oil, mustard oil or any other option that suits your locks, as the first step to getting your hands dirty.
2. Use A Leave-In-Conditioner As An Alternative
You can use a leave-in-conditioner, rich in vitamins and hair-friendly actives, instead of hair oil. This too can do wonders in protecting your tresses from the harmful effects of gulaal. However, remember that there's nothing better than hair oil as a part of your pre-Holi hair care tips, as it will only protect your hair but provide it with far more fortification than a leave-in-conditioner will.
3. Skip Shampooing Your Hair
When your question is – how to protect hair from holi colours, this is one step you shouldn't ignore. The oiler your hair, the better it is for you on this day. And if it's sebum – the grease that your scalp naturally secretes – what's the harm in embracing it? This oil protects your hair from dryness and allergies, exactly what you need to preserve hair health on Holi. It will prevent the colours from coming in contact with your hair, keeping harm at arm's length.
4. Tie Up Your Hair Or Cover It Up
Tie your hair up into a clean bun, ensuring there are no loose strands falling over your face. Got fringes? Pull them back with a pin. If you prefer a braid or a ponytail, consider whether you would like your hair to get messed up with Holi colours. Better still, cover your hair with a shower cap, if you don't mind not looking like a diva during the celebrations. Or, experiment with exciting bandana styles or cover it with a dupatta, and be prepared to rock. Want to know about how to protect hair from Holi colours? Don't miss out on following this hack.
7 Hacks For Post-Holi Hair Care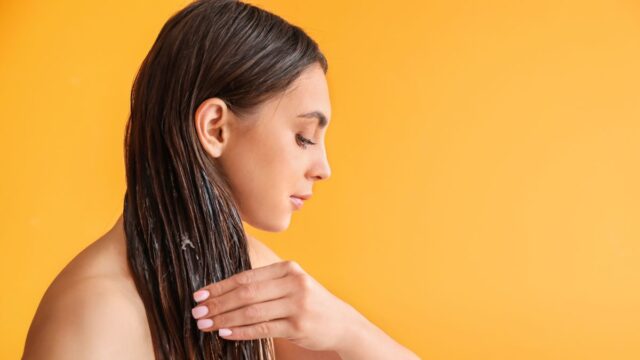 Here are some after-Holi hair care tricks to keep your tresses away from harm's way.
1. Avoid Using Shampoo On The Same Day
Irrespective of how hard you try to save your locks from colours, it will find a way to get to your hair. In such a situation, it is best to just run water through your hair rather than washing it off with shampoo, however mild, natural, and strengthening it might be.
2. Oil Your Hair Overnight
Oil your hair liberally before going to bed and leave it on overnight to give it time to do its job. This will replenish the nutrients that the colours have ripped your hair off, providing them with the much-needed hydration for them to get back into shape. Shampoo the oil off the next day. Make sure that your shampoo is mild and enriched with natural ingredients that are suitable for your hair type.
3. Condition. Condition. Condition.
The day after Holi is not the time when you can afford skipping this step, even if you are faced with a time crunch. A saviour for rukha sukha hair, exactly what your tresses are expected to be like post-Holi. A mild conditioner with protective ingredients will recharge your hair with the hydration that it needs to stay strong, shiny, and bouncy.
4. Use Cold Water
Hot water anyway is a big no-no throughout the year because it opens up the hair shafts, causing widespread hair fall. On Holi, make sure you use cold water to eliminate the scope of the harmful chemicals in the colours getting solidified, aggravating the harm it will cause your hair. This is a Holy Grail when it comes to how to protect hair from Holi colours.
5. Ignore Your Hair Dryer
The adverse side-effects of a hair dryer and all the other styling tools is well known. And one of the worst things you can do to your hair, especially when it is comparatively weak and needs your attention, is using a hair dryer. Instead, let it dry naturally as a part of your post-Holi hair care and your tresses will thank you for it later.
6. Take The Help Of A Hair Mask
No, a conditioner is not enough when you need to fortify your hair from the harmful ingredients in gulaal. A hair mask will rejuvenate your tresses from the damage. Opt for DIY hair masks with readily available kitchen ingredients, about which we will discuss later in the article.
7. Avoid Colouring Your Hair For Sometime
Even after the entire shampoo-conditioner-hair-mask routine, the colours are bound to leave back some remnants of the harmful chemicals on your hair. The least you would want to do now is to add to the already-existing chemicals by colouring your hair – global hair colour, highlights, et al. Keep your hair colouring plans away for a few days as a part of your after-Holi hair care regimen. Instead, visit a salon for a snip to get rid of the split ends, if you have any, which prevent healthy hair growth.
7) Provide tips on how to wash and condition hair after playing with colors to remove any remaining color and to nourish the hair and scalp.
3 DIY Hair Mask Recipes
1. Banana, Honey, Methi (Fenugreek Seeds) Hair Mask
Replete with the hydrating properties of honey, bana, and fenugreek seeds, this is one of the best hair masks you can use to give your hair a boost of hydration.
Ingredients
½ banana
1 tbsp honey
1 tbsp fenugreek seeds
Method
Mash the banana completely and add the other ingredients, to make a fine paste.
Coat your strands evenly right from the roots to the tips.
Leave this on for 20 minutes and wash it off with water.
2. Methi (Fenugreek Seeds) & Dahi (Curd) Pack
Ingredients
1 tbsp powdered fenugreek seeds
5 tbsp of curd
Method
Powder the fenugreek seeds, preferably soaked the night before.
Blend the powder and curd to get a fine paste.
Apply this on your hair liberally.
Let this stay for 30 minutes before you rinse it off with water first, followed by a milk shampoo.
3. Lemon Juice
Lemon juice is known for restoring the required acid-alkaline balance of your hair and strands, which has been ruptured by the chemicals present in gulaal.
Ingredients
As much of lemon juice as is required for your hair length
Method
Wash your hair first.
Liberally apply lemon juice on your strands, from roots to the tips, and the scalp.
Wash it off thoroughly after 10 minutes.
Taking care of your hair, despite the harm that Holi colours cause, isn't rocket science. All you need is awareness of what and how to do it right, along with time and intent. Not for a few days but for a few weeks, to override the adverse effects of the chemicals that they are known for. Once you take care of that, luscious, glossy, strong, and voluminous hair wouldn't be far away!
Open up like never before and participate in conversations about beauty, entrepreneurship, mental health, menstrual & sexual health, and more. Desi women, join our community NOW!