The humble oats have come a long way from being looked down upon as an unappetising breakfast option—visually and taste-wise, too. Oats started grabbing eyeballs from the time celebrities began flaunting colourful images of oats recipes as healthy breakfast options on their social media. But, oats are so much more than just a breakfast cereal. Replace our regular flour with oats, and it opens up an entire world of possibilities that are not only healthy but satisfying for your taste buds too. What's more, these recipes can be whipped up within a short time!
4 Health Benefits Of Oats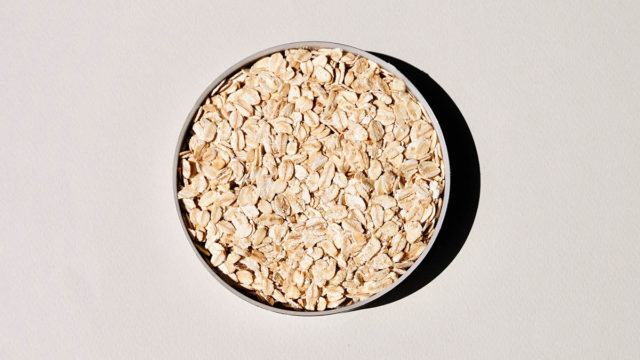 There's more than one reason to add oats to your daily diet. In fact, here are a few:
1. Nutritious
Oats are rich in fibre, carbohydrates, and antioxidants. They help in treating illnesses like constipation, low blood pressure, high cholesterol, inflammatory conditions, among others
2. 100% Whole Grain
Oats have more protein than most grains and are packed with good fibre too
3. Nutrient-Dense Food
Being laden with nutrients like manganese, iron, zinc, vitamin B1 and B5, among others, oats make us feel satiated for longer. This leaves no scope for craving unhealthy food and, in turn, helps you to lose weight
4. Healthy For The Skin
Oats are well-known as a natural exfoliator when applied to the skin. Not just that, they treat symptoms of various dry and itchy skin conditions, like eczema
Easy-To-Make Healthy Oats Recipes You Can Try At Home
Curious about how you can incorporate this versatile breakfast cereal into your daily life? Let's take a look at some wholesome healthy oats recipes.
1. Oatmeal Cookies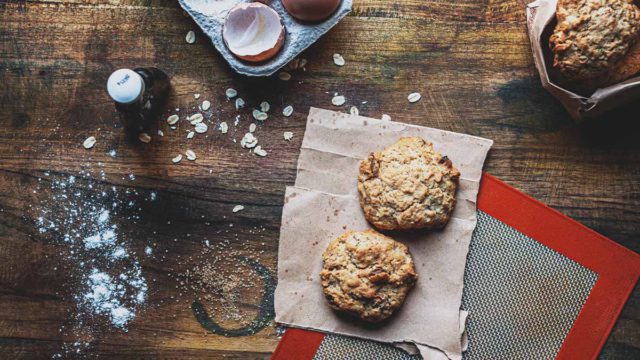 Preparation time: 10 minutes
Cooking time: 8 – 10 minutes
Ingredients:
3 cups oats
1 cup finely powdered oats
½ cup all-purpose baking flour
2 eggs
2 cups of butter
1 tsp baking soda
Cinnamon powder
1 cup white sugar
1 cup brown sugar
1 tsp salt
Vanilla extract
Nuts (optional)
Chocolate chips (optional)
Ginger powder (optional)
Oatmeal Cookie Recipe:
Whisk together cinnamon powder, white sugar, brown sugar, butter, and vanilla in a bowl.
Beat in the eggs slowly one at a time.
Slowly mix the flour, salt, and baking soda.
Finally, add the whole and powdered oats.
Once properly whisked, take a scoop of the mixture with a spoon and place it on a baking tray.
Remember to maintain a gap of at least 2 inches between every cookie.
Place the baking tray in the pre-heated oven and bake at 170°C for 8 to 10 minutes.
Add chocolate chips or nuts to introduce a tinge of deliciousness to your oatmeal cookies, or blend in dried ginger, if you want to bake ginger cookies.
2. Masala Oats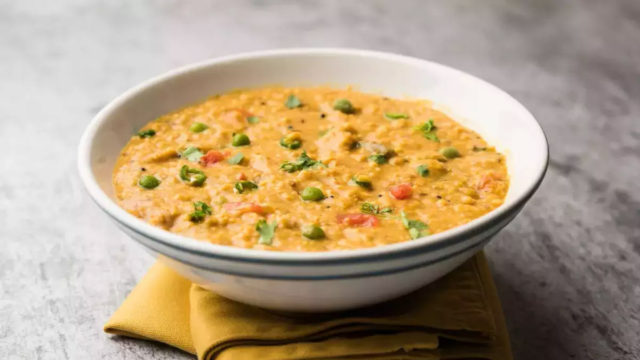 Preparation time: 5 minutes
Cooking time: 15 minutes
Ingredients:
1 cup oats
½ tsp cumin seeds
1 green chilli
½ onion (finely chopped)
1 tsp ginger garlic paste
1 finely chopped tomato
½ finely chopped capsicum
3 finely chopped beans
1 finely chopped carrot
2 tsp finely chopped coriander leaves
¼ cup peas
½ tsp red chilli powder
¼ tsp turmeric
½ tsp garam masala powder
2 cups water
Chopped cashews
2 tsp olive oil or ghee
Masala Oats Recipe:
Heat olive oil or ghee.
Add cumin seeds and chopped onions, and saute well.
Add ginger garlic paste and green chilli, and continue sauteing.
Next, add tomato and keep sauteing until they turn mushy.
Now, add the vegetables and saute for 2 minutes.
Add garam masala, chilli powder, and salt, and saute till you get the aroma of the spices.
Pour in the oats and saute for 1 minute.
Add 2 cups of water and stir gently.
Cover the cooking pot and keep it on simmer for 5 minutes.
Garnish with chopped nuts and coriander leaves, and serve your masala oats.
3. Oats Upma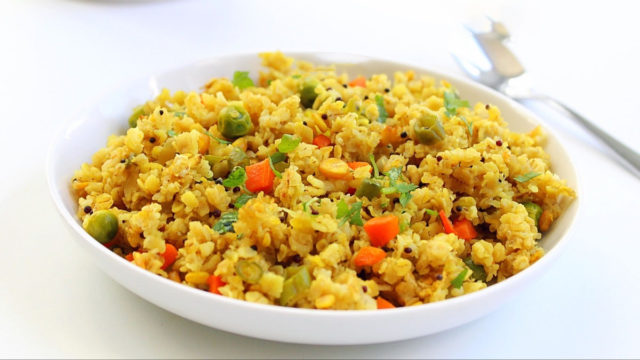 Preparation time: 5 minutes
Cooking time: 20 minutes
Ingredients:
2 cups of rolled oats
Urad dal
½ finely chopped onions
1 finely chopped carrots
½ finely chopped capsicum
Curry leaves
Mustard/cumin seeds
Grated coconut
Coriander
Lemon juice
Turmeric, to taste
Salt, to taste
1 tsp olive oil or ghee
Oats Upma Recipe:
Heat oil in a cooking pan and add oats, chillies, turmeric, and salt, and roast it for 4 to 5 minutes to make the oats turn light brown.
Add water, cover the pan and cook for 5 to 7 minutes.
Meanwhile, take another pan and add mustard/cumin seeds to hot oil.
When you hear the sound of crackling mustard seeds, add urad dal and roast till it turns golden brown.
Add onions, turmeric, salt, and curry leaves and saute till the onion turns translucent.
Add the chopped vegetables and cook till they turn soft.
Next, add this vegetable mixture to the almost-cooked oats.
Cook for 1 more minute.
Garnish with grated coconut, coriander, and lemon juice, and serve.
4. Oatmeal Bread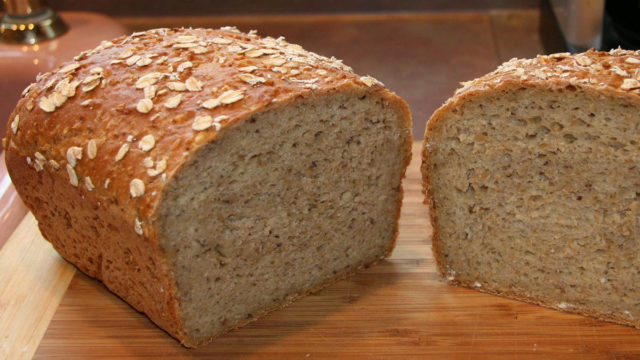 Preparation time: 2 hrs 30 mins
Cooking time:40 mins
Ingredients:
½ cup oatmeal
½ cup whole wheat flour
1½ to 2 cups all-purpose flour or bread flour
1 cup boiling water
1 tablespoon honey
1 tablespoon molasses (optional)
¼ cup warm water
1 tbsp kosher salt
2 teaspoons yeast
1 pinch granulated sugar
1 tbsp oil
Oatmeal Bread Recipe:
Blend the whole wheat flour and oats in a bowl.
Add the boiling water and stir.
Next, add molasses, honey, and salt. Let this cool for about half an hour.
Blend warm water with yeast and a pinch of sugar. Stir well till the yeast dissolves in the water completely. Keep this mixture in a warm place, so that foam appears on the upper surface.
Add the yeast mixture to the oats and mix well.
Pour the all-purpose flour half cup at a time until you see a firm dough form.
Take out a lightly floured board and knead for 4 to 5 minutes, so that the dough becomes elastic and smooth to some extent.
Make a ball out of the dough and put it in an oiled bowl.
Place a plastic wrap over the bowl and keep it in a warm place for 1 hour, so that the flour ball doubles in size.
Shape the flour ball in a sandwich loaf and, then, place it in the pan.
Spray the upper surface of the loaf with water and sprinkle oatmeal or other preferred toppings.
Cover this with a towel and allow it to rise to double its size.
Meanwhile, preheat your oven at 450 F for half an hour. Heat for 1 horror, if you are using a baking stone.
Use a sharp blade to cut the top of the loaf.
Place the loaf pan in the oven and turn down the temperature to 400°F and bake for 30 to 40 minutes.
Let the bread cool down for an hour before serving.
5. Oats Idli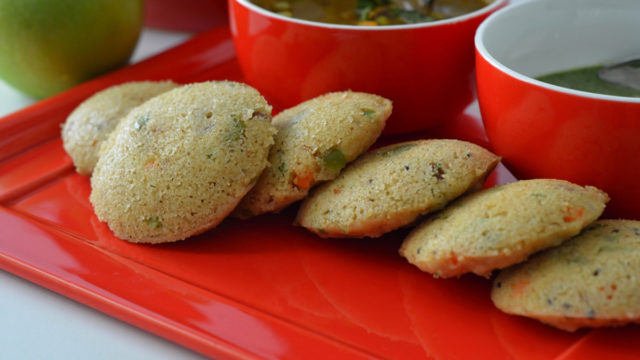 Preparation time: 5 minutes
Cooking time: 15 minutes
Ingredients:
1 cup oats
2 finely grated carrots
1 cup curd
Mustard
Chana dal
Urad dal
Green chillies
Curry leaves
Oil
Baking soda
Salt, to taste
Oats Idli Recipe:
Roast the oats in a pan and then crush them to form a fine powder for making oats idli.
Mix the carrots into the oats, along with salt and curd.
Next, take a frying pan and heat oil. Add mustard seeds, urad dal, chana dal, curry leaves, and green chillies, and let it all sputter.
Blend this mixture with the idli batter and mix it well. Add a pinch of baking soda to make the idlis fluffy.
Grease the idli pan and then steam the idlis till cooked for completing your oats idli recipe.
6. Oat Biscuits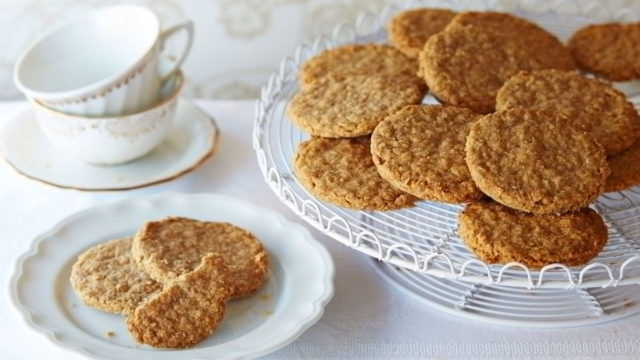 Preparation time: 15 minutes
Cooking time: 10 minutes
Ingredients:
75g wholemeal flour
1 tsp baking powder
75gm oats
2 tbsp milk
50gm castor sugar
75gm butter
1 tbsp golden syrup
Oat Biscuit Recipe:
Heat the oven to 180°C and line your baking tray with parchment paper.
Sift the flour into a bowl and, then, add oats, baking powder, and sugar.
Blend melted butter, milk, and syrup and add them to the dry ingredients. Combine well.
Take a scoop of the mixture with a spoon, make a well-rounded shape of the batter, and place it on the baking tray, leaving a space of 2 inches between each biscuit.
Bake for 10 to 15 minutes or until golden brown.
Let them cool for about 5 minutes before removing them from the tray.
7. Oats Pancake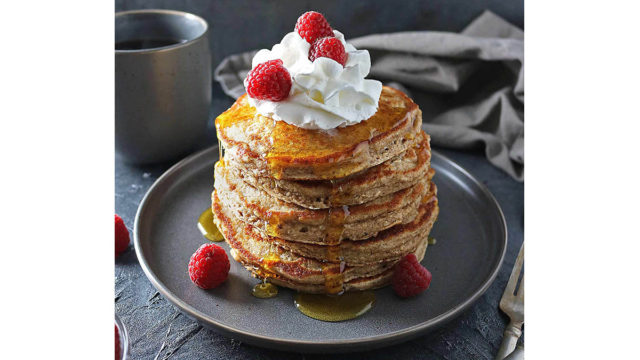 Preparation time: 5 minutes
Cooking time: 10 minutes
Ingredients:
1¼ cups all-purpose flour
½ cup oats
1¼ cups fat-free milk
1 egg, lightly beaten
2 teaspoons baking powder
1 tablespoon vegetable oil
Pinch of salt
Toppings like banana or blueberry or chocolate chips (optional)
Oats Pancake Recipe:
Combine oats, flour, baking powder, and salt in a big bowl.
In a medium bowl, mix oil, milk, and egg and blend well. Mix this to the dry ingredients and blend them well together. Take care not to over mix.
Heat a skillet over medium-high heat and, then, grease it lightly.
Pour ¼ cup batter on the skillet for one pancake and form a uniform round shape with the bottom end of your ladle.
When bubbles appear on the pancake, turn it over and fry until cooked.
8. Overnight Oats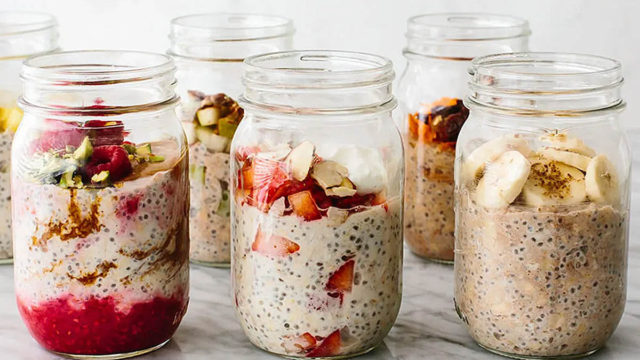 Preparation time: At least 2 hours
Cooking time: 2 minutes
Ingredients:
⅓ cup oats
⅓ cup milk/water
Greek yoghurt (optional)
Chia seeds (optional)
Vanilla extract (optional)
Toppings like cardamom, cinnamon, nutmeg, nuts, fresh fruits (optional)
Overnight Oats Recipe:
Pour oats in the milk and mix well to prevent clumping. Refrigerate overnight, or at least for 2 hours, to make the oats tender and edible.
Add Greek yoghurt and vanilla extract and blend it well.
In the morning, top it with fruits or other toppings of your choice, and, ta-da, your overnight oats recipe is ready!
We bet you may have already had oats before in some form or the other. Now that we have initiated you to a whole wide world of oats recipes, it's time for you to go experiment! Don't forget to let us know about your experience of trying out these lip-smacking recipes.