Your favourite meal requires time, effort and a pinch of love. Whether you enjoy trying new recipes or cook everyday to satiate your hunger, a well-equipped kitchen goes a long way. And the modern Indian kitchen, especially, needs appliances and tools that can be used for more than just cuisines. But how do you build a stable kitchen with everything you need without going overboard? Fret not, for TC46 is here with a worth-every-paisa list of essentials for the modern kitchen!
20 Modern Essentials For Your Modern Kitchen
1. Granite Non-Stick Casserole By Wonderchef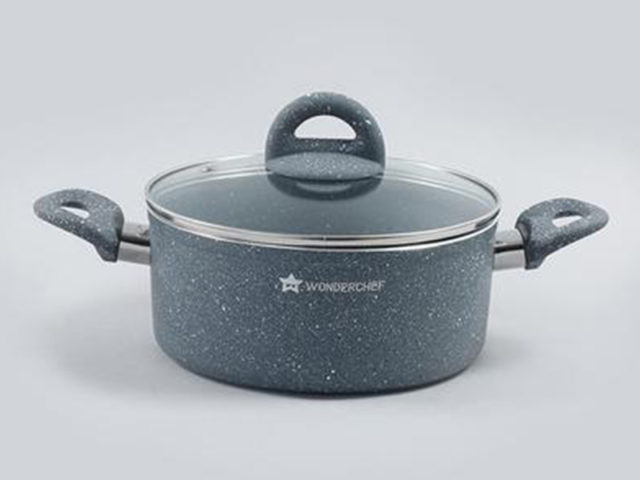 Need a kitchen cookware piece that can get anything and everything cooked? Opt for Wonderchef's Granite casserole. This non-stick pot can help you serve a variety of dishes including curries, biryanis, pulao, pasta, fried rice, stews and much more. Apart from being a high-quality, durable choice, the beautiful marble coating inside is very chic. It makes your hectic morning easier with its pure grade virgin aluminium, which aids in faster cooking and even heat distribution.
Price: Rs 2,400
Buy It Here: Shop for Wonderchef's stunning Granite Non-Stick Casserole today!
2. Blue Serveware By Vaani Crafts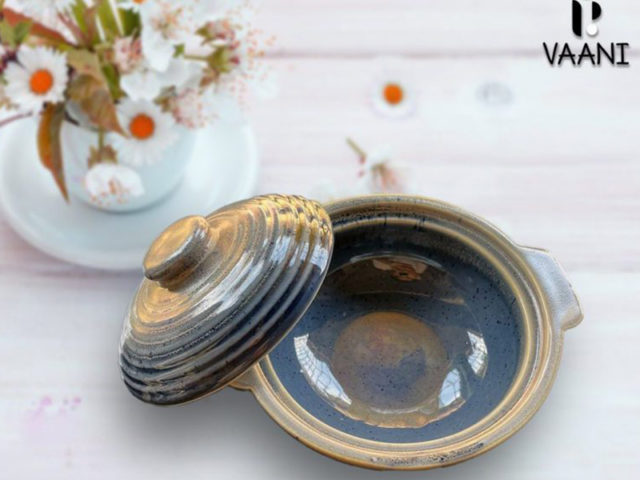 A must-have for your next house party, this Blue Serveware from Vaani Crafts makes events extra special. It's perfect to serve curries and all kinds of pasta. It is ceramic, handmade and lead-free and is dishwasher and microwave safe. The lid design and the grooves make it a stunning piece on your dinner table. The subtle elegance of this decor piece is a great match for the hostess with the mostest.
Price: Rs 625
Buy It Here: Place your order for this blue serveware piece on TC46's very own curated e-commerce marketplace, Red Dot Shop!
3. Royal Velvet Non-Stick Dosa Tawa By Wonderchef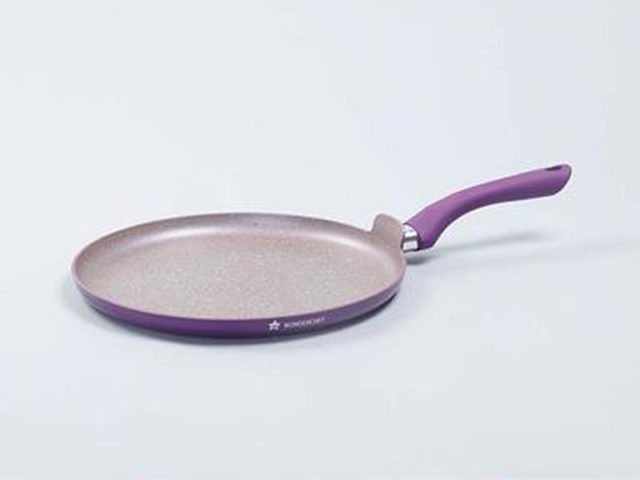 Crispy dosas can simply brighten your mood and the only way to achieve that perfect bite is with the right tawa! Wonderchef's non-stick tawa from the Royal Velvet range comes in a splendid purple colour that's sure to add spunk to your kitchen. You can use this Indian style pan to make dosas, rotis, chapatis, parathas, pancakes, pizzas and much more. The Professional Grade MetaTuff non-stick coating that enables oil-free cooking is what makes this a must-have in your kitchen.
Price: Rs 1,500
Buy It Here: Add this Wonderchef remarkable Royal Velvet Dosa Tawa to your cart now!
4. Black Pottery Teapot-Cups Set From Terracotta By Sachii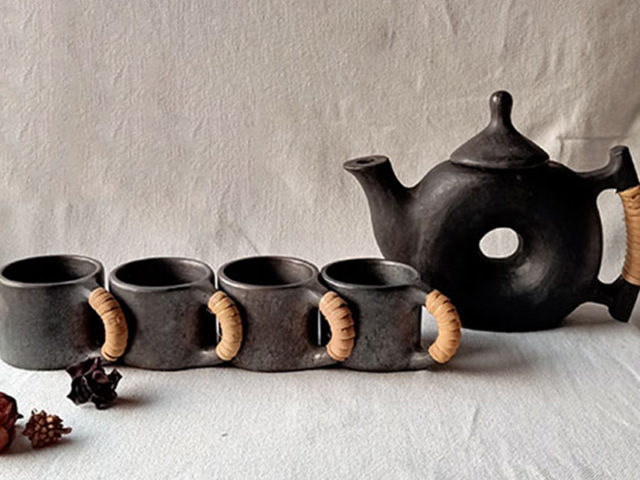 Who doesn't look forward to chai time? Now picture it with a side of this aesthetically pleasing terracotta teapot set. From the brand's Longpi collection, this style of pottery comes from Manipur where it is made from a mixed paste of ground black serpentinite stone and special brown clay, which is found only in the Longpi village.
Price: Rs. 3,300
Buy It Here: Buy the gorgeous set from the Red Dot Shop, TC46's curated online marketplace of homegrown brands.
5. Stand Mixer, Beater And Dough Kneader Crimson Edge By Wonderchef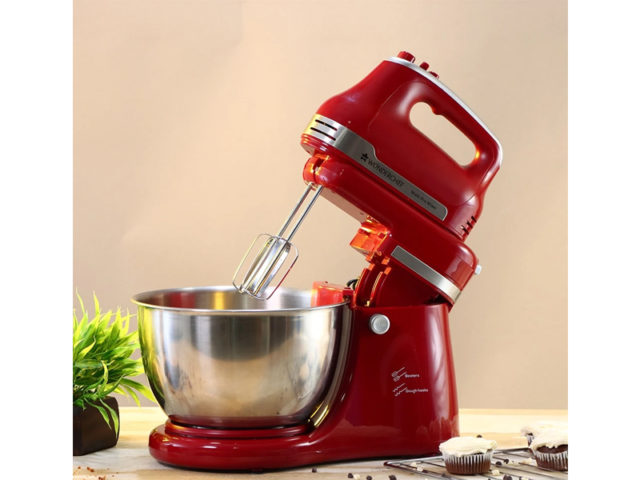 Want to wake up to your perfect cup of coffee or a healthy breakfast smoothie? Then bring home Wonderchef's Crimson Edge Stand Mixer. With this gem of an appliance, whip up lip-smacking mixes for cakes and make doughs for pizzas, rotis and breads in a jiffy. The 4.5 liters large stainless steel bowl can make sufficient dough for 4-5/400 gms loaves, 12 dozen cookies or biscuits, 14-15 beaten egg whites or whipped cream!
Price: Rs 9,700
Buy It Here: Shop for Wonderchef's stand mixer pan today!
6. 'Matsya' Serving Bowl By Terracotta By Sachii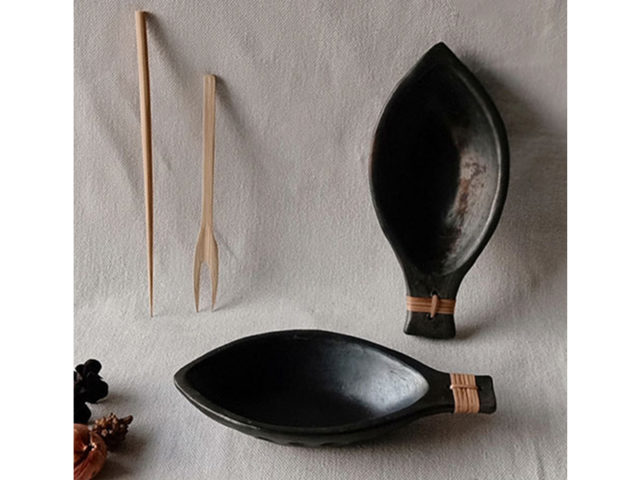 Made with ground serpentine stone, clay and cane, the Longpi Black Pottery 'Matsya' serving bowl adds an ethnic vibe to your home. You can use it to serve nuts, chips, or even some namkeen.
Price: Rs 750
Buy It Here: Shop for the bowl at Red Dot Shop, TC46's curated online store for the best in home decor!
7. Multipurpose Revolving Spice Rack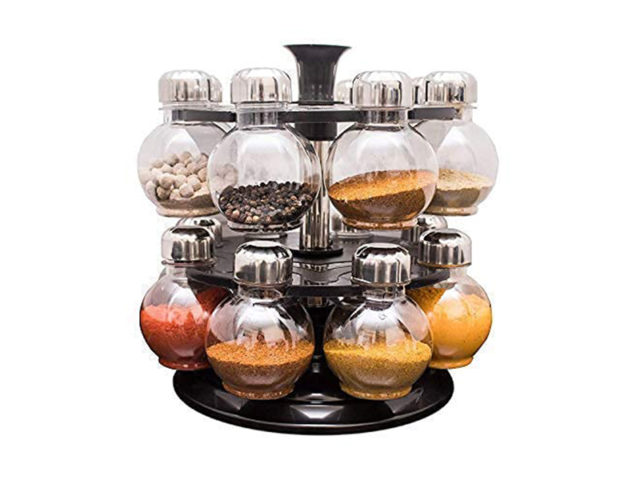 Easy access and functionality? This spice rack with 360 degree rotation will make cooking easier for sure. The compact design allows you to not waste much space on the counter. All parts of this spice rack are detachable, which aids the cleaning process. The jars of this spice rack are made of food grade material.
Price: Rs 1,999
Click here to get this easy-to-use and functional spice rack on Amazon!
8. Turquoise Streak Platter By Vaani Crafts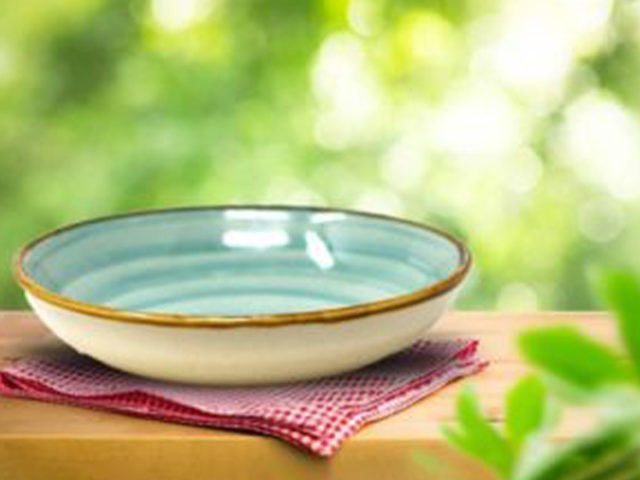 This Turquoise streak platter is a great way to serve kebabs, sushi, cheese and crackers, or even satays. It is a handmade ceramic piece that's dishwasher and microwave safe. Add the perfect pop of colour to your serveware collection.
Price: Rs 875
Buy It Here: Shop for this trendy platter on Red Dot Shop, TC46's curated online platform for the latest in home decor!
9. Nutri-Blend By Wonderchef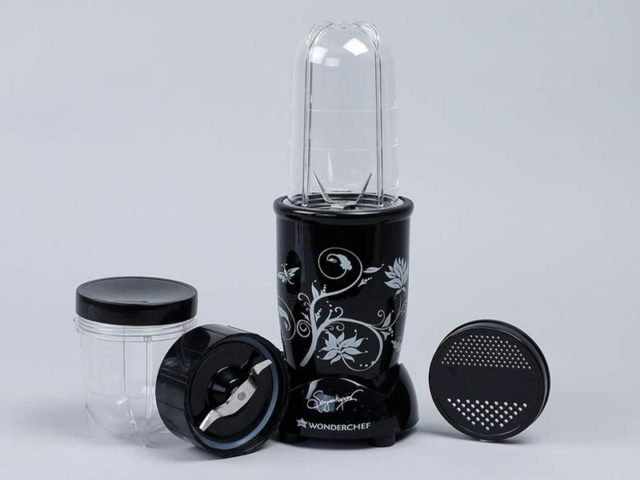 If you're on the search for a mixer-grinder-blender that's good looking and is super functional, check out this beauty by Wonderchef. With a powerful motor and unbreakable transparent jars, here's a complete food preparation system that you can carry with you even on the go. From smoothies and chutneys to grinding masalas or healthy shakes this is our favourite appliance for the modern Indian kitchen.
Price: Rs 5,000
Buy It Here: Bring home this hands-free Nutri-Blend by Wonderchef!
10. Ice Cream Bowl Set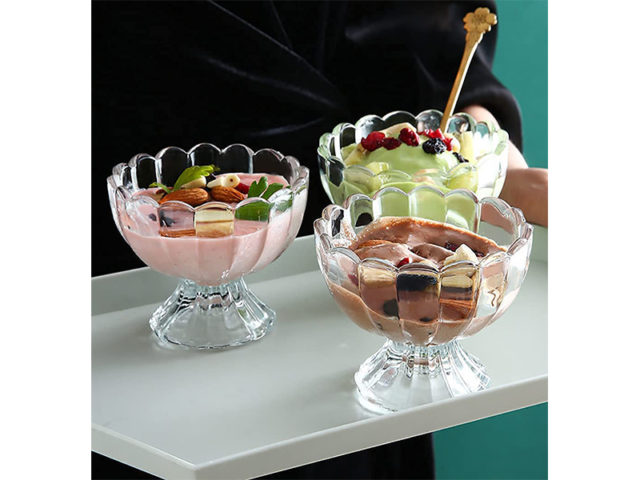 Be it a scoop of your favourite ice cream or a fancy sundae, these bowls are what they should be served in. Made of high-quality glass, the glass set can hold fruit salad, sundae, ice cream, ice cubes, sorbet, milkshake, mousse, and so many other desserts. A great way to end the night on a high note.
Price: Rs 999
Click here to shop for this ice cream bowl set from Amazon!
11. Egg Boiler Crimson Edge By Wonderchef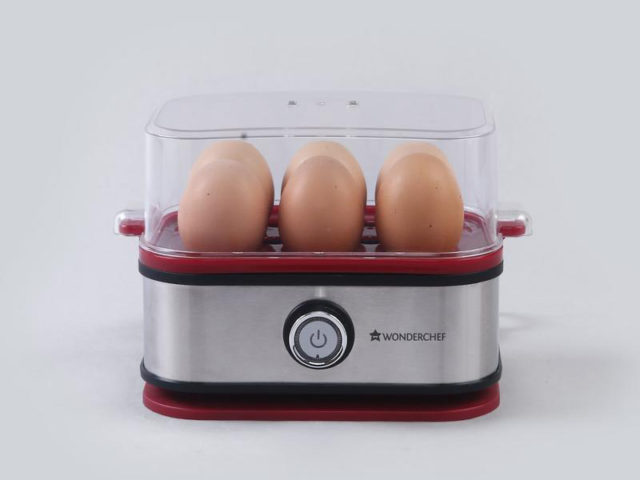 Runny, sunny side up, scrambled, boiled or poached, eggs always taste great. This egg boiler by Wonderchef is an egg lover's delight. Make breakfast a quick but grand affair with this kitchen appliance. It boils eggs to perfection within 6 to 9 minutes, depending on how you like them. Also, it comes with a measuring cup that is marked with 3 water levels for preferred texture and has a buzzer timer alarm function. Prevent kitchen mishaps with the appliance as it is built with an auto switch-off and safety cut-off Aluminium heating plate.
Price: Rs 2,500
Buy It Here: Add this Wonderchef egg boiler to your shopping cart!
12. Yellow Leaf-Shaped Platter By Vaani Crafts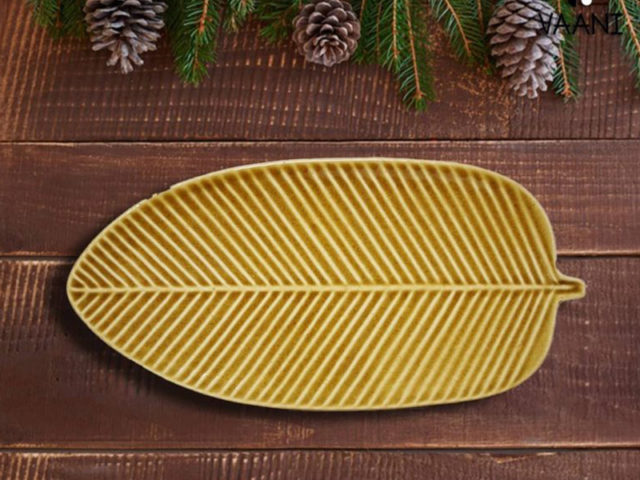 Make a statement with this leaf-shaped platter that's available in two colours. The deep dish design makes this a great serveware option for small sharing plates when you have company. Microwave and dishwasher safe, the platter is lead-free.
Price: Rs 825
Buy It Here: Get this yellow leaf-shaped platter deep dish for your one-dish meals here from the Red Dot Shop, TC46's one-stop-shop for all desi brands!
13. Wine Glass Rack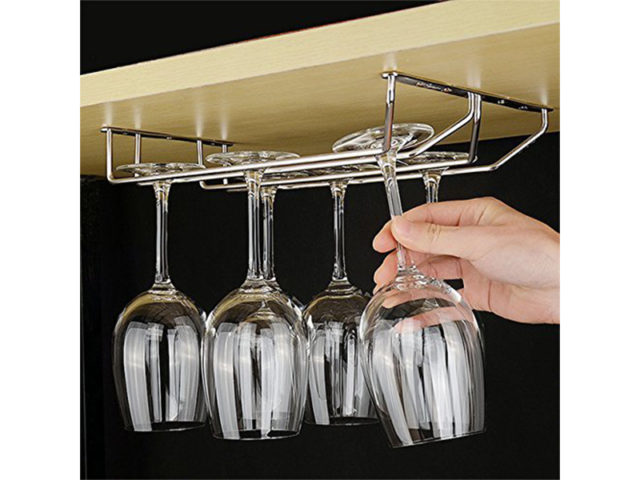 Do you have to search for the box with the glasses everytime you want to have a glass of wine? Try this wine glass rack and display them in a stunning way. Made with stainless steel, it can hold wine glasses with up to an 8 inch base. It is designed for you to be able to slide glasses easily, minimising chances of breakage.
Price: Rs 1,099
14. Automatic Soup Maker By Wonderchef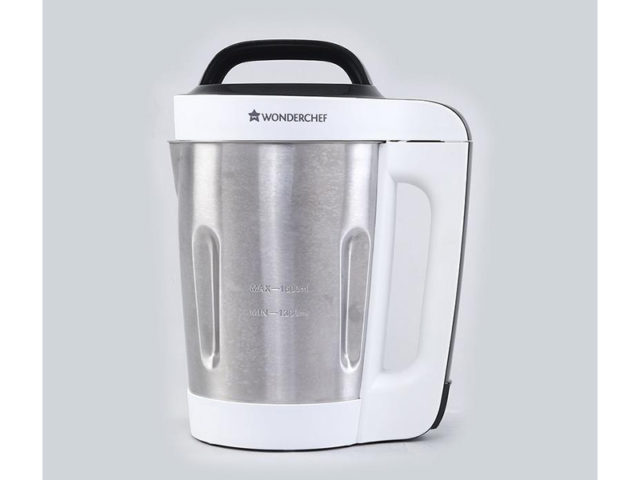 There's nothing better than making a healthy soup at home! Bring home Wonderchef's soup maker for its ease of making wholesome soups at the touch of a button. This is an easy-to-use appliance that helps heat, boil, blend and mix the ingredients automatically and is made of 304 grade stainless steel jug and blades for safe and efficient cooking. Get perfect, tasty and healthy soup every time.
Price: Rs 9,000
Buy It Here: Get this fun and easy-to-use automatic soup maker by Wonderchef!
15. Oven Toaster Griller (OTG) By Wonderchef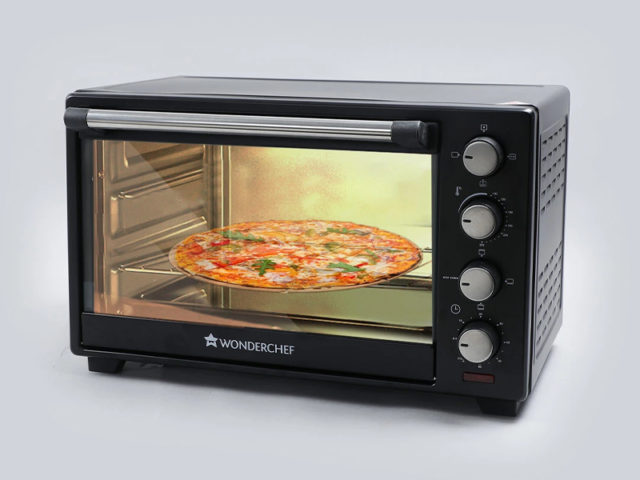 Introduce a variety of new dishes in your kitchen with the Wonderchef OTG! This must-have kitchen appliance can withstand a maximum temperature control of upto 250 degree C and has a stay-on function that keeps the food warm for hours even after the food is cooked. Equipped with convection and rotisserie function, it also allows you to make tempting tandoori dishes at home with ease. There's more! It offers a sleek and aesthetic design that is built using long-lasting metal materials along with a heavy-duty coil and thermostat.
Price: Rs 11,200
Buy It Here: Shop for Wonderchef's OTG and make cooking fun today!
16. Self Draining Tableware Storage Box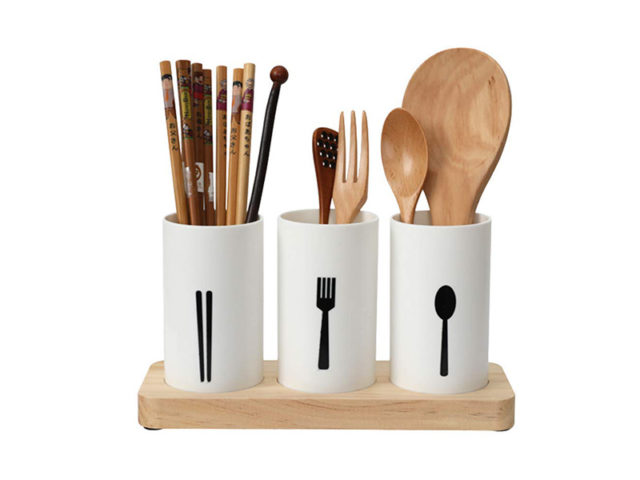 Say no to a messy kitchen with this utensil caddy. It can be used to neatly organize your tableware and help you store chopsticks, forks and spoons. This flatware organizer is detachable, and the oak base has three card slots, so you can securely place the cutlery in them. The oak base also has black anti-slip buttons for added safety during use.
Price: Rs 999
17. Regalia Brew Coffee Maker By Wonderchef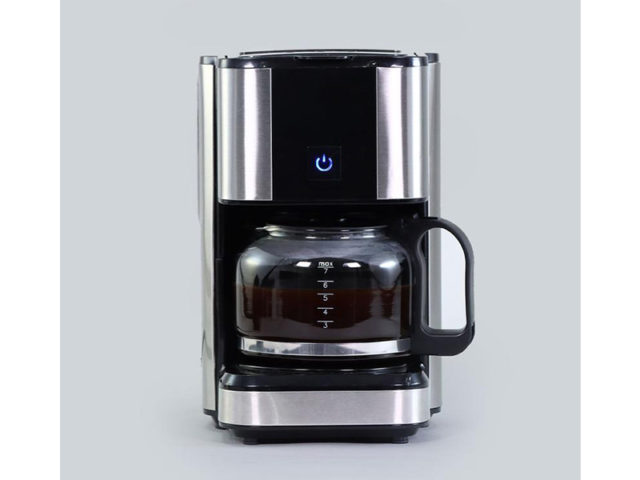 The taste and aroma of a freshly brewed coffee is unmatchable. Now, you can have the perfect cup 'o joe with Wonderchef's coffee maker! Just add ground coffee powder to the basket and brew your black coffee in a jiffy. This must-have kitchen appliance can make upto 7 cups of coffee instantaneously. The drip controller blocks the funnel, helping regulate the coffee flow once the carafe is removed; also, the warm plate keeps the coffee at the right temperature.
Price: Rs 4,300
Buy It Here: Shop for Wonderchef's coffee maker and make your mornings delightful!
18. Octavia 4 Burner Glass Hob Top Cooktop By Wonderchef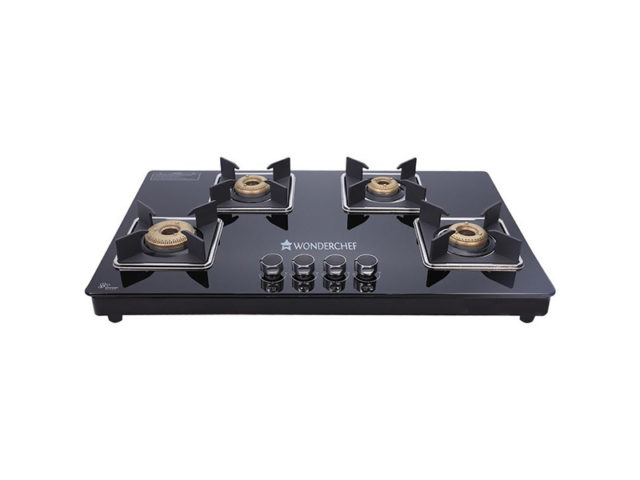 A sturdy and reliable product designed to make your cooking easier, the 4 burner cooktop by Wonderchef is classy and sophisticated. The burners are placed ideally to make the best use of space and accommodate different kinds of utensils. The toughened glass top is easy to clean as well. Tall flame guards, ergonomically designed knobs, high efficiency forged brass burners and black powder-coated drip tray make it a must buy!
Price: Rs 15,000
Buy It Here: Shop for this 4 burner glass hob cooktop by Wonderchef today!
19. 3-Tier Dessert Stand By HN Hues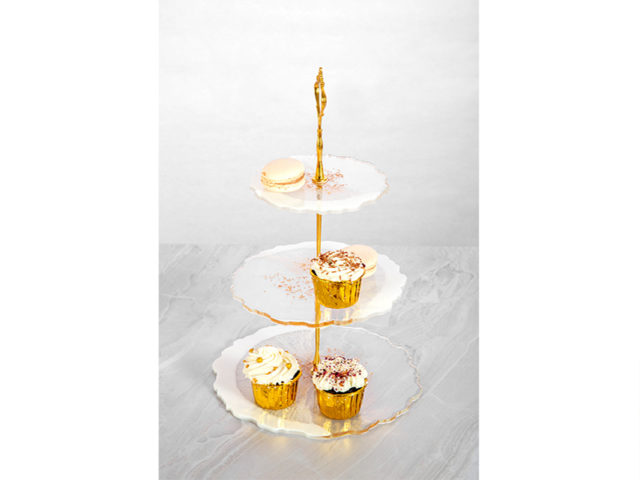 If you're a baker or someone who loves to serve desserts or bite-sized appetizers, then this product is definitely for you! Serve up frosting-swirled cupcakes or savouries with artful charm on this trio of rounded platters. The central rod disassembles for easy storage and transportation. Ideal for weddings, tea parties and other social events. Bonus: It is available in 2 designs!
Price: Rs 2,600
Buy It Here: Get this gorgeous dessert stand from the Red Dot Shop, TC46's curated online shopping destination, and elevate your home looks!
20. Sumo Mixer Grinder By Wonderchef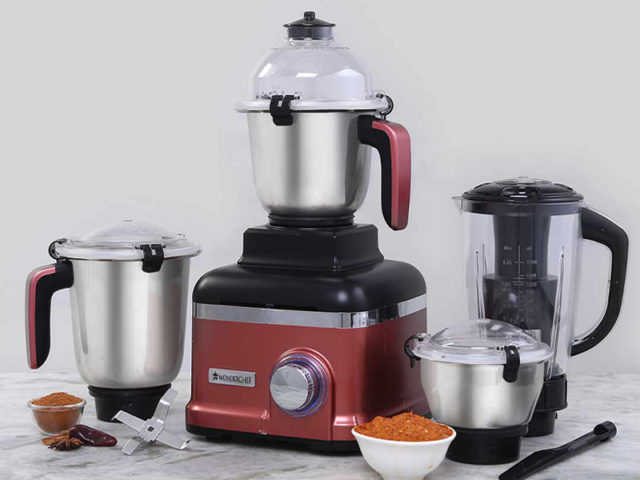 A mixer grinder can easily solve a ton of your cooking problems. The unique cuboid shape of the mixer grinder by Wonderchef provides extra stability and strength. With 4 jars in different sizes made of food grade stainless steel and anti-rust stainless steel blades, the appliance could easily become the crown piece of your kitchen. Its heavy duty copper armature delivers optimum performance while the unique coarse grinding blade with blunt edges replicates a stone-grinding effect on dry masala.
Price: Rs 8,000
Buy It Here: Shop for Wonderchef's mixer grinder for a smooth kitchen experience!
Get ready to transform your kitchen into a haven with this kitchen must-have list from TC46. Grab these essential appliances and tools today and let the new year bring you the joy of cooking!