Signifying the burai par acchai ki jeet, Dussehra festival or Vijayadashmi is much awaited by people all over the country. It falls on the Shukla Paksha Dashmi of the month of Ashwin as per the Hindu lunar calendar. Dussehra marks the end of the 10-day long Navratri celebrations. To many, it also signals the beginning of Diwali preparation.
Do you know Vijayadashami meaning in Sanskrit? Read on to find out.
Dussehra history is different everywhere. There are various kahaniya behind this kamal ka festival. The most popular one is associated with Lord Rama. Considered as the 7th avatar of Vishnu, it was on this day that Lord Rama killed Ravana, the demon king of Lanka. It is said that Ravana received a boon from Lord Brahma to be indestructible. But Lord Rama managed to overpower him with an arrow that pierced his belly.
Another famous legend of Dussehra history comes from Maa Durga. In many parts of the country, people commemorate the defeat of Mahisasur on this day. It is one of the reasons why all the nine avatars of Goddess Durga are worshipped during the Navratri and Dussehra celebrations.
Do you know that different parts of India celebrate this same festival in various ways?
Dussehra Puja Vidhi & Celebration At Home
In northern India, large and colourful effigies of Ravana, his son Meghanada, and brother Kumbhakaran are lit on fire in open grounds. Dussehra festival is also celebrated by staging Ram Leela, which showcases the life story of Lord Rama and Sita. People of all age groups come together to witness this musical delight.
Vijayadashami significance in states of West Bengal and Odisha is widespread. Dussehra, referred to as Bijoya Dashomi in these states, clay figurines of Maa Durga are submerged in water bodies as a mark of farewell.
The same celebration in south India honours Maa Saraswati, the Hindu Goddess of knowledge and arts. On this day, people clean and worship their tools of trade in order to gain the blessings of the Goddess. For the nine days upto Dussehra or Vijayadashmi, Hindus in Western India, particularly Gujarat, hold fasts and worship the nine avatars of Goddess Durga. During these nine days, the very famous Dandiya and Garba nights are organised.
While the festival goes by various names, Dussehra significance remains the same: the triumph of good over evil; the establishment of Dharma over Adharma. On a spiritual level, Vijayadashami significance also represents the end of negativity and evil within us and marks new beginnings.
Besides the Dussehra celebration of Durga Puja and Garba, people all over the country take part in plenty of traditions. Here are some such customs and rituals you should know about:
5 Dussehra Customs & Rituals You Should Know About
1. Vidyarambam
To answer the previous question, Vijayadashami meaning "victory on the tenth day" is also known as Vidyarambam in the southern states of Tamil Nadu, Karnataka, and Kerala. On this day, people generally worship Goddess Saraswati. The day usually begins with worship of books and learning material. Starting any type of learning on this day is regarded as very lucky.
2. Sindoor Khela
As part of the Dussehra ceremony, married women in the state of West Bengal play with vermilion (sindoor).
3. Wagtail Search
On Dussehra, several parts of India have a tradition of looking for wagtails. Finding a wagtail among flowers, elephants, cows, horses, or snakes represents good fortune.
4. Worshipping Professional Tools
This time of year is considered highly beneficial in North India for polishing one's professional instruments. People clean and polish their trucks, buses and other tools. They draw roli and swastika on them.
5. Collecting Banni Leaves
This custom is related to the historical tradition of the young Brahmin boy Kautsa's gesture of distributing gold coins among the poor people in certain parts of Uttar Pradesh. As a result, residents in this state have kept the tradition of collecting Banni tree leaves alive. These leaves are treated as gold and used to greet friends and relatives.
We've already established there are no set ways to celebrate the Dussehra festival. But if you don't know how to celebrate Dussehra at home and you're looking to perform Dussehra puja at home and vidhi for your Dussehra celebration at home, we've got your back.
6-Step Tradition To Celebrate Dussehra At Home
The following vidhi is prominent in north India. To do the Dussehra puja at home, follow the steps:
Step 1: Make Dussehra figures out of wheat flour and make 9 tikkis out of cow dung.
Step 2: Then you'll need to build two small bowls out of cow dung, as well as a lid.
Step 3: You keep cash and money in one dish and fruits, juwara, and rice in the other.
Step 4: The Dussehra puja is then performed with water, mooli, roli, rice, and flowers. You light the diyas and say your prayers.
Step 5: Later, the old bahikhata or the account books are worshipped by offering flowers, juwara, roli, and chawal.
Step 6: Following the puja, money is collected from the cow dung box and placed in a safe.
After this vidhi, various rituals can be performed based on the state and community you belong to. Families share the prasad meal together, sing bhajans and apply tikkas on their foreheads to receive the blessings from the Goddess.
Prasad rings yummy bells, doesn't it? Who knew getting blessings could be so tasty? Take a look at these delicious recipes you can try this year to appease the almighty and your family as well.
2 Dussehra Special Recipes You Can Try
1. Mawa Sandesh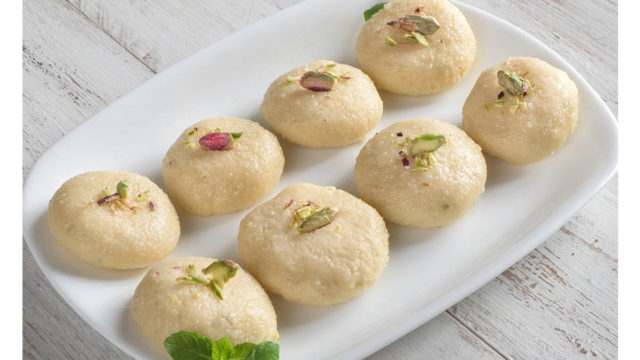 Hailing from the sweet state of West Bengal, sandesh is a popular Dussehra delicacy made with milk and sugar.
Ingredients:
Milk Powder – 1 cup
Ghee – 1/4 th cup
Milk
Lemon juice – 1/4 th cup
Powdered Sugar – 1/2 cup
Cardamom powder – 1/2 tsp
Kesar few strands
Directions:
Step 1: To make a paste, combine the milk powder, ghee, and milk.
Step 2: To make the khoya, microwave it for 3 minutes and set aside.
Step 3: To make the Chenna, heat the milk and then add the lemon juice to thin it out.
Step 4: Strain through a muslin cloth, wash it, and hang it to dry for at least 1 hour.
Step 5: Now combine the khoya and the Chenna and crush it with your palm to make it smooth.
Step 6: In a nonstick pan, combine the sugar powder, cardamom powder, and Kesar.
Step 7: Cook until the sauce thickens.
Step 8: Cool it before shaping it using a mould.
2. Kadakani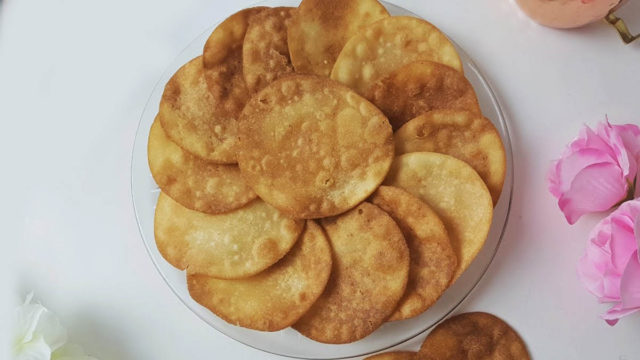 Kadakani is a Maharashtrian traditional dish. Generally, kadakani is made for Goddess offerings during Navratri.
Ingredients:
1/4 cup water
3 tbsp powdered sugar
1/2 cup fine rava / sooji
1/2 cup maida / all purpose flour
1 tsp oil
Directions:
Step 1: In a bowl, combine water and powdered sugar till it dissolves. You can substitute milk for water.
Step 2: Put the rava in a bowl and mix in the maida, salt, and oil.
Step 3: Knead the dough after adding the sugar and water. Cover the dough and let it rest for an hour.
Step 4: Now use the dough to make tiny balls and then roll them thin .
Step 5: Make holes using a fork so that your kadakani does not blow up like a poori.
Step 6: Make various ornaments like veni, payal and jodavi using the same dough.
Step 7: Heat oil at medium flame and fry the kadakani till it turns golden from both sides.
Step 8: You can serve this hot with green chutney.
No matter the name, place or way the festival is celebrated, one thing remains the same. People's devotion and enthusiasm. #BeALittleMore Dussehra-ready and spread light and love everywhere you go. Happy Dussehra!
Open up like never before and participate in conversations about beauty, entrepreneurship, mental health, menstrual & sexual health, and more. Desi women, join our community NOW!