Moved into a new house? Or setting up a new room for your kids? Well, this could be a daunting task given the plethora of furnishing and decoration items available in the market. Also, the internet is flooded with DIY ideas that could make it a tough task for you to source the right material and create a room that really suits the needs of your child. While redecorating or creating a new space for your kid, the 3 things that need to be decided are the theme, colour scheme, and furniture items. While they seem to be 3 simple questions, the process of finding the right answers is long and often exhausting. It may involve hours of scouring the internet and then the furniture and home decor stores. Plus, these stores show their own different kids' room decor ideas that could further confuse you. To simplify the process of decorating your kids' room, here are 10 unique decor ideas for kids' bedrooms.
10 Creative Decor Ideas For Kids Bedroom
While the task is quite intensive, check out a few easy-to-set-up kids' room decor ideas that could help you set up your kid's room to let them have fun while keeping it stylish and user-friendly.
1. Loft Beds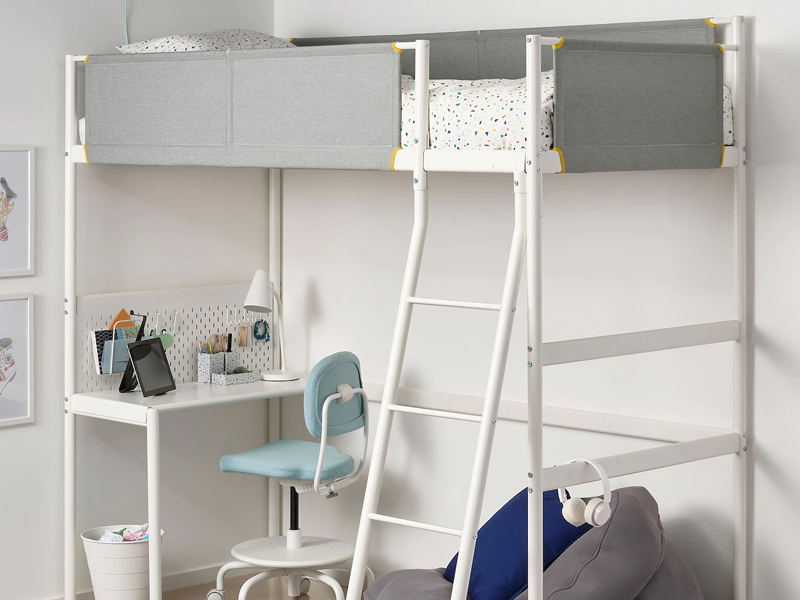 If you have vertical space in your room, a great way to pep up the kids' room decor is by creating loft beds. A great way to maximize your child's space, loft beds can be made into many themes like a treehouse, ship deck, or simply put a slide to get down from the bed. This not only makes it fun to get out of bed every morning but also lets you utilize the space beneath for multiple things. The space underneath the bed could be used for storage or a kid's office or an entertainment system. This is the best way to make sure you use the room space to its fullest while giving it a chic look.
2. Chalkboard Walls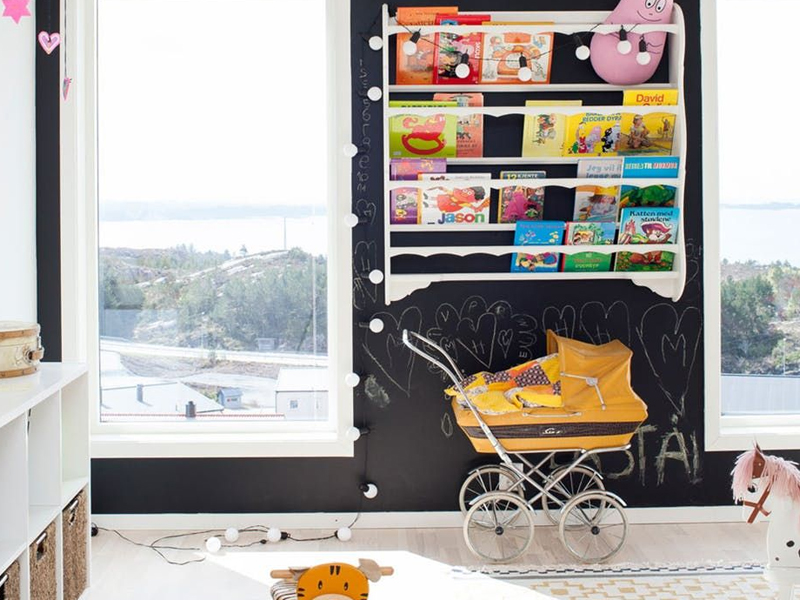 Let your child's imagination flow by giving them an entire wall to let themselves loose. Chalkboard paint is very easy to procure and you can DIY paint these walls too. It gives the kids hours of entertainment and at the same time keeps their minds occupied in a creative pursuit. Whenever they get bored they can simply let loose and redecorate the wall in their room to suit their mood of the hour.
3. T-Shirt Headboard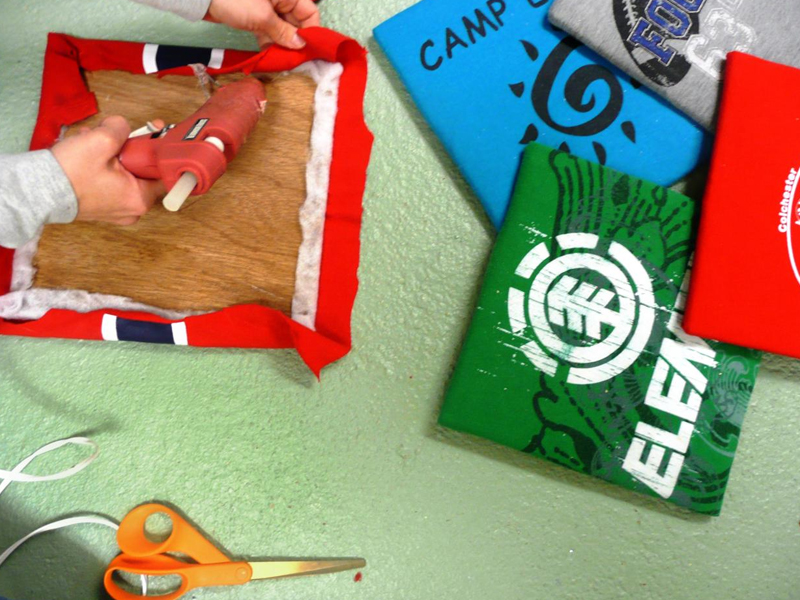 Did your child outgrow some of his T-shirts? Do you have favourite T-shirts that don't fit you anymore but have great elements such as cartoon characters or tv show slogans or sports team logos? You can convert this all into a headboard. Get your T-shirts fixed in square shapes on small plywood pieces and then stick all these pieces up onto larger headboard-sized plywood. This not only gives your child's room some personality it also saves you some time and money while finalizing boys room ideas.
4. Teepee Space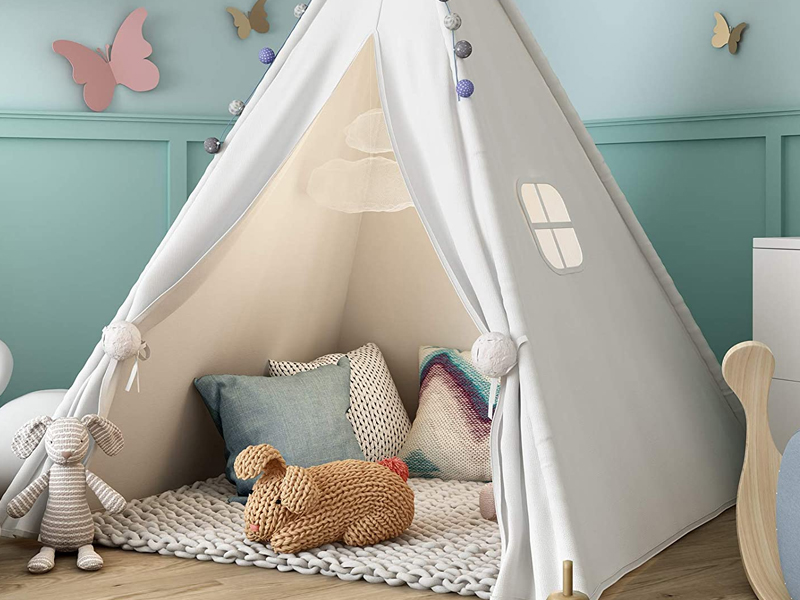 A kids room decor piece that is definite to instantly transform your kid's room is a tent/ teepee. You can easily get one of these off an online store or even create your own DIY tent. To take it to the next level you could hang fairy lights on the top of the tent to outline the entrance. These could be reading corners, or places where the kids do their homework, or just a cute little play area where your kid could get some me time. All in all, this small addition could do wonders for your child's room decor.
5. Washi Tape Walls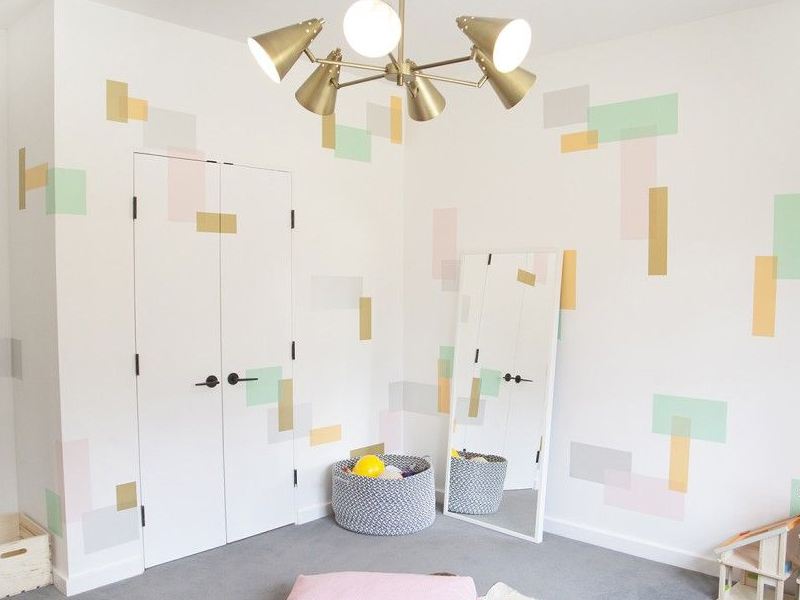 If you've run out of ideas for decors, the age-old washi tape is here to your rescue. Since these tapes are easy to put up and remove without damaging the wall. This means you can easily keep updating the wall designs from time to time as your kid grows. You could use multiple coloured washi tapes to create a chevron-inspired design to improve the look of plain boring walls in your kid's room. Another use of these tapes is to create skylines or planetary bodies or just to add shapes to a wall instead of wallpapering it. With washi tapes, the ideas are endless!
6. Bed Canopies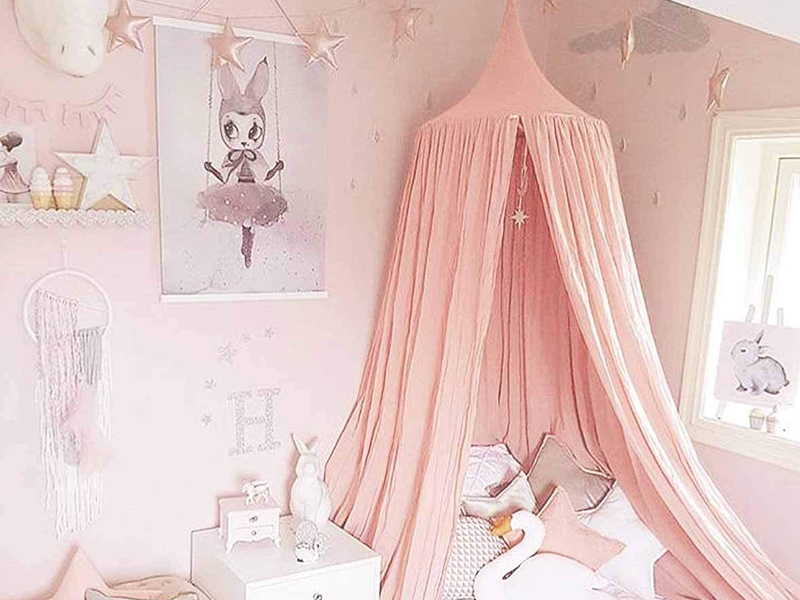 Canopies come from the medieval days when heavy curtains were draped over beds to keep out the cold drafts in a castle. However, today, they act as perfect kids bedroom design ideas. Simply hanging something on the ceiling to drape over the bed could actually make your kid's room feel taller while also accentuating its look. They also give it a more intimate and luxurious atmosphere. You could also change the canopies to suit the climate. Using lighter fabrics in summers and heavier in winters can also help keep your child cosy while in bed.
7. Gallery Walls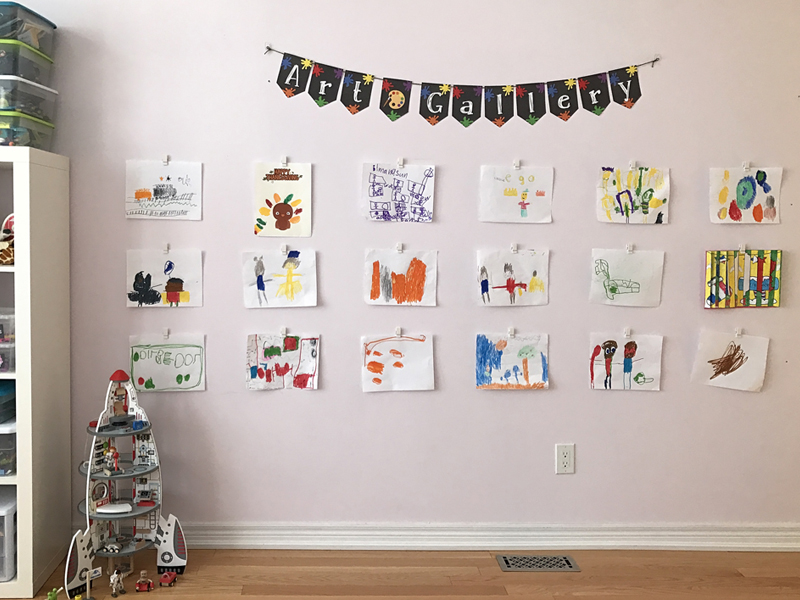 Memories should not be restricted to a small corkboard in one corner of the room. Let your kids relive all their memories on the go by setting up a DIY photo gallery on any or all walls of the room/ All you need is some clips, a nylon string, and fairy lights to create the perfect memory gallery. You could clip pictures from key milestones of their life or just events and outings you go out on. The cute little fairy lights and hanging pictures also are a great way to fill up an empty wall and make the room brighter and attractive to the eye of the child living in it.
8. Reinvented Storage Spaces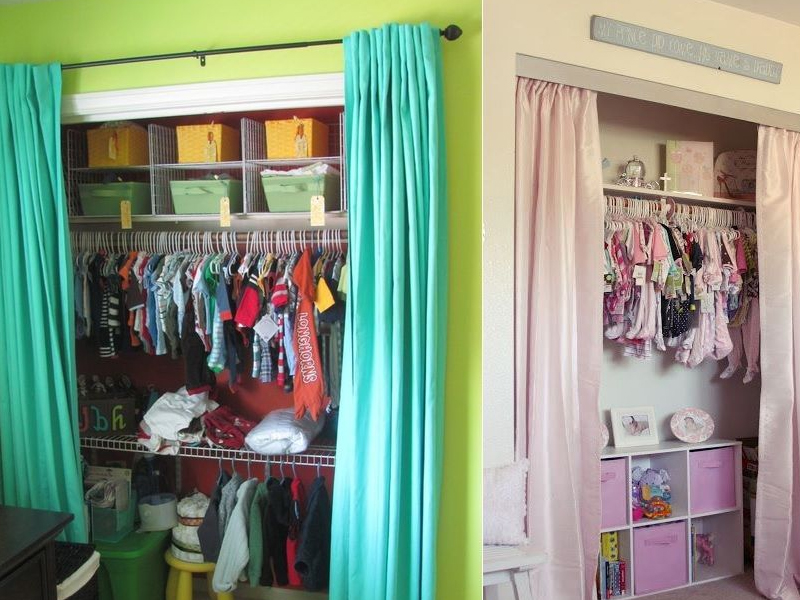 Kids love toys! They will force you to buy any toy they see and fill up their room with them. But this mess is definitely going to be a headache for you to clean and organize. Hence, creating storage spaces that easily fit these toys in is going to be a must. If you have loose boxes lying around, paint them up and stack them like dice to make a great kids bedroom design element while also creating more storage space for your kid's ever-growing toys. You could also create them into circular shapes and put them on the wall creating a flower-shaped shelf-like space that adds to the beauty and colour of the room.
9. House Bed Frame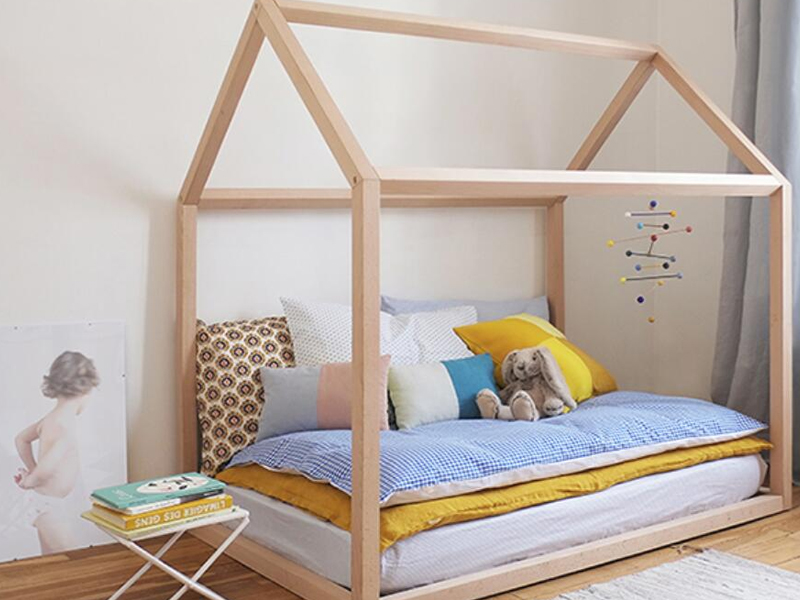 Why just get a simple bed for your kid's room when you can spice it up DIY style. Instead of a stereotypical bed, construct one that looks like a house. Not only does it also act like a playhouse in the day, but it also brings the same luxurious and eye-catching look to your kid's room as that of a canopy. These beds also cost less in terms of raw materials and hence save you money on room design for a baby girl.
10. Book Bins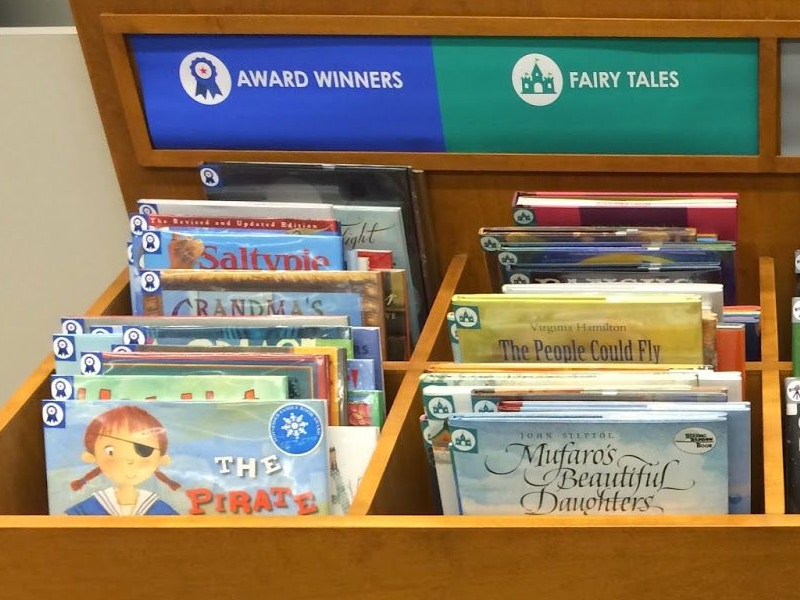 Reading is a quintessential life skill today. Avid readers are always informed and able to comprehend situations much easier. And this habit must be inculcated in kids at a younger age. Hence creating low-heightened book bins around the room could be a great room decor idea that facilitates a great habit. You could also make things fun by decorating the space around the bin with the theme of books in that bin. For example, you could put up cartoon posters next to the comic book bin and animal posters next to the wildlife stories bin.
While these are only a few ideas, you can mix and match components of these to create new DIY or purchasable room decor designs that perfectly accentuate the look of your child's room.
Fun Decor Tips For To Accessorize Your Kid's Room
Now that you have looked at what are the room decor ideas for your child's room, know a few hacks that could help you make the right choice for designs and accessories
1. Decals, Not Wallpapers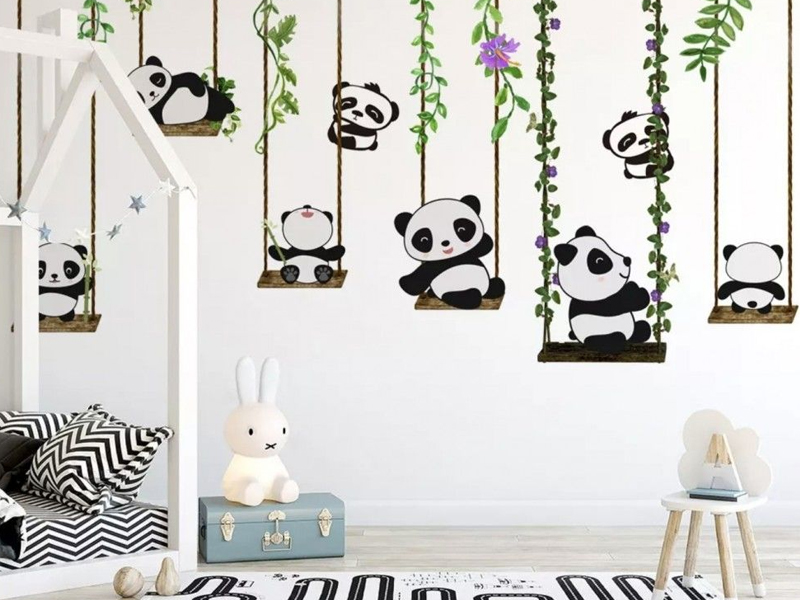 As kids grow their preferences change. Wallpapers could be an expensive choice of material both to install and replace. Hence, use decals such as washi tapes or stickers/ posters to decorate your child's room. This gives you more room to regularly update the wall designs.
2. Make It Colourful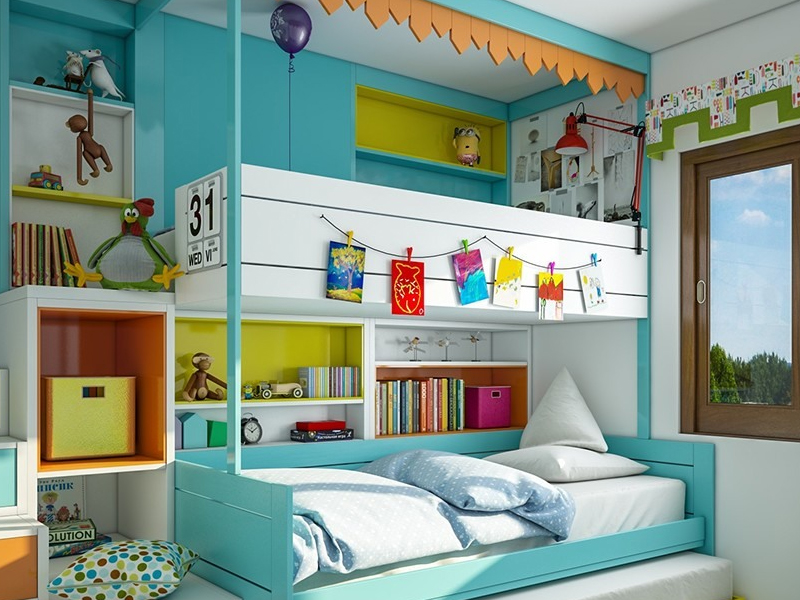 Colour is what up's the vibe of a kid's room and makes them feel happy too. So always pick items that are colourful. You can also choose 2-3 shades and colour coordinate all the accessories in a room to keep it vibrant and organized too.
3. Low Height Furniture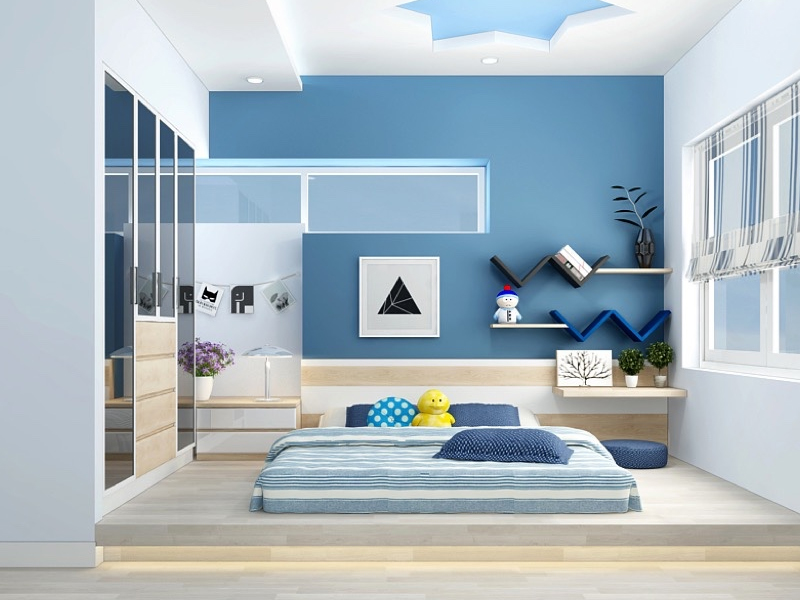 Since it's a kid's room, be it furniture or storage space or access to toys and other entertainment items, everything needs to be easily accessible to the kids.
4. Keep Them Busy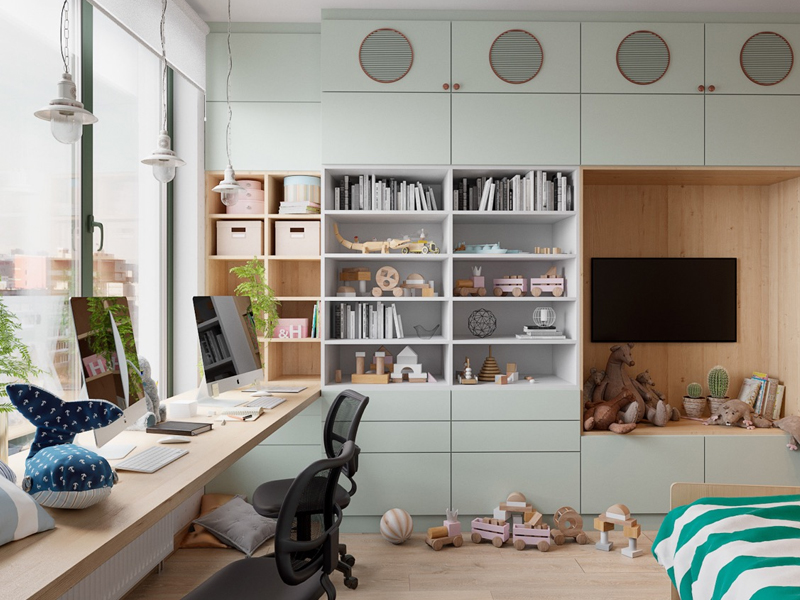 When finalizing boys room ideas, don't miss out on creating engaging spaces in the room. Kids love to stay busy so creating workstations or play areas is a great way of keeping them busy and developing their physical and mental capabilities.
5. Lighting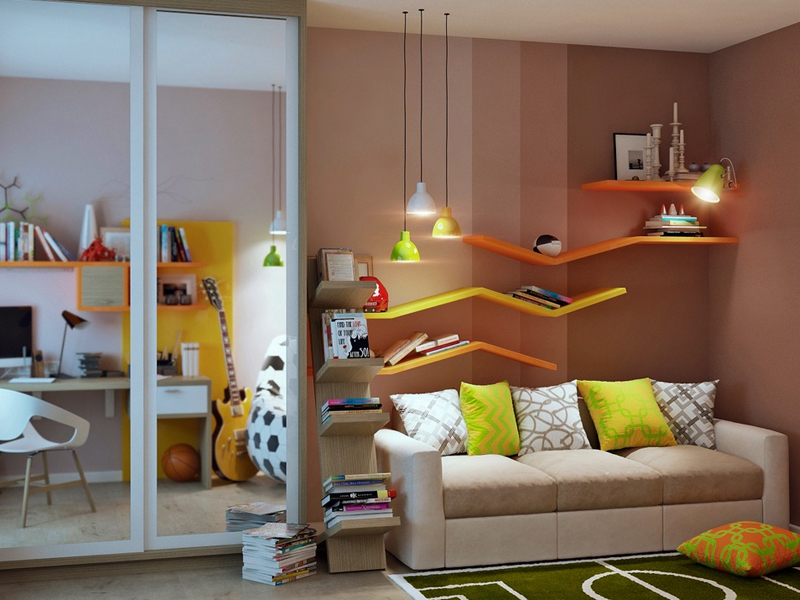 Lights are the most important aspect of a room. Fairy lights give the room a more cosy and ambient feel while task lightning promotes reading and lampshades on ceiling lights bring more focus to the room.
6. Create Enough Space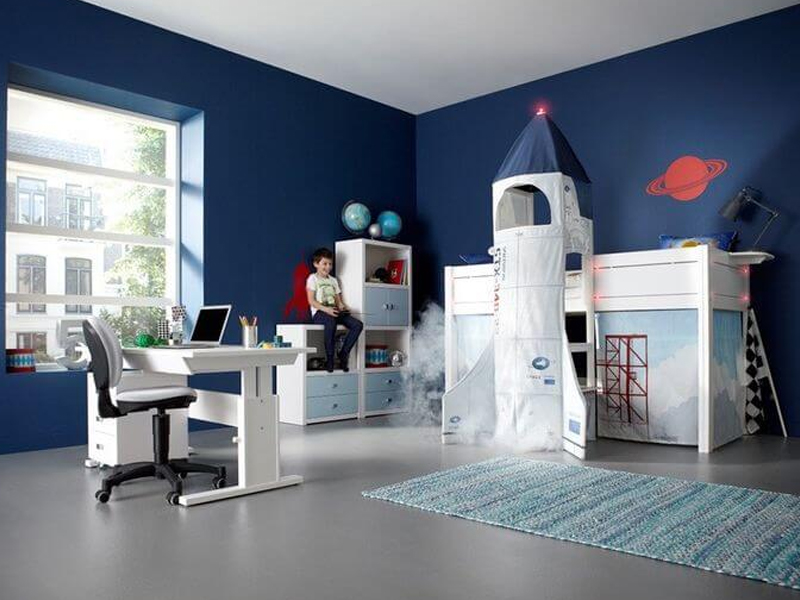 Keep enough room for a chance at redecoration as kids grow up and their tastes, interests and expectations evolve. This avoids any additional costs of redoing any wall in the room since replacement is cheaper.
If you are looking for the best decor options for your house, head on over to the Red Dot Shop for serveware, kitchenware, bowls, coasters and more. This list of hacks for girls and boys bedroom ideas should be a great help to set up that dream space for your child. While it may take time to find out everything you need for them, the outcome of this process will be very satisfying. And you'll end up designing a colourful, vibrant and innovative room for your child that gives them positive vibes and energy.