BDSM. A term no doubt you've heard before on social media or in movies about it, but now you're intrigued and want to know more. A quick google search will tell that BDSM is a term used to describe aspects of sex that involve dominance, submission, and control.
Par is this it? Diving into the kinky world can seem a lot like learning a new language.
You have trusted Google baba to provide you with all the information you need to know, but wait, what are those in caps? If you're thinking "Ye kya likha hai? What does this mean?" while scrolling through an in-depth article about BDSM, you're not alone.
But sabse pehle, let's get our basics right.
What Is BDSM?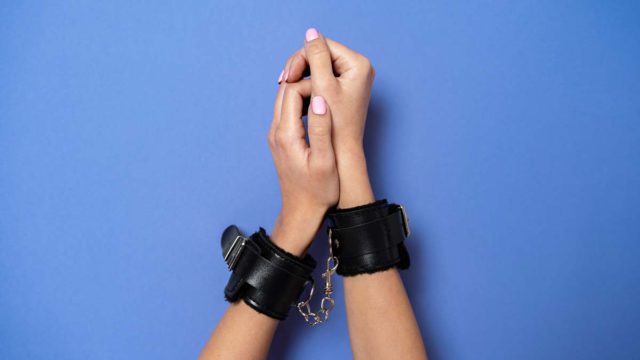 The practice of BDSM typically involves one partner being more dominant and controlling while the other being submissive. But the rules are not set in stone and, thus, it varies from person to person.
The star of the topic, the term actually encompases different acts which are: bondage, discipline, dominance, submission, sadism, and masochism. Fetishes are also part of it, even though it doesn't get a mention in the acronym. However, the term fully reflects everything in this lifestyle. People who engage in it are often looking for a sense of letting loose, and exploring trust with their partner. It's zaroori to know if your partner understands the concept of BDSM before engaging in it.
But here's what the acronym stands for:
Bondage: This involves restricting your partner's freedom of movement, it could be done with ropes, handcuffs, or other restraints.
Discipline: You and your partner will agree to and follow certain rules while together, for example, punishment, safe word, etc.
Submission: This refers to the act of one partner being submissive to the other and giving the dominant person power and control.
Masochism: When your partner or you feel pleasure from either inflicting pain, which is sadism, or from receiving pain, it is referred to as masochism.
These are just the main categories, there are a lot of different elements to it such as role-playing, pain play, bondage, edging, etc. 
Read 9 Rasile Spooning Tips To Increase Intimacy
9 Common BDSM Terms
Now for your BDSM term guide, here are 10 terms that you need to know.
1. Consent
Not just limited to BDSM, you should nevertheless be aware and be educated about it. It's of grave importance in the BDSM community. Most activities that you perform with your partner will test your partner's (and yours) emotional and physical boundaries, and you cannot proceed with BDSM without taking and giving permission first. Because the lines between sex and assault get blurry and it's been a hotly debated topic in the media for years. Ultimately it depends on you and your partner where you decide to draw lines. 
But the most important thing is, consent, rules and regulations must be discussed beforehand.
2. Dominant And Submissive (Dom & Sub)
Also known as D/S, this is a ritual or nature of a relationship between two partners. Those who are in control and more powerful are called dominant, dom for males and domme for females. On the other hand, those who take the subordinate position are known as a submissive, sub for both males and females. 
This doesn't have to confine itself to sexual activities, it can also be a part of your daily life with rules and it can also be intensely physical. Both you and your partner can take pleasure from either being dominant or submissive, depending on your behaviour in the relationship.
Watch This Fun Video On 5 Positions More Likely to Help Women Orgasm
3. Top & Bottom
Who said you need to give up complete control to have a kinky relationship. If you're new and still figuring things out, you can start by identifying who's the top and bottom. The top and bottom correspond directly to dominant and submissive respectively. But you're given full control and, even after being at the bottom, you have the freedom to circumstances and degree of stimulation your partner gives you. For example, a bottom may be interested in receiving certain stimulation but only when they say it. 
4. Daddy-Babygirl Relationships
Shayad you already know this thanks to them being mentioned frequently in the media. When someone refers to themselves as Big or Daddy and Little or Baby Girl, they're referring to age-play in sexual activities and their relationship. Do not misunderstand incestuous perversions. For the most part, it represents powerlessness in childhood. This relationship is more nurturing and soft in nature. The person with more power takes care and looks after the little one inside and outside the bedroom. 
Read 10 Sex Positions To Hit The G-Spot Baar Baar
5. Safeword
When you're indulging in activities that are bound to get harsh and might make you uncomfortable, it's important you take all necessary precautions. A safeword is one such precaution. You and your partner should ideally have this conversation before you begin anything sexual. Talking about what is allowed and what is not is a total big NO. A safeword is a single word or phrase that is used to tell your partner that you want him/her to stop and do not want to continue anymore. Keep the word something other than 'no' or 'stop', because they could be part of your roleplay. 
6. Mistress
"Mistress" is a term used in the BDSM community to generally refer to a female dominant or domme. A mistress has the power over consenting male and female submissives, and she can order them to perform anything she desires, including sexual acts (one would hope!). The role-play in this scene flips from the typical power dynamic on its head, turning males to become bottoms and submissives. It could be something for you to try if the male in your relationship is usually the dominant to spice things up under the sheets. 
7. Training
Just like with any relationship, there is always room for improvement. So in a relationship of dom and sub, the "master" is in charge of teaching the sub and using punishments (consented) to help them improve. If you're going to try this, keep in mind to start slow and gradually increase the degree of your acts, so you have achievable goals. And instead of negative reinforcement (punishment), lean towards positive reinforcement such as rewarding your sub for good behaviour. 
8. Shibari
A word that's probably completely new to you is a thing on this side of the world. And if you're into bondage and tying, you'll definitely come across it more. It refers to an ancient Japanese rope-tying technique that was primarily employed to hold an individual prisoner for the purpose of torture. In Japanese, the word means "uncomfortable" or "unpleasant." Although the harness is not pretty to look at, the technique can be mastered to your preference and pleasure. 
9. Aftercare
If you have traditional notions of a relationship and have never tried BDSM before, the experience could bring out a range of emotions in you. You might even feel guilty and shameful about what you did. But it needn't be so. All you need is a safe space and routine to unwind and relax after all the rushed feelings. This could vary from person to person. You can start with a relaxing bath and eat your favourite food. 
Take This Sexual Health Quiz: Think You Know Everything About Condoms?
That was our ABCs of BDSM for you. Hoping this helped you unlock your wildness and bring you one step forward. #BeALittleMore kinky but with consent. Have you come across other terms for BDSM? Share them in the comments below!
Open up like never before and participate in conversations about beauty, entrepreneurship, mental health, menstrual & sexual health, and more. Desi women, join our community NOW!