Your makeup game could be absolutely on point and it may still feel like something is missing if you haven't applied a lip liner. This wonder product can help give your lips a more refined and polished look. In a lot of ways, the work of a lip liner is similar to that of a primer. It helps your lipstick stay on for longer without smudging, bleeding, or feathering. But that's not all it does! Whether you like to keep it natural or don't mind an eye-catching dramatic look, a lip liner can help you achieve the pout of your dreams!
The only tricky part is, to make the most of this product, you must know how to use it the right way. Whether it's your first time using a liner or you need to brush on your pre-existing skills, here's a guide to help you out.
Here's all you need to know about how to use lip liner and why you should use one.
5 Reasons Why You Should Use A Lip Liner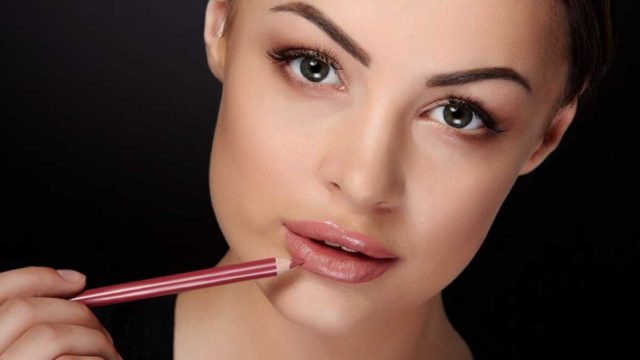 Other than the fact that it looks super awesome and plays an important role in bringing your whole look together, here are a few other lip liner benefits you must know about.
Whether your lips are narrow or full, a liner can help them appear more attractive by defining the edges.
Maybe you want your lips to look bigger or maybe you would like them to appear smaller. In both cases, a liner can help. It can make the lips look plumper by outlining. Alternatively, by using a lip liner for in-lining you can make your lips appear narrow.
Lip liner makeup can also make your lip colour stay on for longer, especially your favourite dark colour lippies. Simply line and fill your lips with a liner (of the same colour or a clear one) before applying your lip colour.
If your lip colour has a thin consistency, a lip liner can keep it from bleeding by giving a boundary to the lips.
It can give you a fuller pout by adding more definition to it. Result? Amazing selfies!
Read 10 Tricks To Make Your Lips Look Bigger & Fuller
How To Apply A Lip Liner?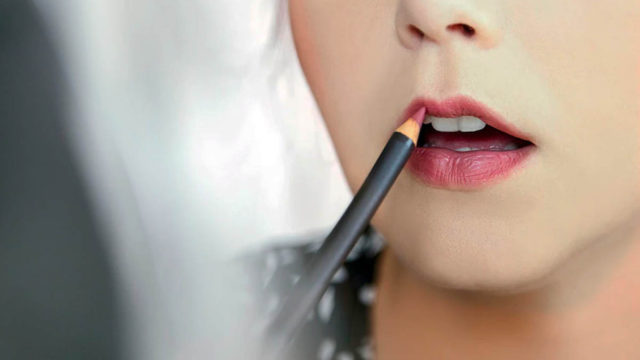 Clueless about how to use lip liner? Let us help you out! Follow these simple steps to achieve amazing results when working with a lip liner!
1. Prepping Is Vital
To really rock your lip makeup, it is important to have hydrated and smooth lips. Indulge in some lip care to keep your lips from getting dry, chapped or flaky. Exfoliate your lips to get rid of dead skin and follow with a hydrating lip balm. Applying a lip mask before bed will also aid in keeping your lips smooth and soft throughout the day.
Read 10 Long-Lasting Liquid Lipsticks To Get Your Hands On
2. Know The Shape Of Your Lips
Before you actually get down to applying a lip liner, it is important that you accurately assess the shape of your lips. Look in the mirror and think about what part of your lips you want to highlight and which parts you wish to tone down a bit. Maybe you want to enhance the shape of your top lip to match your fuller bottom one. Or perhaps creating a plump look all around is what you want to achieve? Knowing this will help you understand how to get the most out of your lip liner. 
3. 6-Step Guide To Applying A Lip Liner
Now that you are through with all the pre-work, it's time to finally get down to the task at hand. Here is how to put on lip liner the right way:
Step 1: Start with lining your upper lip. Define the highest points of the cupid's bow by making an 'x'. Now starting from the high points, work your way out to reach the outer corners of your lips. Make sure to keep your strokes short.
Step 2: Line the bottom lip by starting from the centre of the lip and working your way towards the corner of your mouth. You should stay right inside the line of the natural shape of your lips.
Step 3: Wondering how to apply lip liner for fuller lips? Here's how! If you want a plumper look, start lining from the outer corners of your mouth and work your way towards the centre.
Step 4: If you are afraid that your lipstick may not stay on too long, leaving you with just the lip liner along the edges, use the liner to fill in your lips. This will also make your lip colour stay on for longer.
Step 5: Before you apply the lipstick, check to see whether your lip shape is balanced. Once you have done that, it's finally time to put on your lip colour.
Step 6: Use your finger or a cotton swab to smooth out and clean up the edges. Alternatively, you can use a concealer (remember to keep it light) around your lip area and blend it with a brush.
3 Lip Liners You Must Have In Your Collection
With so many options available out there, finding the right lip liner may seem like a hassle. Here are 3 top contenders in the world of lip liners that are definitely worth investing in.
1. Wet N Wild Perfect Pout Gel Lip Liner
Available in 6 awesome colours, this affordable and long-lasting lip liner is made of skin-friendly ingredients that give you amazing results without any tugging. The non-slippery and comfortable grip and smooth texture make it quite easy to apply even if you are a no-makeup pro. This option also works well if you wear it without lipstick. 
2. Lakme Perfect Definition Lip Liner
When it comes to affordable cosmetics, Lakme is one of the most popular brands out there. Lakme's Perfect Definition Lip Liner is a cost-effective option that is lightweight, highly pigmented and long-lasting. Its soft lead tip ensures comfortable and easy application. This best lip liner comes with a non-transferable formula and suits all skin types.
3. Lipping On The Edge by SUGAR Cosmetics
Next up on the list is this incredible product by Sugar Cosmetics that comes in 8 super cool shades, ranging from subtle to bold! Whether you are looking for a nude shade for a no-makeup makeup look or a bolder hue for a dramatic look, this range offers it all.
It comes with a gel formula that is intensely pigmented, lightweight, and long-lasting (up to 10 hours stay!). This best lip liner also claims to be transfer-proof and water-resistant. What else could a girl ask for? Right?  
While applying a lip liner is no rocket science, it may take some practice to master this art. But don't let the fear of making a mistake keep you from experimenting with this staple lip makeup product. Be it subtle neutral tones or bold and bright hues, #BeALittleMore open to trying out new shades and new ways to apply lip liners to add that wow factor to your look! 
Open up like never before and participate in conversations about beauty, entrepreneurship, mental health, menstrual & sexual health, and more. Desi women, join our community NOW!