The simplest, easiest, and the most beneficial hair care hacks are those that are readily available in your kitchen. Ones that you should totally make use of for healthy, luscious hair. And one of these ingredients is our humble baking soda.
Learn more about some desi nuskhe using baking soda, its many benefits, how to use it, and possible side effects.
1. Baking Soda & Lavender Essential Oil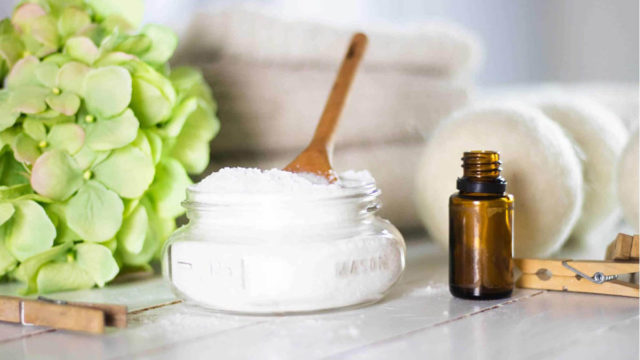 Ingredients
¼ cup baking soda
¾ cup purified water
10 drops lavender essential oil
Method
Add purified water to the baking soda and shake well to mix them evenly.
Add the lavender essential oil and shake well again.
Massage a dollop or two of this mixture on your hair and scalp gently.
Wash it off with water thoroughly.
2. Baking Soda & Apple Cider Vinegar
Ingredients
1 cup baking soda
¾ cup water
1 cup apple cider vinegar
Method
Pour the entire baking soda into the water to form a thick paste.
Scrub this mixture into your hair and scalp.
Leave it on for 1 or 2 minutes.
Wash it off thoroughly with water.
Next, follow it up by washing it with apple cider vinegar to replenish the pH balance of your hair and scalp, and to introduce sheen to your tresses.
You don't need to end with a shampoo-conditioner routine because baking soda is potent enough to offer you the same cleaning properties of these bottled products.
3. Baking Soda, Egg & Olive Oil
Ingredients
2 whole eggs
3 tbsp of baking soda
2 tsp of olive oil
1 tbsp of apple cider vinegar
1 tbsp lemon juice
Method
Whip the eggs until bubbles appear.
Pour baking soda and olive oil and give it a good stir to blend them well together.
Add apple cider vinegar and lemon juice.
Apply this mixture to your hair and massage gently to repeat the best benefits for your oily hair.
4. Baking Soda & Avocado
Ingredients
2 tsp baking soda
1 ripe avocado
¼ cup of water
Method
Put the baking soda, water, and avocado into a mixer to get a fine paste.
Apply it to your tresses generously, especially if you have dry and damaged hair.
Wash it off with lukewarm water.
5. Baking Soda, Oats & Cornstarch
Ingredients
½ cup of whole oats
2 tsp of baking soda
1 tsp of cornstarch
¼ cup of water
Method
Put the whole oats, baking soda, cornstarch, and water into a mixer to get a fine paste.
Apply to your hair generously and massage gently.
Wash it off with lukewarm water.
6 Benefits Of Baking Soda For Hair
1. Rids Your Hair Of Build-Up
Baking soda works wonders in exfoliating your scalp. Your scalp contains build-up like pollutants, excess oil from overactive glands, and remnants of hair care products. Instead of shampooing daily, which can rip your hair off its natural oils, try replacing it by a baking soda routine that will cleanse your hair without stressing it out.
2. Clean, Chemical-Free Product
A whole of shampoos out there comprise harmful chemicals like sodium lauryl sulphate, paraben, dyes, and fragrances – all of which wreak more havoc to your precious tresses than you can imagine. On the other hand, baking soda comprises all natural ingredients, sodium bicarbonate, that does the job without leaving behind any harmful side-effects.
3. Treats Dandruff
Baking soda treats dandruff right from the roots, unlike shampoos that only remove the flakes from the surface of your scalp. This desi nuskhe fights against fungi, which is usually the cause of dandruff.
4. Acts As A Coolant For Your Scalp
Baking soda balances the pH of the scalp by preventing the scalp from producing excess oil or sebum. This helps it to keep the scalp clean and cool.
5. Controls Scalp Allergies
Itching and redness of the scalp may not always be because of dandruff. It may also be indicative of allergies and other skin conditions. This may get aggravated by commercial shampoos and other hair care products. However, baking soda eases the irritation and pain that accompany these skin conditions and allergies.
6. Acts Like A Dry Shampoo
If your hair is naturally oily, baking soda works well as a dry shampoo by soaking in all the excess oil. In case you don't have time for a full baking soda routine using the nuskhes described above, just sprinkle a little amount of this soda and experience the wonderful results for yourself. So, the next time you catch yourself thinking about a commercial dry shampoo, you know which kitchen ingredient to bank on.
4-Step Process On How To Wash Your Hair With Baking Soda
Wet your hair and apply baking soda liberally from the roots to the tips.
Massage the mix on your scalp gently using circular motions.
Let this stay for about 1 minute.
Wash it off thoroughly with water.
3 Possible Side Effects Of Baking Soda For Your Hair
Avoid using baking soda if you have a severely dry or sensitive scalp as it may be harsh for you, ripping your scalp of its natural oils.
Stay away from baking soda if you experience excessive hair fall and skin conditions that manifest themselves through this symptom.
Baking soda may also not be beneficial for you if you have been diagnosed with inflammatory skin conditions like psoriasis or eczema.
Open up like never before and participate in conversations about beauty, entrepreneurship, mental health, menstrual & sexual health, and more. Desi women, join our community NOW!