Your body will inevitably look and feel different after giving birth. Body aches, vaginal discharge, swollen feet, and stretch marks are frequently talked about. But one postpartum symptom that's hardly talked about is hair loss or postpartum shedding. Post-pregnancy hair loss can set in any day after your baby arrives, and it sometimes continues for as long as a year. Some women experience hair loss post-delivery and it is normal and a natural part of postpartum. But that doesn't mean it's time to panic! Ayurvedic remedies, used for centuries by Indian women, can be effective in post-pregnancy hair loss treatment.
Hair Loss & Ayurveda
On an average, people shed between 50 and 100 hairs a day. Hair loss can be caused by a number of factors like nutritional deficiencies, dandruff, chronic stress, thyroid, pregnancy, and post-pregnancy too. If you've observed more hair loss than normal after delivering your baby, Ayurvedic remedies can come to your rescue. Following are the benefits of hot oil massage for hair and how it will help strengthen and shine your hair like a goddess.
5 Ayurvedic Ingredients That Work Wonders For Hair Loss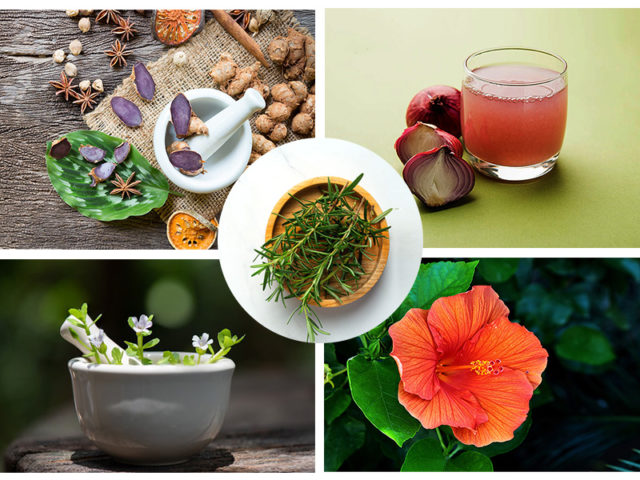 1. Onion Juice
This common kitchen ingredient facilitates the formation of keratin for hair, resulting in hair growth. It also helps fight hair lice and dandruff. Onion juice can be used as a natural hair nourisher.
2. Dashmoola Powder
Dashamoola is an ancient Ayurvedic formulation made up of 10 herbs that are used in various Ayurvedic medicines. This ingredient is effective in stimulating hair growth and reducing hair breakage. It can also help relieve scalp-related problems as it replenishes coarse and brittle hair.
3. Brahmi
Using Brahmi oil for hair is especially beneficial for hair thinning. Brahmi helps in stimulating the hair follicles. It also helps improving circulation to the scalp.
4. Hibiscus Flower & Leaves
One of the most popular Ayurvedic home remedies, this plant can help reduce hair loss, prevent premature greying, control frizz and dryness, and arrest breakage.
5. Gul Mehndi (Rosemary)
Rosemary is an Ayurvedic herb loaded with numerous benefits for hair. Applying the leaf extracts of rosemary on the scalp rejuvenates the scalp, prevents dandruff, and premature ageing, and stimulates hair growth.
Tip: For some more ayurvedic remedies right in your kitchen, check out curry leaves benefits for hair
Top 5 Post-Pregnancy Hair Care Products With Ayurvedic Ingredients
1. All Natural Homemade Hair Oil By Health Me Please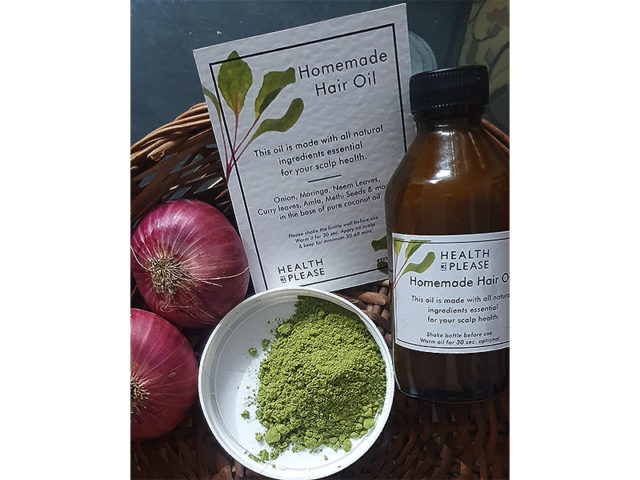 A new mom needs some tender love and care postpartum and a good ole champi can do wonders. This homemade, all-natural hair oil is a great option for good scalp health. The oil uses a coconut oil base to help infuse the goodness of all the potent ingredients.
This oil is infused with hair superfoods that provide vital nourishment to hair. It includes ingredients such as onions, moringa, neem, curry leaves, hibiscus, amla and other hair health essentials. These Ayurvedic ingredients are mixed with coconut oil, cooked and kept soaking for over 24 hours before the product is packed. Buy all-natural hair oil at the Red Dot Shop here.
How To Use It:
Shake the bottle well before use.
Warm it for no more than 30 seconds.
Apply it to your scalp and massage gently.
Keep this Ayurvedic remedy on for 30 to 60 minutes before washing with a gentle shampoo.
2. Dashmool Hair Lep By Mother Sparsh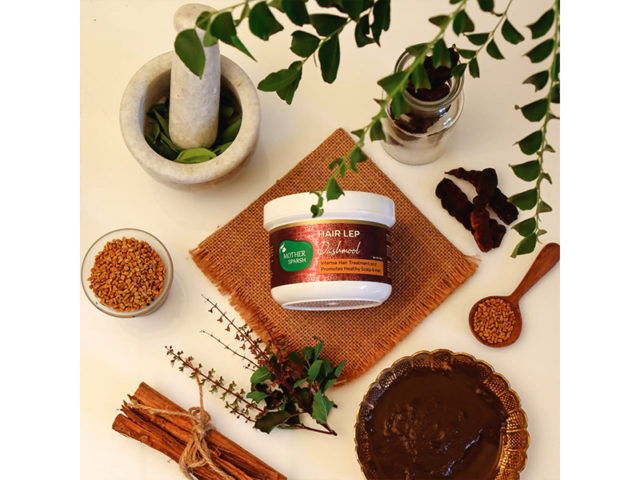 Just like your family heirloom recipes are passed down from your nani to maa and to you, this post-pregnancy hair loss remedy is a gift from the previous generations. Dashmoola, a concoction of 10 herbal ingredients, is a powerful Ayurvedic home remedy for a variety of ailments. A lep is an Ayurvedic formulation that can be modified with different elements and this one helps pamper dull and lacklustre hair to life.
The Mother Sparsh Dashmool Hair Lep is infused with a blend of botanical herbs like methi, tejpatra, triphala, tulsi, shikakai, mulethi, brahmi, bakuchi, curry leaf, japa, and dashamoola. It is free from harsh chemicals like SLS, sulphates, parabens, silicone, making it one of the safest Ayurvedic remedies. The Dashmool Hair Lep not only preserves hair longevity but also targets premature hair greying. Also, the ingredients address the drastic impacts of the fluctuating hormones postpartum and nourish your scalp. This Mother Sparsh product strengthens the hair shaft and hair follicles to combat hair fall and breakage and penetrates into the hair to provide the damaged and dull strands with a boost of nutrition. Get soft and manageable hair in a jiffy.
How To Use It:
Take the required quantity of Mother Sparsh Dashmool Hair Lep in a bowl.
Mix it with curd or water to form a smooth paste.
Gently apply the lep on the scalp, from roots to ends.
Leave it on for 20-25 minutes and rinse thoroughly.
For effective results, use the lep along with the rest of the Mother Sparsh Hair Care range to double down on the hair fall treatment.
3. Hibiscus & Aloevera Gel Hair Mask By Bellissimo Creazione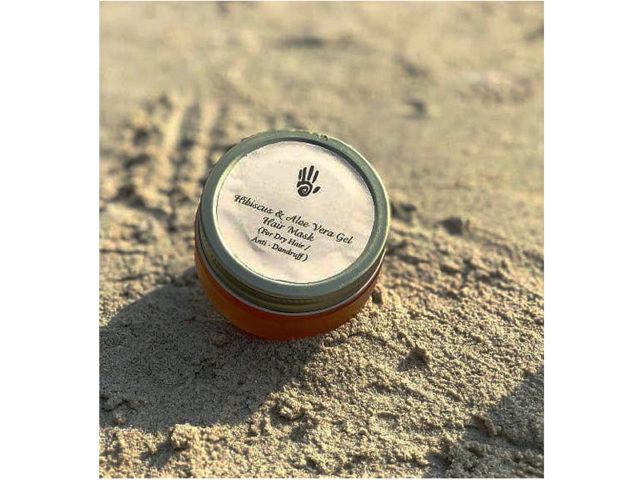 Masks are new and are gaining popularity. While hair masks with chemicals should never make it to your vanity, there are brands that create ones with Ayurvedic ingredients. This hibiscus and aloe vera gel hair mask is just that. The jar of hair rejuvenation contains organic aloe vera gel, pure hibiscus oil, rosemary essential oil, lavender essential oil, mint essential oil, and vitamin E oil.
Aloe vera is a popular home remedy that contains proteolytic enzymes. These enzymes repair dead skin cells on the scalp. It acts as a great conditioner and makes the hair smooth and shiny. It promotes hair growth, prevents itching on the scalp, reduces dandruff, and smoothes out dry and frizzy hair. The hibiscus plant is a popular remedy for hair growth. It can also help reduce hair loss and make your hair look healthy and lustrous. Get this gel hair mask at the Red Dot Shop here.
How To Use It:
Shampoo your hair, then rinse.
Apply the hair mask.
Keep it on for 5-10 minutes.
Rinse out the mask with water.
4. 24×7 Hair Fitness Total Solution By Nature Nuskha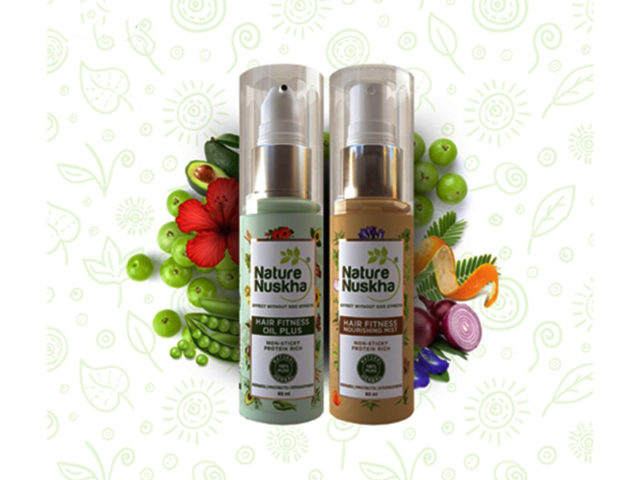 Nature Nuskha offers a great combination of two highly effective hair care products; hair growth oil and mist for hair fall and dandruff control. It is enriched with natural ingredients that are packed with vitamins, antioxidants and proteins. The ingredient list includes pea protein extract, onion, avocado oil, neem, brahmi, and many more.
This day-to-night product combination of hair growth oil and nourishing hair mist works in harmony to nurture your hair back to health and give you strong and shiny hair. It also reduces dandruff, controls hair fall, enhances hair growth and volume, provides deep nourishment to the scalp and hair shaft, restores hair health and lustre, repairs chemically damaged hair, and prevents premature hair greying. Shop for this duo at the Red Dot Shop here.
How To Use It:
For Hair Fitness Oil Plus:
Pump the oil onto your palm 6-8 times.
Massage the oil into your scalp in circular motions for 3-4 minutes.
Leave it on overnight for best results.
Wash it off with a mild shampoo.
For Hair Fitness Nourishing Mist:
From a distance of 10 cm, spray the mist directly on damp, towel-dried hair.
Massage gently for 30 seconds.
Comb the mist through your hair. This helps evenly distribute the product.
Style hair as usual.
5. Natural Rosemary Hair Serum By Vishisht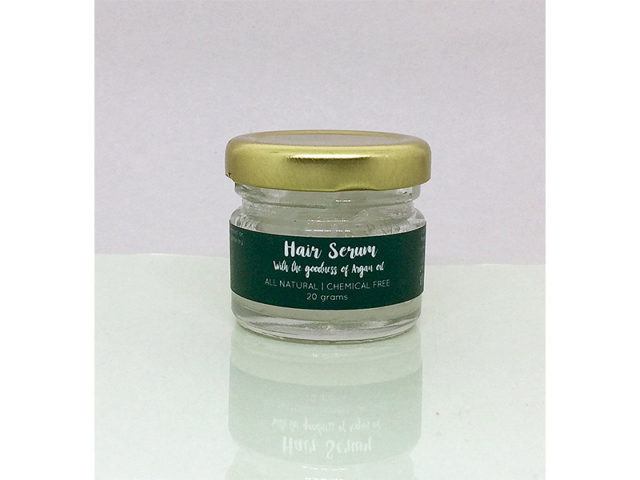 Made with pure aloe vera gel, argan oil, and pure rosemary essential oil, this hair serum is versatile in its uses. Vishisht's hair serum has the goodness of rosemary (gul mehndi) which boosts hair growth, increases volume, controls hair fall, and removes dryness. This is a quick and easy fix for new moms who might not have all the time in the world to indulge in self-care.
Full of fatty acids, mainly oleic acid and linoleic acid, the argan oil provides a fatty layer to your hair and scalp that may help prevent dryness and can help reduce frizziness and boost shine. This hair serum forms a protective layer and keeps hair consistently hydrated. It also works great as a leave-in conditioner, hair styling gel and an anti-frizz spray. Load up your cart at the Red Dot Shop here with this self-care hair serum.
How To Use It:
Apply a very small amount on the ends of the hair.
Spread throughout the dry and frizzy areas.
You can use it every day.
There are plenty of hair care products that make use of Ayurveda. But while fancy names and pop-up ads might create a great visual appeal, the best choice for new moms to restore their hair health is to buy natural products from trusted brands. These 5 products top the list for their endless benefits and though they all are absolutely great, we can't help but choose a favourite. Mother Sparsh takes the throne with its infusion of the Ayurvedic herbal concoction, dashmoola, and the ability to provide the right boost of nutrition to your hair!