On a good hair day, when your hair is lush and shiny, you feel undefeatable! It gives you an incredible boost of confidence and you go about your day with a little skip in your step. But just as real as the joy of beautiful hair is, so is the panic of oily scalp and greasy locks. We have all had days when we woke up with hair that looked like it had been soaked in oil. Add to it an important meeting, class or event, and it's a complete nightmare. Here are some hacks that will have your tresses looking glam in a jiffy! But before that, know what causes oily hair.
What Causes Oily Hair?
Sebum or oil production by the scalp is normal. But if this production is excessive or not regularly cleaned, it can lead to poor scalp and hair health. Learn here how to tame your mane this monsoon! Here are things you should check for if you are dealing with oily scalp and hair:
1. Humidity
This is a concern especially in the monsoon when the high ambient humidity causes us to sweat more. The scalp sweats and grime gets accumulated, making the hair look greasy.
2. Over Shampooing
While your first response to oily hair may be to wash it, it may not always be a good idea. Excessive shampooing strips your scalp of its natural oils, forcing it to produce more. This, in turn, makes for an oily scalp and grimy hair.
3. Not Shampooing Enough
This is just as bad for your hair health. When build-up on your scalp is not cleaned often enough, it makes it itchy. Your scalp may start flaking too, causing dandruff. Hair becomes matted, flat and lifeless, breaking easily. Washing hair 2-3 times a week, depending on hair length and weather is a good rule of thumb.
4. Condition Responsibly
The feeling of running your hair through silky, untangled hair is unbeatable. But don't go overboard with your conditioner to achieve it. Too much conditioner makes your scalp sticky and attracts more dirt. It also causes oil build up on the scalp.
5. Clean Your Hairbrush
Dirt, dead skin and broken hair get caught up in your hairbrush/comb over time. When you use this unclean brush, the dirt gets transferred to your hair, leaving it dirty and greasy.
6. Over-Oiling
Excessively oiling your hair does not give it time to breathe and also clogs pores on the scalp, which may cause dandruff. Keeping the oil on too long makes the hair and scalp sticky. Dirt and dust sticks and builds up, causing itching and dryness.
7. Touch Me Not
If you are prone to an oily scalp, fidgeting with your hair, scratching your head, or excessively brushing hair can worsen the situation. Such activity stimulates the oil glands, making your scalp and hair greasier.
10 Oily Hair Hacks For Those Shining Tresses
Well, just think of it as one of those days when you woke up late and you don't have the time to shampoo and condition your hair like you usually do for your hair care routine. And, your hair feels extremely dirty and greasy, so what do you do? Here are some easy and pocket-friendly oily hair hacks for you to keep the grease under control and make your tresses look beautiful as ever.
1. Dry Shampoo
You cannot talk about greasy hair hacks without mentioning dry shampoo! Since you don't have time to wash and condition your hair and then wait for a few hours for them to dry, simply use a dry shampoo. You can now keep a bottle with you whenever and wherever you need it and use it to make your hair look fresh and clean. Spray it all over your hair, including your roots and then run a dryer. You would be amazed at how fresh your hair would look in just a few seconds! Find 10 DIY dry shampoo recipes here.
2. Baby Powder
Before dry shampoo was invented, baby powder was used to hide and manage oily hair. Baby powder is quite an old trick that a lot of girls still swear by on unwashed hair days. Sprinkle a pinch of baby powder along your part lines, rub it in and see the grease vanish instantly. Don't forget to massage the baby powder well in your hair to get rid of the white residue in your hair. You want to remove the grease and not rock the salt and pepper look on the streets.
3. Blotting Paper
Yes, just like how blotting paper can be used to blot oil from your face, it can also be used to absorb oil from your scalp. Simply part your hair in a few sections and run a blotting paper along your scalp and roots, and you'll be good to go.
4. Scalp Scrub
Layers on layers of sweat, oil, and product buildup need to be cleansed thoroughly. A good scrub helps to gently exfoliate dead skin cells and oils from your scalp. Use it about once a week and you'll get healthier and more hydrated hair in no time. There are several brands with a variety of options like mCaffeine that help address an oily scalp.
5. Perfume
Don't be scared, this is the perfect oily hair hack to help get rid of the grease and make your hair smell amazing at the same time! Just like sanitizers, the alcohol present in the perfume would help you get rid of your greasy hair. Although this trick works really well, avoid using a strong-smelling perfume or if you have skin allergies as it could cause irritation and dry out your hair.
6. Blow Dry
Confused? Yes, it is as simple as running a blow dryer through your mane to get rid of all the oil building up in your roots. This quick step will also help you to style your hair the way you like. You can spritz some sea salt texture spray on your hair after you are done with blow-drying to add some shine and smoothness to your gorgeous locks.
7. Style Your Hair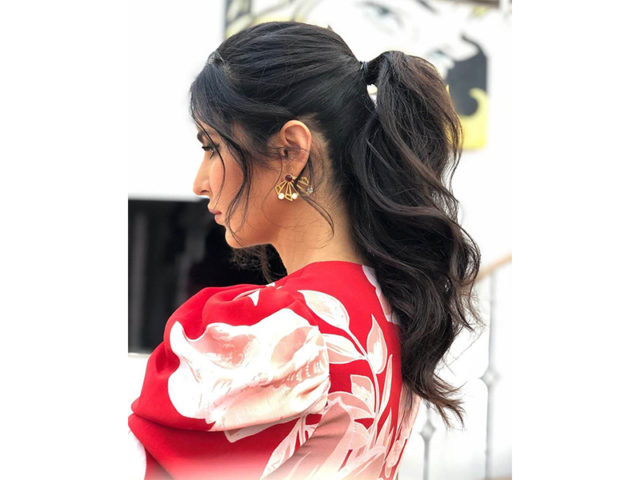 Greasy hair hairstyles; yes they exist! A simple braid, a messy braid, a ponytail or a messy side bun are hairstyles that would make you look elegant and glamorous even with oily hair! Check these easy peasy hairstyles here! If you are not washing your hair then go ahead with the same texturising spray to make it look shiny and clean.
8. Smart Accessorising
A sneaky yet smart way to hide your oily hair is by accessorising them. Twist the front of your hair and hold them back using a pretty hairpin. You could also use a stylish hairband and shift the attention and focus away from those oily strands. Check out Accessorize By Nidhi here, a brand that sells different kinds of hair accessories like hair bands, clips, scrunchies and bows.
9. Wash The Front & Sides
If you have a little time and can quickly wash the front and sides of your hair in the sink, do it! This is the part that makes your hair look greasy. Follow up with a little conditioner and then blow-dry, it will make your hair look like it's just been washed. Make sure you don't comb your wet hair otherwise it will lead to breakage. Find here 10 hair thinning mistakes you might be making.
10. Baking Soda
Baking soda is the best natural ingredient that nature has bestowed upon us. It helps control oil production in the scalp without causing dryness and hair fall. Mix in 2 to 3 spoons of baking soda to one litre of water and sprinkle it onto your scalp. Let it sit for 20 to 30 minutes and continue with your regular hair wash. Repeat this twice a week. If you're looking for more home remedies, click here to find 10 desi nuskhe for oily hair and scalp.
Hair should be the last thing you should be worrying about when you're already short on time. These are some tried and tested oily hair hacks that can be your saviour when you have no time to shampoo your hair. So, what are you waiting for? Put these hacks to use and flaunt your gorgeous hair.