Remember Kareena Kapoor in 3 Idiots said, "Main shaadi ke baad apna surname change nahi karungi"? Similarly, many modern women are choosing to retain their names. Name change after marriage is a common thing in Indian culture. When you exchange wedding vows, you make a commitment to be lifelong partners with your soulmate. But what most people don't realise is that although surname change after marriage is common, women have the complete freedom to opt-out of it. It is now perfectly legal for a woman to retain her maiden name after marriage. The law is clear now you don't NEED to change your surname. PERIOD.
Find here 10 lesser-known laws Indian women should know about.
Not Changing The Name After Marriage? 15 Desi Women Share Their Views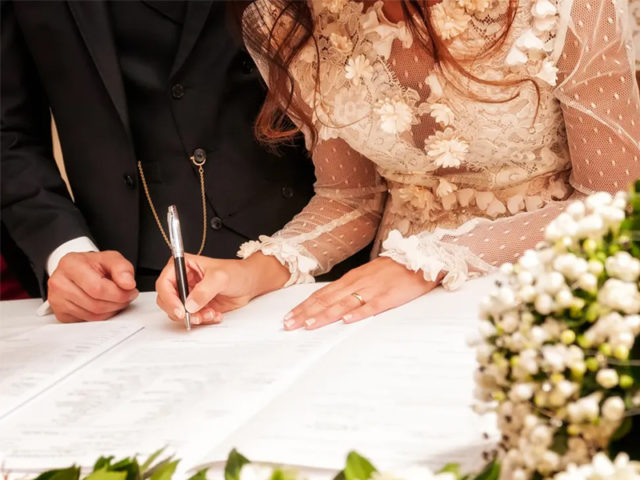 TC46 put out a post on Instagram here saying "Taking your husband's last name should be a choice. Agree or Disagree?" to raise awareness. And received a ton of comments where women shared their inputs! Here are the 15 eye-opening opinions from real women who stand for the right to choose!
"I haven't changed my surname, I even call my husband by his name whether the parents and relatives like it or not. We, as a couple, are clear with what we want and will not allow any interference." – Ritu*
"I'm a writer who has published work with my name and I am proud of it. It reflects my achievements and the name is tied to my work. So even after marriage, I don't see myself changing it. It's my identity and I chose to make it so." – Ruchi*
"It is a personal choice, there is no law behind it that forces you to take your husband's last name. But you must have your marriage certificate in place if needed." – Sakshi*
"It's my choice, no one in my husband's family said anything about this because when I got married, I used both names. Later, I adopted my husband's last name (again, MY CHOICE!). And secondly, my family never said anything about calling my husband by his name." – Arpita*
"It is a personal choice. I'm living in Europe and in our building, out of 6 families, 2 are Indians and both of us have not changed our surnames. Even though we were asked to do it." – Yaman*
"I'm actually very glad that it's my choice, what if I end up not liking my husband's last name? XD. 3 Idiots vaala scene ho jaayega, Phunsuk Wangdu much?" – Tara*
"It is unfortunately expected in Indian families that ladki toh naam badlegi hi! Well, that's not the case anymore. I have been married for 35 years now and never had the urge to change my surname. Ever. It's a simple misogynistic tradition that seems benign but builds up the toxic patriarchy" – Nisha*
"I took my husband's last name by choice because I thought it would be great for my children also. 1 family, 1 last name. But it should never be forced onto someone, everyone is entitled to choose." – Dia*
"As the daughter of a woman who didn't change her name after marriage, I have seen it be the norm, not the exception in my family. And the most important thing that helped me shape my worldview was a super progressive dad who made sure to impart the same freedom onto me" – Duhita*
"I know some women who are worried that there might be some legal implications if they don't change their name, need to know the law. I just want to be clear that it is absolutely legal to not change your surname after marriage. And also, it has no effect on your children." – Bhavna*
"It's been ages since changing surnames has been a choice and we all need to be aware of it. Also, there shouldn't be any questions about this because just like men, women have the freedom to choose." – Charu*
"Nowadays women are established, successful and literally made a name for themselves unlike the older times when men owned their wives and children, It was more of a brand of ownership. When marriages were an economic transaction it signified a woman as husband's property. Changing surname is centuries of social conditioning and acceptance of a norm that is clearly misogynistic. I am not an asset, I am an individual." – Faraana*
"You know what I think is nice? Just add his last name. No need to change your surname, it's simple!" – Kiyara*
"People who live in medieval times think that women can't have a choice. How is my power only limited to changing my surname and leaving my family for a boy? We all are much more aware than this old age brainless tradition. I come from a family where females are treated as equal and given their choices and I am proud of it and I would like every woman to have it." – Deepika*
"Totally agreed, society doesn't have the right to pressurize her on this. Obviously, women should always take decisions by their own choice, not by what others say or do." – Mariam*
The topic of changing one's last name after getting married has swayed significantly in recent decades, and even more so in recent years. As with most things wedding-related, couples now feel empowered to adopt the traditions they connect with and skip the ones they don't. Though our dadi/nani's generation might not have thought twice about a woman changing her name shortly after marriage, there are a number of reasons why you may be weighing your options because there's absolutely no rule that says you need to trade in your last name for a new one!
Disclaimer: Please note that the responses have been translated and edited for clarity. Names have been changed to respect privacy.
Do you have a story to share or an experience you would like to highlight on TC46? Connect with us on Instagram today!