Three out of the seven 'sharks' in Shark Tank India were women—women who have made a name for themselves as successful entrepreneurs in their chosen fields. These are tell-tale signs of women making great strides in entrepreneurship and otherwise. They've earned it with their passion, ambition, persistence, and vigor. It is the age of the entrepre-naari and there are more women than ever in the Forbes list of rich and successful people in leadership positions.
As we near International Women Day (8th March), TC46 takes this opportunity to celebrate the women who are all set to be the movers and shakers in their category.
1. Nish Hair
A self-confessed multi-preneur of today's world, Parul Gulati's brainchild Nish Hair aims to disrupt the Indian hair extension market. Nish Hair is a hair extension venture by women and for women. Apart from hair extensions, accessories like Clip-In Bangs (so you don't have to cut your own) and extensions that aid in increasing the volume and length of hair—the brand has it all.
Not just an entrepreneur in the beauty segment, she is also an actor and a content creator. She started Nish Hair on 6th August 2017. Parul, passionate about hair in general, was driven by the zeal to convert her love for hair into an entrepreneurial venture. She realised that she wanted her brainchild to be true to herself and reflect her love for hair. Nish Hair owes its name to Parul's nickname, Nishu, the name given to her by her mother.
Being a creative individual, making a difference has always inspired her. From being an actor to an entrepreneur, giving back to people motivates her. Hence, she finds joy in spreading it and contributing to confidence in women lacking it due to hair deficiencies. She strives to normalise hair extensions and give people a second chance at celebrating their lives.
As a part of the beauty and entertainment industry, Parul puts her all into making hair extensions accessible to the target audience. Hair extensions are a step ahead of wigs that people have been acquainted with for ages. Although hair extensions are not a new concept, she believes that the high-quality pieces are generally inaccessible to the audience who would be interested in these. She has observed that the market is flooded with synthetic hair strands that are not versatile enough. And that's how the idea behind Nish Hair came to her.
Each extension at Nish Hair is developed from 100% human hair. They are carefully hand-selected and stitched with great precision to make them last longer. Each process right from sourcing to production is undertaken in a clean and safe environment, and in an ethical manner. With a host of women suffering from hair-related conditions like hair loss, hair thinning, alopecia, damaged hair, hair extensions is the only way ahead. Not just health conditions, women may want to go for hair extensions as a cosmetic solution too. No wonder, the brand now reaches out and caters to a global community, and ships worldwide. A brand that started with two people—Parul and her mother—stitching together every piece of hair extension, has now grown into a dynamic team of professionals who value performance, culture inclusivity, and courage.
Her hair extensions and accessories are available between the range of Rs 999 and Rs 32,999. The brand's bestsellers are Hair Toppers, Clip-in Bangs, and Clip-in Hair extensions for length and volume. She offers her products through her website, Instagram, and Android app. Nish hair is also available on Amazon.
Check out Nish Hair's website and Instagram
2. Cupik Design
Sheetal Goel of Cupik Design—India's first and largest personalised stationery and gifts platform—founded her entrepreneurial venture in 2012. Before Cupik Design came into being, she had her first internet startup at the age of 21 years. After that, she started her independent brand management firm in 2009. The idea behind Cupik Design was sown when her little one started pre-school. She realised that she had to label everything that her kid would take to school like her bag, bottle, snack box, and a teddy bear with her name. However, despite searching for such labels everywhere, she could not get her hands on cute, classy ones that her little one needed. Sheetal created a few labels with fun prints for her. The other moms were taken by these labels and started asking her to make similar ones for their kids too. And, hence, Cupik Design was born.
Sheetal began to experiment with various types of personalised stationery products. Her aim is to innovate with these personalised products, whether they are meant for preventing the loss of personal belongings or to save time, or gifting cute hampers to your loved ones. Her entrepreneurial venture specialises in premium stationery products that target everyone right from kids, teenagers, and couples to corporate professionals. Mothers of young kids reach out for personalised school supplies and amazing return gifts options. On the other hand, the products are also relevant for corporates looking for useful gifts for employees and clients.
Sheetal has an ever-evolving range of useful personalised products, ranging from stickers, art materials, and room decor for kids to gratitude journals, planners, and rewritable notebooks for adults. Her specialisation lies in creating and shipping out single-piece personalised products across India and abroad.
The bestsellers at Cupik Design include 'Back to School' range of personalised stickers, gratitude journals, gift notecards, reusable notebooks, daily planners, pencils, and art supplies. The average price of these products varies from Rs 300 to Rs 2,500. Cupik Design sells through their own e-commerce website and mybabybabbles.
Check out Cupik Design's website 
3. Alkymi Media Pvt Ltd
Alkymi Media, founded by Nikita Bachani, is a new-generation Public Relations venture that aims to provide bespoke and innovative solutions to brands and companies. Incepted in 2020 and headquartered in Pune, India, Alkymi takes inspiration from the Danish vocabulary for the word 'alchemy'.
Her mission is to create the most authentic positioning for her clients across industries that are engaging in one-on-one communication with the end consumer. She envisions Alkymi Media as one that will elevate each brand to its fullest potential. It is her objective to diversify into different verticals.
Staying true to the brand name, which stands for modification of an element into gold, Nikita strives to transform products and services into a brand with a distinctive identity. Working in the communication industry for a solid 6 years, Nikita has played an integral part in co-creating sound and robust marketing and positioning strategies for some of the most iconic brands across industries. These industries include high fashion, luxury brand management, corporate communications, and so on. Her vast experience in working with the best brands in the industry has played an essential role in building stronger relationships with the Indian media. She has a Masters' degree in Luxury Brand Management from London, which gives her in-depth knowledge about her field.
Nikita believes that stories are waiting to be told and great stories happen to those who can tell them. Every brand is like a great story that is waiting to be unraveled. Nikita is driven by her passion and commitment to leverage the power of imagination and bring ideas to life through her bespoke Public Relations venture. For her, every brand is unique and is a product of immense hard work. Hence, she believes that she can only do justice if she treats them as her own.
"People learn from their experiences or from others, but a wise man learns from both." These words spoken by her sister have stuck with her and she derives inspiration from them to this day. These pearls of wisdom propel her to be the accomplished and determined entrepreneur that she is today. She carries these words forward while playing a pivotal role in managing teams that aid brands to create a positive reputation, deepen customer relationships, identify new business, and reach their desired destinations.
Checkout Alkymi Media Pvt. Ltd.'s website
4. Games Knight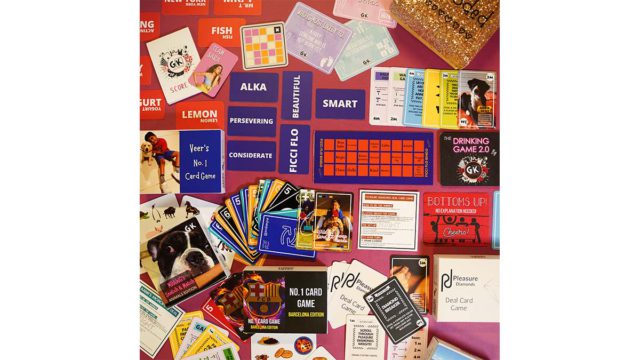 Games Knight offers a variety of exquisitely personalised card and board games. Their mission is to take the games people love playing and recreate them keeping their customers in mind. The brand strives to personalise every single element of the games they create, so that they translate into the most perfect possible gift, for anyone and any occasion. With each of their offerings, Games Knight aims to enchant their target audience into an experience rather than solely offering them a product.
The brainchild of Mridula Gupta was launched in September 2020 after she quit her corporate job to indulge her creative side. The 'eureka' moment came when a friend of a friend wanted to create a personalised game and could not find anything. So, she decided to step in and help in creating the game from scratch. That's how Games Knight came to its inception.
The extremely versatile brand caters to literally everyone because everyone, across ages and genders, likes to participate in fun board games. The games are very adaptive to every individual, business, and industry. Games Knight specialises in offering a range of about 20 different products that include card games, board games, personalised wooden puzzles, and music plaques. Their bestsellers are The Code Game, Snatch & Match Game, Ludo, and Puzzles.
Every game is personalised to individual preferences and no two games are the same. The price range of these games vary between Rs 2,000 and Rs 13,000 and sell through their Instagram page.
Check out Games Knight on Instagram
5. Buzzing Bees
Buzzing Bees, started by Gayathri Vamsi in July 2018, specialises in offering Parenting Workshops, Teacher Training, Phonics Classes, Reading Clubs, Emotional Intelligence Workshops, and Mystic Mythology (Sloka Chanting Program). Armed with an MBA, Gayathri is also a Memory Trainer and a fitness enthusiast. In short, she provides holistic education to children and adults in a creative and fun environment. Gayathri's entrepreneurial venture enables her to combine her passion for teaching, working with children, and leading a healthy lifestyle.
Gayathri discovered her passion for teaching while she homeschooled her children in the US. She designed innovative curriculums and devised effective methods of teaching through fun activities. Her efforts won her accolades like the US Presidential Award for her exemplary contribution in the educational field as a volunteer.
By the time the pandemic hit (she had already returned to India by then), her registrations shot up and reached more than 2000. This encouraged her further to realise her entrepreneurial dreams, led by the motivation that passion never fails.
Among the various workshops that she holds from time to time, Kiddies Kitchen deserves a special mention. The 100 plus families that participated in the online workshop were creatively taught about healthy eating habits, which Gayathri believes is an essential component of parenting. Here, she introduced her culinary skills as a medium for educating and inspiring young children.
The bestsellers of Buzzing Bees are Phonics Training, Mystic Mythology, Emotional Intelligence. The brand targets children aged between 5 and 13 years of age, parents, and teachers. The packages, available both online and offline, range between Rs 1,500 and Rs 7,500.
Check out Buzzing Bees on Facebook
6. The Purple Unikorn
The Purple Unikorn, a venture in the personalised green gifting space, solves the real dilemma of gifting. The brand specialises in green, personalised, custom-made gifting options for the modern eco-conscious generation, and is a great option to spruce up your home decor too.
Shakti, the founder of The Purple Unikorn, says, "As it's rightly said, we can't buy happiness but we can buy plants, and that's pretty much the same thing." The brand is driven by the idea of making something special for each customer. Shakti points out that research indicates that people can spend as long as 14 hours a day looking for that perfect gift. However, 75% of the time the gift is soon forgotten or is not put to any good use, or is not aligned with the preferences of the one receiving the gift. Indians, being emotional by nature, like exchanging gifts. This makes the Indian gifting market a flourishing business and one of the largest growing markets in the world.
A miniature garden silently speaks a thousand stories. It may be a reflection of their client's personality or may stand for the gift owner's achievements. Whatever the story behind the gifting is, the brand focuses on the B2C personalised gifting space. However, it also caters to corporate gifting and return gifting for weddings and other special occasions. The brand takes the green gifting game a notch higher by closely collaborating with landscape companies for their miniature garden requirements. This helps them in reaching out to the audience looking for exports in the indoor garden space.
The Purple Unikorn doesn't just target the Indian market but finds interest among millennials and couples living abroad as well. A sizable section of their revenue is generated from parents who want to initiate their children to an innovative and relaxing hobby like gardening. You can get in touch with The Purple Unikorn through their website and Instagram.
7. BuzzTiger
Srishti Rishi had come up with the concept of BuzzTiger with the objective of running a platform that keeps people updated about the everyday events planned in restaurants, bars, clubs, and lounges in their vicinity across locations.
With a B.Sc in Business from the London School of Economics, she observed during the business development phase, that the changes for outsourced marketing efforts were extremely high. She realised that there must be a lot of startups that are finding it challenging to hire an outsource company due to financial constraints. That's when her first business idea took a complete u-turn and she built a team together for promoting startups and SMBs through marketing, branding, and technical solutions at pocket-friendly prices.
Now, her product offering has widened with the brand specialising in HR and Legal domains as well. They collaborate with different brands, individuals, influencers, and celebrities, both online and offline. BuzzTiger is not just restricted to India now but has clients in Melbourne, Australia, as well. The clientele includes decor, hospitality, property, clothing, apparel, FnB, machinery, gaming, and the technology industry. You can get in touch with the brand through their Facebook, Instagram, and LinkedIn pages or connect with them via email.
This women's day, let's focus on less talk, more action and support innovative women-led businesses that deserve our cheer. Shop from them, like their posts, follow them on Instagram, it takes very little on our part to put our money where our mouth is if we truly hope to support the entrepre-naari.
Check out BuzzTiger's website