For a large section of the country that labels women who drink as immoral, it is quite hilarious that wine is largely labelled as a woman's drink. Again, despite being waved off as a comparatively subordinate alcoholic beverage than those that are considered to have machismo, a woman sommelier is frowned upon. Alas, the world is full of meaningless contradictions. But it isn't all that bad when you know how to hold your own. And that's what Devati Mallick does to spearhead a wine consultancy business.
In collaboration with The Channel 46, Devati Mallick, Founder of Drink With D Wine Solutions, sheds light on how she laid the foundation of her entrepreneurial venture and her milestones. She also offers advice to youngsters nurturing dreams of joining the field and expert tips on getting started.
1. What is your educational and professional background?
I've been in the hospitality industry for almost a decade. I started my career as an undergraduate intern with the Oberoi Group and then received my postgraduate management training from the coveted Oberoi Centre of Learning & Development. After that, I spent a couple of years managing the bar and beverage programme at the Oberoi, Bangalore. I guess this is when I was drawn to the world of wines and spirits. In 2022, I launched Drink With D, a full-fledged wine consulting, education, tasting events, and wine marketing firm. Prior to this, I also spent two incredible years leading KRSMA Estates, a boutique wine brand from Hampi, Karnataka.
2. What prompted you to become a wine sommelier and start 'Drink With D Wine Solutions'?
In fact, it was quite a revelatory moment that inoculated the quest in me to learn about wines. While working in the restaurant during my early internship days with the Oberoi, a wine service at a VIP table went horribly wrong, followed up with an irate supervisor giving me a piece of his mind – was the start of it. Initially, I took to reading about wines as a part of my training in Food and Beverage, but I quickly got hooked on to its fascinating world. I eventually pursued wine certifications to study the beverage at an advanced level and even took part in sommelier championships. I enjoyed every bit of this phase, and working in the bar helped too. And before I knew it, my sommelier journey had long begun.
I've always had the desire to eventually do something on my own. Maybe run a restaurant business or something similar – it had to do with being in the food and beverage industry. The plan evolved once I began working as a sommelier to open my own wine and dessert bar (who knows, that still might be a possibility?). Sometime before the pandemic hit us, I started blogging about my wine encounters on my Instagram page, along with the hashtag #drinkwithD (something I had randomly thought about at the time). Here I would share my current favourite wines, snippets about wine stories, simple skills to pick up on wine service, tips etc. in a fun way – that really started to connect with people. As it caught attention over time, DWD became a platform on my page for people to connect over wines, learn from my experiences, and in general, debunk the whole notion of 'intimidation' that surrounds wines.
At the time, I was thinking of the next big thing in my career, and the passion to bring people closer to this incredible beverage, driving an inclusive wine drinking culture, and making wine education fun and accessible to everyone led to the creation of Drink With D Wine Solutions and kicked off my entrepreneurial journey as it is today. DWD is a strategy-driven, sommelier-led wine consulting firm, offering a plethora of creative 'wine solutions' to F&B brands. Right from curating wine menus, wine masterclasses for service staff, experiential wine events, representing wine brands, and driving wine sales through engaging wine events to generic, fun wine tastings for corporate teams or for individual enthusiasts – we have it all.
3. Did you always want to work in this space?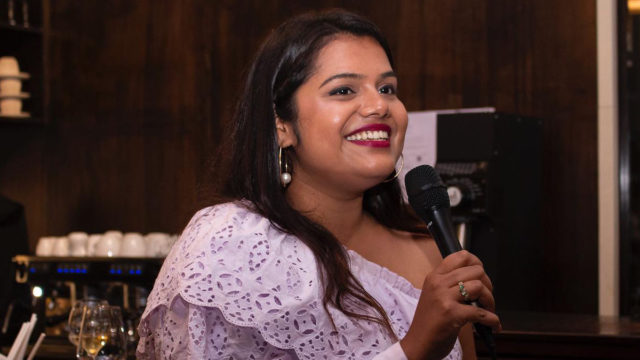 Not even the slightest! During my high school days, I wanted to become a CA or work in finance like my older sibling. I even enrolled in a B. Com. programme at a prestigious college in Bangalore. A chance application to the Oberoi Group's STEP, a 3-year on-the-job hotel training programme led me to explore the opportunity, and before I knew it, I was on a train from Bangalore to Agra (I was placed for an internship at The Oberoi, Amarvilas) to pursue the course. One thing led to the other, and I think it is safe to say that ten years later, I had found my calling in the wine world.
4. What was your first milestone? And how did you get there?
There have been so many, each special in a way. From achieving the toughest wine certification I have faced up until now, the Certified Sommelier level by the Court of Master Sommeliers to winning the Indian Sommelier Championship in 2018, I was the first lady to win the title in the competition's 11-year history! They have always been great milestones for me. I have a new set of them right now too – getting my first stack of business cards, hosting my first independent wine tasting event, and signing DWD's first project contract—I am smiling as I write this! Each of these tiny – or huge – successes has contributed to what I have set out to build, one block at a time.
5. Tell us about your journey in the wine industry?
I started by approaching the most humble way of learning – reading. The big, fat, endless volumes of wine books were fascinating to the 'book worm' in me. Even today, despite the abundance of online resources on the topic, I prefer reaching out to my trusty wine books! Over my time in the various luxury hotels I trained in and worked at, I met different people who would teach me new things about the beverage. The Oberoi is known for its class and style, and I had the incredible opportunity to learn from the best in the industry – wine service, etiquettes, the confidence to talk about wines and sell them, tasting some remarkable wines from their extensive wine lists, and interacting with kind guests who taught me so much about their respective wine cultures from back home.
When I was managing the bar at the Oberoi in Bangalore, every day was a new experience. I was preparing for wine exams at the time, and I recall juggling between the long shifts and trying to study at the same time. Passing on the wine knowledge to my bar team through training helped immensely – and they loved the daily wine tastings too (albeit in minute proportions during work hours)! Eventually, I moved on to working with KRSMA Estates, and the two years I spent here was equally enriching and fun. I was doing tastings, wine dinners, training hotel staff on KRSMA wines, and even spending a considerable amount of time at their vineyards learning everything about wines right at the source. I loved it!
6. Do you have any advice for an aspirant who wants to enter the wine industry?
Firstly, anyone, and I mean anyone, can pursue a career in the wine industry. Being a sommelier is just one of the many different options you could follow. Maybe winemaking interests you. Or creative writing on wines. Working in a wine retail store. Be a viticulturist. And while you can hone your skills in each of these paths individually, I may have some common advice that could help:
Get experience. Intern. Learn the ropes of the job from the ground up. If you're confused about what to pursue, try interning in different fields of wine. It may not be glamorous, but it is a crucial first step on to the ladder.
Wine education. Take some courses and certifications. I'm going to say that it isn't a must to achieve all of the world-renowned wine certifications, but having said that, they are beneficial, they hold value, and they help set you on a path.
Tasting. Tasting. Tasting. I cannot stress enough on the importance of developing your palate for wines. And this is one of the primary drawbacks we face as upcoming wine professionals is the lack of proper tasting opportunities. The best way is to make wine tasting groups, try and taste whatever you get your hands on, and learn from every tasting.
Travel. Try and incorporate visiting a vineyard at least, even once during your wine journey. It is an unparalleled experience, it gives you an immense wealth of information that no textbook can ever give you.
Lastly, stick to it. Many starting roles may not pay well, especially compared to your peers in more corporate jobs, although I think it certainly gets better eventually. Instead, enjoy the perks of working with such a fascinating beverage. Trust your instinct, and maintain your fascination for wine. It is truly one of the most fulfilling and enjoyable jobs to do!
7. Are there any online/offline courses you would recommend?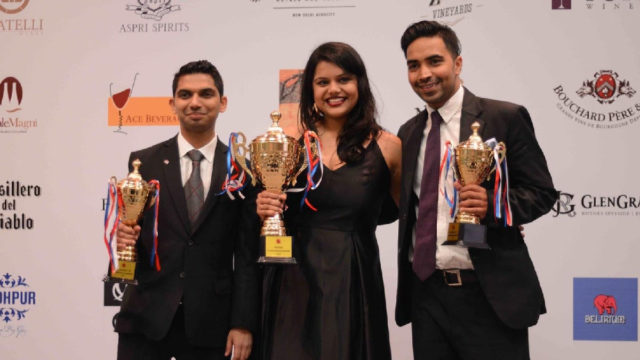 I would recommend:
A) The WSET courses that happen all year round by different providers at regular intervals. Their course curriculum is great for someone wanting to learn about wines purely for interest and not for a career, or for someone pursuing the educational/winemaking/trade side of the wine industry, and
B) The Court of Master Sommelier course is organised once every year in India (only the first two levels). This is a slightly more intensive course that assesses your practical wine service skills along with technical proficiency. Sommeliers working in restaurants can benefit from this course immensely. Anyone interested could look up their pages and find more details on the upcoming course dates.
Apart from these certifications, there are many online workshops and offline tasting events that happen. Drink With D curates such wine tasting events between Delhi, Gurgaon, and Bangalore that are open for anyone to book.
8. What are some ways to connect and network with people to generate work opportunities?
It is imperative to build a strong PR network of your own – both personal and professional. Building a credible and reliable reputation and goodwill in the industry goes a long way too. A lot of my work leads come from friends in the industry, ex-colleagues, previous work clients and acquaintances, and guests who I have hosted tastings for! Staying connected with each of them is integral, and keeping them informed about all the new things I'm doing, my events, etc. helps get the word around. In the age of social media, it has become so much easier if one decides to put their heart to it. An updated LinkedIn, Instagram, and website profile to back your business goes a long way to getting good work opportunities – never underestimate the power of social media!
9. What are some challenges faced by women in this industry?
I wish I could say otherwise, but the alco-bev space in the country is still regressive for women in many ways. The general stereotyping and social taboo surrounding women working with alcohol, and the fact that largely, this is a male-dominated space are challenges in itself. I have personally experienced situations of being written off for being a woman, mansplained for by my bosses, and told that I (at this age) couldn't possibly be an authority telling people what to do and what not to do with wines, a beverage 'perceived' to be ideal for the more mature crowd. Many times there may have been an implication of my success coming possibly from the fact that I am a 'woman' and 'had it easier than the rest as opposed to my knowledge and expertise on the subject.
But on a positive note, things are changing, as more and more women achieve great things in the Indian wine scene, excelling in every field from being top winemakers, and wine-writers, to sommeliers and wine entrepreneurs. Together with them, I merely hope to inspire the numerous other women dealing with these challenges. I also want to encourage them to believe in what they bring to the table, build their resilience a little bit every day, and perfect their work so that no one can find fault in it.
10. How has your business pivoted after the lockdown and in light of the pandemic?
I launched DWD after the lockdown phase, and while the pandemic has been extremely challenging for all the industries, it has particularly been so for the Food and Beverage industry. On the plus side, things have just started to look up for them, although it is quite the road to complete recovery. My work mainly involves liaising with the F&B industry, and I hope to work with them in a way that sensitises this fact, while also adding value to their operations at the same time.
Open up like never before and participate in conversations about beauty, entrepreneurship, mental health, menstrual & sexual health, and more. Desi women, join our community NOW!