There is no denying that Indian love everything about weddings. From decor to floral arrangements and food and booze to music, desi weddings have it all. But one thing that stands out from these favourites is the shaadi ka lehenga. Wedding couture is a huge market in India with tons of designers, labels and brands displaying a plethora of collections, styles and make. So what makes a label stand out from the crowd and please the bride, groom and the endless stream of relatives? It's the novelty, uniqueness and exclusivity of the apparel that appeals to most people.
And Megha & Jigar have hit the target on the head with their exceptional quality and customisations that are highly artistic, stylish and utterly sophisticated. In conversation with TC46, Megha & Jigar highlight the journey of their namesake label, how it came into the limelight and the importance of creating a presence, both online and offline.
1. What's your educational and professional background?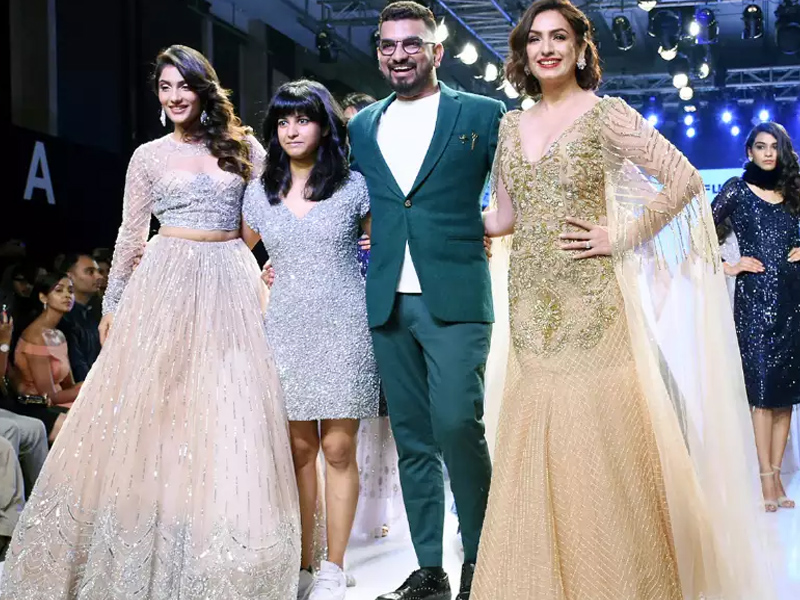 Megha Kumari, alumni of JD Institute of Fashion and Designing, Delhi, always had an eye for designs and details, envisioning herself as an entrepreneur and a business head wherein Jigar Mali was also an alumnus at JD Institute of Fashion and Designing, Delhi, he went on designing costumes for commercial films. He worked on styling projects in movies like 'Do Dooni Chaar' and 'Reincarnation' which had also been invited for an International Film Festival. Established in 2013, Megha Kumari and Jigar Mali, two highly innovative designers had created some of the most exclusive and remarkable collections for their label.
2. What prompted the idea for 'Label Megha & Jigar'?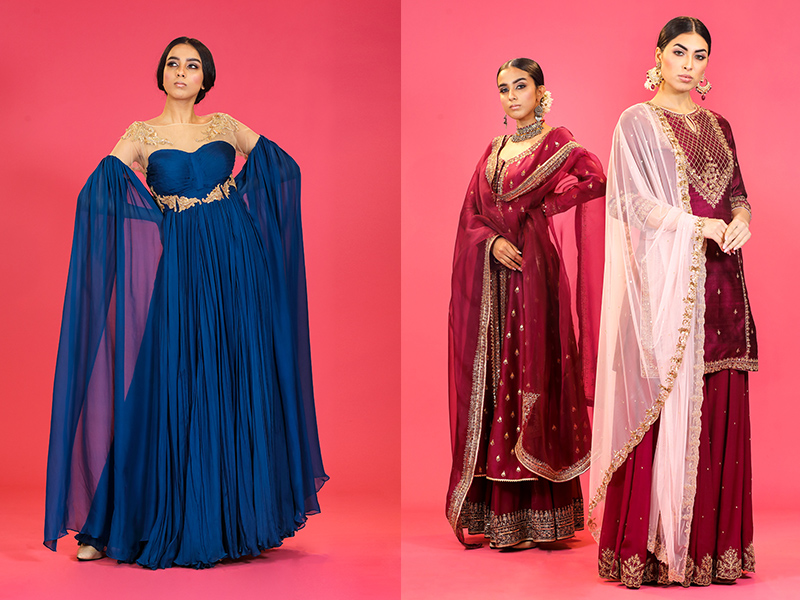 Both co-founders, Megha Kumari and Jigar Mali had an eye for designs and details from the very beginning. However, when both the couturiers met in college at JD Institute of Fashion Technology, Delhi, they soon came together to infuse their unique blend of embellishment with rich colours, delicate forms with the structure to create the Label Megha and Jigar. Beginning their journey with only Rs 4500 in hand, Megha and Jigar had now turned the tables around and have created a well-renowned label of their own. The label has an aesthetic that is traditional and royal in its treatment yet with a contemporary modern touch. Refined luxury, meticulous tailoring, and classic elegance are their signature style.
3. Did you always know you wanted to work in this space?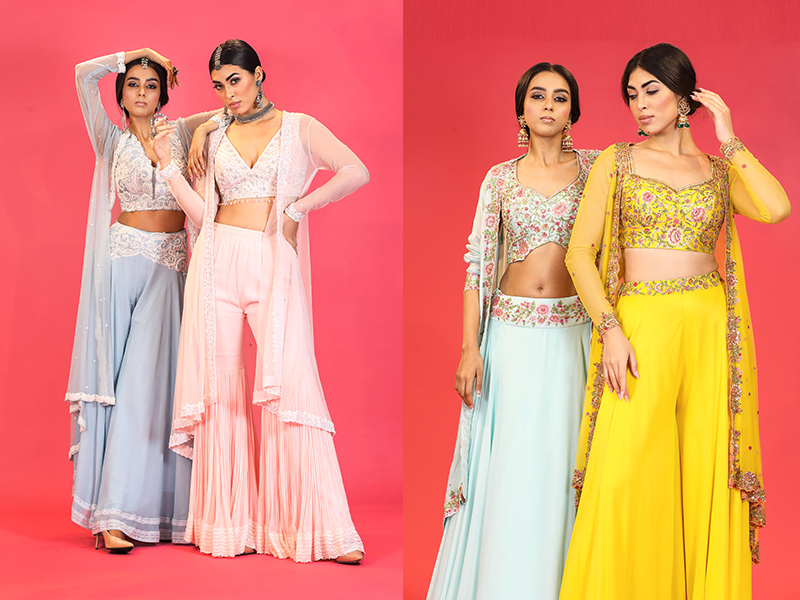 Fashion Designer, Megha Kumari always envisioned herself as an entrepreneur and after entering the world of couture, creating this label was a perfect opportunity to infuse her business and design dreams together wherein, fashion designer Jigar Mali, always dreamt of being in fashion. During his early childhood, he used to redesign the outfits he saw in the magazines of then Miss Universe, Sushmita Sen, and Miss World Aishwarya Rai. During his college days, he aced at designing and sketching and also started designing costumes for commercial films.
4. What was your first milestone and how did you get there?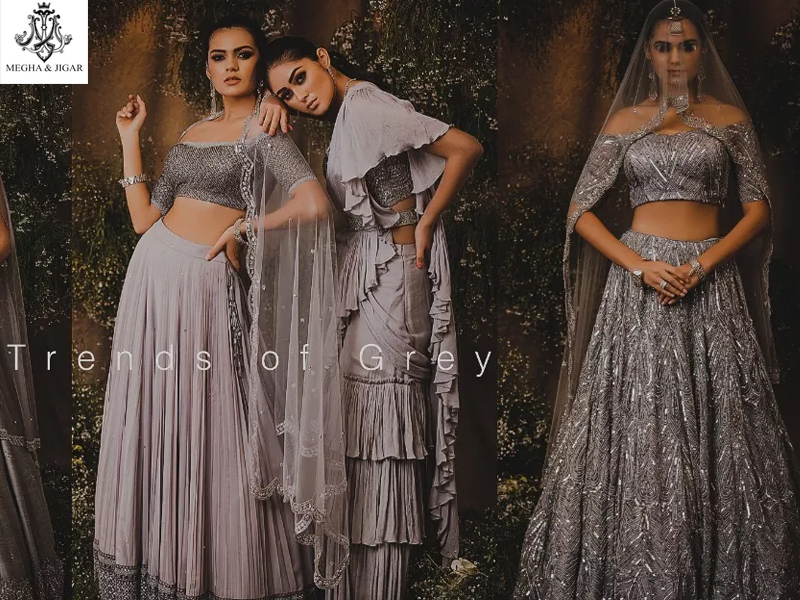 From the many milestones we have encountered, the most initial and essential one would be when we received an opportunity for Blender's Pride Fashion Week where we had Nimrat Kaur and Neha Dhupia as our showstoppers for our couture gown collection.
5. What are your tips for an aspiring entrepreneur who wants to enter this space?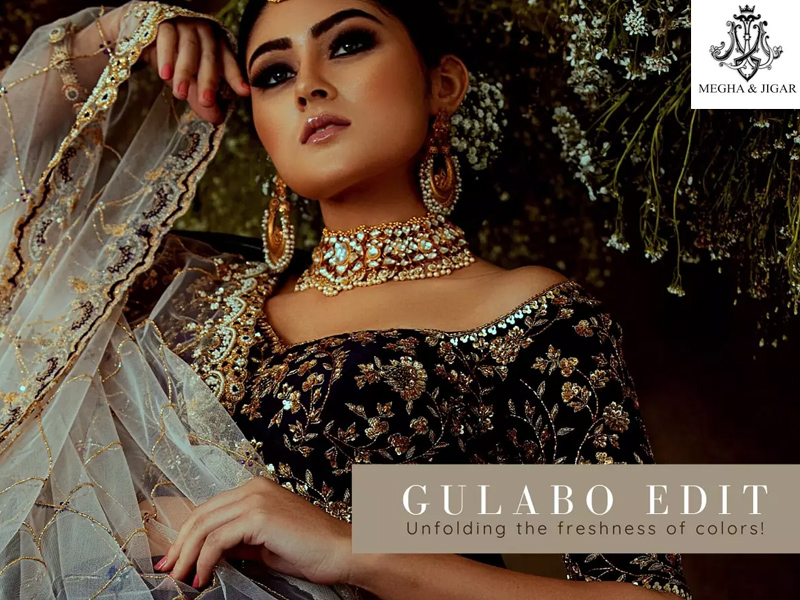 Hard work and consistency are what we would suggest for any aspiring entrepreneur who would want to enter into the industry of fashion. Creativity will get noticed and patience and calm are what you need to have to maintain yourself as talent always pays off.
6. What were the 3 best business/financial decisions you made?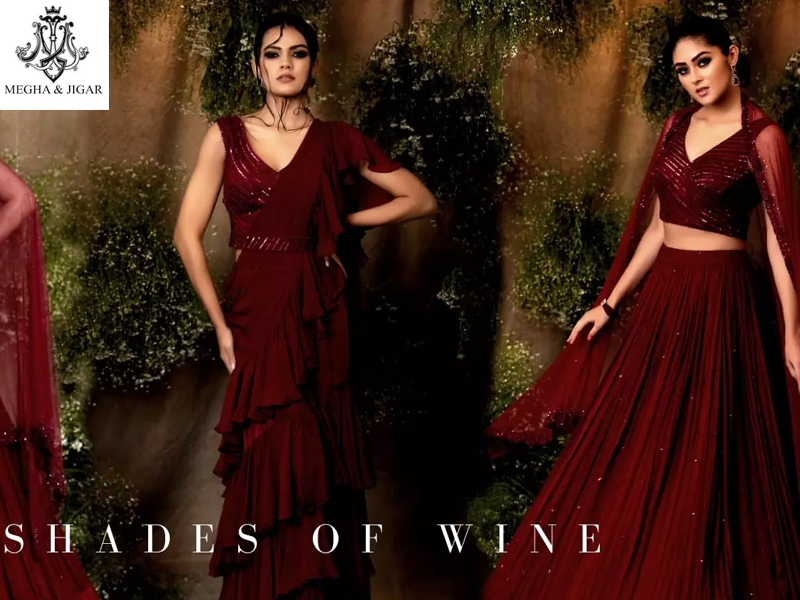 The best decisions made for Label Megha & Jigar would be to create a presence, both online and offline for the target audience to choose and see the offerings. You can now find Megha & Jigar at various multi-designer stores with our designs.
Another decision that worked wonderfully was to launch a store of Megha & Jigar in California, US. Label Megha and Jigar now have a global presence.
Finally, the best decision we made was to curate complete couture for all the festive wedding functions, starting from engagement to reception. The ordeal was to not only limit it to the bride but also to the bridesmaids and others to make the most out of their close people and themselves. We believed in bringing people together for their special days and we are happy with our decision.
7. How long did it take you to monetise your venture? What was the turning point?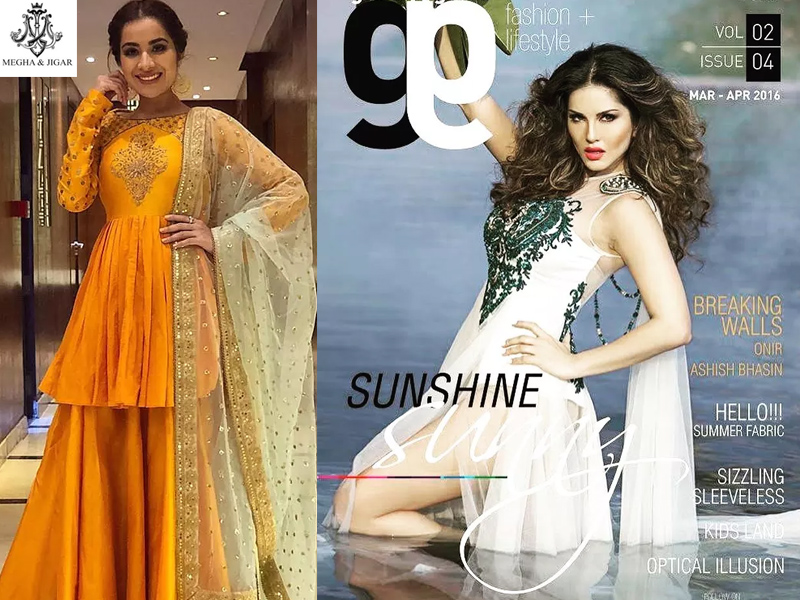 The idea of opening a fashion label doesn't stop with a store, it brings a lot of hard work and challenges in the way. It was 2 years after we started our venture when we eventually started to monetise. The turning point of Label Megha & Jigar would be when it came into the limelight with various celebrity sourcing like Vidya Balan, Kareena Kapoor Khan, Sunny Leone, Tabu, and so on. Once we came into the limelight, we figured there was no turning back.
8. Are you looking for funding/have acquired investment/intend to bootstrap your business? Can you share some figures/financial details?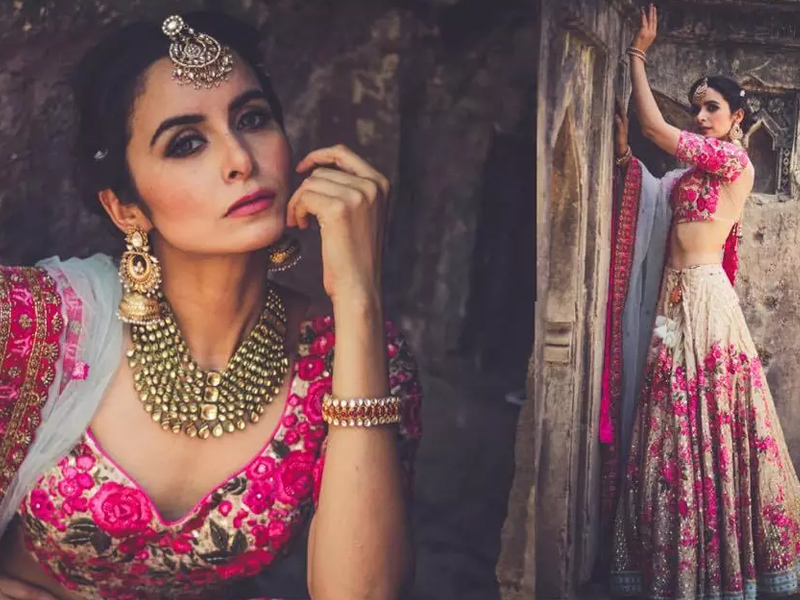 Couturiers Megha and Jigar began with Rs 4,500 and a machine for the label as we did not want to take a loan or lend money and wanted to start with something on their own. Slowly and steadily we engaged more and more into the label and with our basic investments, we made it where we are today. Although, we are open to funding if we find the right person to invest who would understand the vision and motive behind Label Megha & Jigar.
9. Who are the key employees/vendors you need to secure to work in this space (the first 3 hires/vendor partnerships)?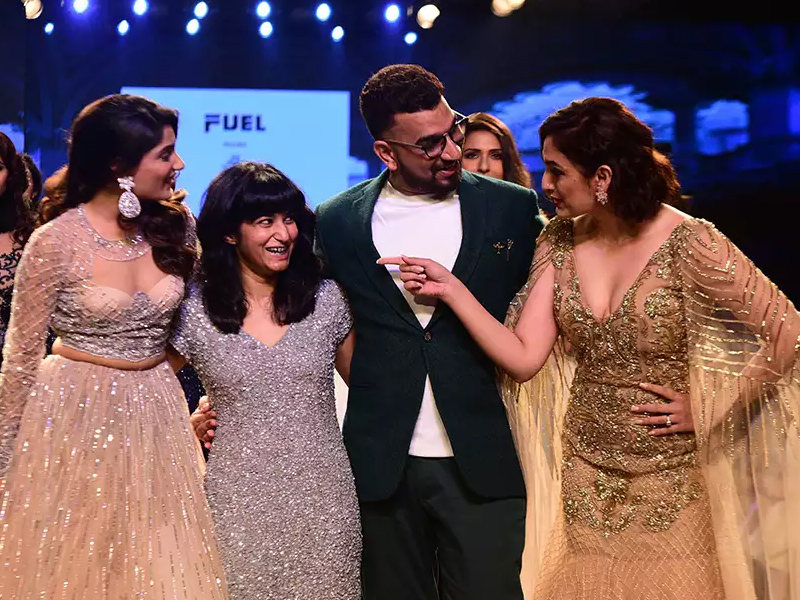 The key vendors one needs in this industry is the presence of your venture in various multi-designer stores. The availability and precision of your label will work the best in the fashion industry. The vendor partnerships we have are more than 22 all over the globe starting with Fuel, Pernia's Pop Up Shop, Elahe to name a few.
10. How do you intend to scale up/expand your business in the next 5 years?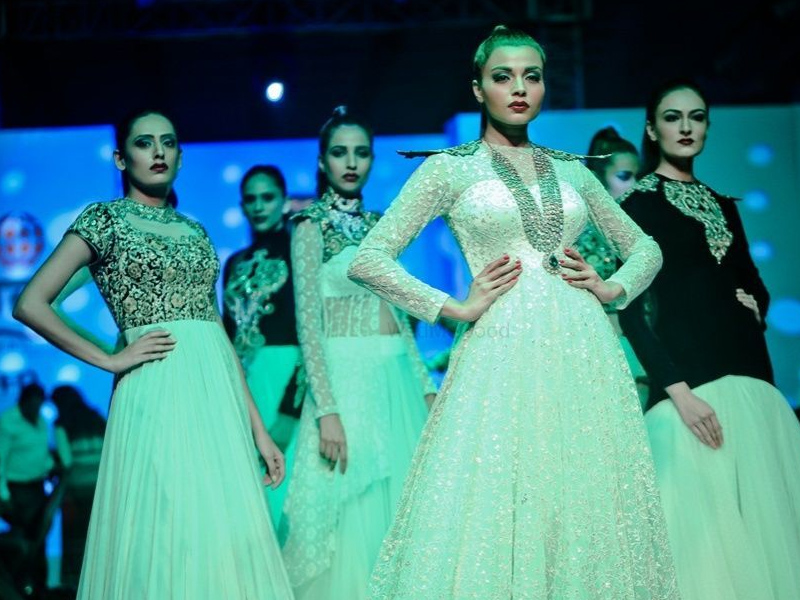 With the ongoing pandemic and preservation of our conservation, Label Megha and Jigar is on the go for sustainability. Here, eco-friendly products are used too to maintain sustainability and different styling of the garments are a definite word for Label Megha and Jigar. Our goals are to produce lighter pieces for people to be able to use on various occasions with style and elegance. The portrayal of outfits in various ways is what we are going to show in the near future for people to use one garment in multiple ways. We would be keeping an eye to produce more eco-friendly garments for our consumers along with a pocket-friendly budget.
"We really want to give Indian fusion a contemporary style as I hail from parts of Rajasthan and Gujarat and with a blend of these places, we always want to provide a fusion touch in each of our collection", says Jigar Mali.
He shares, "Label Megha & Jigar had recently launched their new pret collection, 'Maahru – A Prelude to 2021'. It is a mood to shine with new beginnings of one's life, engraving the dreams in the most splendid stories of their beliefs and blessings with harmonising colours, showcasing the shades of the year 2020 with the vision of new lives and new beginnings in the year 2021. Representing its pret collection, it has a trendy and contemporary style in itself, exclusively designed for the modern woman. This collection is a reflection of the dreams and the vision of a modern woman spreading her arms with elegance and power with a tinge of her sensitivity. Megha & Jigar is also soon to launch its Festive Wedding Collection' 21."
Think you're a Self-Starter or know someone who is? Drop us an email to be featured on The Channel 46 at [email protected]
About Self-Starters
We spotlight inspiring women who are entrepreneurs or have skill-based passion projects and are willing to share knowledge, advice and tips about getting started in the space. Each Self-Starter's story will be highlighted in a prime slot on the Homepage for a whole week, after which their story will appear under the 'Work' category on The Channel 46.