Sonakshi is not the first or one of the few Bollywood divas to have jumped onto the entrepreneurial bandwagon. There are a host of other actresses who has embarked on being entrepreneurs and investors of budding start-ups, considering the smart individuals that they are. Beauty with brains, did you just say?
So here's taking a look at Sonakshi's recent entrepreneurial ventures.
Sonakshi Sinha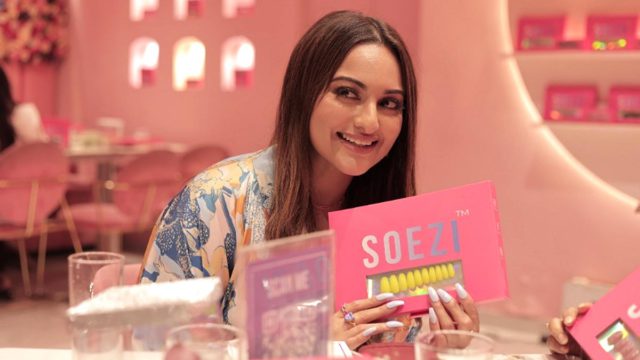 Sonakshi Sinha co-launched her premium press-on nail wear for millennials on 12th May, 2022. The nail wear is currently available in two kits – one, the "Ready to Wear" kit which includes 20 press-on nail tips, and, second, the "EziON & EziOFF Experience" kit. The products are available in an exhaustive range of hues that match the varied sensibilities of millennials and every outfit that they wear, is irresistible for the occasion. It claims to be mindfully curated not just to add sass to its style quotient, but also to offer reliable quality and affordability. The thought behind the brand product is to make the nail game less time-consuming and with zero hassles.
If you don't already know, SOEZI is not Sonakshi's first brainchild. She had set sail on her entrepreneurial journey with PLANTAS, a cruelty-free, vegan, sustainable, organic personal care brand, launched in December 2021. The products are free of artificial colours and fragrances, chemical preservatives, and parabens.
Here's listing such Bollywood divas to inspire you to #BeALittleMore and get set go on your entrepreneurial and investment dreams.
13 Other B-Town Actresses Who Have Become Entrepreneurs & Investors
1. Katrina Kaif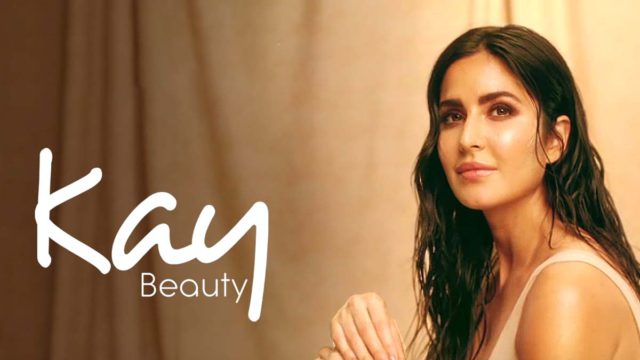 Katrina is one of the leading investors of the much-celebrated beauty e-commerce platform, Nykaa. She has been an investor with this company since October 2020, about a year after having launched her own beauty brand, Kay Beauty, in collaboration with Nykaa.
2. Alia Bhatt
Alia is yet another investor of Nykaa from the tinsel town since October 2020. That apart, she has invested in start-ups like StyleCracker, a Mumbai-based fashion tech company and Phool, which specialises in charcoal-free agarbatti. Alia has also invested in other renowned brands like UberEats and MakeMyTrip. If that's not all, the ace actress owns Ed-A-Mamma, a playwear brand for children.
Read 5 Alia Bhatt Movies That Made An Impact On Aspiring Actors
3. Deepika Padukone
Deepika boasts of a diverse portfolio when it comes to investing in start-ups. Bellatrix Aerospace, a space tech company, Supertails.com, a digital pet care platform, BluSmart, an electric vehicles company – she has it all in her kitty. She has also invested in FrontRow, a learning edtech platform. Deepika also owns a stake in Drums Food International, the parent company of the flavoured Greek yoghurt brand, Epigamia. Deepika co-owns an investment firm, KA Enterprises LLP, which has made investments in Purplle, the beauty marketplace, and Furlenco, the furniture rental company.
4. Anushka Sharma
Anushka was the co-owner of the movie production house, Clean Slate Filmz, along with her brother. She had dorned the producer's hat for her maiden film, NH10, under her production banner. Her production house got off to a great kickstart with this movie garnering rave reviews from critics and audiences alike. However, she recently announced her exit from it citing changed priorities after becoming a new mom.
5. Priyanka Chopra Jonas
Priyanka has reportedly invested close to a whopping 59 crores in Hobert School. The school introduces kids to programming while teaching them soft skills required in a professional setup. The students get the advantage of free education till they become professionally engaged after graduation. The actress had also invested in Bumble, a popular US-based dating app. She became an entrepreneur about a year back with Anomaly, a hair care beauty brand.
Read Lessons On Work-Life Balance From New Mom Priyanka Chopra Jonas
6. Shilpa Shetty Kundra
Shilpa is the proud investor of MamaEarth, a toxin-free skincare brand that has turned unicorn, since 2018. The skincare products are non-GMO compliant and also 'Made safe' certified, which makes it the one-of-its-kind skincare brand in India. Shilpa is also the co-owner of the Mumbai-based restaurant, Bastian, which specialises in seafood. The list does not end there. She has a YouTube channel where she shares her knowledge about healthy cooking and the art of yoga. Shilpa has also launched a health and wellness app called Simple Soulful that hosts expert proponents of yoga, fitness, and nutrition.
7. Malaika Arora Khan
Malaika has recently become the face of Kapiva, which specialises in modern Ayurvedic nutrition products. Reportedly, she owns a major stake in the company.
8. Jacqueline Fernandez
The fitness enthusiast, Jacqueline, has invested in Raw Pressery, a cold-pressed juice company that sells under the name of Rakyan Beverages.
9. Lara Dutta
Lara co-owns the production house, Bheegi Basanti, with her husband. The production banner has produced critically acclaimed films like Chalo Dilli. Not just that, Lara also has a fitness DVD to her name, apart from owning a saree collection in collaboration with Chabbra 555.
10. Sushmita Sen
While her career flourishes on OTT, the former Miss Universe is the owner of Sensazione, a chain of hotels and spas, and also has a jewellery retail store in Dubai. Belonging to the Hindi film industry has inspired her to start her own production house, named Tantra Entertainment.
11. Twinkle Khanna
Twinkle Khanna may not have been a successful actress, as she has candidly expressed in many recent interviews. However, she surely has made a name for herself as an author, having churned out bestsellers like Mrs Funnybones. If not as an actor, she has maintained a tight hold in Bollywood as a film producer.
12. Kajal Aggarwal
Juggling between three film industries in India, Tamil, Telugu, and Hindi, Kajal has recently made a foray into start-up investing with a Mumbai-based gaming start-up, Okie Gaming. As per reports, she is believed to hold a share of 15% in the company.
13. Aashka Goradia Goble
Aashka has joined hands with the Beardo co-founders to launch her cruelty-free beauty brand, RENEE Cosmetics. The brand specialises in a range of beauty products like lip colours, eye makeup, highlighters, and skin serums, among others. The fact that it has recently raised $10 million in funding from Mensa brands speaks volumes about the potential of this cosmetics company.
Are there any other Bollywood divas that you can think of who have become entrepreneurs or investors? Share the names in the comments below.
Open up like never before and participate in conversations about beauty, entrepreneurship, mental health, menstrual & sexual health, and more. Desi women, join our community NOW!