Women have emerged as central figures in everything that they do, but still, men largely rule the roost when it comes to ghar parivar ka financial decisions. A study showed that only about 33% of women make their own financial decisions, compared to 69% of men. It's time to learn more about finances and #BeALittleMore when it comes to taking financial decisions. Because paisa is an essential part of your lives.
Let's help you understand the importance of financial azadi, and how to achieve it as a smart naari.
What Is Financial Freedom?
Let's understand financial freedom meaning. The freedom of taking financial decisions must be everyone's goal regardless of their gender or age. It means you have enough savings, investments, and cash on you to buy that house you always wanted or go on your dream vacation. You can choose a career you've always wanted to and be able to afford an ideal lifestyle for yourself and your family. You can live your life without constantly living off your monthly salary cheque.
Read 10 Things You Should Do As A Woman To Be Financially Independent & Secure Your Future
3 Challenges That Women Face In Their Personal And Financial Lives
Your road to financial security is a bumpy one, especially if you're a woman. From a very young age, men and women are often taught differently about money. Here are some major challenges that women face in their personal and financial lives.
1. Wage Gap
There continues to be a wide wage gap between men and women, with women often earning less than their male counterparts. According to the Monster Salary Index, women in India earn 19% less than men.
2. Family Role
Women are "expected" to be home-oriented and take the zimmedaari of ghar and baal bachche over their career and financial ambitions. As a result, women tend to spend less time in the workspace, and more in fulfilling their roles as homemakers.
3. Less Exposure To Financial Education
Women are often less equipped with knowledge in finance because our school curriculum heavily focuses on subjects like vigyaan and languages. At home, too, no one usually bothers to train women in taking financial decisions all by themselves. Your exposure cuts down, even more, when you're a female.
Read Finance Specialist Abhinav Angirish Decodes Alternative Investments For Wealth Creation
4 Ways By Which A Woman Can Achieve Personal Freedom
Women know more about handling finances than they think. Even if they're not taught about credit scores and the stock market, women are responsible for managing ghar ka kharcha. This makes men better disciplined in spending and managing money. So, how to achieve financial freedom for women? Let's show you kaise.
1. Know Your Money
You need to sit down and assess your money (tip: use an excel sheet to do this). Jot down your monthly expenses and income, and see where your money is going. Knowing where every single paisa of yours is being spent is your first stepping stone. You need to be in control of your money and not the other way around, right ladies?
2. Identify And Set Goals
Once you have an idea about how much you're making, you need to think about your personal goals. What do you want to do in the next 5 years? 10 years? 20 years? Based on that, plan for your short-term, mid-term, and long-term financial goals. This way you have a clear idea of what you want and you can make future decisions based on it.
3. Make A Security Net
Before you step out and start investing your money, make sure to clear off all your debts. Investing your money before clearing off your debt is not a wise move. It will only weigh you down. Once that's done, buy health and life insurance for yourself and your family. You never know what life may throw at you. Do your research and then put your money to make sure that you and your family are protected against any shortcomings and surprises in life.
4. Save And Start Investing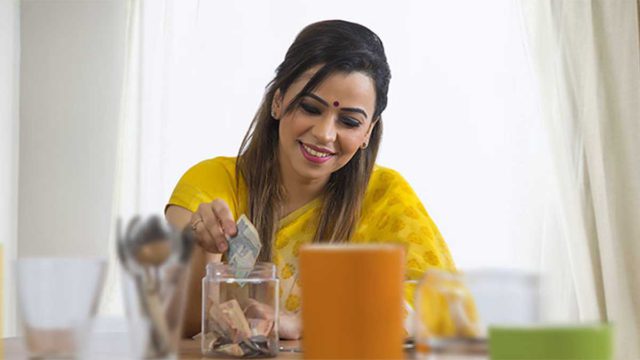 Start as early as possible. Once you have in your hands your first paycheque, start saving and investing your money. Because while no one regrets investing early, everyone wishes they had started sooner.
Again, do your research because gone are the days of FDs. There are a plethora of investment options in 2022 that give better returns over shirt, mid and long-term durations. Make sure you don't put all your eggs in one basket. Diversify your investments and reduce the risk of losing all your money.
Read Finance Guru Satyen Kothari Shares Tips On How Women Can Build Long-Term Wealth
5 Home Business Ideas For A Woman To Be A Step Closer To Achieving Financial Freedom
If you think 9 to 5 isn't your hustle, or you're a stay-at-home mother looking to take the reins of your life back into your hands, here are 5 amazing business ideas that you can pursue from the comfort of your own ghar.
1. Freelancing
Learning a new skill that you can market today isn't hard. Free courses teach you content writing, designing and so much more online these days. Learn these skills and start earning on your terms through freelancing websites.
2. Catering
If everyone compliments your culinary skills, it's time to take them one step further from the kitchen and start your business at home. You can start by cooking for parties in your pados, small events and slowly make your way up the ladder.
3. Take Classes
If you have a hunar that you're proud of (come on! everyone has at least one), singing, music instrument or school subjects, there is a huge potential for you to earn money through taking weekly or daily classes right at your home. You get to share your knowledge with young minds and make money! It's a win-win.
4. Fashion And Clothing
Over the last few years, there has been a rise in women selling clothes right from their homes. You can acquire bulk orders and launch a social media group, start sharing your product with like-minded people and earn through each sale. And why limit yourself to clothes, you can add fashion items, shoes, pots, the options are endless!
5. Bakery Business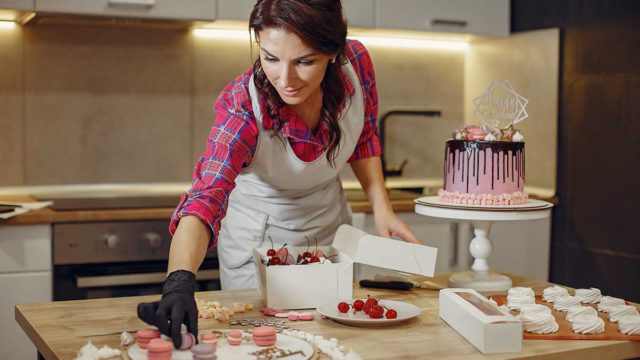 Do you love the khushboo of freshly baked goodies? Enjoy spending your time decorating cakes? Have a penchant for making creative and delicious baked food items? Why not turn your passion into a business. Start your baking business right at your home and start earning doing what you love.
One More Thing!
Now that you're ready to go out there to pave your way to the Savannah of the financial world, here's an additional small but very important tip.
Start investing and saving your money in your 20s. You can afford to live below your means in this decade of your life and put as much money as you can into securing your future. If you're spending money, make sure you spend less on materialistic things and more on learning and getting new experiences.
Dear women,
You've come a long way, but there's still so much farther to go.
We hope you'll take the tips given above and plan your finances. Now that you know the importance and financial freedom meaning, we hope you'll keep your debts to a minimum. Manage your money wisely and invest more in your early years.
Start that business you've always wanted (or get a job!) Doesn't matter as long as you're in control of your life and money. Follow these quick tips on how to start a tiffin service and grown your home business successfully.
Open up like never before and participate in conversations about beauty, entrepreneurship, mental health, menstrual & sexual health, and more. Desi women, join our community NOW!