Relationships are wonderful, yet living with your partner has its ups and downs. The romance of it makes it a vibrant experience. But managing chores can be difficult or awkward, be it a live-in relationship or a marriage. Splitting up chores, especially, can be tricky. The best way to do so, without arguments and misunderstandings, is through clear communication.
If the stray wet towel on the bed or crumpled chips packet under the table makes you uncomfortable, talk about it. It's important to be on the same page about household chores and tasks. Otherwise, one partner might do most of the chores and end up resenting the other. This, particularly, is useful when the domestic help is on leave or unavailable due to the lockdown.
Media and different forms of entertainment have us convinced that Indian men aren't too happy about taking up household chores. But this is far from the truth. Times have changed and so have men! Follow these easy steps to ensure that splitting up the chores is an easy cakewalk.
1. Figure Out The 'How'
Clean might mean something entirely different to you and your partner. While one may believe dusting every alternate day is fine, the other might obsess over cleaning every single day. The key is to discuss what the other person envisions and how to do it mutually. Negotiate the basics like how often a chore needs to be done and to what degree of cleanliness.
2. Make A List
Household chores and tasks are not just limited to cleanliness. Paying bills, meal planning, grocery shopping and so much more fall under this category. Make a summarised list of tasks that need to be done around the house. Remember to include everything from changing light bulbs to sitting on hold with the WiFi company.
3. Use A Fair Method
Some couples enjoy doing chores together as it strengthens their bond. And some divide it according to their preferences. A fair way to divide the chores is to decide what tasks you enjoy the most. Or take up chores that are important to you and let your partner do the same. For instance, if you are a better cook, and your partner is better at cleaning, it makes sense you make dinner, and he helps clean afterwards. Then divide the remaining chores evenly.
4. Avoid The 'Who Does It Best' Formula
One sure way of starting an argument is to divide the chores based upon who does it better and faster. It might seem easier to pick up tasks that you have efficiently conquered but give your partner a chance to learn. Both of you have to relinquish a little bit of control and give each other a chance to learn some new skills. Avoid redoing things, just stick to giving relevant tips.
5. Make A Calendar
Making a schedule and setting deadlines for chores help a lot. A to-do list app or a simple one on your refrigerator will make things easier. Put up tasks like, 'clean the bathroom on Tuesdays' and even weekly or monthly ones like 'pay the newspaper bill'. It helps partners avoid nagging each other or having to set out verbal reminders.
6. Reserve Discussions For A Calmer Time
Discussing anything when one is high on emotions can quickly escalate to heated arguments. If the dishes in the sink have been bothering you and making you angry, leave the kitchen and let the anger cool off. Make a list of things you need to discuss with your partner, pick a calm time and then tell them. This will help your words make an impression instead of your tone.
7. Understand Each Other's History
We all have been raised in different homes with varying degrees of hygiene, cleanliness and even the way of doing certain things. Typically in India, it was common to see the women take up 100% of the household work. And with the new generation trying to change this, being patient can help a lot. It is common for people to resume what was experienced since childhood that might be unlike anything you have experienced. To resolve this issue, discuss your methods and pick what works best for both of you. Remember, resistance to change is unhelpful.
8. Give Compliments & Show Gratitude
There is nothing more romantic than a compliment. The same goes for household chores. Compliment your partner and thank them for finishing a task. Even if it is a task in the calendar, showing gratitude never goes to waste. It creates a positive environment and motivates your partner to do better.
9. Do It Together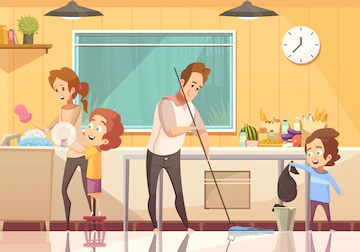 Pick out a few chores that you and your partner can do together. This is a quick and easy way to bond over household tasks. For instance, while doing the dishes, one can wash and scrub while the other can rinse and wipe. It helps you work together harmoniously and fine-tune your coordination as a couple. Avoid drama by doing the chores together and learning something new from each other. Involve the kids and teach them some new household skills. It builds a strong foundation for the kids' future and helps them bond with the family in a unique manner.
10. Add Incentives
Doing chores can become boring after some time. Tackle this by motivating each other with incentives. Tasks that don't excite you can be used to save money for a long-awaited purchase. When you finish a chore you have been putting off, add 100 rupees to a jar to buy a new guitar or the expensive food processor you have been waiting for.
It might take a lot of communication and some fine-tuning to get your own routine running. With open dialogue and an open mind, it is possible to get on the same page. Keep each other's happiness as a priority along with strengthening your bond and you are good to go!