Thodi patli ho jati na toh features ubhar ke aata, thodi patli ho jaati na toh yeh hota, thodi patli ho jaati na toh woh hota…and the list continues. Up until a few years ago, shopping for plus-size figures was a notoriously challenging task. Fashion for plus size women consisted of limited choices and boring options. Unfortunately, the fashion scene still remains more or less the same, barring a few brands that specialise in fashion for the plus-sized divas. Brands may have extended their collection to such women but their advertisements never feature models who do not fit into the rigid standards of beauty.
Some brands that are truly hopping onto the inclusive sizing bandwagon are making contemporary fashion a reality for plus-sized women as well.
10 Must-Have Outfits For Plus-Size Women
If you are planning to revamp your style or add a few stylish plus-size dresses to your wardrobe, here are 10 ideas you will find useful.
1. Tunics
As a plus-size diva, a tunic top could be your BFF because these look good on most body shapes. They do a great job of concealing the areas you may not be too comfortable with. Besides, they feel comfy, do not restrict movement and are very versatile when it comes to styling. When it comes to tunics tops, there are options galore. You can go with the basic, monochromatic ones or play around with different hues and prints, the choice is yours. We suggest getting a few of these for your wardrobe. On days when you can't decide what to wear, simply pair up this plus size fashion top with jeans or leggings and you are good to go. Refined, stylish, casual…whatever look you are aiming for, a tunic top can help you achieve exactly that.
2. V-Neck Top
V-neck tops work well for plus-size figures because it opens the neckline and gives you an illusion of height. Add breath to the neckline by going with a not-too-deep V-neck top. You can choose a slightly deeper neck too if that is more of your style.
3. High-Waist Jeans
What makes high-waist jeans a wardrobe staple is their ability to define your curves (especially the waist) and make you look taller. Again! They can also aid in controlling and giving better shape to your muffin top. Depending on your body type and preferences, you can choose from straight leg, skinny, boot cut, mom jeans, etc.
4. Wrap Dress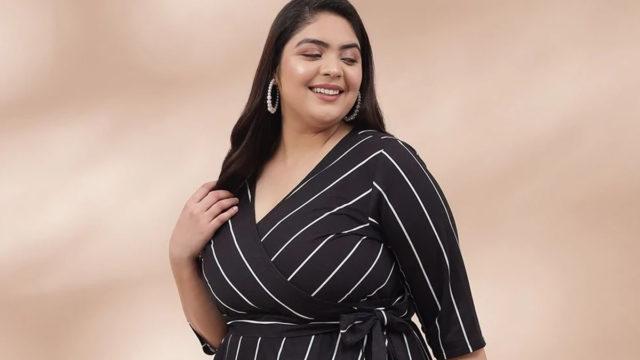 This flattering outfit works well for almost every body shape. A trendy wrap dress is a must-have style for your wardrobe because it helps flatter your figure and emphasise the waist. Moreover, these plus size dresses can be styled for any occasion be it a party or a casual hangout!
5. A-Line Dresses
A-line dresses are fitted at the top before flaring out at the waist, helping it create the impression of an hourglass shape. This style looks stunning on all body shapes. If you are a curvy woman, go for studier fabrics like rayon, cotton, denim and polyester instead of flowy or clingy fabrics. A-lines dresses made of stiffer fabrics retain their shape better, giving you a more refined look.
6. Belted Trench Coat
When shopping for your winter wardrobe, don't forget to add a belted trench coat to your list. It looks uber stylish and the belt helps define your waistline. Other options to choose from include a tailored jacket, structured jacket and open blazer. While a waist-length jacket can add more definition to your waistline, a long-line one can elongate your silhouette.
7. A Denim Shirt
If rugged chic is your style, a denim shirt is something you must include in your wardrobe. These come in a number of styles and colours, ranging from regular washed-out blue denim shirts for a casual look to jewel-toned denim shirts that let you dazzle. Denim shirts with a boxy or straight silhouette look amazing on curvy women. While out buying your denim shirt, try out a few oversized options to see if that works for you.
8. Pleated Skirt
This plus size women's clothing is nothing short of a game-changer for the curvy beauties! With its trendy retro charm, a softly pleated skirt can help define your figure the right way! Pair it with a pretty top, heels and makeup for a formal occasion. If your top is cinched at the waist, make sure to tuck it in. For a casual hangout, you can team up your skirt with an oversized t-shirt (tucked in) and flats. For a statement-outfit piece, consider buying a metallic pleated skirt.
9. Sweatshirt
If you believe that plus-size women can't rock a comfy sweatshirt, this is your cue to change your mind! Your wardrobe is incomplete without a hyper over-sized sweatshirt you can lounge around in. Ready to step up your style game? Choose a printed sweatshirt and jogger combo in a colour scheme you like!
10. Jumpsuit
A number of plus-size women avoid wearing jumpsuits out of the fear that they'll end up highlighting the part of their body they aren't too comfortable with. But if you pick the right silhouette, a jumpsuit can up your style game as no other outfit can. Go for the one that features flares and pleats around the waist to take the attention away from that part of your body, if you wish to. For plus sizes, select a jumpsuit with a higher waistline to achieve a more flattering figure.
7 Fashion Tips For Plus-Sized Divas
Here are a few amazing fashion and style tips to help you out while selecting plus-size women's clothing.
Everybody is different, before you go out shopping for plus size dresses, make sure you know your body silhouette.
High-quality shapewear and undergarments that lift, support and add more definition to your shape are a must-have for your wardrobe.
You can never go wrong with showing some skin. Don't think twice before grabbing that off-shoulder top or that low-neck dress.
Use wide belts for styling your plus size clothing and giving them a flattering silhouette.
No look is complete without a couple of amazing accessories. These can make a huge difference to an ensemble. Make sure your collection includes enough basics as well as statement pieces.
Know your fabrics well. This will help you choose better-fitting outfits.
Use colours, prints, and patterns to elevate your style. This is especially for women who are not a fan of experimenting with different types of outfits.
There are so many women out there who still have a hard time figuring out what works for their specific shape and body type. But remember, you don't have to wait to reach your body or weight goals to amp up your style game. Don't dress up just to cover up! While comfort should always be a priority when picking an outfit, don't be afraid to experiment with your looks and #beALittleMore sassy that what you already are. No matter what your size is, express your personality through your outfit and be confident in your style.
Open up like never before and participate in conversations about beauty, entrepreneurship, mental health, menstrual & sexual health, and more. Desi women, join our community NOW!