Finding the right bra can sometimes feel like you're trying to conquer rocket science—you need to match the band size to the cup size, and then figure out if you need wires, padding, seamless fits, straps, moulded cups, and so many more permutations and combinations.
Is it any wonder that bra fitters and lingerie brands presume more than 80% of women are wearing the wrong bra?
The 'Right Bra For Your Boob Shape V/S Right Bra For Your Outfit'
Search on Google and you'll come across multiple guides on how to find the perfect bra for every kind of outfit. And never a word on how the choice of your bra should be based on your boob shape. Because in reality, that's what matters most. Your breast shape, volume, and positioning are the key to finding the right style of bra. Once you've locked in the perfect style, you match it with the right band size and cup shape, and voila! You have the perfect fit.
The Best Bra Types For Every Breast Shape
1. Breast Shape: East-West Breasts
If your nipples and breasts face opposite directions and are wide set (not a lot of volume in the cleavage area, your breast shape would be known as east-west.
Best Bra Styles For You: T-Shirt bras & Push-Up bras
There's nothing like a contoured T-shirt bra to act as a mould for your breasts and support them to face forward. You can opt for a wired and padded style for some lift and nipple coverage.
Shop Zivame Padded Wired 3/4th Coverage T-Shirt Bra; Price: Rs 899 Rs 405
Another great option is a push-up bra. If your breast shape is wide-set, chances are you don't have a lot of cleavage. A push-up bra pushes your breasts closer together, offering support, lift, and of course, some cleavage.
Shop Zivame Beautiful Basics Push-Up Bra; Price: Rs 995 Rs 448
2. Breast Shape: Tear-Drop Breasts
Endowed with a comparatively slender bosom at the top but perfectly curved and well-rounded below? You are clearly a tear-drop girl. Interestingly, this is the most common breast shape.
Best Bra Styles For You: Underwired bras & Balconette bras
When it comes to the tear-drop breast shape, an underwired bra with a demi cup or 3/4th coverage is really all that's needed to provide some lift and evenly redistribute the fullness of the breasts.
Shop Zivame Beautiful Basics Wired 3/4th Coverage Bra; Price: Rs 999 Rs 400
Another great style is the balconette bra. It has wide-set straps which offer side support, give you a lift, yet control bounce on the top. This is especially great if the bottom half of your breasts are full and heavy compared to the top.
Shop Zivame Wired 3/4th Coverage Balconette Bra; Price: Rs 995 Rs 448
3. Breast Shape: Bell-Shaped Breasts
The difference between tear-drop and bell-shaped breasts is the ratio of fullness between the top half and bottom half. While bell-shaped breasts also tend to be narrower at the top than the bottom, the difference is much lesser compared to the teardrop. Bell-shaped breasts are fairly full at the top, and even fuller at the bottom, and tend to be quite voluminous.
Best Bra Style For You: Full-Coverage bra
You're blessed with an ample bosom and all you really need is some support, which is exactly what a great full-coverage, double-layered bra will offer you. If your cup size runs above a D or D+, you may need some additional support of underwires in your full coverage bra.
Shop Zivame Double Layered High-Coverage Super Support Bra; Price: Rs 1195 Rs 359
4. Breast Shape: Round Breasts
Evenly heavy on the top and bottom, perfectly round boobs are rare but awesome. Since you've hit the gene pool jackpot with the shape, what you need is support, not structure.
Best Bra Style For You: Any bra style, and strapless bras too!
Round breasts can fit well into most, if not all bra types, so all you need to think about is the cup and band size. But what's most interesting is that this is the ideal breast shape for strapless bras, which generally don't offer much support to other breast shapes. A strapless bra that is wired and has padded cups is perfect because it will offer your breasts side support without changing the shape.
Shop Zivame Beautiful Basics Wired Strapless Bra; Price: Rs 899 Rs 360
5. Breast Shape: Close-Set Breasts
The opposite of wide-set breasts, close-set breasts are when even without your bra, your two breasts stick together in the centre. They could be small or large, and you're probably all too familiar with cleavage boob sweat.
Best Bra Style For You: Plunge bra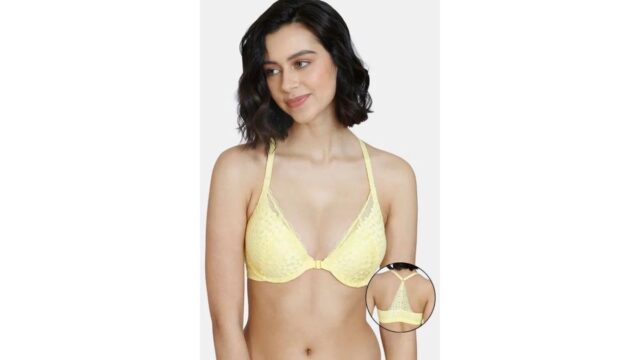 Plunge neck bras are your go-to choice if your twin assets are too close set. This bra enables you to create clear segregation between your breasts while laying flat on the sternum without squishing your breasts.
Shop Zivame Serenade Padded Wired Plunge Neck Bra; Price: Rs 1,395 Rs 419
5 Signs You've Found Your Perfect Bra Fit
No Spillage: Spillage from anywhere, sides, back, armhole, overboob, or underboob is a sign that the bra is not right for you. A perfect-fitting bra lays seamlessly on your body and moves with the natural shape of your contours.
No Strap Marks: If you have a strap imprint on your shoulder, back, or underboob, the bra is too tight for you and most likely, it is the band size and strap width that's wrong and not the cup.
No Itching: A bra that's too tight will make you sweat and itch because it will keep irritating your skin. A good bra lets your skin breathe and won't need you to adjust it all the time.
Feels Like Second Skin: While it's normal to want to take your bra off at the end of the day, a great bra isn't top of the mind all the time; it just feels like second skin and you forget all about it.
You're Buying The Same Style Again: Have multiple plunge bras or balconette styles? When you catch yourself buying the same style again and again, you know you've found the right bra for your breast shape. Often, it's the style and not just the band and cup size that make some bras our favourites.
On that note, we'll leave you to make the most of the Zivame Grand Lingerie Festival which is running up to 70% off and an additional 10% off for Kotak debit and credit card holders. Live from 1st March to 7th March, here's an exclusive discount coupon for The Channel 46 readers. Use code ZIVCH46 to get an additional Rs 150 Off and free shipping on a cart value of Rs 1,099 and above. What are you waiting for? Shop the GLF sale on Zivame today.
Open up like never before and participate in conversations about beauty, entrepreneurship, mental health, menstrual & sexual health, and more. Desi women, join our community NOW!