Every bride wants to look picture perfect on her D-Day and you're no different, right? With exquisite jhumkas, shandar lehenga colours and a full-on shahi wedding look you want to be all shades of dramatic on this day.
With the summer wedding season in full bloom, it's time you took a tour of all the 2022 bridal trends. If the past year taught us anything about Indian weddings, it's this: every dulhan wants to go full-on extra with embroidered dupattas, embellished jewellery, and elegant lehengas. People are shortening the guest list and spending dil se on outfits to glam up their wedding attire. Here are 10 lehenga accessories to enhance your bridal look.
For those tying the knot in 2022, here's a roundup of the hottest bridal lehenga trends to help you choose a dumdar lehenga for your dhamakedar wedding!
1. Anarkali Silhouette
Trends come and go from time to time. But sometimes they're here forever (like the beloved laal lehengas), just like the A-line lehenga or better known as the anarkali silhouette. Designers have been trying and experimenting with different styles like asymmetrical cuts and bodycon skirts. However, there's something ethereal, kuchh toh baat hai in this conventional millennial look that brides have been choosing over and over for years. And, oh, the feeling of the dramatic flair of the skirt when you twirl around will make you feel no less than a Bollywood queen. This trend will still be going hot for decades to come because of its endless charm. Who could resist that, isn't it?
Read 10 Online Stores For Wedding Jewellery
2. Dramatic Trails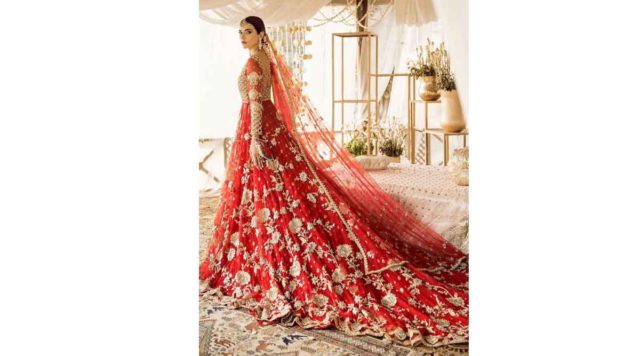 Remember Priyanka Chopra's extravagant wedding gown trail? This trend has already set foot in the Indian dressing scene with designers coming up with various statement trails to add to your lehenga and amp up the oohs and ahs. A gorgeous sweeping trail (no matter the length you choose) will definitely stun every guest around you. There are so many designs and styles you could pick from depending on the vibe you're going for, the venue and of course your personal taste! The trains are back major time and the brides are all here for it. It is the moment ladies, you need this in your wedding outfit.
3. Printed Lehengas
With so many rasams to perform, innumerable hours to sit through rituals, and the late-night Bollywood dance party, brides are looking for comfort in their lehengas. And printed lehengas are giving you what you need. Feminine look? Check. Unique and eye-catching? Check. Comforting? Check check check. You get it all. And you shouldn't even get started on the range it offers. Hand block prints, digital prints, floral, geometrical, animal… it's simply unending! If you want to walk down the mandap relaxed, this is perhaps your best choice. You can also pick a beautifully printed lehenga for all the pre-wedding ceremonies. Point is, you can never go wrong with it because it is a fine blend of elegance wrapped in comfort (literally).
Read 10 Wedding Night Tips
4. Plunging Necklines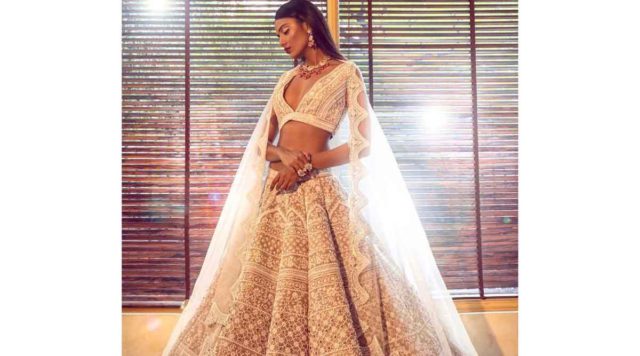 If you're a bride to be and you're looking for that oomph factor in your wedding attire, opt for a stunning and gorgeous blouse with a deep V. Ever since top brands like Sabyasachi and Manish Malhotra have been including this style as the centre of their collection, brides have been head over heels over them. You can pair a deep V neck stunning blouse with a statement necklace and #BeALittleMore regal.
5. Aesthetic Whites
Indian brides in white lehengas? Now that's something rare. But it's happening (everybody stay calm). You've seen dulhans rocking the vibrant reds, pinks and oranges before. Times are changing and so have people's mindsets. If you want to wear something unconventional, go for a stunning embroidered white lehenga and woo everyone away. You could totally pull off a white lehenga and shine the most with its indisputable aesthetic.
6. Add Vibrancy!
Brides are always surprised with new edgy trends every year. One such unconventional trend is vibrant new hues for your wedding lehengas like lime green and peacock blue. They either go full traditional with red and gold or sweep you off the floor with bold colours like turquoise, indigo and royal blue. If you want to add an extra flair of vibrancy to your wedding look, this is your chance. Designers are going all out to make this trend a hit among the brides-to-be. If you're bored with the usual shades, add a pop of colour in your wedding with your marvellous lehengas.
7. Bollywood Does It Again
Bollywood has always been a great influence in your lives. And it's no different for setting trends in the wedding scene. Without a question, Anushka Sharma, Katrina Kaif, and Deepika Padukone were picture-perfect brides at their individual weddings, and their wedding ensembles have left a permanent impression in everyone's minds. There are a variety of ways women can infuse Bollywood trends into their weddings, such as Deepika's sada saubhagyavati bhava dupatta or Katrina's heavy embroidered zardozi borders. If you're still gushing over their bridal outfits, you must consider a wedding attire inspired by your favourite B'wood actors.
8. Drape The Dupattas
Brides have been seen ditching dupattas entirely or attaching them to their blouses for a fuss-free style in recent wedding seasons. But this season is different. This season's weddings, as well as the ones to come, will offer a stark contrast to what has been in vogue in the recent past. Brides are going for embroidered, demure, traditional weaves and dupattas are grabbing all the limelight this year. You can style your wedding lehenga by draping your dupatta in a fashionable shawl style or wearing it like a cape. Speaking of dupattas, double dupattas are also a hot trend rising this year. You can opt for contrasting colours, or go for sheer or shimmer. Any way you decide to style your traditional or modern dupatta, you're sure to look amazing.
9. Shimmer And Shine
Shimmer never goes out of style. And if you want to make a chamakdar entry to your wedding, you cannot miss out on this one. Shimmer is going to be a favourite choice among brides this year too, whether it's in the form of mirror work, sequins, or metallic embroidery. And the best part? You can have these lehengas made by nearly any designer or couture house in your preferred style to match the aesthetic of your wedding look. You deserve to shine on your day, queen, and shimmery lehengas will give you exactly that.
10. Picturesque Pastels
You might already know this with all the wedding research you've been doing, but pastel lehengas have been a raging hit among Indian brides for a while now (and they're here to stay). When Anushka Sharma's pastel pink bridal look hit social media, the amount of love for the style skyrocketed and shows no signs of slowing down anytime soon. Not only pink but mint green and shades of blue have also seen major success. For you brides planning a pyaar-bhari, chic and elegant wedding, this style is for you. And pastels with embroidery? Downright stunning and iconic!
These stunning and trendy embroidered lehengas have stolen your hearts. You now have a variety of choices to pick from. Be the diva on your D-Day by slaying your bridal look with these stylish and hot trends. Have you seen other bridal lehengas trends that have caught your eyes? Share it here in the comments section below!
Open up like never before and participate in conversations about beauty, entrepreneurship, mental health, menstrual & sexual health, and more. Desi women, join our community NOW!