Wedding Guest 1: Snap girl, I think you dropped something….
Wedding Guest 2: My jaw
This is exactly what goes through your mind when you turn your head to look at an Indian dulhan. And how could you not when she's decked up from head to toe in gorgeous, lovely and stunning attire.
Draped in beautiful lehengas and the traditional Srinagar, Indian brides look breathtaking. But the meaning of a bride's jewellery goes beyond just accentuating the D-Day look. The adorned pieces carry cultural significance on one of the most auspicious days in her life.
Gold is the go-to jewellery when it comes to Indians and even among some western cultures as it showcases family wealth and prosperity. While traditionally, only gold was worn on these occasions, times have changed and so have women's choices. Brides nowadays often go beyond just gold and explore precious metals like platinum. Sparkly and glittery accessories have risen in popularity. And women are going a step further with jewellery set in kundan, lac, and jadau.
Brides are stealing the spotlight at weddings thanks to their gorgeous jewellery. No matter whether your choice is traditional or trendy, the following list captures 10 online jewellery stores you can put your trust in when buying wedding jewellery.
10 Online Stores For Your Wedding Jewellery
1. Tanishq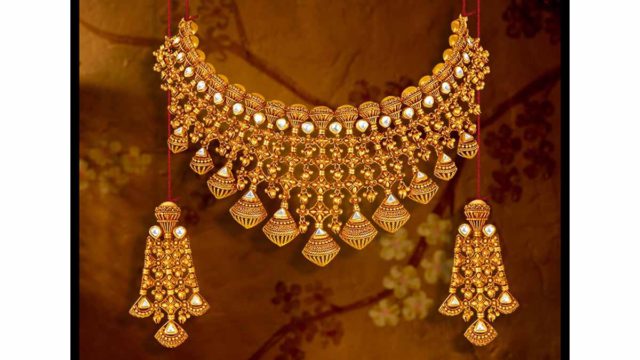 There's no way you're searching for jewellery and haven't come across the name Tanishq (ho hi nahi sakta). Tanishq is a well-known jewellery brand from the Tata group, and it is one of India's most popular brands. You should definitely pay a visit to the store because of the unique collection, friendly employees, and unbelievable discounts. They work to cater to all your needs and, if your jewellery ever gets damaged after buying, they'll repair it for you, free of cost!
Some key features:
Incredible options are available on its online store
With their assurance of purity and excellence, you can have any design customised
A virtual try-on is also available on their website
2. PC Chandra Jewellers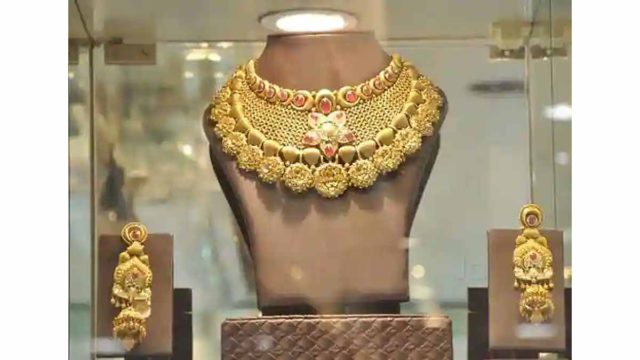 PC Jeweller is a well-known name in India, with one of the most extensive collections and thoughtfully crafted designs for every occasion. They provide simple returns, free delivery, and hallmark-certified jewellery, as well as lifelong exchanges. Their prices are reasonable, considering the unique designs that are synonymous. They don't waste any opportunity to entice customers with their designs and quality. They carry an extensive collection of gold jewellery and other metals and precious stones for varied occasions. You won't have to worry about your wedding jewellery shopping when you have them.
Some key features:
Extensive wedding collection
Best prices
Easy exchange and returns
3. Malabar Gold & Diamonds
Malabar Gold and Diamonds is one of those brands that should spring to your mind when it comes to real traditional jewellery. It is one of the oldest and most well-known gold and diamond jewellery businesses. The company is at the top of its game not only in India but in the whole world! Malabar Gold and Diamond is one of the top sites in India to buy gold and diamond jewellery for all your wedding as well as pre-wedding rituals. The platform also offers an online store where you can choose from a variety of designs. The vast collection of jewellery is sure to leave you spoilt for choice! Furthermore, their customer service is outstanding, aur kya reason chahiye?
Some key features:
Conflict-free diamonds
Buyback policy (worth everything)
Product insurance
Read 10 Tips To Nail Your Wedding Saree Look
4. Candere
Candere is a new name in India's online jewellery-buying scene. Candere was founded in 2013 as the online store for Kalyan Jewellers, another renowned name in the industry. They provide high-quality modifications of the designs. Although the platform is new to the online industry. The platform has established a significant presence in the market by launching designs fit for all people of various ethnicities and preferences.
Some key features:
Customisation is based on your needs and choice
Several offers are available
5. Bluestone
The brand, which was founded in 2011, has become well-known for its high-quality items, try-before-you-buy policy, and certified jewellery. Bluestone is a great place to shop for gold jewellery online. They feature an extensive selection of jewellery that you will simply adore. If you don't want to go to the store or don't have time, you can schedule a try-at-home appointment with all of your shortlisted designs. Looks like they took this piece of advice – "pehle istemal kare fir vishwas kare" very seriously!
Some key features:
100% refund
Free delivery and insurance
Lifetime exchange and buyback
Read 10-Steps To Finding The Right Wedding Makeup Artist
6. Caratlane
You will not be disappointed whether you visit the store in person or purchase through their website. They have such lovely designs and wonderful customer service that you will want to return them repeatedly. They have a beautiful gold and diamond wedding jewellery assortment you can choose from. Aside from that, you can choose a few designs and schedule a time for home visits. It is both free and convenient because you can expect to get hampered right within the comfort of your home. (such a relief during the hectic shaadi season!)
Some key features:
Amazing and helpful staff.
Fast delivery.
50+ stores all over India.
7. Melorra
Melorra is another new name in the industry that offers affordable jewellery to women across India. The platform's finest feature is that they create 10 new designs every day (yes every day!) to keep their clients entertained. You can't really say "kuch pasand nahi aya" at Melorra because there are so many possibilities. This brand is especially well suited for jewellery for all your pre-wedding traditions. You can select your desired item and have it delivered with the necessary certifications, hallmarks, and the highest possible quality.
Some key features:
Affordable as compared to the other websites
Making charges discounts are offered on special occasions
You can get a discount by referring the brand to a friend
8. GIVA
If you want to be the minimalist dulhaniya whose eyes are tired of looking at all the traditional gold bridal jewellery collections, give your eyes a break and turn to Giva. Otherwise, Giva can be your option during all your pre-wedding rituals. It is an online jewellery company that specialises exquisitely in silver and gold plated jewellery. At Giva, you never have to be concerned about silver jewellery turning black over time. You get the greatest products with a guarantee that they will last for years to come.
Some key features:
Oxidised jewellery
Rose gold, gold plated and sparkling silver collection
Precious pearl collection
9. Velvetcase
Velvetcase's exquisite designs and alluring deals are the cause for its success and praise. If you're one of the brides who's looking for classic jewellery but with a personalised touch, a velvet case is your destination. They have physical storefronts as well as an online store where you can make your purchase. Their ready-to-wear designs will surely leave you wanting more!
Some key features:
100% certified jewellery
400+trusted brands with customisation
Secure and flexible payment options
10. Pipa Bella
Pipa Bella is a ground-breaking website that has revolutionised the Indian jewellery market. They have carved out a niche for themselves in this industry with their eye-catching designs and enthralling items. There are thousands of rasams to be performed besides your pheras, and if you're looking for jewellery pieces for all the pre-wedding occasions, look no further. Their gold and silver plated jewellery collections are one-of-a-kind, and their products are difficult to tell apart from genuine items. Pipa Bella is the place to be if you want light jewellery and be bogged down by all the traditional, elaborate jewels.
Some key features:
Seamless experience to buy gold and silver plated jewellery
Great loyalty rewards
Personal service
It's your day to flaunt yourself and be the star of the show, #BeALittleMore dramatic and shine bright like a diamond (with stunning jewellery).
Open up like never before and participate in conversations about beauty, entrepreneurship, mental health, menstrual & sexual health, and more. Desi women, join our community NOW!