Most of us grew up watching our mothers, aunts and grandmothers decking up in exquisite golden jewellery at every special family occasion. Much of this jewellery is passed on from one generation to another as heirlooms and many young girls grow up dreaming of the day when they would get to wear it. Jewellery is valuable, not just in monetary terms but most especially as a symbol of love and the family bond forged by years of good and bad times. It is only sensible that it is treasured.
Passing down gold jewellery through generations is a beautiful symbolic representation of one's legacy. It's not uncommon in India to see mothers giving their jewellery to their daughters or some 'khandani' (family) bangles or rings that are specially kept aside to welcome a new daughter-in-law. Sometimes gold bangles are a sign of a wedding proposal, other times it's a way to express your priceless love for your children.
10 Women Share Stories Of Their Family Heirlooms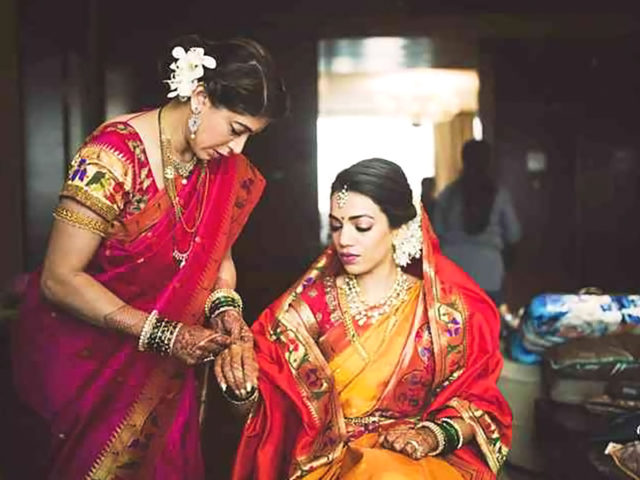 TC46 hosted a giveaway on Instagram here captioned, "Tell us the story of a piece of jewellery that's been given to you by your mom." Many people shared their heartwarming stories about resilience, selflessness, and deep love embedded in their ancestral jewellery. See below for 10 of the most memorable responses shared by our followers!
"At my wedding, my mother gave me a traditional ruby pendant which was given to her by her mom. It's a family heirloom that is too dear to her. I was surprised at how she parted from it. Turns out, her love for me is greater than her love for anything else." – Rashi*
"Part of my wedding jewellery, the diamond set in my nose pin is from my mom's earrings. Over the years I've lost many nose pins, which is why I'm always so conscious and checking if this is still on me. I can't imagine misplacing it because of the value it holds!" – Tanushree*
"My mother has given me her traditional maang tikka and earrings with pipal patti, they're very beautiful and I love the design. Whenever I have any special occasion, I always prefer to wear it because it is given by my mom." – Nityanshi*
"My mom has given me a chain of silver and said that silver stands for peace. And this gives you purity and peace. Every time I wear it, it's almost like I can hear her speak to me." – Sameeksha*
"I haven't received them yet, but my nani had some beautiful jewellery. Which I hope to inherit from my mom someday." – Disha*
"My mom left her job to raise me and my brother because she felt that we should not miss out on her love. When we were older, we requested her to get back to her job because it was her dream and we don't want her to not succeed because of us. Once she received her first salary, she bought me and my brother finger rings and honestly, tears rolled down from our eyes. When we both started working, we both got customised earrings made for her that looked like the finger rings she gifted us. I'll never forget that happy moment!" – Gazal*
"I got a job outside India and my visits have been twice a year, so, every time I visit my mom she gives me a piece of her jewellery which has been passed down to her by my nani. These pieces are invaluable and will always be very close to my heart." – Ishika*
"My mom gifted me a gold jadau necklace set that was passed down from her mother as part of her wedding trousseau. She always kept that with great care and immense love. I always loved that necklace but since it was a gift from her mother, I never had the nerve to ask my mother to give it to me. But at my wedding, she gifted me that. Each time I wear it close to my heart, I know that I am wearing my mom's blessing that makes it even more special to me. It wraps me in its chain of memories and the feelings I'd experienced that first time I'd laid my eyes on it: thrill, joy and love. It is very precious and priceless for me and it is absolutely true that jewellery's value lies in its emotional or sentimental worth. When I wear that particular one I see flashes of my mom whenever I catch my reflection. That is the most precious inheritance from my mom." – Harleen*
"The set I inherited when I got married is made of two necklaces, earrings and a ring and was given to my mom to wear for her wedding. It's like I'm always carrying my history with me. Pieces of my mom and my nani are always with me." – Manisha*
"We were not from a well-off family and when I got married, my parents didn't have a lot to give, but my dadi surprised me and gifted me her wedding set. I still remember my whole family was crying at that moment. I was just so happy that I can't even put it to words." – Priyanshi*
Disclaimer: Please note that the responses have been translated and edited for clarity. Names have been changed to respect privacy.
Do you have a story to share or an experience you would like to highlight on TC46? Connect with us on Instagram today!