Footwear is an extension of your personality. No wonder, people often prefer to make a first impression of you through the shoes you're wearing and how clean they are. It is not only a mirror for the person that you are, but it talks volumes about how organised and sorted you are in your life. Footwear completes a wardrobe and introduces the much-needed final finishing touches to the look you want to flaunt for the day. Rightly said, it's all in the details, and footwear is an accessory that can make or break your look.
The Channel 46 caught up with Aprajita Toor, the Founder of the footwear brand of the same name, lists 11 must-have shoes for every soon-to-be bride.
1. Toe-Loop Strap Flats
A wardrobe staple, this versatile beauty is a definite essential. It goes with every look from ethnic to western and, hence, the traditional toe-loop strap slides are your BFFs. Make sure to pick them in neutral tones to match any outfit from your closet. If you love shimmer, a little bit of glitz here and there can introduce a celebratory touch to your day, without overpowering your ensemble. With this pair, you can be fashion-forward without giving up on comfort. 
2. Two Strap Block Heels
The "chunky yet very feminine" style is an all-time favourite, irrespective of the fashion season. It enables you to flaunt your freshly-pedicured feet and painted, shapely nails while giving you a little bit of height. If you love to add some height, this is your opportunity. But, in case you're already tall and are a little sceptical of adding more to your height, take this opportunity to stand taller because you deserve to be the cynosure of all eyes on your Big Day. Grace your look and pick them for your big day! Choose them in a solid colour or with embellishment, this is a style you cannot go wrong with.
3. Wedges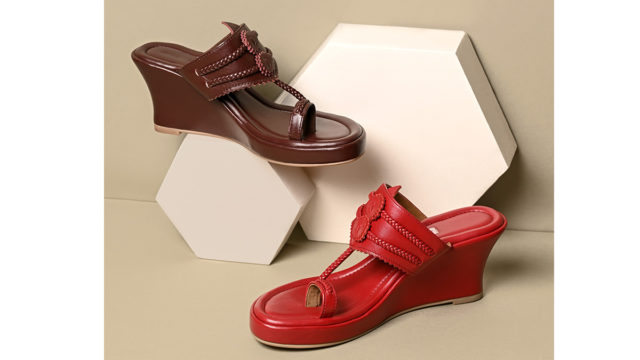 Not fond of stilettos or would like to add a variety of heels to your footwear closet? In that case, wedges are your answer. Pick this style for unmatched height and comfort. As comfortable as they are, they can be paired with every ensemble in your bridal trousseau and are ideal for a garden wedding. Go for a pair of gold or silver tinted, shiny or matte wedge heels to complement your bridal wear and be ready to make heads turn.
Read: 10 Comfortable Wedge Heel Pairs Under Rs 1,500
4. Sneakers
For the unversed, white sneakers are the in-thing even with traditional wear. Comfortable and chic, sneakers impart an edgy touch to the outfit. If you're that quirky, experimental bride who wants to stay clear of the tried and tested, sneakers might be your vibe. If white is not your colour and you would rather prefer a shimmery or a pop hue, go for gold or silver, or opt for colour block with fuschia, turquoise or one of the fluorescent shades. What's more, the embroidered sneakers are a delight to add a stylish yet comfy look to any attire.
5. Traditional Toe-Loop Strap Style Platform Pencil Heels
The tricky one but the kind of footwear every woman wants and must own, especially if you're planning your wedding footwear trousseau. It goes with every look from ethnic to western and Indo-western. The platform reduces the high arch and gives the perfect comfort – the ideal footwear for the day when you have to be up on your feet for several hours on end to greet your guests.
6. Kitten Heels
If pencil heels seem too high but not wearing high stilettos on your D-Day is causing a major FOMO, the kitten heel will fill the void in your wardrobe. Delicate and femme, the heels are a "go-to" for all those days when you want to sport a semi-formal look. Want to look fashionable without being too experimental, kitten heels may just be what you're looking for.
Read: 15 Affordable Flats Under Rs 1,500 You Need To Add To Cart
7. Gladiators
Apart from sneakers, gladiators is yet another footwear option you can explore for achieving that hatke look. If you're looking for a destination wedding, especially amidst European locales, this style is perfect in metallic tones to brighten up the simplest of outfits. If metallic is so not you, you can stick to nude shades in matte or glitters. Or, in case you're a mix-n-match type of girl, choose a hue that colour blocks your outfit for your footwear to be a conversation-starter.
8. Slip-Ons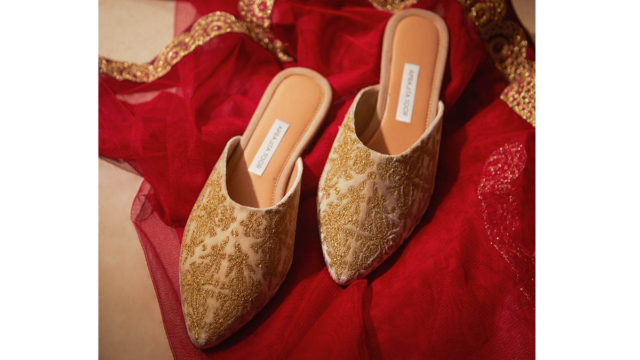 Yet another pair that is well suited for the days that need you to be on toes all day long, pick them with embellishment or a pop colour. For embellishments, you can explore ones with pearls, tassels, beadwork, threadwork, or a combination of two or more of these. They can be worn everywhere and with anything. You can slip your feet into these for your D-Day, casual gatherings, or even for use at home – depending on how ornate it is.
9. Flat-Forms
Perfect for those who say, "I love my flats but need to wear heels". This heel gives you the most-coveted subtle look of natural height of stilettos and the comfort of your flats as it enables you to ditch the steep arch. It gives you the best of both worlds, quite literally, so you don't need to take the tough decision to choose between them. Invest in one that suits your personality and the bridal wear you want to pair it with and, ta-da, you're sorted fashion-wise for one more event.
10. Pumps
Definitely not everyone's cuppa, but always topping everyone's wish-list. Pick them in a metallic shade to fill your fashion needs for every party. It wouldn't be an exaggeration to say that your footwear collection remains incomplete without one of these sitting pretty in your footwear wardrobe.
11. Peep Toes
Not forgetting the most versatile customisable style. Wear them in wedge heels or block heels, they are the style that can make any outfit look extravagant. Pick them up either in the same or contrasting colour as the outfit you plan to pair it with. Peep-toes are a big "yes" for the Big Day. 
Open up like never before and participate in conversations about beauty, entrepreneurship, mental health, menstrual & sexual health, and more. Desi women, join our community NOW!