Architecture is the perfect marriage of proportions and design. A field that requires statistical skills as much as it emphasises on imagination and creative sensibilities. When it comes to being the entrepreneur of an architectural firm, the responsibilities entail balancing skills with the widely varied preferences, requirements, and opinions of clients.
The Channel 46 collaborated with Aparna Kaushik, the Founder of Aparna Kaushik Design Group, who shares her story behind being in the field of architecture and offers expert advice for aspiring entrepreneurs.
What's your educational and professional background?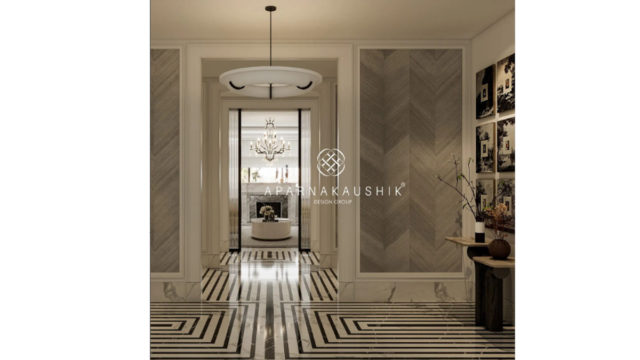 Being a bright and focused student and a state-level skating champion, my early inclination was to take up medicine. I had appeared for the entrance exam but realised that there was no natural inclination. I started exploring various other avenues and was naturally drawn to architecture. The monuments and palaces I saw during holiday trips would mesmerise me. I was in awe of the impact and the scale that they had on the human mind. With my intuitive sense of aesthetics and proportions, I knew I could be an architect.
I was inspired by names like Zaha Hadid, Kelly Hoppen and Kelly Wearstler and was waiting to surround myself with beauty and elegance, something that exuded positive energy and creativity. My days at the Sushant School of Architecture allowed me to play with my imagination in many creative ways. I also took part in fashion shows by crafting costumes, using whatever materials were available, like plastic, tracing paper, etc. Designing clothes is still on my mind, though I don't get much time now.
I pursued my internship with an established architecture firm in Delhi, and after the course, continued to work with them for some time. My stint at this firm gave me good hands-on work experience. I was passionate about my work and, hence, I dabbled with everything, right from visiting the sites to coordinating with vendors and contractors, and interacting with clients.
Later, when I started my own practice, my learning continued as my early clients were people with finer sensibilities. They had exposure to good design and details. The kind of briefs and inputs I got from them compelled me to be impeccable with my work. The biggest idea that helped me create a good place in the industry was to develop my own style. Innovation really comes from designing and solving the problem at hand. Another important factor is to really understand the requirements of the client and their mindset. If one is able to connect with their clients, then half the battle is won.
What prompted the idea for your venture, Aparna Kaushik Design Group?
Clarity of purpose and simplicity are the essence of design. I design to accentuate the natural qualities of a space, amplifying its particular beauty through seamless functionality and unique form.
Did you always know you wanted to work in this space?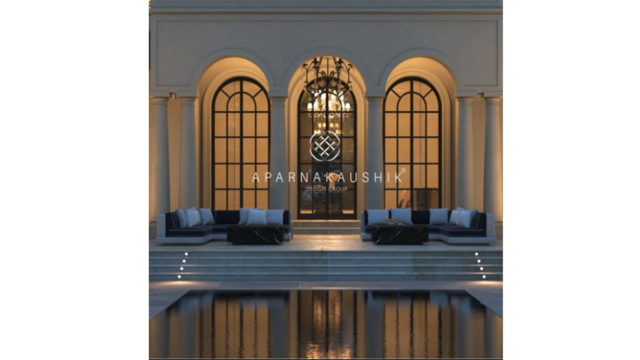 Listening to my inner voice early on set me on the path of finding my true calling in architecture without any ambiguity. Since then, there has been no distinction between my personal and professional life — they simply merge seamlessly. I have always loved designing and creating things. It gives me a great sense of satisfaction. I was always naturally drawn to architecture. The monuments and palaces I saw during holiday trips would mesmerise me, as I've mentioned earlier. Taking into account my creative inclinations, I knew I could study and implement them in my designs. 
Do you have any tips for an aspiring entrepreneur who wants to enter this space?
The most important advice one can give to would-be entrepreneurs is to challenge yourself constantly. The mindset to learn every day in your field of work is a must. In today's time, everyone is career and goal-oriented, but it is imperative to have the vision and the desire to achieve it. The world is full of great ideas, but success only comes through action.
Are there any online or offline courses that you would recommend before entering this space?
There are a number of courses available online and offline both, which one can choose from to suit what they are looking for.
Which networking groups & showcasing events could help an aspirant meet the right people & generate work opportunities in this field?
Trade shows and exhibitions, workshops and design summits are a great way of networking.
What are some investments one should be ready to make when entering the interior designing space?
One should have an in-depth knowledge of his work along with a firm dedication in order to sustain in this ever-evolving space. Knowledge and dedication are the biggest investments.
Open up like never before and participate in conversations about beauty, entrepreneurship, mental health, menstrual & sexual health, and more. Desi women, join our community NOW!