India has made commendable progress across fields since the last few decades. However, a visible improvement in the way the country treats its daughters, specifically in the sub-urban areas, is yet to be seen. Daughters are still seen as a burden, a paraaya dhan, owing to the dowry that the parents have to flesh out at the time of her marriage, despite the Constitution safeguarding their rights. This regressive mentally negates their basic fundamental rights like the right to education, restricting them to their kitchens at home and taking away their right to financial independence. No wonder, the practice of being disposed of at birth still exists and an astounding number of girl children ending up at adoption centres all across the country stands testimony to it.
So serious is the issue that 24th January of every year is commemorated as National Girl Child Day in India. Fortunately, there are people, some of them Bollywood celebrities, who come forward to adopt a girl child and give them a life that they deserve.
Know more about 9 Bollywood celebrities and the daughters that they have adopted.
1. Raveena Tandon – Chhaya & Pooja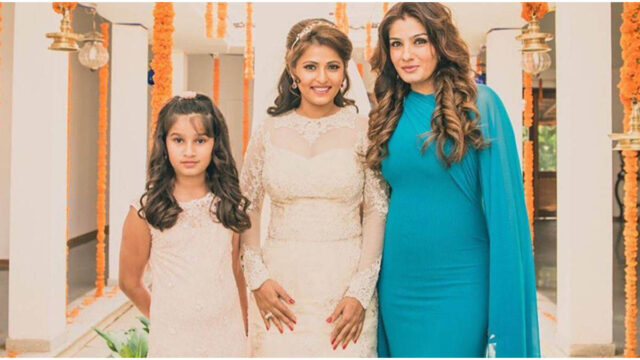 Raveena made headlines with her personal life in 1995 with her decision to adopt two girls, at a time when the idea of adoption was fairly new in India, and mostly looked down upon, more so as she was unmarried. She named her girls Chhaya, who was 8 then, and Pooja, who was 11. She became a grandmother way back in 2014 when Pooja had her own daughter. Later, she got married to a businessman, Anil Thadani, with whom she has a daughter, Rasha, and a son, Ranbir.
2. Sushmita Sen – Renee & Alisah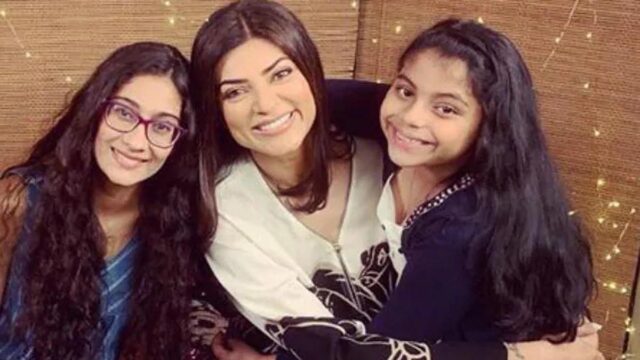 Another celeb pioneer of the practice of adoption in India, Sushmita adopted a daughter, Renee, as early as 25, soon after she won the Miss Universe crown. The adoption procedure being even tougher back then for a single woman, she had to fight a tough legal battle before she was granted custody of the child. Later, in 2009, she adopted another daughter, Alisah, and faced opposition under the Hindi Adoption and Maintenance Act, which forbids individuals to adopt children of the same gender. However, she fought on and is now a doting mother to two growing daughters.
Read: History & Significance Of National Girl Child Day
3. Sunny Leone – Nisha
The Bollywood diva adopted a 21-month-old daughter with her husband Daniel Weber, from Latur, Maharashtra. And named her Nisha Kaur Weber. Soon after, Sunny was quoted as saying that both of them have been working hard to start a family and there couldn't have been a better time for them to start a family, now that they are physically, emotionally, and mentally prepared.
4. Preity Zinta – 32 Children
The dimpled Bollywood actor took the cake with her decision to adopt as many as 34 kids from Mother Miracle School, Rishikesh in the year 2009, to celebrate her 34th birthday. She finances their education, upbringing, and welfare, and visits them whenever she can.
5. Neelam Kothari
Actor turned jewellery and interior designer, Neelam decided to go ahead with adopting a 6-month-old girl with her actor husband Samir Soni in 2011. They named their daughter Ahana. Both of them have been married before, Neelam with industrialist Rishi Sethia, and Samir with model Rajlaxmi Khanvilkar.
Read: 10 Toys For Children That They'll Never Get Tired Of
6. Subhash Ghai – Meghna
The ace movie director Subhash Ghai adopted her youngest brother's daughter Meghna and made sure to keep her away from the harsh arclights of the Hindi film industry and constant attention from the media. He had also sent her to London for higher studies. Presently, Meghna manages Whistling Woods, his production house, and acting schools, and is married to Rahul Puri. The director has a biological daughter too, who was born 27 years after his marriage to his wife Mukta Ghai.
7. Kunal Kohli – Radha
Renowned director and film critic Kunal Kohli adopted a girl and named her Radha, 12 years after his marriage to Ravina Kohli, the director of Koffee with Karan. Soon after the adoption procedure was completed, he expressed his support for the process being painstaking and time-consuming, so people don't get to misuse it. He informed that the organisation from which he adopted conducts a thorough check of the background, environment, and value system of the families that have opted for adoption. That ensures that the children get a safe and secure place to grow up in.
8. Mithun Chakraborty – Dishani
The veteran actor turned politician made it to the headlines when he came forward to adopt a girl child who was found abandoned at a roadside disposal bin in Kolkata. He decided to name her Dishani. Fondly known as Mithunda, he already had three sons with his wife Yogita Bali, before they decided to adopt. Dishani is known to be the most pampered of all her siblings, who share a strong bond together.
9. Mandira Bedi – Tara
Television presenter and actor Mandira Bedi is a proud mother of a daughter Tara Bedi Kaushal, who she adopted in 2020 with her now late husband Raj Kaushal from Jabalpur. It took them 3 years to complete the adoption procedure and become parents a second time. It was during the beginning of the pandemic that she realised her desire to become a parent again. The couple was already parents to their biological son Vir, who was born a few years before Tara was adopted.
Open up like never before and participate in conversations about beauty, entrepreneurship, mental health, menstrual & sexual health, and more. Desi women, join our community NOW!