I remember my first appointment with a gynaecologist. I was 16 and was experiencing vaginal bleeding. I was convinced I had a disease. You see, a school can give you a biology lesson, and yet, totally reduce menstrual, reproductive and sexual health to a diagram of the human body. So long as you can point to where all the organs are, you're golden.
Anyways, the gynaecologist examined me and determined that due to heavy athletic activities, my hymen had broken. And when we were sitting across from each other, Dr aunty (that's what we called her) looked at me and said: 'Beta, I can give you medicines for your bleeding. But first, can you tell me if you have a boyfriend?' I nodded no, embarrassed to be answering this question in front of my mother. After which Dr Aunty said, 'Abhi ladko ke chakkar mein mat padhna… this is not the age. Jawaan ladkiyo ko ladke fasaa dete hai. Hume bachke rehna hai,' she winked.
Until that day, I had thought the most awkward experience of my life was when I bought my first pack of sanitary napkins. Chotu from the nukkad ka chemist handed it to me wrapped in layers of newspaper and a non-descript black plastic bag. But this baat-cheet with Dr Aunty was the king—rather the queen, of all awkwardness.
As I reflect today on the question she asked me, I realise it was an indirect way for her to determine if my hymen had broken as a result of sexual activity. Back then, I felt embarrassed in front of my parent, and also developed a certain fear of 'ladke'. After all, according to Dr Aunty, they were going to fasao me.
Many of my friends share similar stories.
My cousin's IVF Dr would say, 'have relations' (read: sex) on 'XYZ' days to improve the chances of conception. Two team members with PCOS were lamenting the other day on a team call about how they were both sent home with a prescription to 'lose weight' to reverse their PCOS. Another poor friend, after much coaxing, came out to me about still being a virgin after 3 years of marriage. It seems penetration was too painful for her. I had seen her become a shell of who she was over the years, never understanding why. We finally went to the doctor, just me and her, and it turns out she had vaginismus. The condition makes sex painful for women because their muscles tighten up from the fear of penetration.
Truth be told, I had never heard of it and neither had she. She felt horrible and relieved, all at the same time, about her diagnosis. And then the doctor said, "Don't worry, after the treatment, your husband will be happy and have no complaints." I saw her burst into tears and break down.
I thought to myself, is it any wonder that so many women hesitate to visit doctors when it comes to their reproductive, sexual, menstrual and gynaecological health? Sure, you can get a diagnosis and prescription, but it may come with a side of shame and judgement.
I see some platforms trying to change the narrative—going to great lengths to help women prioritise their health and wellbeing. And I applaud them for making their services accessible, convenient, and secure. I think coupled with education and awareness, we can prompt more women to prioritise their health.
So, to give credit where it is due, here are some I vouch for, based on personal experience and reviews from friends and families: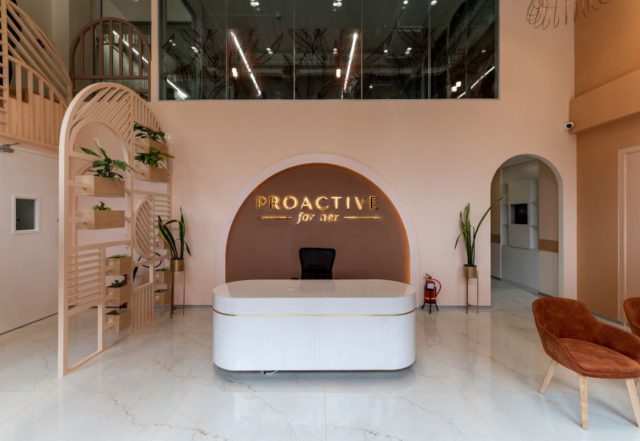 Proactive For Her: This digital health platform is providing personalised and confidential healthcare solutions for women. They offer diagnostic services, such as discreet STI testing, online consultations with empathetic gynaecologists and nutritionists, as well as longer-term programs to help you manage your PCOS symptoms. They now also have a clinic in Bangalore that offers the HPV vaccine, and non-invasive breast cancer screening, among others.

The two colleagues with PCOS and my friend with vaginismus, all have had a great experience with Proactive For Her. Something they all couldn't stop talking about was how non-judgemental the doctors were. They felt safe to be open and communicate with the experts, who only offered up medical advice—nothing more, nothing less. Isn't this how healthcare truly needs to be?!
Fertility Dost: The platform offers fertility coach programs to women undergoing assisted conception, whether it's through IUI, IVF, ICSI, or any other alternatives. But it's not just services. Fertility Dost does a lot of work around educating women about infertility and is trying to bring it into the preventive healthcare segment.

What's more, they even support couples who are looking at adoption as an alternative or those who eventually decide not to have a child. Quite a holistic approach, if I do say so myself.
NIRAMAI: They have fostered original programming based clinical gadgets to detect breast cancer a whole lot sooner than traditional techniques or self-examination. Their imaging method is without radiation, zero-contact, not painful and works for ladies of all ages. Their AI solution can be utilised as a cancer determination test in clinics for normal preventive health check-up exams.

But most importantly, it has a huge scope for large scale breast cancer screening in rural and semi-urban areas, making it easily accessible for women far and wide. A solution for the masses and truly inclusive.
With these platforms, I do believe we're off to a great start. And I hope that someday, all women can move away from the many negative experiences they've had with 'Dr Aunties'.
What are some platforms focused on women's health that you've had a great experience with? Let this Next Door Naari know in the comments and I'll be sure to spread the word.
Until next time!
Open up like never before and participate in conversations about beauty, entrepreneurship, mental health, menstrual & sexual health, and more. Desi women, join our community NOW!