During Onam, inhabitants of the state of Kerala celebrate the homecoming of the mythical King Mahabali. While flower decorations and boat races are an integral part of the festival, so is the Onam Sadhya or Sadya – the elaborate 24-course meal. In this article, we will discuss the significance of Onam Sadhya and a few Onam special food recipes. This year, Onam will be celebrated on 29th August.
Significance of Onam Sadhya
Along with being the harvest festival, Onam also marks the return of the demon King Mahabali, who was once a very efficient ruler of the state. As per mythology, the King ruled over the earth, the sky, and the underworld. This created a sense of insecurity among the Gods, making them approach Lord Vishnu with their concern. Lord Vishnu took the form of Vamana, a Brahmin sage to meet the King.
The Vamana asked the King for three parts of his land. While this seemed to be a very small request for a King, the Vamana grew suddenly and captured the sky and the underworld. Just as he was proceeding to capture the earth with the third step, the King bowed down for the Vamana to place his feet on. Astonished by this sacrifice, Lord Vishnu granted the King the right to visit his people once every year, on the day of Onam. Hence, the people of Kerala welcome their King with great fanfare and fervour, as evident from the rituals and the food.
6 Popular Onam Sadhya Items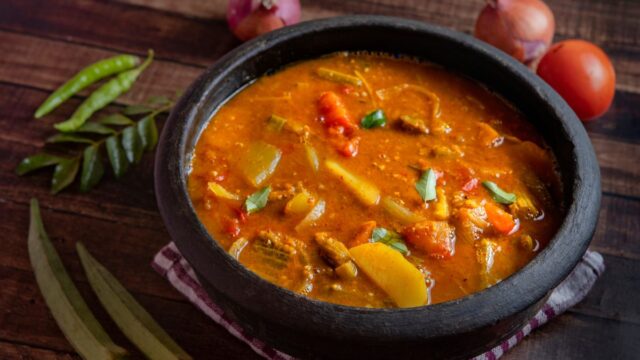 Here are a few Onam Sadhya items that you may want to familiarise yourself with.
Sambar: The Kerala-style dal is made with seasonal vegetables, roasted spices, coconut shavings, onions and is cooked with coconut oil.
Thoran: This is a dry mixed vegetable curry, cooked in coconut oil. It is paired with sambar and steamed rice to complete the soulful combo.
Pumpkin Erissery: This is another type of dry curry made with urad dal, masala, coconut, curry leaves, and mustard seeds. This too is ideally enjoyed with sambar and steamed rice.
Kaalan: A yoghurt-based dish prepared with yam, banana, and coconut, and tempered with spices like garam masala, turmeric, and fennel seeds, this is an integral part of the Onam Sadhya.
Palada Payasam: This is a sweet delicacy made with milk, sugar, and ghee, and finally topped with cashews and raisins.
Pachadi: Pachadi is a sour curry prepared with sliced ash gourd or cucumber, cooked in mustard seeds and ground coconut, and seasoned with curry leaves. It is similar to raita from north India. Gongura pachadi is made from red sorel leaves.
Pappadam: Crispy fryums fried in coconut oil, munched on after every gulp of rice, accompanied with other savoury delicacies.
3 Onam Sadhya Recipes You May Like To Try At Home
1. Thenga Choru (Coconut Rice)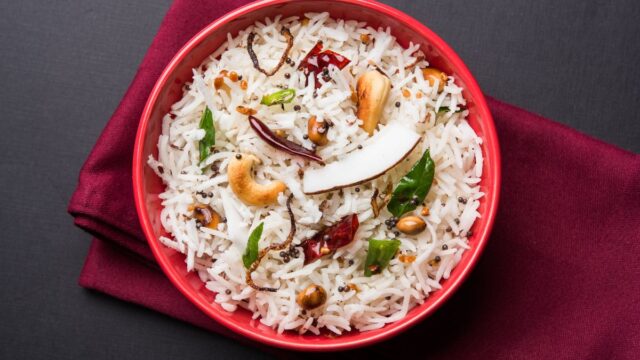 Prep Time: 10 mins
Cook Time: 25 mins
Ingredients
500 gram rice (cooked)
50 ml oil
5 gram mustard seeds
5 gram cumin seeds
10 gms urad dal
50 gms cashew nuts
5 gram curry leaves
10 gms green chillies (chopped)
100 gms coconut, grated
100 ml coconut milk
10 gms coriander leaves (chopped)
10 ml lemon juice
Salt (to taste)
Method
For this onam food recipe, take a heavy saucepan and heat oil in it.
When the oil makes a crackling sound, add the cumin seeds.
Next, add urad dal and when it turns golden brown in colour, throw in the cashew nuts and saute till golden brown.
Add all the ingredients except rice on a high flame and saute for 2 minutes.
Finally, add the rice and stir for another 5 minutes on a slow flame.
2. Mathanga Erissery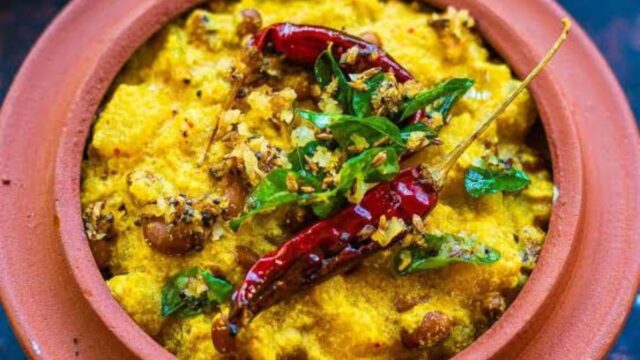 Prep Time: 15 minutes
Cook Time: 45 minutes
Ingredients
200 to 250 grams pumpkin, cut in small cubes
¼ teaspoon turmeric powder
¼ teaspoon red chilli powder – optional
salt as required
1 cup water or as needed
For Cooking Black Eyed Peas
½ cup black eyed peas – (white cowpeas) or red cowpeas
2 to 2.5 cups water or as needed
For The Coconut Paste
¾ cup fresh grated coconut – fresh or frozen
½ teaspoon cumin seeds
1 green chilli or 1 teaspoon, chopped
½ cup water or as required
For Tempering
1 or 1.5 tablespoon coconut oil or any vegetable oil
½ teaspoon mustard seeds
12 to 15 curry leaves
1 to 2 dry red chilies – kept whole or broken and deseeded
2 to 3 tablespoons fresh grated coconut – fresh or frozen
Method
To start this Onam food recipe, rinse the black eyed beans thoroughly in water.
Pressure cook it in 2 to 2½ cups of water with salt to taste for 7 to 9 whistles or until they are cooked
Drain the water and keep it separately.
Keep the black eyed peas soaked in water for 1 to 2 hours, so it can be cooked quickly.
Drain the water and keep the peas aside.
In a medium-sized saucepan, take a cup of water and pumpkin cubes.
Add red chilli powder, turmeric, and salt.
Cover the pan and cook the pumpkin for 12 to 15 minutes or till the time the pumpkin softens, and switch off the heat once the pumpkin has turned tender.
While the pumpkin is cooking, grind the green chilli, grated coconut, and cumin in a blender. Add ½ cup water and grind it to a fine paste.
Add this paste and the cooked black eyed peas to the cooked pumpkin. Add ½ cup water or more to adjust the consistency.
Simmer for 10 to 12 minutes or until the flavours have blended well.
When done, cover the pan with a lid and keep it aside.
For tempering, heat coconut oil in a pan and crackle some mustard seeds in it.
Add red chillies and curry leaves. Next, add grated coconut and saute till the coconut becomes golden on slow flame.
Pour the above mixture on the Mathanga Erissery.
Serve with steamed rice.
3. Pulissery
Prep Time: 30 minutes
Cook Time: 40 minutes
Ingredients
1 cup Curd (sour) or sour yoghurt
¼ teaspoon turmeric powder
1 cup water or add as required
For Coconut Paste
½ cup grated fresh coconut
2 to 3 green chillies
1 teaspoon cumin seeds
4 to 5 tablespoons water – for grinding or add as required
For Tempering
2 tablespoons coconut oil
½ teaspoon mustard seeds
10 to 12 curry leaves
7 to 8 fenugreek seeds
2 dry red chilies – broken and seeds removed
¼ cup sliced pearl onions or 3 to 4 pearl onions
½ teaspoon finely chopped ginger or ½ inch ginger
For Garnish
1 tablespoon chopped coriander leaves (optional)
Method
For preparing the coconut paste, grate red chillies, cumin seeds, and fresh coconut in a blender.
Add water, if you want, to get a smooth paste and then keep it aside.
For the curd mixture, add the curd, turmeric, and water in a saucepan.
Whisk well to get a smooth consistency, add salt and ground coconut paste.
Whisk well again.
For making the curry, place the saucepan with the curd mixture on low heat.
Keep on stirring at regular intervals.
Switch off the flame when the mixture starts giving off steam.
Cover the saucepan and set it aside.
To temper, heat coconut oil in a small saucepan and then allow some mustard seeds to crackle.
Add fenugreek seeds, curry leaves, and dry red chillies.
Next, add sliced onions and ginger.
Saute these ingredients on low heat till the onions turn light golden in colour.
Pour the tempering mixture with the oil in the buttermilk.
Cover and enable the flavours to infuse within a few minutes.
Garnish with chopped coriander leaves and serve the Pulissery hot with steamed rice.
How Is Sadhya Served?
The 24-course fascinating Onam Sandhya is served on a fresh green banana leaf. Imagine Traditionally, it is eaten while sitting on the floor. Hands are used to eat instead of cutlery.
Onam Sadhya is a delightful way to celebrate Onam by the Malayalis, thanks to the exhaustive list of Onam foods. On this day that commemorates the homecoming of the demon King Mahabali, try your hands at some of the Sadhya delicacies like Gongura Pachadi and be ready to lick your fingers clean.
Open up like never before and participate in conversations about beauty, mental health, menstrual & sexual health, and more. Desi women, join our community NOW!