When it comes to history and cultural heritage and diversity, India jaisa koi nahi. Everything about this adobe of diverse cultures and languages existing peacefully together is unique and unparalleled. India has witnessed the rise and fall of several dynasties and glimpses of its rich past can be seen in every corner of the country.
India has dozens of historically significant destinations and sites that you must explore at least once in your life. To get you started, we have curated a list of 15 famous historical places in India that are worth exploring. Take a look!
15 Famous Historical Places In India That Are Worth Exploring
Here are 15 historical places in India that you cannot afford to miss!
1. Taj Mahal – Agra, Uttar Pradesh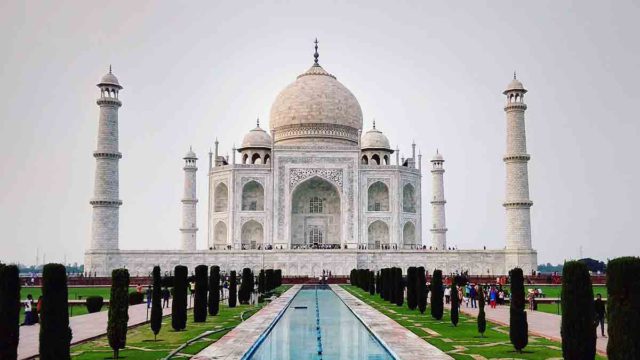 A lot has been written about the beauty of the Taj Mahal but words still fall short to describe this epitome of love. Built in the 17th century, this monument is known for its breathtakingly beautiful architecture that brings together elements from Islamic, Persian and Indian styles. An UNESCO World Heritage Site and the 7th Wonder of The World, the Taj Mahal is constructed entirely out of white marble. The monument houses the tomb of Mughal Emperor Shah Jahan and his beloved queen Mumtaz Mahal, for whom he built this monument. Taj Mahal certainly holds the highest spot in the list of top 10 historical places in India.
2. Agra Fort – Agra, Uttar Pradesh
Probably one of the most famous monuments of India, this majestic fort needs no introduction. Built in 1565, the massive and majestic Agra Fort is known for its stunning, Mughal style of architecture and mesmerising design. Agra Fort has two elaborately decorated gates – Delhi Gate and Amar Singh Gate. However, entry is allowed only through the latter. Inside the fort, you will find remarkable gateways, courts, mosques, halls and rooms. This historical place was declared a World Heritage Site by UNESCO back in 1983, which speaks volumes about the majestic aritchecture of this historical site.
3. Kashi Vishwanath Temple – Varanasi, Uttar Pradesh
Built on the banks of the sacred Ganga, the Kashi Vishwanath temple is the holiest of Shiva temples. It is one among the twelve Jyotirlingas. However, its religious significance is not the only aspect that this monument is known for. Constructed in the 18th century, this architectural masterpiece is designed in the Nagara style of architecture. The structure of the temple is divided into 3 parts – a spire, a gold dome and a gold spire on top of the sanctum. The main temple is surrounded by several smaller shrines dedicated to various deities.
4. Amer Fort – Amer, Rajasthan
Around 11 km from the city of Jaipur, cradled on a hilltop, you will find this artistic masterpiece built with white and red sandstone. The stunning carvings on its walls and ceiling are just one of the many things that stands out. The Fort also houses the Sheesh Mahal (mirror palace) where you will find intriguing designs of colored glasses and mirror mosaics. The beautiful reflection of this grand fort in Maotha Lake is not to be missed.
5. Chittorgarh Fort – Chittorgarh, Rajasthan
Another top contender in the list of top 10 historical places in India, this ancient monument was built way back in the 7th century. It is the centre point in dozens of tales of Rajput bravery and heroism. Situated on an almost 600 feet tall hill, this UNESCO World Heritage Site is one of the largest forts in the country. As many as 65 historic structures are covered by the fort, including temples, palaces, memorials, victory towers and water bodies. A few of the many things to check out in Chittorgarh Fort are Ratan Singh's Palace, Badal Mahal, Rani Padmini Palace and the Rani Padmavati Palace.
6. Hawa Mahal – Jaipur, Rajasthan
Next up on our list of famous monuments of India is Jaipur's Hawa Mahal. Also known as The Palace of Breeze, this monument was built by Maharaja Sawai Pratap Singh and has a history of over 200 years. It is known for its stunningly unique architecture with as many as 953 windows. Built with red and pink sandstone, the structure is a blend of Mughal, Islamic and Rajput architectural styles.
7. Khajuraho Temple – Chhatarpur District, Madhya Pradesh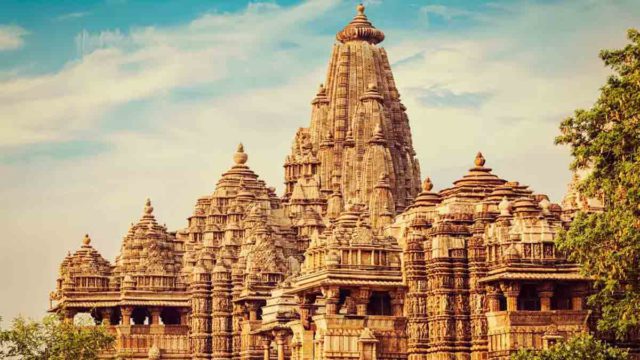 The first one on our list of historical monuments of India in Madhya Pradesh is this religious centre. Situated in the Chhatarpur district, the Khajuraho temples are a group of Hindu and Jain temples built during the Chandela Dynasty. The Khajuraho Group of Monuments is known for its Nagara-style architecture and intricately carved sculptures and statues. The largest temple here is the Kandariya Mahadev Temple.
8. Sanchi Stupa – Sanchi, Madhya Pradesh
This focal point of the Buddhist faith was built by Emperor Ashoka in the 3rd century BC. The magnificent structure sits atop a hill, surrounded by historic remains of smaller stupas, temples and monasteries that were built during different periods in history. The 54-foot high hemispherical dome is built in Buddhist architectural style and is the oldest stone structure in India. Relics of Lord Buddha can be found in the central chamber inside. The intricate motifs and designs are carved on the gates and the railing of the stupa.
9. Gwalior Fort – Near Gwalior, Madhya Pradesh
The turbulent history of this impenetrable fort dates back to 525 AD. The fort is known for its majestic grandeur and is a combination of north and south Indian architectural styles. Inside the fort, you will find several temples, palaces and water reservoirs. Do not miss the stunning view of the city from the top of the fort. A few places you must explore while visiting Gwalior Fort are Gujari Mahal Archeological Museum, Chaturbhuj Temple, Man Singh Palace, Jahangir Mahal, Jauhar Kund, Karan Mahal and Assi Khamba ki Baori.
10. Qutub Minar – Delhi NCR
First up on our list of historical places in Delhi is the magnificent Qutub Minar. Constructed out of red sandstone, this UNESCO World Heritage Site has been recognised as the tallest (234 feet) individual tower in the world. This brilliant specimen of Mughal architecture has stood the test of time and still allures national as well as international tourists. The minaret is surrounded by other ancient structures and beautiful gardens.
11. Red Fort – Delhi NCR
Nestled in the heart of Old Delhi, this marvel from the Mughal era is known for its grandeur and architectural brilliance. Enclosed by massive red sandstone walls, you will find a complex of palaces, halls, gardens, baths and canals, balconies and mosques. When exploring historical places in Delhi, this is one site you cannot afford to miss.
12. India Gate – Delhi NCR
Your trip to the capital is incomplete without going to India Gate. One of the most famous monuments of India, the India Gate was built as a war memorial for the British Indian Army soldiers who lost their lives in World War I. Amar Jawan Jyoti, another war memorial, was added later to honour the sacrifice of the soldiers who lost their lives in the 1971 Indo-Pak war. India Gate is surrounded by lush lawns, beautiful fountains, wide roads and a pond nearby!
13. The Ruins of Hampi – Hampi, Karnataka
Karnataka is home to several historical monuments of India and Hampi is probably one of the most popular ones. If you are an art and history buff, this is one place you cannot afford to miss. Hampi was once home to grand structures, forts and temples built during the Vijayanagar Dynasty. However, many of these structures were destroyed by regular invasions. Nevertheless, the masterful architect and the intricacy of craftsmanship are clearly visible in what remains of these structures.
14. Mysore Palace – Mysore, Karnataka
One of the most famous historical places in India, the awe-inspiring beauty of the grand Mysore Palace seems too good to be true. Its intricately designed interiors, ornate ceilings, stained glass windows, jewelled corridors, and magnificent throne make Mysore Palace a must-visit destination. This 20th century edifice is an excellent example of the Indo-Saracenic style of architecture. The Mysore Palace is known for its grand Dussehra celebrations and light and sound show.
15. Gol Gumbaj – Bijapur, Karnataka
This mausoleum was constructed in the 1th century and is the resting place of king Mohammad Adil Shah and his family. Gol Gumbaz is known for its magnificent Deccan Indo-Islamic architectural style. This grey basalt structure has the second largest dome in the world.
#BeALittleMore curious when it comes to learning about the extensive, glorious, and eventful past of your country. And what's a better way to do that than to visit these spectacular historical monuments of India that are the specimens of our history and culture. Be it a fun family vacay, a getaway with friends, or a much-needed trip with your partner, these historical places in India make for a great option.
Open up like never before and participate in conversations about beauty, entrepreneurship, mental health, menstrual & sexual health, and more. Desi women, join our community NOW!