For those who love the sea in all its wonderful, ever-changing hues across all seasons, it's a love affair that cannot be described in words. You love the mesmerising shimmery blues when the sun shines on the water, you're fascinated by the unique sea green of the waters during dhalta hua shaam, and even the dark greys during monsoon or sundown when everyone else runs back to the safety of the indoors. The rhythmic ebb and flow of the sea is sweet music for your ears. Vitamin Sea does its magic on your mind, body, and soul.
If you're planning a trip to be near water, check out these 5 beach destinations to know more about them.
1. Aruba, Caribbean Islands
When on this island, you cannot not bask in the pristine beauty of the turquoise waters and the welcoming warmth of the sand. Also, visit the other smaller islands in close proximity to Aruba like Renaissance Island, take a tour of the butterfly farm, Arikok National Park, and have fun at the Wind Creek Seaport Casino.
How To Reach: Take a flight to Reina Beatrix International Airport
When To Visit: April – August
2. Turks & Caicos Islands
Indulge in sport activities for that adrenaline rush and relax under the warm embrace of the sun. Go horseback riding, discover the indigenous way of life by exploring on foot, and smell adventure at the caves and cliffs like Rock Iguanas on Little Water Cay.
How To Reach: Take a flight to Turks And Caicos Islands
When To Visit: Late April
3. Maldives
Swimming with the magnificent marine life in the aquamarine waters around this island country is obvious. Soak in the local culture, sun, and sand by taking a leisurely walk along the shore.
How To Reach: Take a flight to Male Airport or any of the 4 other international airports
When To Visit: December – February
4. Bahamas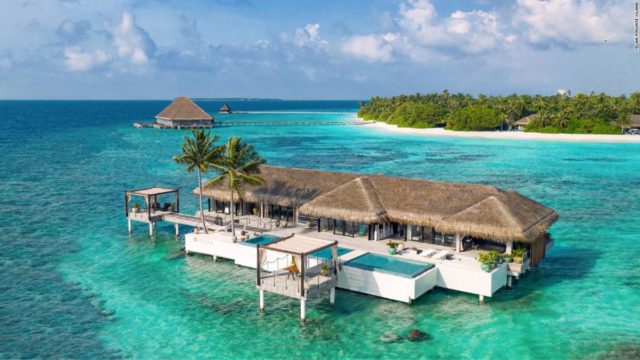 Bahamas is a treat for your mind, body, and soul if you're a water baby. Apart from the obvious time under the sand and the sun, there's more to appeal to your love for the water. Marine Habitat at Atlantis, Coco Cay, and Disney Castaway Cay, Clifton Heritage National Park, adjoining islands, to name just a few of them. 
How To Reach: Take a flight to The Nassau International Airport / Grand Bahama International Airport
When To Visit: Mid-December to April
5. Bora Bora, French Polynesia
Explore the dynamic underwater life at Coral Gardens and Bora Bora Lagoonarium with awe-struck wonder, initiate yourself to the vibrant local culture at Vaitape, and don't miss out on introducing yourself to the grandeur of Mount Otemanu.
How To Reach: Take a flight to Papeete, Tahiti and then hop onto a connecting domestic flight to Bora Bora
When To Visit: November & April
Open up like never before and participate in conversations about beauty, entrepreneurship, mental health, menstrual & sexual health, and more. Desi women, join our community NOW!