Arey din ke bhaga dauri ke baad fitness ke liye time hi kahan bachta hai yaar? Said every lazy person out there! You find time for activities that are your priority. Not being able to find time out for fitness solely means that you don't consider it a priority. Experts advise that at least 10 minutes of daily exercise is of absolute importance for your health. Even then you find a myriad of excuses usse bach ke nikalne ka. The reality is you don't even need to set time apart for a daily workout routine, at home or at the gym. You can do it while going about your daily activities. Take the steps instead of the elevator or escalator. Speed walk or run from your bus stop while going to or returning from work.
This Global Running Day (1st June), here's your opportunity to #BeALittleMore conscious about the importance of following a daily fitness routine and how running is a way better idea than hitting the gym.
13 Reasons Why Running Is Better Than Gym
1. Running Can Enable You To Live Longer
Studies suggest that runners live longer than those who don't. At the end of the 21-year study where the participants (runners and non-runners) were 50 years and above, 58% of the runners were still alive. On the contrary, only 66% of the non-runners were still alive at the end of the study.
2. Running Doesn't Need A Commute
Running is convenient. You needn't have to go to a specific location to run, like training at a gym. You can start running right outside your home. This helps you save time and also money required for commuting.
3. Running Doesn't Need A Fixed Time
There's the convenience factor yet again! You don't need to eke out a specific time from your busy schedule for running. You can start whenever you have some time. On the other hand, you need to sign up for a specific time at the gym, which you have to abide by.
4. Running Doesn't Require Equipment
Here's another reason for you to make the most of the convenience of running. Apart from saving up on commuting, you also don't need to spend a dime on gym membership and athleisure wear when you decide to run. Even if you want to weight-train at home, you have to invest in dumbbells, barbells and other equipment. On the contrary, for running, all you need is a pair of good running shoes and comfy clothes to get started.
Read HRX's Pallavi Barman On 10 Running Tips To Make It Your Optimal Cardio Workout
5. Running Is A Source Of Vitamin D
Unlike in a gym, where you train within an enclosed space, you run right out in the open. This exposes you to vitamin D from the sun, enabling you to make the most of its benefits and ward off health conditions related to the deficiency of this vitamin.
6. Running Burns More Calories Than Gym
Research indicates that running helps you burn twice the number of calories as a gym workout. While an hour-long weight training burns an average of 300 calories, running for the same duration burns about twice the number.
7. Running Is A Source Of Energy
Unlike gym sessions that sap your energy and tire you out, running doesn't do that.
Unlike gym sessions that sap your energy and tire you out, running doesn't do that. In fact, it has just the opposite effect. You transform yourself into a ball of energy, enabling you to go about your day with tons of enthusiasm. Even if you choose to run at the end of a long, hectic workday, running will push you further and help you achieve more.
8. Running Keeps You Happy
Studies have found that running helps your brain release endocannabinoids, which are cannabis-like molecules. They are known for giving you a happy high.
9. Running Boosts Mental Health
Other than keeping you happy, a 30-minute run every morning for 3 weeks is expected to boost the quality of your sleep. What's more, it also eases symptoms of anxiety, depression and other mental health conditions.
Read Nutritionist Simrun Chopra Lists 5 Nutrients Women Should Include In Their Diet
10. Running Is Great For Your Bones
While an aerobic workout is best suited for building upon muscles, running offers you more than that. Apart from strengthening and building upon leg muscles, it also powers your bones and knees. Studies show that running delays the onset of osteoporosis – something that working out and other fitness activities like cycling and swimming does not offer.
11. Running Is A Vardaan For Your Heart
Apart from strengthening your heart, running also lowers your blood pressure, heart rate, and cholesterol. It is considered to be the most time-efficient form of exercise for the health of your heart.
12. Running Boosts Immunity, Fighting Off Common Cold
Research shows that a daily run of about 30 minutes can keep the common cold at bay. Runners are susceptible to 43% fewer chances of being affected by upper respiratory system disorders than those who hit the gym 5 days a week. Even if runners do catch a cold, the symptoms are far less severe.
13. Running Is For All
Aerobics and heavyweight exercises become increasingly less suitable with growing age, especially in the case of the onset of certain health conditions. On the other hand, you can run even when you have aged unless your doctor advises otherwise.
6 Tips To Make Running A Fat-Burning Workout
1. Chalk Out A Plan & Stick To It
Start with maybe 2 miles and gradually increase the time span to 30 minutes by increasing the distance that you run every week by about half a mile. You can also do a mixture of time and distance. For instance, do 2 miles on Monday, half an hour on Tuesday, 2½ miles on Wednesday, and so on and so forth.
2. Start Slow & Maintain The Pace
Start at a slow pace and maintain the speed. Believe you have to run the fastest to burn maximum calories? Think again because you can't be further away from the truth. Running at a slow and steady pace will do the trick for you. The thumb rule is you should maintain a pace where you can carry on a comfortable conversation while running.
3. Never Forget To Warm Up Before Running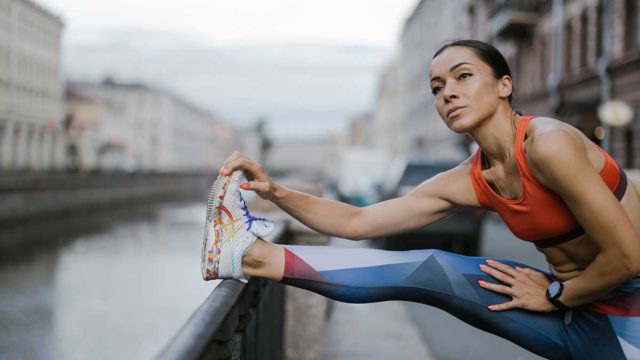 Running is a form of exercise. So you should start it in the same way like you do with all other forms of exercise – with a nice warm-up session. This will enable you to smoothly ease into your run and sustain yourself, eliminating the scope of injuries. Loosen up your muscles, joints, and tendons by walking for about 5 minutes, before you start running.
4. Alternate Between Runs & Walks
This is especially true if you feel tired to carry on even before you have met your target for the day. Walk for a minute, or even 5 minutes if you want, before starting to run again. Do this once or several times – as it suits you. This will help you run for a longer distance and time.
5. Keep Yourself Hydrated
Keep a water bottle handy with you when you go for a run. Drink 3 to 6 ounces every 15 to 20 minutes, if you are running for an hour or less. In case you plan to run for 1 to 4 hours, hydrate yourself with 3 to 6 ounces every 15 to 20 minutes. It is also a good idea to mix a sports drink like protein water with regular water to replenish the lost electrolytes and sodium content in your body.
6. Remember To Cool Off At The End
Cooling off after a run is just as important as warming up before it. Gradually slow down the pace of your run and end with a slow walk, to help your blood flow shift into resting patterns. It will also prevent dizziness and enable your muscles to recover.
There is a science to explain why and how running has a one-up over the gym. There is also science to explain how you should run to reap the maximum benefits from it. And the above-mentioned advice is based on just that. Follow them closely to channelise the fitness enthusiast in you and welcome a life full of health, wellness, and happiness.
Open up like never before and participate in conversations about beauty, entrepreneurship, mental health, menstrual & sexual health, and more. Desi women, join our community NOW!